What is Anxiety And How Is It Caused?
Anxiety is a normal emotion that may cause you to sweat, feel restless or helpless, and have a rapid heartbeat.
It is a feeling of uneasiness, fear, or dread.
Most people experience anxiety at some point in their lives.
However, if you have anxiety that does not go away or only worsens with time, you may have an anxiety disorder.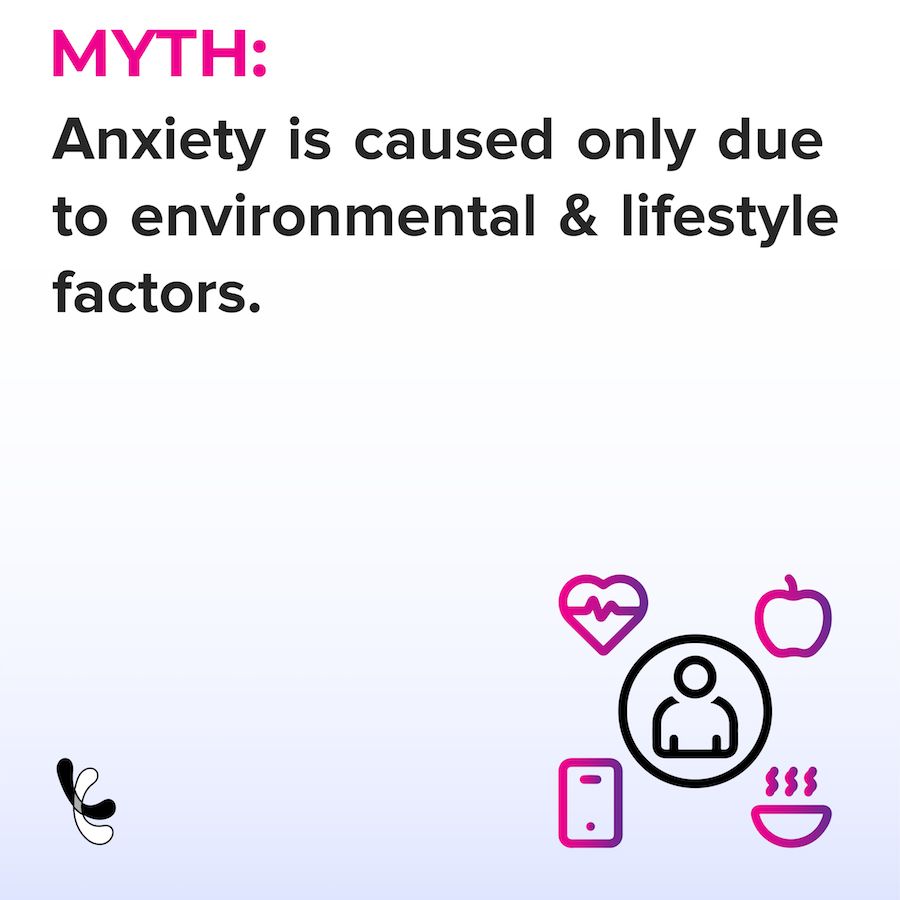 There are different types of anxiety disorders, the most common ones being:
Generalized anxiety disorder
Panic disorder
Phobias
Social anxiety disorder
Separation anxiety
Anxiety is caused due to a complex interplay between different factors, including:
Genetics
Environmental stress
Brain chemistry
Drug misuse or withdrawal
Medications or medical conditions
Some factors that may increase the risk of developing anxiety are:
Personal history of mental health disorders
Family history of anxiety or anxiety disorder
Physical, sexual, or emotional abuse in childhood
Trauma
Adverse events
Substance abuse
Severe chronic health conditions
A Sneak-peek Into the Gene Health Report
Symptoms of Anxiety Disorder
Some common symptoms of anxiety disorder are:
Excessive worrying
Anxiety attacks
Difficulty in concentrating
Memory problems
Inability to get good sleep
Experiencing sweaty, cold, clammy hands and legs
Shortness of breath
Dry mouth
Tense muscles
Intense fear or obsessively fearing objects, people, places, or situations
In Anxiety Genetic?
Genetics plays a significant role in anxiety and panic disorder.
A family member with anxiety disorder increases one's risk of developing the condition.
Several studies conducted over the past few decades have reported a genetic association with anxiety. Some key highlights include:
RBFOX1 gene involved in neuronal development is associated with generalized anxiety risk.
The heritability of anxiety is at least 26%.
Children with anxiety disorders were 3 times more likely to have at least one parent with an anxiety disorder.
Genes that transport brain chemicals like serotonin and dopamine play a role in anxiety risk.
Anxiety does have a genetic component but is influenced by environmental and social factors.
This means that having a family history of anxiety disorder does not confirm you will develop the condition.
It is also possible to develop anxiety disorder without it running in your family.
How Genes and the Environment Intersect to Create Anxiety?
Monogenic diseases are caused when mutations or abnormal changes in a single gene are inherited by the Mendelian model of inheritance.
A complex interplay between several genes and external factors contributes to the development of anxiety disorders. For this reason, anxiety disorders are said to have a polygenic etiology (caused by multiple genes).
Single nucleotide polymorphisms or SNPs in the following genes have been studied for their association with anxiety disorders:
Monoamine oxidase A (MAOA)
Catechol O methyltransferase (COMT)
Serotonin receptor 1A (5-HT1A)
Adenosine A2A receptor (ADORA2A)
Corticotropin-releasing hormone receptor 1(CRHR1)
Those carrying mutations in these genes and subjected to environmental stressors are at higher risk for anxiety than those without the mutations.
Gene-environment interactions emphasize the complex nature of anxiety and its related disorders.
Also Read: Cracking the Anxiety Code Using your DNA Raw Data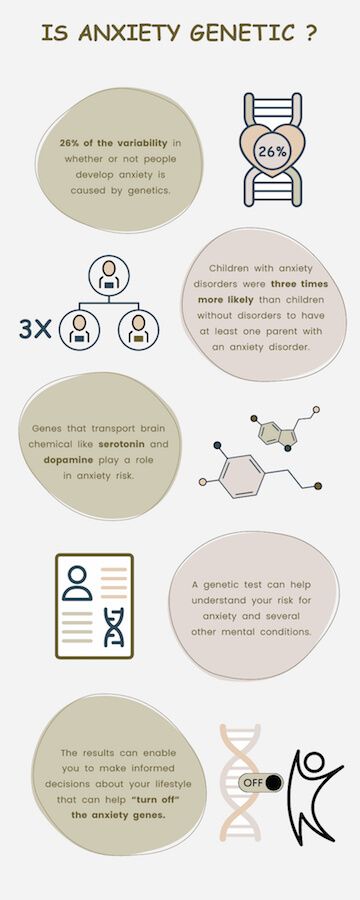 Are There Any Treatment Options For Anxiety?
Anxiety and anxiety disorders can be treated using medications and counseling.
Treatment options for anxiety include:
Medications
The most commonly used medications in the treatment of anxiety disorder are:
Antidepressants
Benzodiazepines
Beta-blockers
Bupropion
Antipsychotics
Psychotherapy
This therapy is usually done by a trained psychologist and involves helping you learn about how your emotions affect your behavior.
During psychotherapy, the mental health professional guides you to understand and manage your feelings and fears.
Cognitive-behavioral therapy (CBT) is the most commonly used psychotherapy for anxiety disorder.
Symptomatic Management
Some lifestyle changes to help you manage symptoms of anxiety disorder are:
Learning and understanding your condition
Sticking to your treatment plan and taking your medications on time
Staying active regularly
Cutting back on caffeine
Avoiding recreational drugs and alcohol
Eating a nutritious and balanced diet
Practicing yoga or meditation to beat your stress
Keeping a journal to write down your thoughts
Finding positive reinforcement for your negative thoughts
Staying connected with friends and family and meeting them often
Seeking support from your loved ones or join a support group
Anxiety disorders are chronic and cannot be completely cured.
However, with the effective treatment mentioned above, people can manage their symptoms and learn to cope better.
References