About LifeDNA
LifeDNA was founded in 2017 by Steve Markowitz. Headquartered in Hawaii, USA, LifeDNA specializes in DNA-based health and wellness services.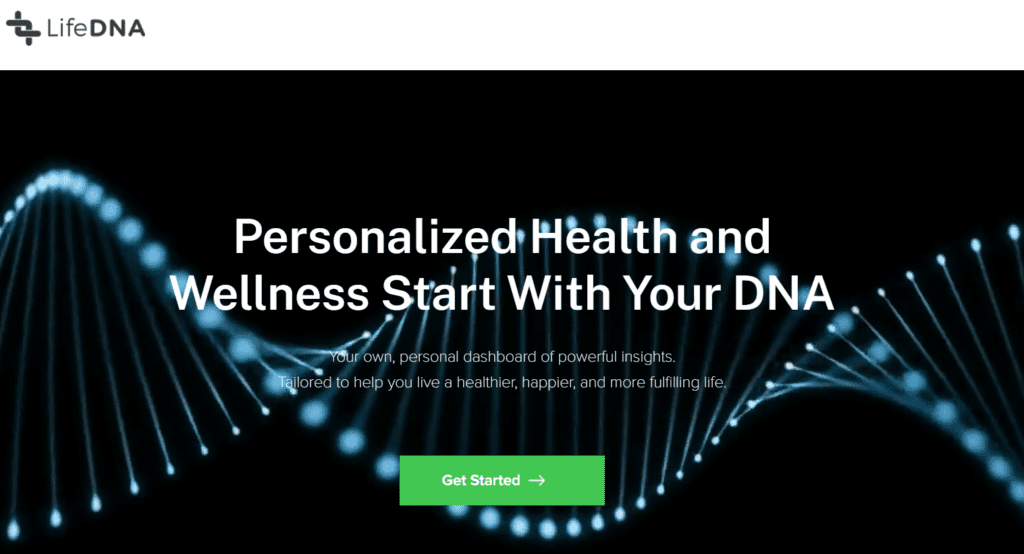 Image: LifeDNA Home
LifeDNA Services
LifeDNA's primary offering is its reports on nutrition, health, and wellness.
Recently, they've added a report on COVID-19 as well.
LifeDNA Reports
Priced at $99, LifeDNA offers this service based on raw DNA upload from companies like 23andMe, MyHeritage, Ancestry, LivingDNA, and FamilyTreeDNA.
LifeDNA Reports + DNA kit
Priced at $199, this service, in addition to reports, also comes with a home-based DNA collection kit. LifeDNA analyzes genomic data and generates reports based on the analysis.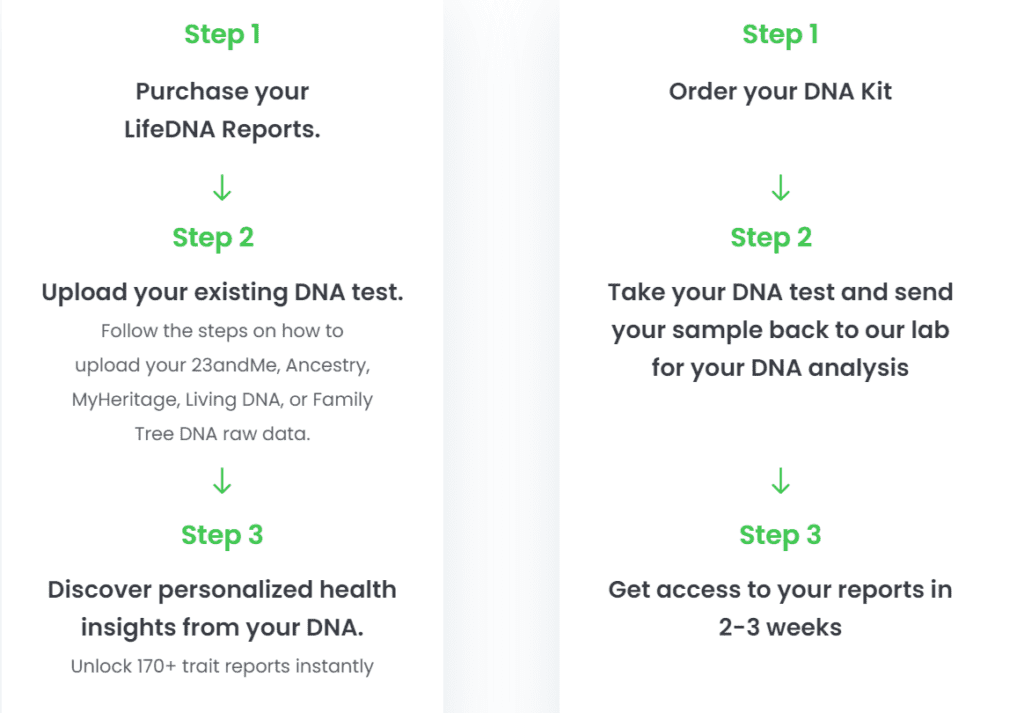 Image: LifeDNA Services
Additionally, LifeDNA also offers some bundles such as:
Diet & Health Pack
This pack contains only the nutrition and immunity & vitamins reports. It works for raw uploads from other companies.
You can check out our DNA raw data download guides here
How To Download Your Raw Data From FTDNA
Download Your Raw Data From AncestryDNA
How To Download Your Raw Data From 23andMe
Download Raw Data From MyHeritage DNA
Health Report Bundle
In addition to all the Diet & Health Pack contents, this bundle contains the fitness, health & wellness, personality & cognition, and skincare reports. Additionally, this bundle also comes with a one-year platinum membership.
Health Test Bundle
In addition to all the contents of the Health Report Bundle, this pack contains a DNA test kit along with a one-year platinum membership.
LifeDNA's Platinum membership offers exclusive services like
Disease report
Carrier report
Fertility report
COVID-19 report
New traits updates every month with unlimited access
Consultation services curated for 1-on-1 interaction
Subscription to the LifeDNA Genomics newsletter
LifeDNA: Getting Started
Sign up for your LifeDNA account. Clients can also use their social media credentials from Google or Facebook to complete the signup process.
Pick a suitable plan.
Clients can choose between uploading raw data from other companies (listed above) or ordering a LifeDNA kit.
For clients choosing to upload raw data, LifeDNA generates reports within hours.
LifeDNA researchers analyze your genetic data, match SNPs with their database, and generate reports for clients who order a DNA kit. Reports usually take up to 2 weeks.
Clients can access their reports from the website by logging into their accounts. In addition, the reports get regular updates from ongoing research.
Overview of LifeDNA Reports
A typical LifeDNA report contains:
Actionable traits analyses
Other traits analyses
The result - shown on a scale of low, intermediate, and high.
Nutrition Report
The nutrition report contains information on about 20+ traits which includes:
Caffeine sensitivity
Saturated fat metabolism
Weight change
Carbohydrate metabolism
Sodium sensitivity
Gluten sensitivity
Fiber Need
Lactose tolerance
Peanut allergy
Vegetable consumption
Shrimp allergy
Antioxidant status
Snacking behavior
Hunger
Sensitivity to bitter food
Satiety
Appetite
Preference to fatty food
Tendency to binge eat
Protein intake
Peach allergy
Sugar preference
Phytoestrogen need
Spice sensitivity (coming soon)
Unhealthy food intake (coming soon)
Check Out: Xcode Life's Gene Nutrition Report - 48 traits - $40
Fitness Report
The LifeDNA Fitness report includes genetic analysis of 23 fitness-related traits:
Blood pressure and exercise
Weight loss and exercise
Power vs. endurance
Circadian rhythm
HDL cholesterol and exercise
Post-exercise recovery rate
Inflammation and pain tolerance
Exercise-induced ischemia
Energy balance
Muscle hypertrophy
Motivation to exercise
Metabolic rate and metabolic syndrome
Insulin sensitivity and exercise
Handgrip strength
Muscle strength
Exercise heart rate profile
Lactate clearance
Injury predisposition
Leisure-time physical activity
Aerobic capacity
Habitual physical activity
Testosterone
Bone density and fracture risk
Flexibility (coming soon)
Triglyceride response to cardio (coming soon)
Check Out: Xcode Life's Gene Fitness Report - 27 traits $30
Health & Wellness Report
The LifeDNA health and wellness report includes 17 traits concerning your health and wellbeing:
Cannabis dependence and mental health
Insomnia
Attractiveness to mosquitoes
Inguinal Hernia
Inflammatory response
Alcohol Consumption
Job-related exhaustion
Excessive sweating
Kidney stone predisposition
Longevity
Menstrual cycle length
Alcohol response
Smoking behavior and nicotine dependence
Motion sickness
DNA damage and detoxification ability
Alcohol addiction
Resting heart rate
Sleep depth (coming soon)
Sleep duration (coming soon)
Check Out: Xcode Life's Gene Health Report - 55+ traits $50
Personality and Cognition Report
The Personality and Cognition report provides information about how your genetic makeup is likely to affect your personality and cognition.
Educational attainment
Openness
Neuroticism
Conscientiousness
Agreeableness
Extraversion
Resilience
Morningness
Instant gratification
Risk-taking
Hypnotizability
Social rejection
Impulsivity
Positive affectivity
Fear of pain
Loneliness
Optimism
Emotional support seeking
Reward dependence
Aggressive behavior
Harm avoidance
Maternal sensitivity
Mathematical ability
Verbal memory
Musical ability
Cognitive control
Intelligence
Sensitivity to stimuli
Perceptual speed
Creativity
Gambling
Hearing function
Depression
Check Out: Xcode Life's Traits and Personality Report - 25+ traits $30
Skincare Report
The Skincare Report contains genetic information and active recommendations on skin-related traits such as:
Freckles
Skin tanning vs. sunburning
Facial pigmented spots
Facial wrinkles
Skin glycation
Acne
Stretch marks
Cellulite
Rosacea
Eczema
Dandruff
Psoriasis
Excessive skin dryness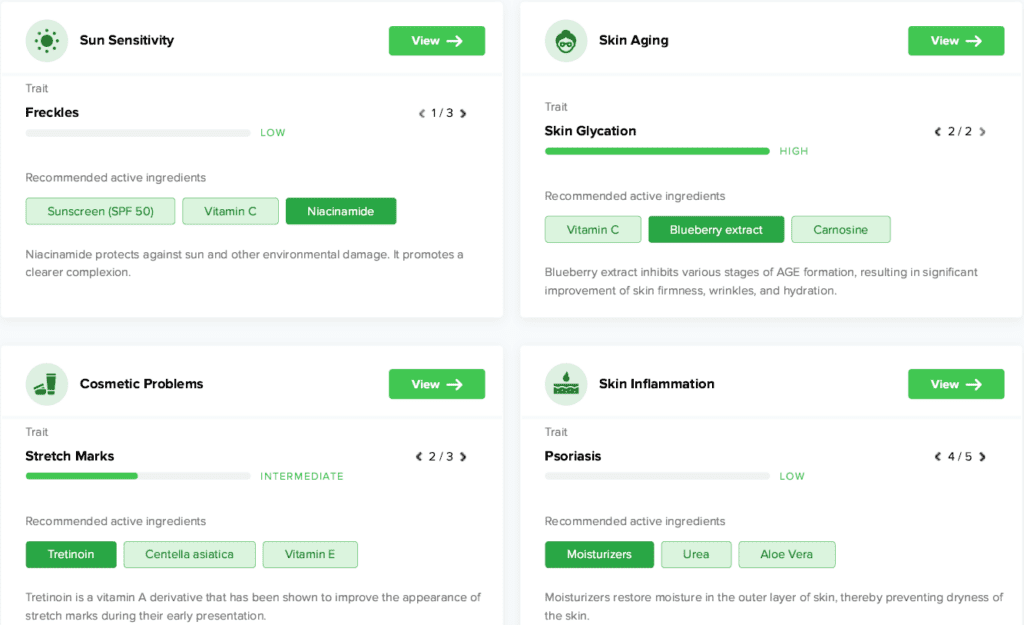 Image: Snippet from LifeDNA's skincare report
Check Out: Xcode Life's Gene Skin Report - 24 traits $30
Immunity & Vitamins Report
The LifeDNA immunity & vitamins report contains information on traits like:
Immunity
Cardiovascular health
Liver health
Brain health
Gut health
Endocrine health
Natal health (female)
Bone health
Kidney health
Eye health
Hair and nails

Image: Snippet from LifeDNA's immunity and vitamins report
Disease Report
The LifeDNA disease report contains information on ten traits:
Late-onset Alzheimer's disease
Age-related macular degeneration
Hereditary thrombophilia
Transthyretin-related amyloidosis
Celiac disease
G6PD deficiency
Iron overload disorder
MUTYH-associated polyposis
Parkinson's disease
Familial hypercholesterolemia
Carrier Report
The Carrier report contains information on 12 disease-causing gene variants such as:
PAH gene (phenylketonuria)
HEXA gene (Tay-Sachs disease)
PKHD1 gene (autosomal recessive polycystic kidney disorder)
ABCC8 and KCNJ11 genes (familial hyperinsulinism)
ELP1 gene (hereditary sensory neuropathy)
SLC17A5 gene (Salla disease)
HBB gene (sickle cell anemia and other hemoglobinopathies)
CFTR gene (cystic fibrosis)
ALDOB gene (hereditary fructosuria)
ASPA (Canavan disease)
MEFV gene (familial Mediterranean fever)
Fertility & Pregnancy Report
The fertility report offered by LifeDNA delves with traits like:
Ovarian reserve
Preeclampsia
Early menopause
Endometriosis
Recurrent pregnancy loss
PCOS (polycystic ovarian syndrome)
Placental abruption
Premature ovarian insufficiency
Recurrent implantation failure (IVF) (coming soon)
COVID-19 Report
The COVID-19 report contains general information about the disease. Some traits covered in the report include:
Predisposition to coronavirus infection
Infection severity
Reaction to Oseltamivir
Reaction to Chloroquine
Response to hydroxychloroquine
Response to Lopinavir
LifeDNA Pricing
| | |
| --- | --- |
| Service/Product | Pricing |
| LifeDNA Reports | $99 |
| LifeDNA Reports + DNA kit | $199 |
| Diet & Health Pack | $39 |
| Health Report Bundle | $199 |
| Health Test Bundle | $399 |
About LifeDNA Privacy
LifeDNA claims 100% security and privacy of data. According to LifeDNA, they do not hold any ownership of raw data upon upload. Instead, ownership remains 100% with the client.
LifeDNA does not share or leak genetic data without the permission of the client. In addition, LifeDNA guarantees the protection and safety of genetic data through encryption.
Even for utilization of genetic data for research, LifeDNA leaves the choice to the clients.

Clients may choose to delete data at any point in time. Clients can do this by just writing a mail to the company's support team. Clients are given a choice between deleting genetic data (though their LifeDNA account remains active) or deleting the entire account along with genetic data permanently.
For more information on LifeDNA's privacy policy, click here.
News & Reviews
News
In April 2020, LifeDNA joined the University of Hawai'i to study why COVID-19 hits specific populations harder than others.
In January 2021, LifeDNA launched its DNA test kits, in collab with Health First Network, across 130 stores in Canada.
Reviews

knowyourDNA reviews LifeDNA as a $99 pricey testing that generates in-depth reports about nutrition and beauty.
Trustpilot reviews on LifeDNA have an average of 4 out of 5 stars
Summary: Pros & Cons
Pros
In-depth reports that cover almost all facets of comfortable living.
1-on-1 consultation services, if needed by the client.
Genetic analysis scheme that is supplemented by active research.
Cons
Expensive test kits and reports that other companies can quickly do at a more affordable rate.
For test kit analysis and result generation, two weeks is longer than what other companies offer in the personalized genomics niche.
The disease and carrier status reports are only available through the platinum membership, which is not cost-effective.
**Please Note: All the images included in this review articles were sourced from LifeDNA's website. LifeDNA doesn't provide sample reports anymore.
LifeDNA
Xcode Life
Type of genetic testing
DNA kit and analysis
DNA raw data analysis
Disease & Carrier Status Report
Only available through the platinum membership
Available at $50
Health report
Offered
Offered
Pharmacogenomic report
Not offered
Offered
Raw data upload
Available but only from 23andMe, MyHeritage, Living DNA, Ancestry, and Family Tree DNA
DNA raw data from all major providers accepted. Comprehensive list
Number of traits analyzed
150+
3000+
Report updates
No
Yes
Price
Reports: $99-$199
Bundles: $39-$399
Reports: $30-$50
Bundles: $160-$199 Price details
Sample reports
Unavailable
Available as detailed report walkthrough videos
Xcode Life: What Do We Do?