Spit. Seal. Send.
Thanks to the advent of technological innovations, anyone can now buy a genetic test from the comfort of their homes. With these three simple steps, everyone can learn a world of information from their genomes. But despite the many disclaimers and caveats direct-to-consumer genetic testing (DTC-GT) companies put forward, many users can fail to understand their limitations. This begs the question, "is there a downfall to having such easy access to all of the information in our genomes?"
What Is Direct-to-consumer Genetic Testing?
Before going on to genetic testing, let's delve a bit into genetics.
DNA is the blueprint of your body - almost everything about it, from how tall you are to when you are likely to go bald.
Around 3 billion individual letters organized into 23 pairs of chromosomes make up this blueprint.
These letters are arranged in a specific way; some can be used to diagnose a rare disease or provide information about a person's risk of developing a disease.
Some arrangements have clinical significance and may give consumers insight into monitoring their health or potential disease or conditions.
These arrangements (or variants) can be detected through genetic tests. Most of the time, medical practitioners order genetic tests directly from a certified lab. This is called clinical genetic testing.
DTC-GT makes it possible for consumers to directly learn about their DNA by placing orders for DNA kits online or in stores.
What Kind Of Information Can Direct-to-consumer Genetic Tests Provide?
If you want to get a diagnosis for a set of symptoms or want to know if you carry mutations for a condition running in your family, you should skip the DTC-GT queue and go for clinical analysis.
But if you are just curious about what your genetic makeup holds for you and, in general, would like to be proactive about your health, then DTC-GT can surprise you with how much you can learn!
From exploring your ethnic roots to learning about your seasonal allergies genes, DTC-GT can offer information on all aspects of health and wellness.
However, you should take these with a grain of salt since there's a possibility that you will notice a few contradictions between what's in your reports and real-life experiences.
Here are the main categories of reports that many DTC-GT companies offer.
Ancestry/Genealogy - The Most Popular
Diet insights - nutrigenomics - a close 2nd on the popularity scale
Disease risk and health results
Carrier screening
Drug reactions
Fitness and athletic performance insights
Skin and sleep health insights
Allergic reactions
Breast cancer risk
Methylation profile
Here, it might also help to learn the difference between DNA testing and DNA analysis service.
Companies like 23andMe and AncestryDNA ship DNA kits for saliva collection.
Using the sample provided, they generate what is called DNA raw data, which is your genomic information in the form of letters and numbers given in a text file.
Additionally, depending on the package you choose, you may receive information about your ancestry and other basic health and wellness insights.
DNA analysis services allow you to get additional reports using your existing DNA test information.
For example, if you have your DNA raw data from 23andMe, companies like Xcode Life and DNAfit allow you to upload this file.
They then analyze the contents of the file and give you reports on additional categories like nutrition, fitness, sleep, skin, aging, drug reactions, etc.
DNA analysis services have gained popularity since they do not require repeating your DNA test, saving you a hundred bucks.
Is It Possible To Elongate Your Lifespan/Healthspan With Direct-to-consumer Genetic Tests?
If you are looking for an answer to whether a genetic test can add ten years to your life, the short answer would be no.
And if you come across any company claiming so, you might want to read their fine print.
Having said this, it is possible to use your test results to lower your risk and even potentially avoid serious chronic conditions that may result in premature death.
For example, heart disease is the third most common cause of premature death globally.
Genetic testing helps identify markers that may put you at high risk for this condition. Therefore, you can take timely steps to lower your risk.
Overall, DTC-GT serves as a tool to understand your health profile and disease predispositions.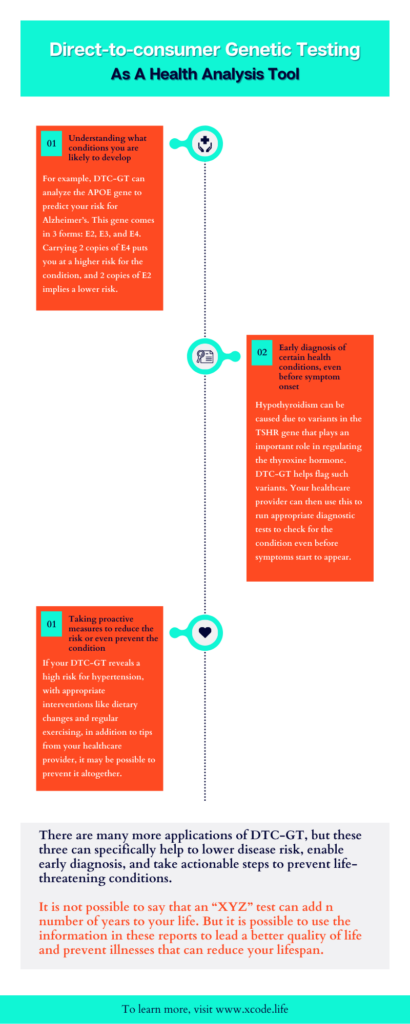 Disclaimer
Scientific validation of commercially available genetic tests is not standardized. Therefore, it is important to interpret your results with a qualified genetic counselor. Further, the recommendations in your report for specific conditions are to be followed only after consulting a qualified medical practitioner. The information in the reports does not include factors like family history, medical history, and other lifestyle factors.
We will discuss more on this in the upcoming sections.
The Role Of Genetic Counselors In Direct-to-consumer Genetic Testing
What do genetic counselors (GCs) do? GCs are healthcare professionals who play multiple integral roles in genetic testing: A. assess an individual's risk for a variety of inherited conditions, B. review genetic test results with individuals and families, C. support people in making decisions based on those results, and D. provide information to other healthcare providers in terms of treatment options and future courses of action.
While these roles are of high importance in clinical genetic testing, there's a bit of controversy regarding the role of genetic counseling in DTC-GT.
We are not looking to take sides in this; rather, let's have a look at the roles genetic counselors assume in the DTC-GT industry.
The Educator (Product Advice)
Genetic counselors help general consumers understand the basics of genetics and genetic testing and help them choose the right product for their needs through pre-test genetic counseling.
They also give product advice to other healthcare providers. Many doctors receive limited training in genetics in some parts of the world.
This explains genetic counselors' involvement in product advice to doctors.
Lifestyle/Health Recommendations
Many customers have reported wanting guidance on what to do with their DTC-GT results, especially with the disease predisposition part.
Genetic counselors fill this need by giving advice that promotes informed choices and adaptation to the disease risk.
They also further explain what their results mean.
For example, if the report indicates a high risk for colorectal cancer, the genetic counselor may explain what this means for their future. They also touch upon the screening, treatment, and management options available.
Further, they may recommend following some healthy choices like increasing physical activity, keeping a healthy weight, limiting alcohol consumption, and avoiding tobacco to lower colorectal cancer risk.
The Mediator
DTC-GT can reveal a lot of information that can often puzzle the users regarding what they should discuss with their doctors.
Genetic counselors can help by guiding the consumer on what to focus on with their doctors.
Outside these roles, genetic counselors are also involved in the architecture of DTC-GT products.
Overall, with the growth of the DTC-GT industry, we are seeing more and more genetic counselors assuming roles other than what are considered to be the "traditional" aspects of genetic counseling.
The Limitations Of Direct-to-consumer Genetic Tests
We have come a long way from Mendel and his peas, the first set of experiments that identified genes as units of inheritance.
However, we still have a long way to go in interpreting and understanding the world of information our genomes contain.
DTC-GT promotes awareness and interest in genetics and inherited conditions and helps consumers take a proactive approach to their health.
Further, services like ancestry reporting and ethnicity estimation bring the fun element to the DTC-GT field.
However, DTC-GT comes with its risks and limitations.
Let's explore each of them in detail now.
Risk Interpretation
Most of the DTC-GT services are not diagnostic in nature. They provide an overview of comprehensive genetic risk of health conditions.
They attempt to answer questions like "how likely are you to develop type 2 diabetes," "how likely are you to carry autism-associated gene variants," and "how likely are you to have the enzyme deficiency that causes lactose intolerance."
However, there's no statistical model for risk interpretation, making it difficult for users to understand what it means to have "a high risk for type 2 diabetes."
This can create unnecessary anxiety for the consumer.
Genetic counselors can neutralize this by helping the consumer with risk interpretation and providing further courses of action.
Note: A high risk on your DTC-GT report does not mean that you will definitely go on to develop the condition. At the same time, low risk doesn't guarantee that you will not develop the condition.
Privacy Concerns
A highly prevalent concern among DTC-GT consumers is the possibility of their DNA data getting into the wrong hands.
What happens to the DNA data after its extracted from the sample? Or what happens when uploading it to a DNA analysis service?
Many DTC-GT companies promise data privacy and not sharing the information with any third parties without consent. While this provides a level of security for your data, there still have been reports of data breaches by some DTC-GT companies.
Some countries do have laws set in place that aims at protecting consumers' genetic information. One example would be the Genetic Information Non-Discrimination Act (GINA) of 2008 in the USA, which protects the user from discrimination based on the findings of a genetic test.
If you are concerned about data misuse/leak, read the company's privacy policy before opting for their services.
You can also reach out to the company directly via email or social media to address all your questions about privacy.
Missed Variants
Ten years ago, it cost about $10,000 for whole genome sequencing. It subsequently fell to $1,000 a few years ago. And today, you can get it for $300-$600.
However, not many DTC-GT companies offer whole genome sequencing. Many employ genotyping analysis, which captures only 0.03% of the whole genome.
While this reports around 700,000 variants, if you have disease-causing variants outside this, they may not be reported.
Further, due to errors in DNA data generation, certain variants may not be called in, and as a result, you may not find the trait/condition of interest in your report.
This is why it is important to remember that your reports are not diagnostic.
Unexpected Information
DTC-GT services provide a lot of information. This may include information on a condition you were not necessarily keen on learning about.
For example, you might have taken a test to learn about your risk for anxiety, but your report may also indicate a high risk for schizophrenia.
This can cause unnecessary alarm and emotional unrest.
Unexpected findings are more common with ancestry genetic tests.
Many people have found and connected with their biological parents through services like 23andMe.
While some of them sign-up to connect with the biological family, for those who are not aware that they were adopted, the results can be quite shocking!
Implication For Family Members
It is no secret that you share your DNA with your family members.
So if you carry a variant associated with a health risk, it increases the chances that your family members (especially the first and second-degree members) have it too.
For example, if your genetic test reveals variations in BRCA1 and BRCA2 genes associated with higher breast cancer risk, there's an increased likelihood of other family members having these variants.
This can result in a moral dilemma on whether or not to disclose this information to the concerned people.
On the one hand, giving them this information can enable them to take measures for screening and early diagnosis. This can result in better treatment options and prognosis if they develop breast cancer.
On the other hand, the mere presence of these variants doesn't guarantee that the condition will occur. So sharing the result can result in years of anxiety, and not to forget the cost implications of screenings and tests.
Finally, some people consciously choose not to be aware of such information. Sharing your DTC-GT results with them can violate their right "to not know."
Do You Need It?
The choice of opting for a DTC-GT is a very personal one.
DTC-GT can cost anywhere from $100 to $2,000. And for many, this may not be just "some change in the pocket."
So, deciding to take a DTC-GT cannot be made on a whim.
It is important to define the purpose of the test.
If you are planning a family and are concerned about a health condition running in your family, a medical doctor may point you to a diagnostic genetic test.
DTC-GT shouldn't be considered an option in this case.
Or if you or your child are exhibiting unexplained symptoms, turning to DTC-GT for an answer may not be the wisest choice.
Your healthcare practitioner can get your medical and family history details to recommend appropriate testing.
Who's it right for?
If you are curious about your health and would like to have an idea about your disease risk profile
If you have been unable to lose weight after being on multiple diets and trying out various treatments
If you want to amp up your fitness game and athletic profile
If you need guidance with what aspect of your health needs more attention
If you are looking to refine your diet to avoid food intolerances and gastrointestinal troubles like bloating
Whether or not you need a test also depends on your intent to get a test done and what you plan to do with the results.
How To Make The Most Of Your 5 ml Spit Test?
DTC-GT can be a great tool for your health if your expectations going into the test are in the right direction and you know what to do with the results.
Here are some tips to get the most out of your genetic test results.
Know what service the company is offering. It is important to know what kind of reports you will be getting upon availing their service. Some companies may offer only ancestry information. Others may offer limited information on health but a lot of information on other traits.
Take pre-test counseling, if available. Many companies offer multiple services, each of which may cover different aspects of health. Talking to a genetic counselor before purchasing can help you choose the right service for your needs.
Be aware of DNA kit replacement costs. Sometimes there can be errors with DNA data generation due to sample contamination or errors in the laboratory. Additionally, DNA kits have an expiration date beyond which sample collection may not be possible. In these cases, you may need to repurchase the kits. While some companies offer a free replacement, others may charge you. It is important to have information on this before buying a kit.
Go through the company's privacy policy. As mentioned in the earlier section, there's a small risk of a data breach with DTC-GT. Therefore, it is vital to read through the company's privacy policies before opting for their service. You can delete your data once you receive your reports to reduce the risk of data sharing. While some companies allow you to delete your data directly, others may require you to email them regarding the same.
Schedule a post-test counseling session, if available. Risk interpretation requires some medical knowledge that not all consumers may have. A genetic counselor can help you make sense of your results. In some companies, genetic counselors connect you further to the required medical professional (for example, a medical doctor or a nutritionist) to enable further courses of action.
Follow report recommendations only upon medical advice. Your reports may include a recommendation section aimed at alleviating a condition or its risk. Since the report is based only on your genetic makeup and not other factors like your lifestyle, following the recommendations blindly can prove ineffective at best or dangerous to your health at worst. Therefore, it is important to review your recommendations with a qualified practitioner, who can then guide you on what to follow and what to ignore and even offer further inputs.
Track your progress. If your report indicates a higher likelihood of vitamin D deficiency, make the necessary dietary changes (upon consulting a qualified nutritionist) to see if symptoms like fatigue or pale skin improve. Or, if your test indicates an increased likelihood of losing weight with a Mediterranean diet, follow it (again, after your healthcare provider gives a green signal) and check if you are heading in the correct direction.
Overall, to make the most out of your test, it is important to take your DTC-GT results with a grain of salt and talk to the necessary healthcare providers for result interpretation and other advice.
Market Size For Direct To Consumer Genetic Testing: 10-Year Growth Looks Promising
According to a report, DTC-GT surpassed USD 3 billion in 2022 and is expected to grow at the rate of 11.5% CAGR from 2023-2032.
In the DTC-GT market, predictive testing held >19% share in 2022.
Several factors are attributed to boosting product development in the forthcoming years.
Advancements and upgrades in genome analysis platforms
Reducing costs of whole genome sequencing
Increasing awareness of health-related problems in the post-COVID era
Increasing number of platforms offering DNA analysis services
Increased ease of testing and reduced TATs
Bottomline: Making The Most Out Of Direct To Consumer Genetic Testing
Technologies in genetic testing have come a long way since its advent enabling millions of users to avail DNA tests from the comfort of their homes. DTC genetic tests are an exciting way to discover more about yourself and your health. However, it's important to understand the limitations of these tests—and the potential for misinterpretation. Although DTC tests may provide a window into your genome, they are not a means to diagnose health conditions or predict the future. Ultimately, it is up to you and your healthcare provider to decide how best to use this information to improve your well-being.