About WeGene
WeGene is a genetic testing company founded by current CEO Zheng Qiang in 2014. Located in Shenzhen, China, the company focuses on building an East Asian genetic database. The company aims to provide more accurate ancestry results for customers of Southeast and East Asian descent. Overall, the company offers results inclusive of all 56 Chinese ethnic groups, apart from other East Asian populations.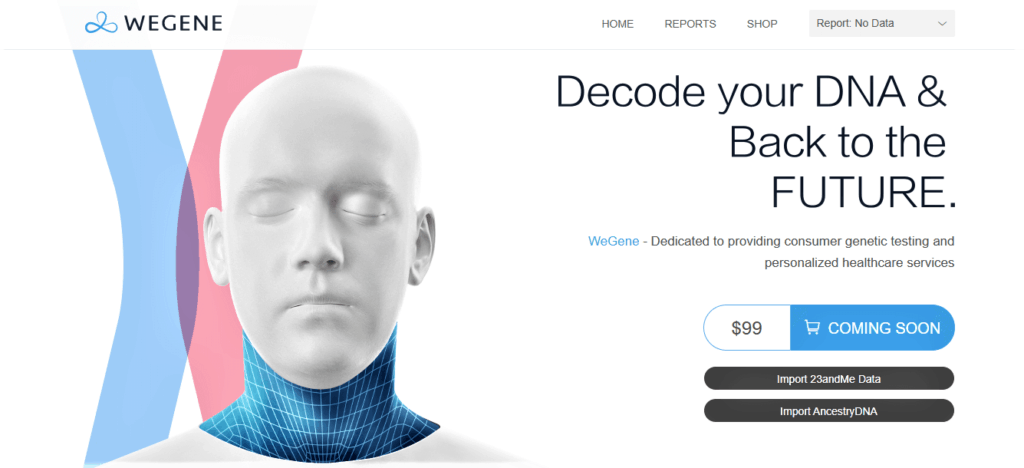 Source: WeGene website
WeGene Services
WeGene has two websites - one for its international users and another for its Chinese users. 
Users can get started by registering with WeGene. Once the registration is done, a login portal will be available to access the account. The users can import their raw DNA data from AncestryDNA and 23andMe to their accounts.
The data import feature was free till April 21, 2021. Now, it has been upgraded to a premium service that is available only in Chinese.
After uploading the data, users can get reports with ancestry (focused mainly on Asian descent) and health insights.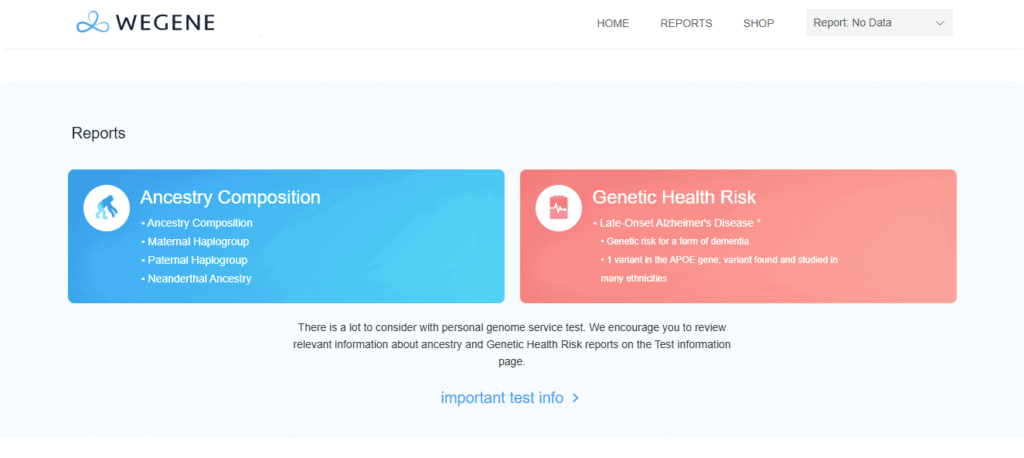 Source: WeGene website
On the Chinese (main) website, in addition to importing DNA data from other websites, users can also send in their saliva for a DNA test.
The following DNA tests are available on the main website.
WeGene Detection Standard Edition 3.0
This test is priced at 599¥ or ~92 USD. According to the website, this test "adopts the CGA scientific research-grade gene chip independently developed and designed specifically for the Chinese population." The saliva collection tube is also FDA-certified.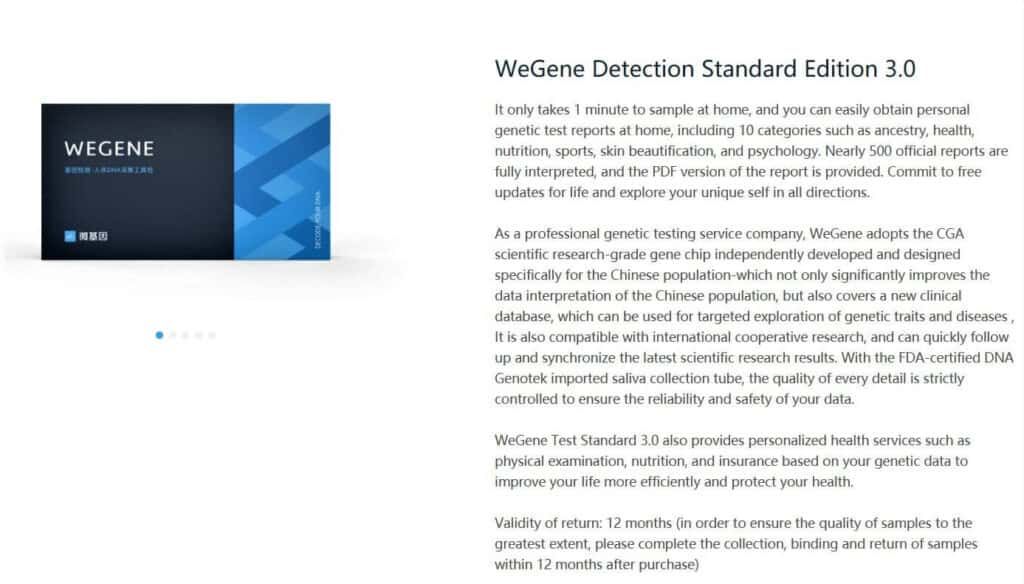 Source: WeGene website
WeGene Whole Genome Sequencing Youth Edition
This test is carried out by a high-throughput sequencer independently developed by BGI. The test is priced at 2499¥or ~386 USD
WeGene Whole Genome Sequencing Elite Edition
This test is also carried out by a high-throughput sequencer independently developed by BGI. The test is priced at¥3999.00 or 566 USD.
WeGene Reports
The WeGene international website provides only two reports in exchange for your 23andMe/ANcestryDNA raw data file.
WeGene Ancestry Report
This report helps users understand their genealogy. It provides precise geographic details and the population group with shared common ancestors. It includes both paternal and maternal lineages. It also provides insights into neanderthal ancestry.
Source: WeGene website
WeGene Genetic Health Risk Report
The report provides insights into genetic variants associated with increased risk of disease. The report also includes actionable insights based on their results. Furthermore, users can choose whether or not to receive health reports about certain diseases.
The WeGene main website offers a report with nine sections, no matter what kit you purchase.
Ancestry Analysis
The report analyzes 42 ethnic groups. They also report the paternal and maternal haplogroups.
Sport Genes
The report predicts the users' basal metabolic rate. It also analyzes genes that are associated with food sensitivity, physical characteristics like endurance, weight characteristics, injury risk, and exercise response.
The other 7 health reports also follow the same format as the Sports Gene report:
Nutrition Metabolism - Includes 16 reports; information on how the body metabolizes certain nutrients
Health Risk - Includes 118 reports broadly categorized under the nervous system, reproductive system, digestive system, respiratory system, circulatory system, urinary system, exercise system, endocrine system, and others
Genetic disease - Includes 57 reports broadly categorized under neurological diseases, metabolic diseases, gastrointestinal diseases, blood diseases, immune diseases, hepatobiliary diseases, muscle diseases, bone diseases, cardiovascular diseases, skin diseases, and eye diseases
Drug guide - Includes 147 reports categorized under cardiovascular, hypertension, diabetes, anti-infective, digestive system, gout, musculoskeletal, endocrine, respiratory system, nervous system, genitourinary, antitumor, immune system, and others.
Genetic characteristics - Includes 12 reports
Skin characteristics - Includes 16 reports
Psychological traits - Includes 26 reports categorized under personality characteristics, decision-making tendency, cognitive function, positive emotion, and interpersonal psychology
Invention project - Includes 12 reports based on ongoing research
Third-party interpret - Users can create their own interpretation projects and share them with the other users on the WeGene platform
You can check out all the sample reports here.
For users who purchase the whole genome sequencing option, there is an additional "whole-genome report."
Medical Analysis Assistant
This option lets the users upload their physical examination reports to compare them to their genetic predisposition, find items requiring close attention, and make improvements through lifestyle changes.
Downloading Your WeGene Data
WeGene lets its users download their DNA data at any time. WeGene also goes the extra mile to provide the raw data in additional formats like 23andMe and AncestryDNA.
WeGene Pricing
The company will be soon rolling out a DNA test for users outside China for $99.
| | |
| --- | --- |
| Test | Price |
| WeGene Detection Standard Edition 3. | 599¥ |
| WeGene Whole Genome Sequencing Youth Edition | 2499¥ |
| WeGene Whole Genome Sequencing Elite Edition | 3999¥ |
About Privacy
WeGene user privacy seems weak. They emphasize users go over the privacy policy before agreeing to the terms and conditions of use.
The company collects customers' personal information like name, email, and contact number during registration. It also collects health information, personal genome information, ancestry information to optimize the WeGene product experience.
WeGene will share user data without authorization during incidents associated with national security, public safety, criminal investigations, research, etc.
The company may access user information from a third-party provider.
For further information, read WeGene Privacy Policy.
What People Say: WeGene News & Reviews
News
Chinese genomics firm WeGene plans to go international and expand research
China embraces a revolution in genetic testing
DNA tests help young Chinese retrace ancient steps by using commercial genetic testing firms to determine their ancestry
WeGene signed a collaboration with the Hong Kong University of Science and Technology to promote genomics and artificial intelligence development.
Reviews
WeGene Review on Top10 DNA tests
WeGene customer reviews on Reddit and Amazon.
WeGene: Pros & Cons
Pros
WeGene provides genetic testing services focused on the Southeast and East Asian descent
All reports contain a list of supporting scientific references
The Chinese website offers many offers with reports under nine sections
All reports are up-to-date with recent research updates
Cons
WeGene is currently not optimal for people of non-Asian descent
The international website does not offer many services
WeGene does not provide DNA testing services for its international users
International users can only access two reports upon importing raw DNA data
WeGene
Xcode Life
Type of genetic testing
Raw data analysisDNA Kit - Only for Chinese Users
DNA raw data analysis
Ancestry reports
Offered
Not offered
Health reports
Offered
Offered
Pharmacogenomic reports
Offered
Offered
Raw data upload
Only from 23andMe and AncestryDNA
DNA raw data from all major providers accepted. Comprehensive list
Number of reports
9
10
Price
Price point ranges from $929 to $566
Reports: $30-$50
Bundles: $160-$199
Price details
Sample reports
Available on the website
Available as detailed report walkthrough videos