In a world where technology continuously pushes the boundaries of what we once thought was possible, DNA testing has evolved into a fascinating way of self-discovery. It is important to conduct detailed research before choosing a DNA testing company that aligns with your preferences. CriGenetics and 23andMe are two famous players in this field. They both offer DNA testing services and promise to reveal secrets buried in our genetic code. 
For better clarification, we have compared these two well-known companies to help you make a suitable decision. This article will explore Cri Genetics and 23andMe, compare their services, and discover the differences that set them apart.
Did You Know? Your 23andMe DNA Data includes 700,000 markers, which can be used to learn everything from disease risk and drug sensitivities to nutritional requirements and fitness parameters. Learn more:
About 23andMe
23andMe offers multiple services, including ancestry reports, health and wellness reports, and genetic matching with relatives.
It's one of the leading players in the genetic ancestry testing niche.
23andMe offers several tools to make the most of your ancestry test results.
One such tool is called DNA Relatives.
This remarkable technology compares you with DNA matches with a common ancestor, revealing potential relatives you were unaware of.
At 23andMe, you can purchase an ancestry report for $99 or a health+ancestry report for $199.
In addition to your health+ancestry service, if you want access to advanced reports and features throughout the year, you can opt for the premium membership for $268.
Also Read
Does 23andMe Test For Ehlers-Danlos Syndrome?
About Cri Genetics
Cri Genetics is a relatively new field and has rapidly gained attention for its cutting-edge approach to DNA testing.
This company was founded by the experienced molecular geneticist Dr. Alexei Fedorov in 2016.
Cri Genetics aims to empower individuals by unlocking valuable insights hidden within their DNA.
Cri Genetics focuses on providing personalized genetic analysis to individuals interested in exploring their genetic makeup, health tendencies, and wellness potential.
Moreover, Cri Genetics provides specialized reports that include Ancestry + Traits for $79 and Health + Ancestry for $99.
Please note that pricing may vary, and it is advisable to refer to the official sources for the most up-to-date information.
Cri Genetics vs. 23andMe: The Similarities
Here are the key similarities between Cri Genetics and 23andMe services:
Personalized genetic analysis: Both companies offer personalized genetic analyses to individuals interested in their genetic makeup.
Testing options: Both of them provide ancestry and health reports and some information on other traits.
Accurate and reliable insights: Cri Genetics and 23andMe claim to deliver accurate and reliable genetic insights to empower individuals.
Reputation: Both companies are reputable and well-established in genetic testing.
Cri Genetics vs. 23andMe: The Differences
When comparing Cri Genetics vs. 23andMe, it becomes obvious that notable differences set the two companies apart.
23andMe boasts a vast DNA database of 5 million records, allowing for extensive data analysis.
Their ancestry reports cover a wider range of distinct regions and are often considered to have a higher accuracy level than CRI Genetics.
Additionally, 23andMe holds the Food and Drug Administration (FDA) authorization for their health tests, while CRI Genetics does not.
On the other hand, CRI Genetics offers unique features that are not found in 23andMe's offerings.
For example, they provide a "Famous People" section, revealing potential familial connections to notable individuals.
Their interactive map showcases ancestral origin areas, providing insights into your ancestors' origins.
One distinctive advantage CRI Genetics offers is if customers do not receive their results within 8 weeks, CRI Genetics promises a full refund.
Ancestry Services: Which One Is Better?
23andMe and CRI Genetics offer ancestry services but have different strengths and features.
23andMe
It gives reports on over 47 distinct regions of your ancestry.
FDA-authorized.
It provides a more comprehensive health report than CRI Genetics, including information for certain genetic diseases, ancestry-based health risks, and wellness traits.
It has a larger, over 5 million DNA database, which can make it more accurate for some people.
It offers a variety of resources for building and exploring your family tree.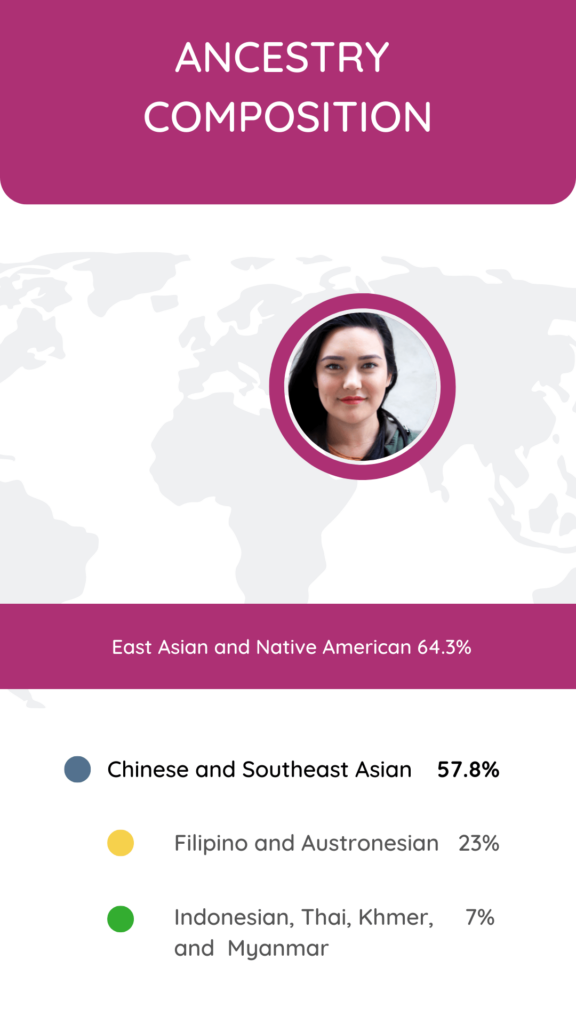 CRI Genetics
It provides a "Famous People" section that shows people you may be related to.
It includes an interactive map showing where your ancestors may have originated.
It gives a timeline of when those ancestors entered your family tree.
It offers an 8-week result guarantee or refund.
Not FDA-authorized.
DNA database size not revealed
It's important to thoroughly research and understand both companies' offerings before deciding. It is advisable to seek advice from healthcare experts, carefully evaluate the restrictions, and analyze the genetic testing outcomes.
Health Services: Which One Is Better?
Both 23andMe and Cri Genetics provide information on health services. However, it's important to note that these reports should never be considered a substitute for professional medical advice.
23andMe has extensive experience and FDA clearance, indicating that their health reports may cover a wider range of conditions in a more precise manner. In contrast, Cri Genetics may be lacking in this area.
| | | |
| --- | --- | --- |
| | 23andMe | CRI |
| Sample collection type | Saliva | Cheek swab |
| DNA raw data available for download? | Yes | No |
| No. of markers analyzed | 570,000+ | 640,000+ |
| Geographical locations covered | 150 regions worldwide | N/A |
| Database size | 5 Million+ | N/A |
| Turn around time | 4 weeks maximum | In 8 weeks or a refund |
| No. of traits in health report | 30 | 33 |
| Price range of tests | $99-$219 | $79-$99 |
| Third-party raw data upload allowed? | No | No |
| Rating by users | 4.7/5 | 4.4/5 |
Summary: Cri Genetics vs 23andMe - Which One Is Better?
The choice between Cri Genetics vs 23andMe ultimately depends on your needs and interests. If you're primarily interested in connecting with genetic relatives and exploring your overall ancestry composition, 23andMe's extensive customer database may be more beneficial.
On the other hand, if you're looking for a personalized genetic analysis, health reports, and wellness reports, Cri Genetics may be the better option.
Both companies have their strengths and have garnered positive reviews from customers. It's essential to research and understand what each company offers thoroughly.
Remember that genetic testing can provide fascinating insights, but it's essential to approach the results cautiously and consult a healthcare professional.
Whether you choose Cri Genetics or 23andMe, taking a DNA test can be an exciting journey of self-discovery.