What Is Ehlers-Danlos Syndrome?
Ehler-Danlos syndrome is a group of rare inherited disorders that affect the body's connective tissues, especially the skin, joints, and blood vessels.
Connective tissues are made up of proteins and other substances that provide them with elasticity.
In people with Ehler-Danlos syndrome, the strength of collagen is affected.
Though people with Ehler-Danlos syndrome are born with the condition, it may take years before it gets diagnosed.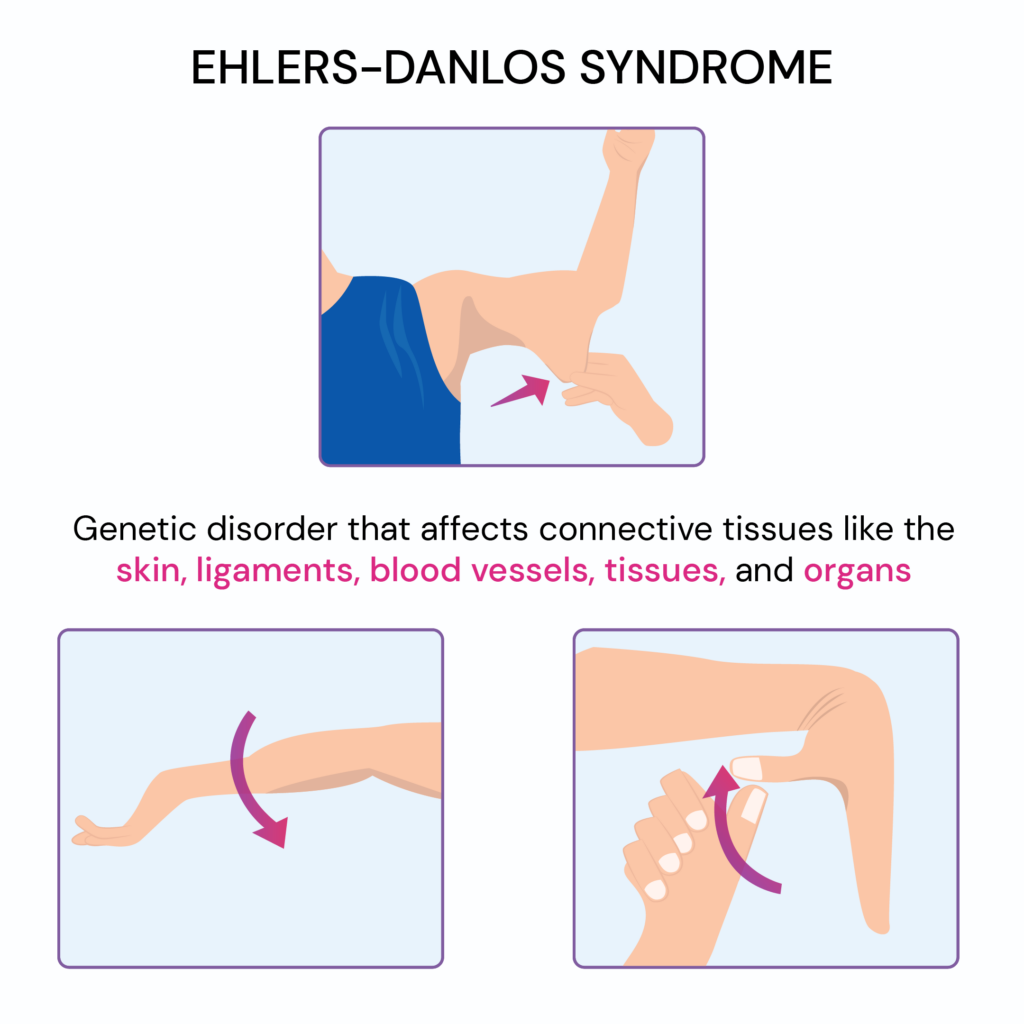 Types of Ehlers-Danlos Syndrome
There are 13 types of Ehler-Danlos syndromes (EDS), most of which are rare.
Hypermobile EDS (hEDS) is the most common type of Ehler-Danlos syndrome.
Some symptoms of hEDS are:
Hypermobility of joints
Unstable joints that tend to dislocate easily
Clicking and pain in the joints
Easy skin bruising
Digestive problems like heartburn
Dizziness and increased heart rate after standing up
Urinary incontinence
There are no diagnostic tests for hEDS.
Usually, the diagnosis is based on the individual's history, symptoms, and physical examination.
Other relatively common types of EDS are classical, vascular, and kyphoscoliotic EDS.
Is Elhers-Danlos Syndrome Genetic?
Ehler-Danlos syndrome is a genetic condition. Over 20 genes have been found to be associated with EDS.
A few genes that have been associated with Ehler-Danlos syndrome are:
These genes provide instructions for making different types of collagen.
Changes (variants) in these genes may disrupt the production or processing of collagen, resulting in weak bones, skin, or other parts of the body.
This gives rise to the characteristic features of Ehler-Danlos syndrome.
Each type of EDS is caused by variants in different collagen genes.
Variants in the COL5A1, COL5A2, and sometimes in the COL1A1 genes cause the classical type EDS
Variants in the TNXB gene cause the classical EDS and a few cases of hypermobile type
Variants in the COL1A2 gene cause cardiovascular EDS and some cases of arthrochalasia
23 Signs You Grew Up With Ehlers-danlos Syndrome
Hypermobile joints, frequent bruising, and painful joints are common symptoms of EDS.
While for some, it may be related to an underlying medical condition, these may be signs of Ehler-Danlos syndrome for a few people.
23 signs of of Ehler-Danlos Syndrome
High flexibility of joints
Clumsiness
Frequent tripping or falling
Frequent joint dislocations, especially of the knee or elbow
Ability to bend fingers or thumb backward
Increased frequency of fracturing bones
Hyperextended knees
Feeling you are double-jointed
Fear of relaxing your joints for fear of dislocation
Frequent dizzy or fainting spells
Fewer wrinkles
Frequent foot problems, especially pain and discomfort
Digestive issues like bloating, diarrhea, nausea, acid reflux
Extreme fatigue
Holding a pen or pencil differently to avoid pain, discomfort, or dislocation of your finger joint
Take longer to complete everyday activities
Increased likelihood of migraine, vision issues, or postural orthostatic tachycardia syndrome (POTS)
Chronic body pain at a young age
Running with a different gait than others
Picky about the clothing you wear to protect your sensitive skin
Joints make a clicking or popping noise
Growing pain in the ankles
Inability to run fast
Treatment for Ehlers-Danlos Syndromes
There is no cure for Ehler-Danlos syndrome.
Treatment is aimed at managing the symptoms and preventing further complications.
A few ways to manage Ehler-Danlos syndrome are:
Medications: Over-the-counter pain-relieving medications are usually the mainstay for EDS treatment.
Stronger medications may be required in the case of acute injuries.
People with Ehler-Danlos syndrome have fragile blood vessels. So, doctors may want to lower their blood pressure with medications.
Physical therapy: Joints with weak connective tissue in Enhler Danlos increases the risk for dislocations.
Physical therapy may be recommended to strengthen muscles and stabilize joints.
Surgery: Surgery may be required in people with repeated joint dislocations or ruptured blood vessels and organs.
People with EDS usually have many healthcare professionals supporting their journey with the disease.
The healthcare team for EDS usually includes an occupational therapist, physiotherapist, and counselors.
Genetic counseling may help people understand their condition, how it is inherited, and the risk of passing it to their children.
There's no specific treatment for EDS, but it's possible to manage many of the symptoms.
Summary: 23 Signs You Grew Up With Ehlers-Danlos Syndrome
Ehler-Danlos syndrome (EDS) is a group of rare inherited disorders that affect the body's connective tissues.
People with Ehler-Danlos syndrome are born with it, but their symptoms may take years or, sometimes, decades to show.
There are around 13 different types of Ehler-Danlos syndrome, and hypermobility EDS (hEDS) is the most common type.
Ehler-Danlos syndrome is a genetic condition; to date, over 20 genes, including COL1A1 and COL1A2, have been associated with the condition.
Most people with Ehler-Danlos are unaware of their condition as they are unable to spot signs like easy skin bruising and joint dislocation.
References
Updated 31 May, 2023