About Veritas Genetics
Veritas Genetics is a genomics company founded in 2014 by George Church, CEO Mirza Cifric, Preston Estep, and Jonathan Zhao. Located in Danvers, MA, USA, the company offers genome sequencing to consumers. With other offices in China and Europe, the company aims to empower healthy living by improving accessibility to genomics worldwide.
Getting Started
One of the most important products that Veritas offers is mygenome, which is a whole genome sequencing and interpretation service.
You can get started with the following steps:
You can order a myGenome kit online.
Once you place an order, you will be sent a saliva-collection kit via mail.
After collecting the sample, you can mail back the kit to the lab.
The lab will process your sample and generate a report.
You can then review your results with your healthcare provider or a Veritas genetic counselor.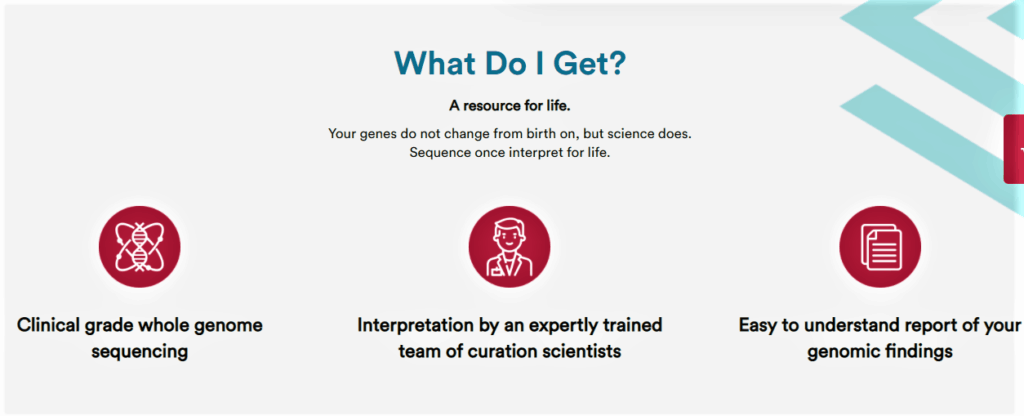 Image: Getting started with Veritas Genetics
Source: Veritas Genetics website
Veritas Products and Services
Veritas Genetics offers the myGenome testing kit, which is a 30x whole-genome sequencing test.
Medically-Actionable Conditions
In this category, 59 genes associated with diseases covered under categories like heart disease, metabolic condition, neurological disorders, immune disorders, and organ health are analyzed.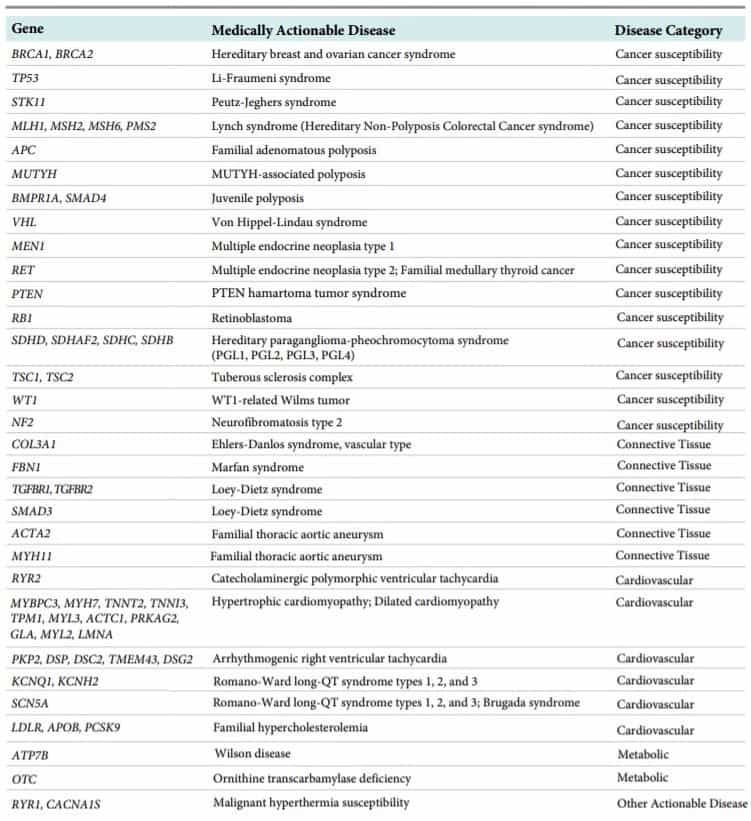 Image: Traits in Medically-actionable conditions section
Source: Veritas Genetics website
The Carrier Status Section
In this category, 24 genes associated with several autosomal recessive conditions are analyzed. Recessive conditions require two faulty genes to be expressed in an individual. However, one faulty gene makes a person a "carrier," and if that person has a kid with another person who's a carrier of the same faulty genes, there are 25% chances of their kid being affected with this condition.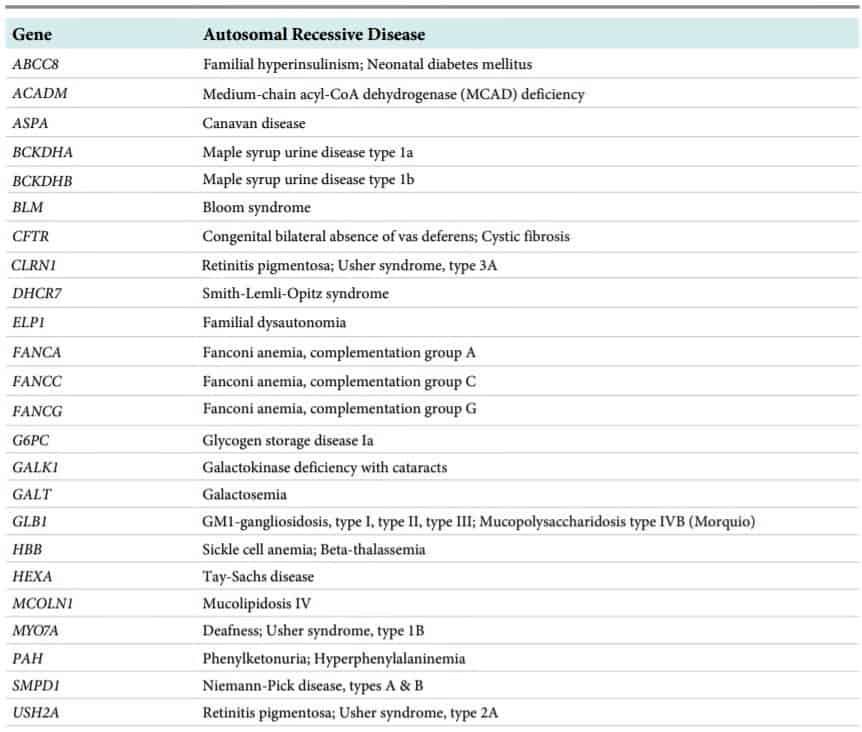 Image: Traits in the Carrier Status section
Source: Veritas Genetics website
Risk Section
This contains information about "lower-impact genetic findings" associated with 15 conditions whose risk can be lowered by proactive lifestyle modification.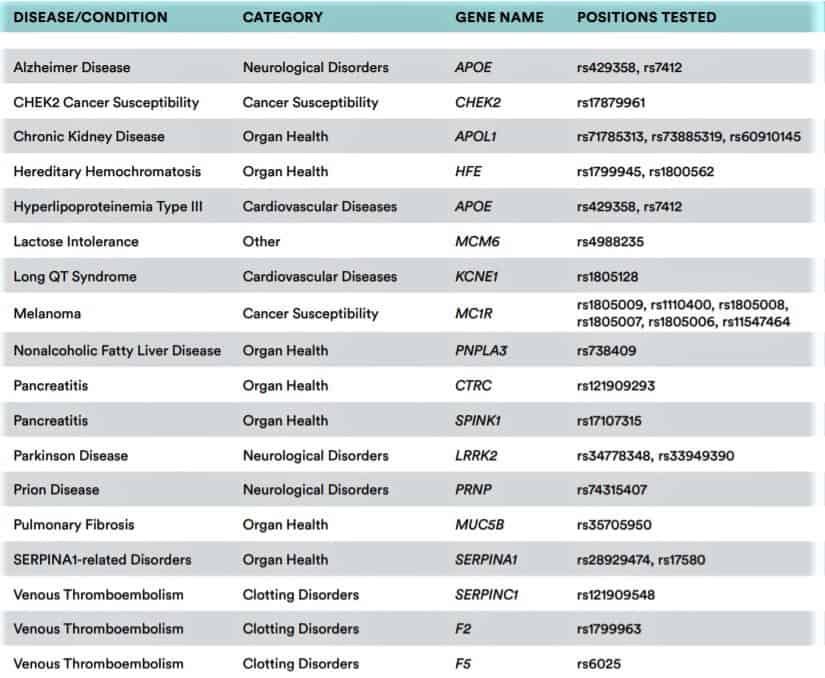 Image: Traits in the Risk Section
Source: Veritas Genetics website
Drug List
The Pharmacogenomics (PGx) section of the test report identifies how the genetic makeup may influence response to certain medications.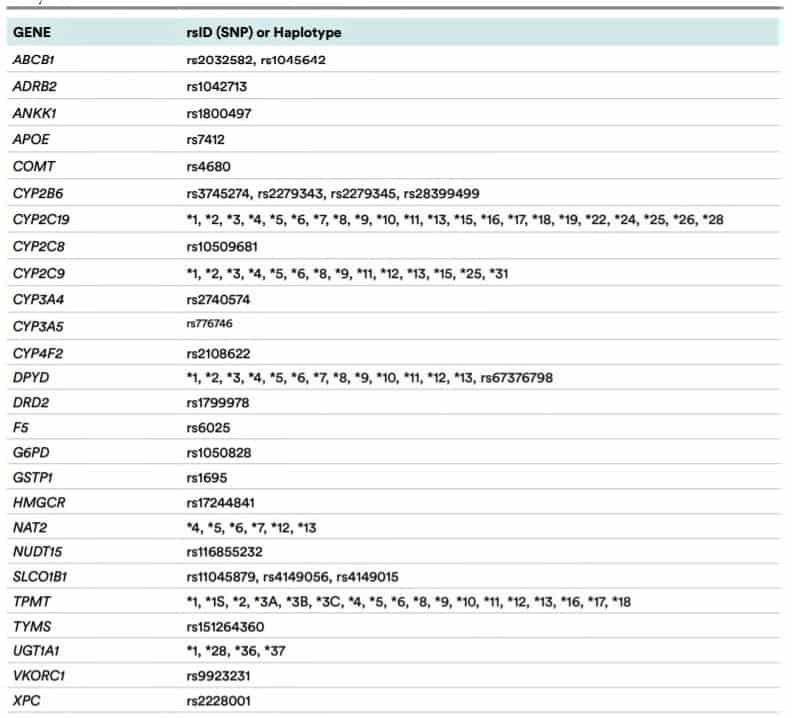 Image: Traits in the Pharmacogenomics section
Source: Veritas Genetics website
Xcode Life's Personalized Medicine Report - 1000+ drugs - $50
Traits and Wellness
According to the website, this section of the report includes "50 traits related to athleticism, behavior, cardiovascular, hormones, immune system, longevity, metabolism, nutrition & diet, physical appearance, sensory perception, and substance reaction."
Image: Traits in the Traits and Wellness section
Source: Veritas Genetics website
Veritas also offers information on your ancestry.
Veritas offers its users two interpretation services:
This service provides insights into disease risks, drug sensitivities, and what one might pass on to the next generation.
This test provides insights into the underlying causes of a genetic condition. It includes insights on the relevant disorder, diagnostic interpretation, and a clinical expert panel review.
Image: Veritas Interpretation Services
Source: Veritas Genetics website
Additionally, Veritas now offers the following tests for COVID-19:
Rapid Test
PCR Test
Antibody Test
Image: Veritas COVID tests
Source: Veritas Genetics website
Veritas runs all its tests using high complexity CLIA-certified, CAP-accredited next-generation sequencing (NGS) laboratories. Customers receive reports within 16 weeks, typically closer to 12 weeks.
Veritas also offers a 15-20 minutes free genetic counseling service with a team of certified genetic counselors.
Veritas Pricing
Customers can choose from three different interpretation services:
Standard: $599
This kit provides information on disease risks and drug sensitivities, covering about 40 carrier genes and about 200 genetic conditions.
Premium: $1,599
This service includes all the standard testing, with additional information on cardiovascular conditions, cancer, and carrier conditions. It covers over 225 carrier conditions and 650 genetic conditions.
Diagnostic: $2,599 - $3,599
The service enables patients with complex medical histories to learn about underlying genetic causes. It may provide patients with medical management options or help make treatment decisions.
Customers can also avail an additional hour of a genetic counseling session with Veritas for $299.
COVID-19 tests at Veritas range from $60 to $120, depending upon the type of test.
About Privacy
Veritas Genetics claims that they stay committed to protecting user privacy by maintaining the confidentiality of personal information, genetic information, and test results.
Veritas may disclose the customer's protected health information like name, date of birth, social security number, medical record number, social security number, genetic information in the case of payment, treatment, and other purposes required by law.
The company shares genetic testing results with healthcare providers involved in the care of their users. Veritas may use an individual's protected health information for research purposes under certain circumstances.
Veritas stores all user data on a Health Insurance Portability and Accountability Act (HIPAA) compliant cloud service. It is encrypted and stored for ten years. The company does not share the data with third parties without permission from users.
For further information, read Veritas Genetics Privacy Policy.
What People Say: News & Reviews
News
Veritas has been listed among CNBC Disruptor 50 companies in 2018 and 2019.
Veritas Genetics was the finalist and winner of the 2018 Business Model Innovation Awards for the most innovative low-cost business model.
Veritas Genetics offers affordable genetic testing services by slashing the price of whole-genome sequencing by 40% in 2019.
You can read more news stories of Veritas Genetics on their website.
Reviews
Veritas mostly has positive reviews from all its users. You can read other reviews of Veritas Genetics.
Veritas Genetics Review on Reddit
Veritas Genetics Review on DNATestingChoice
Veritas Genetics Review on Top 10 DNA Tests
Veritas Genetics: Pros & Cons
Pros
It provides low-cost whole-genome sequencing
Veritas offers genetic counseling services
The company runs tests at state-of-the-art CLIA certified labs
Tests are very convenient with at-home sample collection
Reports provide actionable insights into user health
Cons
Some customers reported delays in receiving test reports
The services are expensive compared to AncestryDNA and 23andMe
Veritas makes user raw data available only upon request for an additional fee
| | | |
| --- | --- | --- |
| | Veritas Review | Xcode Life |
| Type of genetic testing | Whole-genome DNA kit | DNA raw data analysis |
| Ancestry reports | Offered - Brief | Not offered |
| Health reports | Offered | Offered |
| Pharmacogenomic reports | Offered | Offered |
| Raw data upload | Not available | DNA raw data from all major providers accepted. Comprehensive list |
| Number of reports | 5 | 10 |
| Price | Price point ranges from $599 to $3599 | Reports: $30-$50Bundles: $160-$199Price details |
| Sample reports | Only trait and gene information available | Available as detailed report walkthrough videos |