About the Company
Gene By Gene was co-founded in 2000 by Bennett Greenspan and Max Blankfeld, with its headquarters in Houston, Texas. Currently, the company is headed by Dr. Lior Rauchberger as part of a merger with a leading Australian genomics firm, myDNA. The company's labs are CAP, CLIA, NYSDoH, CA, and AABB accredited.
Gene By Gene laid the foundations of DNA-based ancestry and genealogy as FamilyTreeDNA (FTDNA). The first company of its kind, FTDNA, collaborated with National Geographic's Genographic Project as their testing provider.
Gene By Gene Services
The company was the first lab to offer DNA-based ancestry and genealogy services as its subsidiary, FamilyTreeDNA, since 2000. It has now expanded its services to clinical, forensic, and research genetics. Amid the COVID-19 pandemic, Gene By Gene has opened its door for COVID-19 testing services too. The company caters to a wide range of individuals - clinicians, consumers, and researchers - worldwide.
Getting Started
For starters, clinicians, consumers, and researchers alike can register with the company. Upon registration, they can browse from a list of tests to place an order. The account dashboard has five tabs for browsing.
Clinicians can add as many patient profiles as they want.
Clinicians can opt for a carrier screening test for other members of the patients' families, too, if needed.
Clinical Testing Service
Gene By Gene's clinical testing services includes the following:
Diagnostic services to confirm a disease prognosis and assist in healthcare management
Assistance in reproductive health with carrier screening and preimplantation testing
Predisposition tests to learn about a healthy individual's chances of developing cancer, autoimmune disorders, and more.
The clinical testing services of Gene By Gene can be availed either as a healthcare provider (for your patient) or a consumer.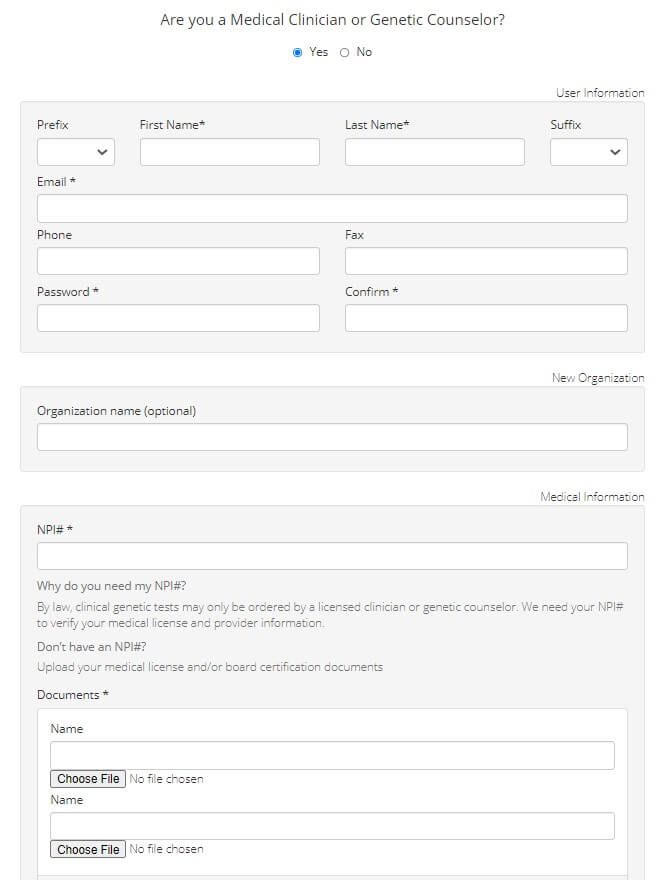 Image: Registration for genetic counselors/medical clinicians
Forensics
The company provides Investigative Genetic Genealogy (IGG) services to law enforcement organizations through its subsidiary, FamilyTreeDNA. The company has its in-house lab and many genetic genealogists who discreetly identify individuals. They do so by matching them to unknown samples of DNA from cases involving homicides or sexual assault. This is brought about by familial matching within the FamilyTreeDNA database.
Law enforcement officials can submit their case along with evidence for review to the company. The staff reviews the case and checks for sample suitability before proceeding with testing.
Relationship DNA Testing
Gene By Gene offers a wide range of DNA testing services, including paternity, maternity, immigration, and legal testing.
Immigration Testing: This is offered by the company to assist immigration between the US and other countries. This is brought about in collaboration with the embassies of different countries. Upon test request, a case manager is allotted who guides through the entire testing process. The counseling sample is collected either as a buccal swab or as bloodstains (as may be required by different embassies).
Paternity Testing: The company offers two types of paternity tests: first, court-admissible test (which you can use to change the name or get child support and other benefits), and second, Peace of Mind DNA test (for your peace of mind). Upon test requisition, a kit for collection and sample return to the company is provided to the consumer.
Maternity Testing: The company offers maternity test services to ascertain biological mother identity in cases of:
Reunion of the adoptee with their biological mother
In the case of immigration, proof of biological relationships
In case of baby mix-up in the hospital nursery, to ascertain birth mother.
Research Genetics Services
Gene By Gene offers a range of sequencing and microarray services for researchers from academic institutions, pharma companies, and hospital and medical research centers. The labs are CAP/CLIA accredited, and services are HIPAA compliant. Services provided are:
The lab uses Illumina NovaSeq 6000 for WGS and WES services. The data is provided as FASTQ. For Fragile X service, carrier status is checked using AmplideX, FMR1. 
Additional features
Tryptase CNV (copy number variation)
This test is used to determine the alpha tryptase copy number. It can be requested by healthcare providers, researchers, and consumers to check for serum tryptase levels. Suppose consumers order a test themselves; in that case, the test request form must be approved and signed by the consumer's healthcare provider.
* Note: Alpha tryptase is produced by the gene TPSAB1 and beta tryptase by genes TPSAB1 and TPSAB2. Individuals with one copy of inherited α-tryptase on the gene sequence have normal serum tryptase levels.
Understanding results:
A typical result is any combination of both α- and β- tryptase adding up to 4 on both strands of DNA.
A positive result is a combination of α- and β- tryptase adding up to five or higher on both strands due to duplication or triplication of α-tryptase.
Eligibility criteria for testing:
Patients exhibiting symptoms of
High tryptase level of 8 or more
Cutaneous flushing, itching, and severe allergic reactions
Dysautonomia
Chronic pain
Connective tissue abnormalities
Patients with a diagnosis of
Mast cell activation syndrome (MCAS)
Postural orthostatic tachycardia syndrome (Dysautonomia)
Gastroparesis
Ehlers-Danlos Syndrome
For more information: https://genebygene.com/tryptase/#resources https://genebygene.com/tryptase/#w-tabs-1-data-w-pane-1
Health report
The FamilyTreeDNA website of Gene By Gene has an additional feature of the Health report. This report includes:
Upon receiving the report, a free-of-cost, half an hour telemedicine appointment with a consulting physician (or a genetic counselor) is scheduled to give the consumer a proper interpretation of their report.
Xcode Life's Gene Health Report - 55 Traits, $50 - No DNA test required
Pricing
| | |
| --- | --- |
| Test | Pricing |
| Court Admissible Paternity Test | $425 |
| Personal Paternity Test | $189 |
| Court Admissible Maternity Test | $475 |
| Immigration Relationship Testing | Pricing NA |
| General Wellness (Affiliated with MyDNA) | $199 |
About Gene By Gene Privacy
The company claims to respect consumer privacy and does not sell or rent out personal information of any kind to a third party without the consumers' consent.
The company only collects and stores consumer data to operate effectively and provide the best experience of its products. Personal information includes, but is not limited to, names, phone numbers, physical or mailing addresses, email addresses, and genetic test results.
The company uses the stored data to communicate about test progress and results and marketing communications occasionally. One can opt out at any time.
The information is stored in the company headquarters, adjacent to the Genomics Research Center in Houston, Texas.
In addition to Gene By Gene's Privacy Policy, FamilyTreeDNA adheres to the Genetic Genealogy Guidelines proposed by the Genetic Genealogy Standards Committee in January 2015.
For more information, read Gene By Gene's privacy policy.
News
In 2018, in collaboration with Dr. Barbara Rae Venter, Gene By Gene helped law enforcement officials arrest the "Golden State Killer" through its investigative genetic genealogy services.
In January 2021, Gene By Gene went for a merger with Australian genomics firm myDNA headed by Dr. Lior Rauchberger.
Summary: Pros and Cons
Pros
The company offers in-depth diagnostic clinical testing services which physicians can trust.
Ancestry reports have in-depth tracing, up to 10, 25, and even 52 generations.
Test kits are easy to use with mostly cheek swab samples.
Provision for trace mapping of ancestral migration routes.
Provision for in-house labs which guarantee discrete and uncontaminated test results.
Cons
Test kits are expensive.
The company does not offer in-depth, personalized lifestyle reports
Test results may take longer to be delivered, especially in the case of international consumers.
| | | |
| --- | --- | --- |
| | Gene By Gene | Xcode Life |
| Type of genetic testing | DNA kits | DNA raw data analysis |
| Ancestry reports | Offered (by FTDNA) | Not offered |
| Health report | Offered | Offered |
| Pharmacogenomic report | Not offered | Offered |
| Raw data upload | Only autosomal DNA data from AncestryDNA, 23andMe and MyHeritage | DNA raw data from all major providers accepted. Comprehensive list |
| Number of reports | 2 | 10 |
| Report updates | No | Quarterly updates |
| Price | Tests: $99-$475 | Reports: $30-$50Bundles: $160-$199Price details |
| Sample reports | NA | Available as detailed report walkthrough videos |