The popular DNA test 23andMe can give individuals much information about their genetic makeup. But how long does 23andMe take? In this article, we'll dive into the details of the company's processing times. We'll look at all the factors affecting DNA test results times.
About The Company
23andMe is a company that provides direct-to-consumer genetic/DNA testing and analysis.
The company was founded in 2006 by Linda Avey, Paul Cusenza, and Anne Wojcicki.
23andMe's mission is to help people access, understand, and benefit from the information present in the human genome.
23andMe's primary service is a saliva sample-based direct-to-consumer genetic test that includes information about customers' ancestry, health, and traits.
The company has been the subject of controversy due to its handling of customer data and privacy concerns.
The company has over 12.5 million customers worldwide.
23andMe Services Overview
Process and Timeline
Between registering your 23andMe and getting your results, there are multiple steps.
Let's have a look at them below:
Creating a 23andMe account on the website and registering a kit
Sending the sample back to the lab
Preparing your sample
Extracting the DNA from your sample
Genotyping the sample
Reviewing the DNA data
Performing the final computation
Uploading the results to your account
Your 23andMe homepage should include information on what step of the process your sample is in and provide the estimated day of result delivery.
How Long Does 23andMe Take?
Once your kit is received at the lab, you should receive your results in 3-5 weeks.
Samples mailed from within the United States can take anywhere between 2-4 weeks to reach the lab.
So overall, it can take up to 10 weeks to deliver your results once you mail your DNA sample back.
However, many customers report receiving the results much earlier than 10 weeks.
These times are estimates, and the company cannot guarantee that you will receive the reports on the date mentioned.
In the last two years, 23andMe's wait time appeared to have stayed under 25-30 days, making their service a pretty quick one!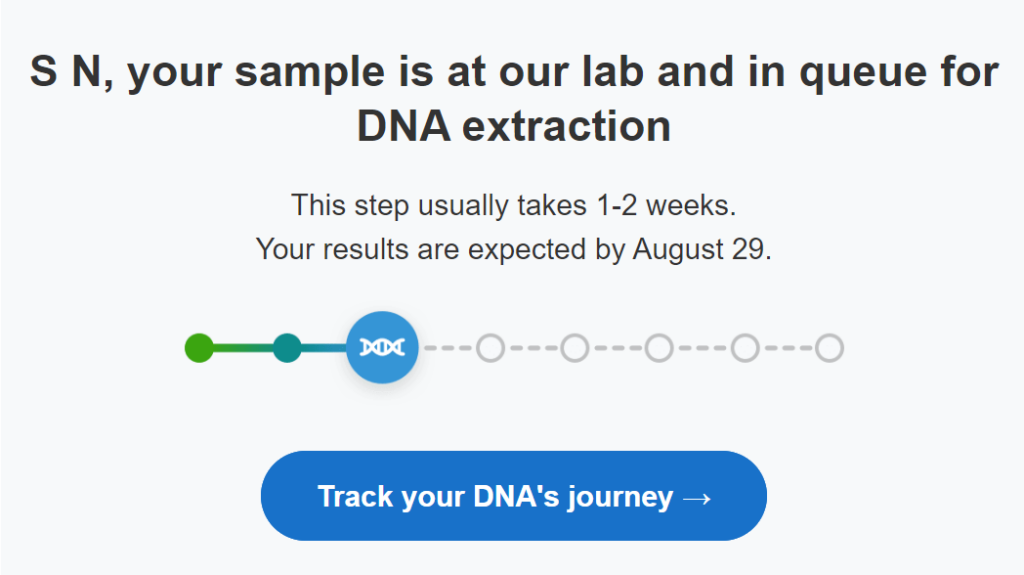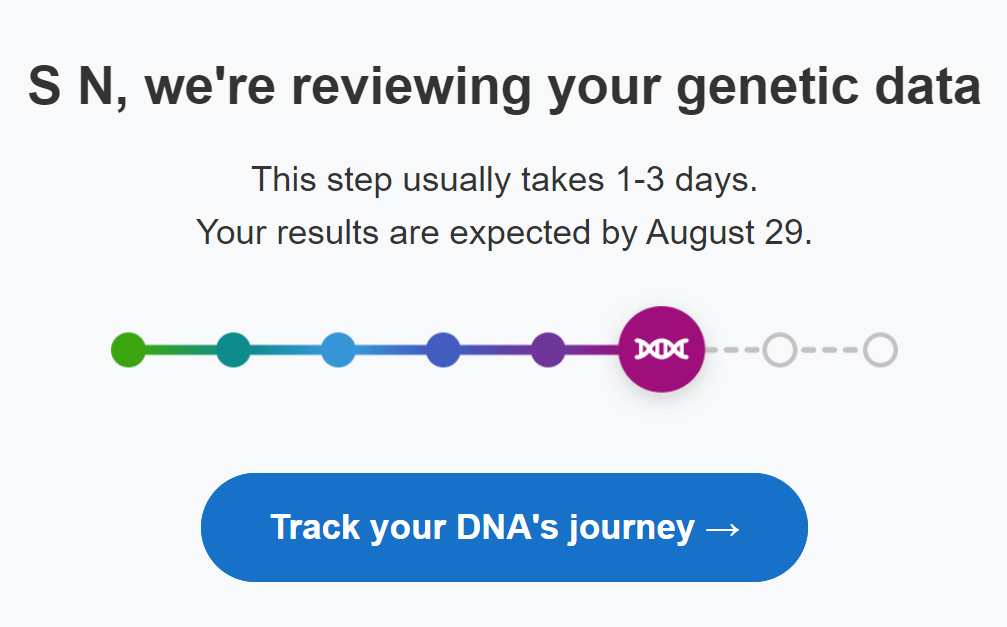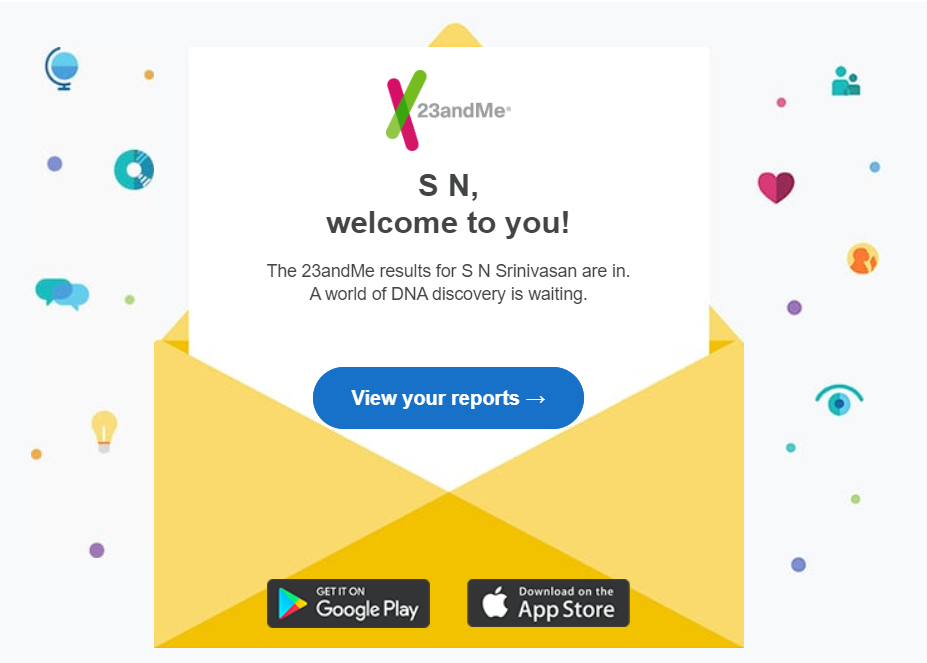 Why Does 23andMe Take So Long?
The following can impact the time it takes to get your results:
The time it takes to receive the kit upon registering
The time it takes to for you to ship the kit back
The shipping time itself
The processing time at the lab
The report generation time
Certain samples may require additional steps to be processed successfully, which can further increase the wait time.
How long does it take to get results from 23andMe UK?
The saliva collection kit is generally dispatched within 1 to 2 business days. There is also express shipping available if needed.
Once you mail them your barcode, which is unique for each kit, your reports will be prepared in approximately 3 to 4 weeks. Once they are ready, you will receive an email notification informing you that your reports can be accessed in your online account.
AncestryDNA vs. 23andMe: Which is Faster?
AncestryDNA has a much bigger database with 18 million users than 23andMe's 12 million users.
This could mean that the accuracy of the former is latter than the higher.
According to the AncestryDNA website, "it can take up to 5 weeks from the date you mail in a sample for the laboratory to mark it as arrived, and 8 weeks from the date we receive your sample for your results to be ready."
This means that 23andMe processes your report much quicker (by a couple of weeks to a month) than AncestryDNA.
What Do You Get With The 23andMe Test?
The information in your report depends on the services you have chosen.
23andMe Ancestry + Traits DNA Kit
This provides information about your ancestry traits and ethnicity taking into account over 2000 geographical regions.
It also includes a "DNA relatives" feature that matches you with different people depending on how much DNA you share with them.
You also have an option of viewing your family tree based on this result.
The service further provides information on 30+ non-health traits like fear of heights, earwax types, etc.
23andMe Health + Ancestry DNA Kit
You get all the information from the "Ancestry+Traits kit" and insights into 150+ health traits. This is divided into 3 categories:
Health predispositions
Carrier status
Wellness
23andMe+ Membership
You get all the information from the "Health + Ancestry kit" and access to heart health and pharmacogenetics report.
Accessing 23andMe DNA Raw Data
An important part of your 23andMe result is the DNA data, which you can easily access and download from your account.
Your DNA data provides a massive amount of information that can be used to unlock thousands of more things outside what's covered in 23andMe.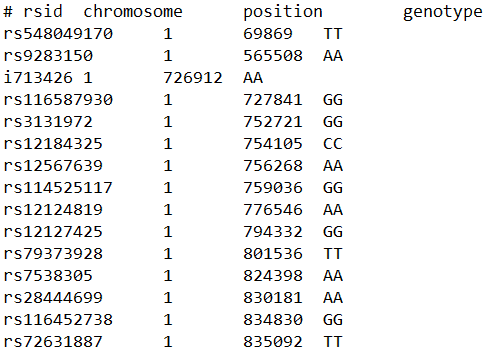 What Other Information Can I Get With 23andMe?
With the information present in your DNA data, you can uncover insights into several aspects of your health and well-being.
Vitamin deficiency risk
Your ideal macro intake
Weight loss/gain tendencies
Eating patterns and behavior
Ideal fitness routine
Physical injury risk
Skin health
Skin disorder risk
Allergies
Food intolerances
Health risks
Sleep behavior and patterns
Sleep disorder risk
Breast cancer status
MTHFR gene status
Behavior and personality
Carrier status
Drug responses
To get your DNA raw data, follow the instructions from this page:
How to download your 23andMe Raw Data for 3000+ Health Reports
Summary
Once you ship your DNA kit, it should reach the lab in 2-4 weeks. After this, the lab takes 3-5 weeks to deliver your results. Overall, it can take up to 10 weeks. However, 23andMe has reduced its turnaround time over the last two years, with users reporting receiving results as early as 3-4 weeks.
The most important part of your 23andMe results is your DNA raw data. The company allows its users to download the raw data, which can be uploaded to many sites like Xcode Life to get insights into additional important health and wellness aspects.