Did you know? Widow's peak earned its name because it resembles the pointy hat worn by mourning Victorian women! The shape of your hairline can reveal a lot about your ancestry and personality. So, what is the origin and meaning of widow's peak? How does it relate to your genes and evolution? Continue reading to delve into widows peak genetics, discover its historical and cultural significance, and explore myths while presenting facts about this unique trait.
Genetic ancestry tests are becoming increasingly popular. While your DNA can be used to learn about your roots, did you know that it can also reveal important things about your health risks and wellness aspects? This allows you to take proactive measures for health conditions, even before the symptoms appear, thereby preventing it. You can upload your DNA data to learn 1,500+ things about your health. Learn more.
What Is A Widow's Peak?
A hairline that forms a V-shaped point in the center of the forehead is known as a widow's peak.
A widow's peak can vary in shape and size, depending on the individual's hair growth pattern and hairline recession.
Some people have a prominent widow's peak, while others have a subtle or barely noticeable one.
Why Is It Called A Widow's Peak?
The term "widow's peak" is believed to have originated in 18th-century England. Back then, people thought having a V-shaped hairline was a bad sign, indicating early widowhood.
This belief was connected to the resemblance of the hairline to the peak of a widow's hood, a mourning garment.
Another theory linked it to the superstition of bad luck or early death for the spouse, although there's no scientific proof of this.
If a woman had a natural V-shaped hairline resembling the widows' headwear, it was thought to predict her future as a widow, giving rise to the name "widow's peak."
Nowadays, "widow's peak" refers to the V-shaped hairline unrelated to marital status or gender. It is a common trait with no health implications.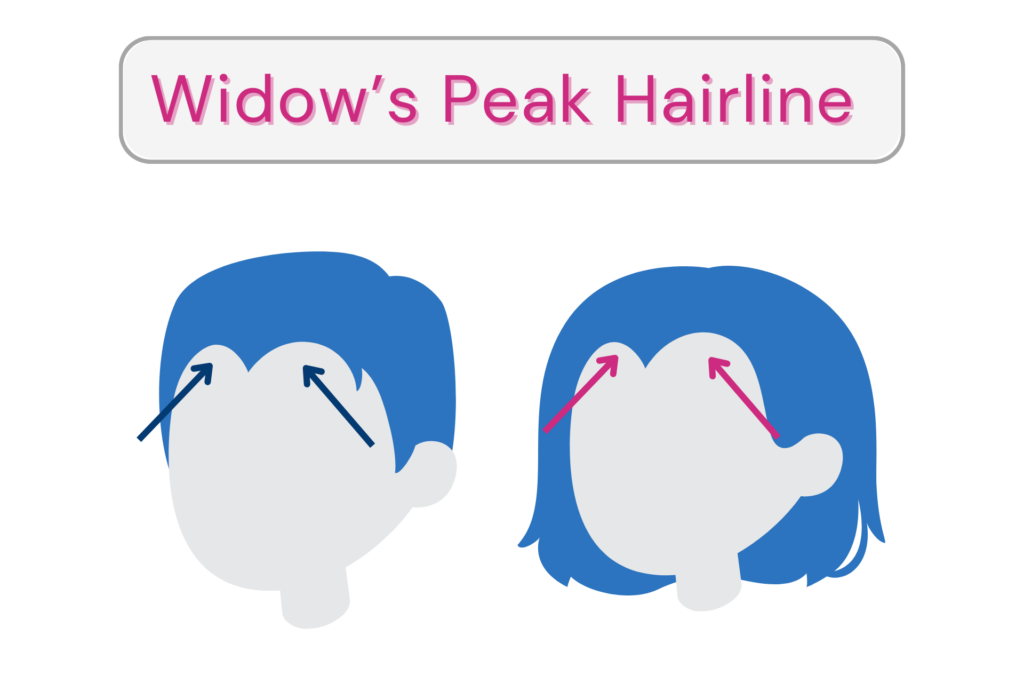 Historical And Cultural Significance
Widow's peak has various historical and cultural significance worldwide. An interesting example is Japan.
They call it "Fuji's peak" because it looks like the symmetrical cone of Mount Fuji, a famous cultural icon.
You can see this special hairline in old Japanese paintings. In the past, during the Heian era (from 792 to 1192 CE), women used makeup to make their widow's peak more noticeable.
Today, people have different opinions on how they want their hairline to look, and some even opt for hairline reconstruction to hide their widow's peak.
What Causes A Widow's Peak?
While a widow's peak is associated with some mythical beliefs, it doesn't explain why some people have it.
This trait is mostly due to genetics, a natural characteristic passed down in families. In some cases, it can also be linked to specific genetic conditions, like:
Aarskog Syndrome
A rare genetic disorder that primarily affects males.
Physical abnormalities are common, and they may also involve cognitive disorders.
A widow's peak is a notable feature in individuals with Aarskog Syndrome.
The X chromosome's FGD1 gene is linked to this condition.
Donnai-Barrow Syndrome
This genetic condition affects various facial features, including the eyes, ears, nose, and hairline.
Individuals with this syndrome may experience vision, hearing difficulties, and structural brain abnormalities.
LRP2 gene mutations are the cause of this condition.
Frontonasal Dysplasia
A condition that specifically impacts the head and face.
A widow's peak is one of the abnormalities associated with this genetic condition.
Patients may exhibit multiple abnormalities involving the nose, mouth, skull, and connective brain tissue.
The condition develops in various ways due to genetic mutations in the ALX3, ALX4, and ALX1 genes.
Opitz G/BBB Syndrome
This unique condition affects the body's midline, leading to abnormalities in the eyes, voice box, esophagus, ears, mouth, and nose.
A widow's peak is a common distinct feature among individuals with Opitz G/BBB Syndrome.
Mutations in the MID1 gene, chromosome 22, or SPECC1L are implicated in this condition.
Download Your 23andMe Data For 1000+ Health And Wellness Insights
Widow's Peak Genetics: Can You Inherit It?
The inheritance of widow's peak genetics from parents or relatives is complex and requires clarification. It does not adhere to simple Mendelian rules.
The shape of the hairline may be determined by multiple genes interacting with each other and other factors, such as hormones and hair loss.
Is Widow's Peak Hairline Dominant Or Recessive?
Whether a widow's peak hairline is dominant or recessive is a complex question with no definitive answer.
Widow's peak is considered a polygenic trait, meaning multiple genes influence it, including the W gene (widow's peak gene).
Some sources claim that widow's peak hairline is a dominant trait, meaning that only one gene copy is needed to express the trait.
However, there is no scientific evidence to support this claim. Therefore, it cannot be classified as either a dominant trait or a recessive trait.
What Is The Genotype For The Widow's Peak?
The genotype for the widow's peak is the combination of alleles that determine the phenotype or appearance of the trait.
The genotype can be either homozygous dominant (WW), heterozygous (Ww), or homozygous recessive (ww).
The phenotype for the widow's peak is either present or absent.
Inheriting Widow's Peak: What Are The Chances?
The chances of inheriting a widow's peak depend on the genotypes of both parents and their offspring.
Using Punnett squares, we can calculate the probability of each possible outcome. For example:
| | | |
| --- | --- | --- |
| Parent 1 | Parent 2 | Offspring |
| WW | WW | 100% WW |
| WW | Ww | 50% WW + 50% Ww |
| WW | ww | 100% Ww |
| Ww | Ww | 25% WW + 50% Ww + 25% ww |
| Ww | ww | 50% Ww + 50% ww |
| ww | ww | 100% ww |
As we can see, the chances of inheriting a widow's peak vary from 0% to 100%, depending on the parents' genotypes.
The evolutionary significance of the widow's peak trait is still unclear. More research is needed to determine if the widow's peak has played an important role in human evolution and natural selection.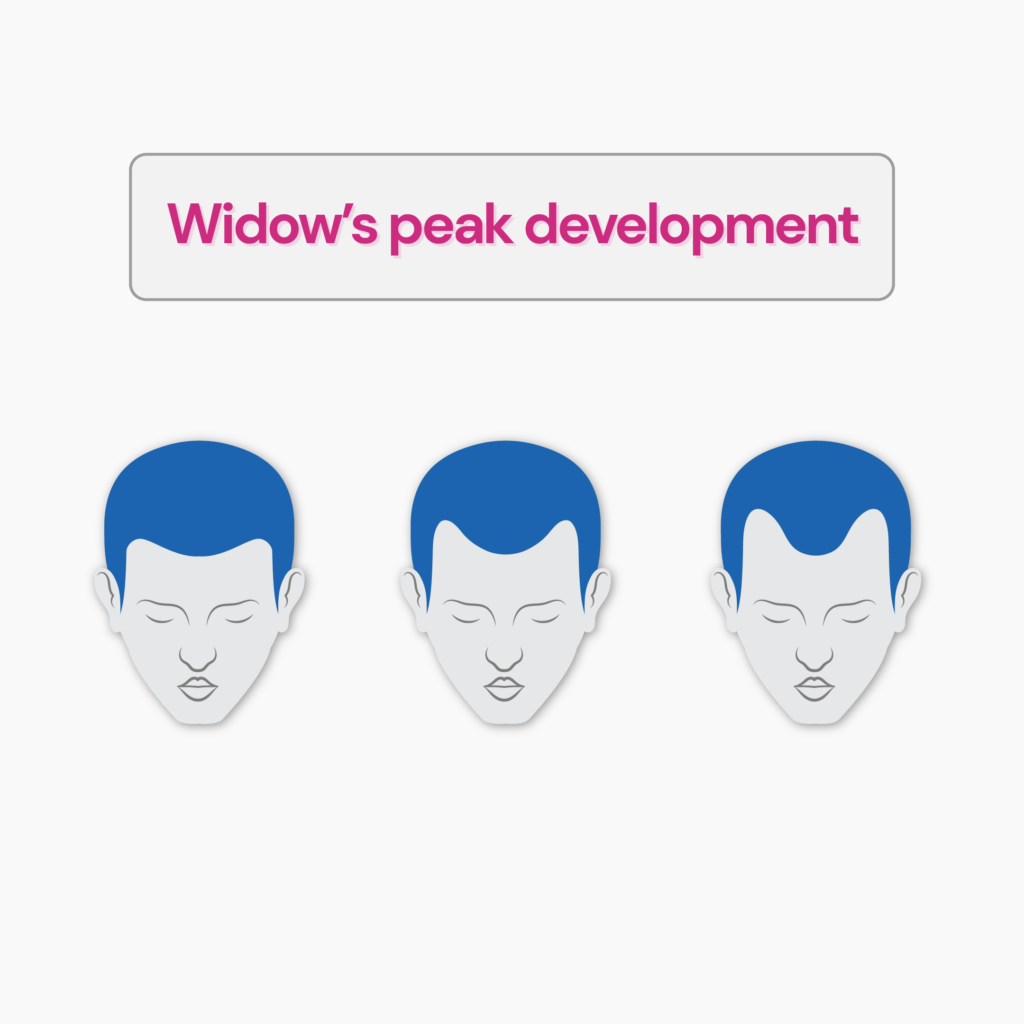 What Are Some Myths About Widow's Peak?
There are many myths and misconceptions about the widow's peak, such as:
Early widowhood: The term "widow's peak" suggests a belief that women with this hairline might become widows early. Yet, there's no scientific proof supporting this idea.
Villain-like characteristics In movies and shows, villains are often shown with widow's peaks, creating a stereotype that people with this trait might be evil. However, this is just a character trope and not a reality.
Bad luck or early death: Some think a widow's peak means bad luck or early death for a spouse. This is simply a superstition with no scientific backing.
Intelligence or witchcraft: Another belief is that a widow's peak indicates intelligence or witchcraft. This idea may have come from history or culture but lacks scientific support.
Can Widow's Peak Lead To Pattern Baldness?
A widow's peak doesn't lead to or predict pattern baldness, also known as androgenetic alopecia.
Pattern baldness is a condition that makes hair follicles shrink, producing thinner and shorter hairs over time.
Hormones, age, and genetics influence pattern baldness, but the genes causing it differ from those determining hairline shape.
So, having a widow's peak doesn't mean someone will lose their hair faster or more severely than someone with a straight hairline.
How Can I Learn About My Widows Peak Genetics?
If you are curious about your widow's peak genetics, you can take a DNA test that analyzes your ancestry and traits.
Some companies, such as 23andMe, offer a genetic testing service that can tell you if you have a W gene variant associated with widow's peak.
You can also compare your results with your relatives and see how the trait runs in your family.
Note: Genetic tests may not conclusively determine complex traits like a widow's peak. Results require caution in interpretation and should not be used to make significant life decisions.
Is It Possible To Get Rid Of Widows Peak?
Some people may not like their widow's peak and want to get rid of it or change its appearance.
Here are some options:
Hairstyle change: Adjusting the hairstyle can hide the widow's peak. Bangs, side parts, or layers can cover it, while slicked back, a pompadour or quiff style can highlight it.
Shaving or waxing: Some may shave or wax off their widow's peak for a straight hairline. However, this needs regular maintenance and may cause irritation or ingrown hairs.
Laser hair removal: An effective solution for reducing hair growth by destroying hair follicles with light pulses. However, it can be expensive, painful, and may have side effects such as scarring or pigmentation changes.
Hair transplant: An expensive surgical method to change the widow's peak is repositioning hair follicles from one part of the scalp to another. Risks include infection or rejection.
Routine haircuts don't need a doctor, but consult a hair transplant surgeon or dermatologist for advanced procedures like laser hair removal or transplants.
These procedures have medical and cosmetic implications, so expert guidance is necessary for safety and efficacy.
23andMe Widows Peak Genetics Report
23andMe looks at 12 places in the DNA to estimate the likelihood of having a widow's peak.
The analysis also takes into account the effect of other factors, including age and sex at birth.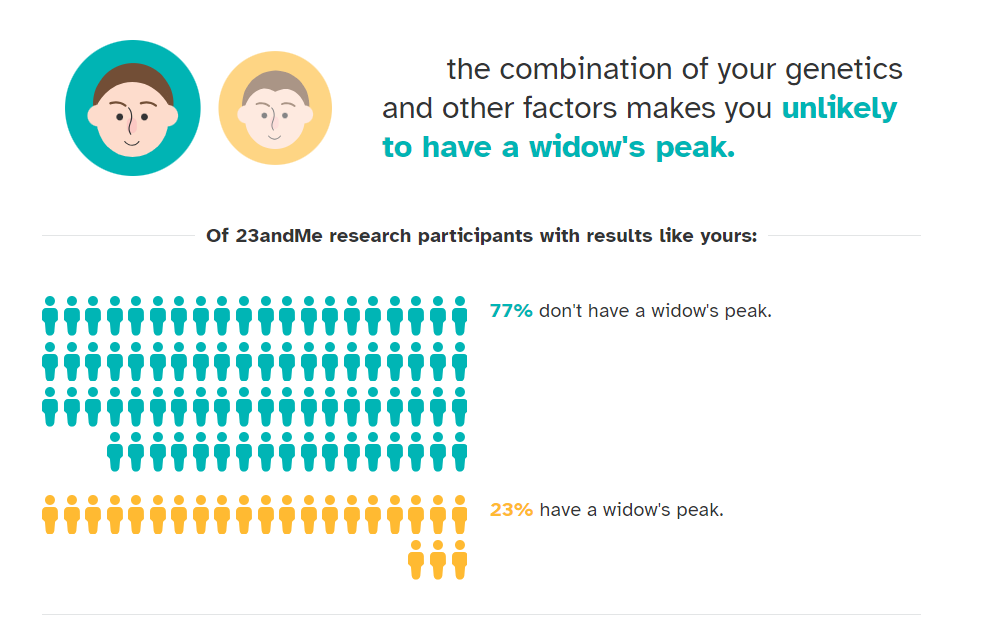 Find Out How Long 23andMe Takes To Deliver The Reports
Summary: Widows Peak Genetics
A widow's peak, a V-shaped hairline, holds historical and cultural significance, with various beliefs about its meaning.
While myths surround it, science attributes the trait to genetics, influenced by multiple genes.
The inheritance of a widow's peak doesn't follow simple Mendelian rules, making it a polygenic trait.
The chances of inheriting it depend on parental genotypes, as seen through Punnett squares. The evolutionary significance remains to be determined.
Despite myths, having a widow's peak doesn't predict early widowhood, villainous traits, or bad luck. It also doesn't correlate with pattern baldness.
If you wish to change your widow's peak, options range from hairstyle changes to more advanced procedures, each with its considerations and implications.
Reference:
https://www.healthline.com/health/widows-peak
https://www.webmd.com/beauty/what-to-know-about-widows-peak
https://onlinelibrary.wiley.com/doi/epdf/10.1111/ddg.14502