While most genetic ancestry testing companies reveal how much DNA you share with people in their database, not many tell where they potentially end up on your family tree. The 23andMe family tree feature, which can be found in the "Family & Friends menu" of your account, provides a visual representation of potential relationships you share with those who have taken a 23andMe test. In this article, we'll walk you through how to use the 23andMe Family Tree. We'll cover everything from creating your tree to editing and sharing it.
Did You Know? Your 23andMe DNA data includes 700,000 markers, which can be used to learn everything from disease risk and drug sensitivities to nutritional requirements and fitness parameters. Learn more.
What Is A Family Tree?
A family tree is a visual representation or diagram that displays the familial relationships and connections between individuals across different generations within a family.
It is typically presented in a tree-like structure with branches and leaves, where each branch represents a family line or generation, and each leaf symbolizes an individual.
How's A Family Tree Used?
A family tree is like a map of your family's history. It can be used in several ways, such as:
Knowing your roots: It helps you find out where your family comes from and your ancestral background.
Recording family history: You can write down important details about your family members, like when they were born, married, or passed away. This keeps a record of your family's story.
Connecting with relatives: You might discover relatives you didn't know about. It's a way to find cousins and others with your family background.
Planning for the future: Family trees help with things like who inherits what when someone passes away or for estate planning.
Getting health insights: You can see if certain health conditions run in your family, which can help with medical decisions.
Celebrating family: It's great for reunions and special occasions, showing how your family has grown.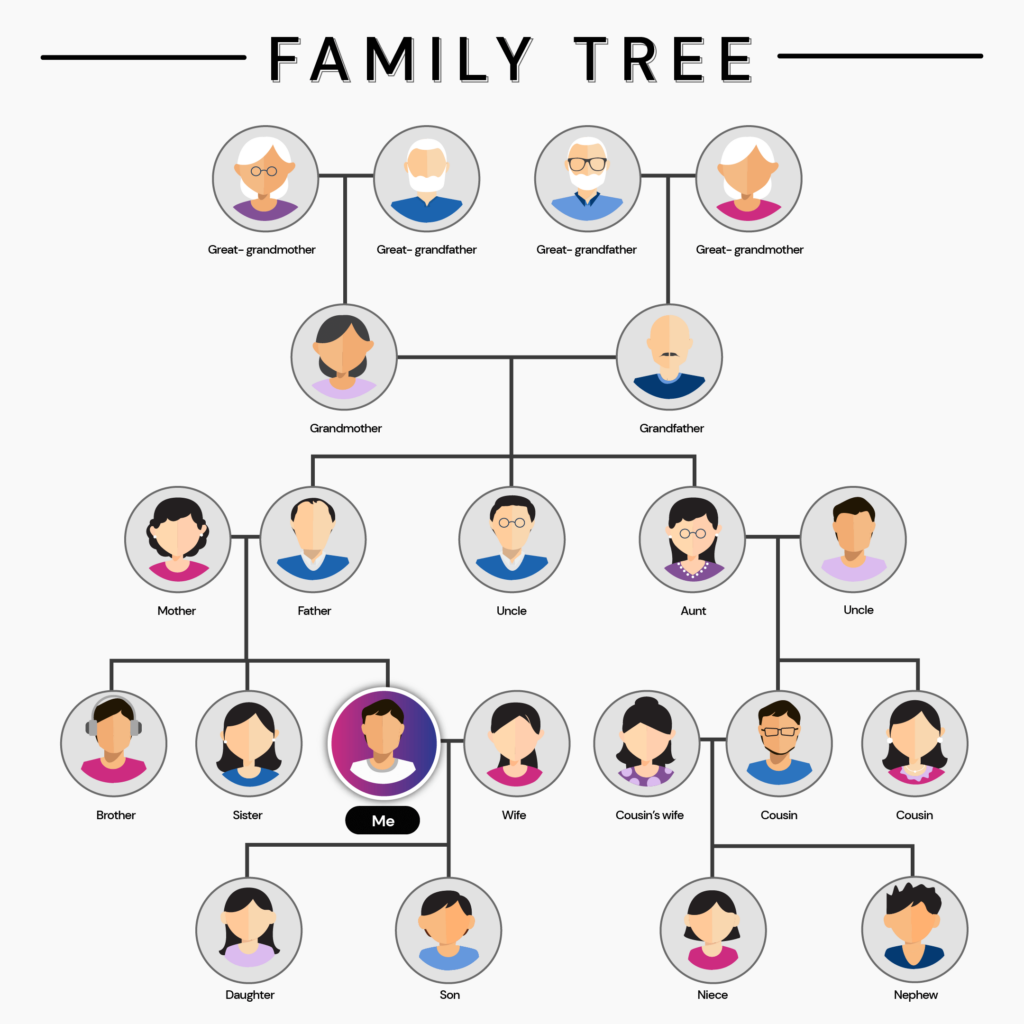 What Is 23andMe Family Tree?
The 23andMe family tree feature predicts your family tree based on shared DNA with people in 23andMe's database.
It compares and calculates many different ways you could be related to each other.
This feature is only sometimes accurate since it uses predicted relationships instead of confirmed ones.
However, it can be a helpful starting point for building your family tree or connecting with genetic relatives.
How Does 23andMe Family Tree Work?
The 23andMe Family Tree analyzes your DNA data, makes age-based predictions, and calculates potential genetic relationships.
Here's how it works:
Opting in and DNA Relatives: Connect with other 23andMe customers or opt-in to DNA Relatives to discover genetic relations.
DNA comparison and age prediction: When you connect with these users, 23andMe analyzes your shared DNA and age information to predict how you might be related.
Building the family tree: 23andMe takes things a step further by considering different possibilities for how your relatives are connected. It then generates a family tree that shows the most likely relationships based on the available data.
What the tree shows: In the family tree, you'll primarily see close family members (usually 3rd cousins or closer) who have also used 23andMe's DNA testing and joined the DNA Relatives feature.
It also includes people you've connected with through sharing.
Ancestral information: It's important to note that the family tree relies solely on DNA and age data, so it doesn't reveal the identities of your ancestors.
However, you can manually add their details to the tree as you discover how specific family members connect to your DNA relatives.
Information about living family members is private and visible only to you, while your DNA relatives and connections can see details about deceased ancestors.
Also Read
How To Login To Your 23andMe Account?
The Science Behind 23andMe Family Tree
23andMe's Family Tree feature uses Bonsai software to analyze DNA and determine how people are related.
Bonsai uses a variety of factors to make its predictions, including the amount of DNA shared, the pattern of DNA segments, and the ages of the individuals involved.
In the past, Bonsai had difficulty accurately predicting the relationships between close family members, such as aunts, uncles, and half-siblings.
It was challenging to distinguish between these relatives as they share similar amounts of DNA.
To address this issue, 23andMe recently introduced a new technique that examines the DNA of full siblings.
Full siblings share about 25% of their DNA, and they have a unique pattern in their DNA that helps Bonsai tell if someone is their aunt or uncle.
This new technique has significantly improved the accuracy of Bonsai's predictions for close family relationships.
Overall, Bonsai is a powerful tool that can be used to determine how people are related accurately.
How To Edit 23andMe Family Tree?
Here are the steps on how to edit your 23andMe family tree:
Go to your 23andMe account and click the "Family & Friends" option from the top navigation bar. Then, click on the "Family Tree" option.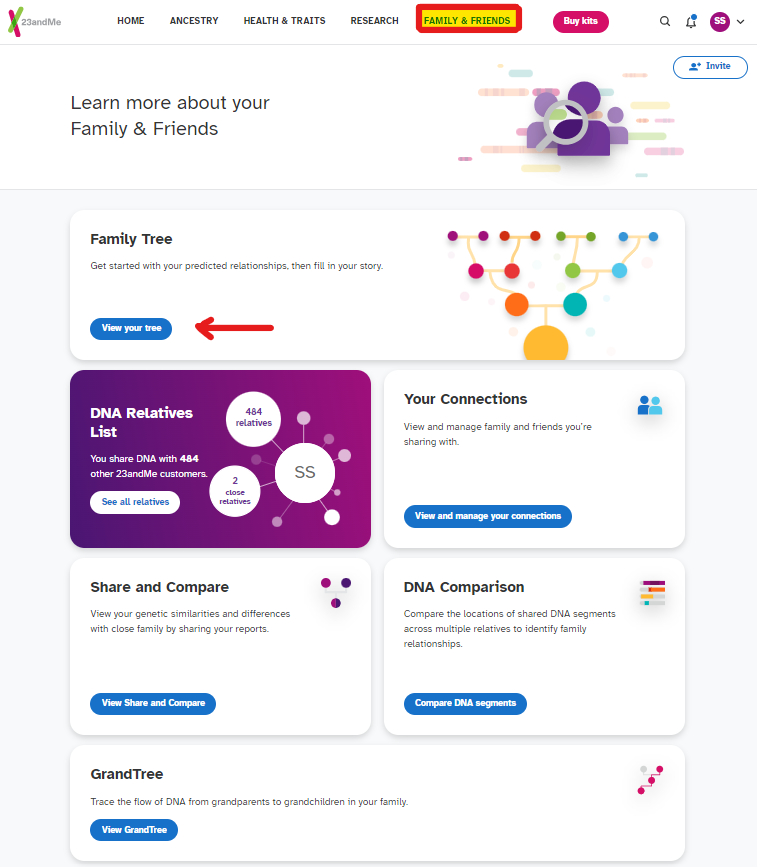 Click on the person whose information you want to edit. A popup will appear with the person's name. You can edit or add information about that person or their medical history.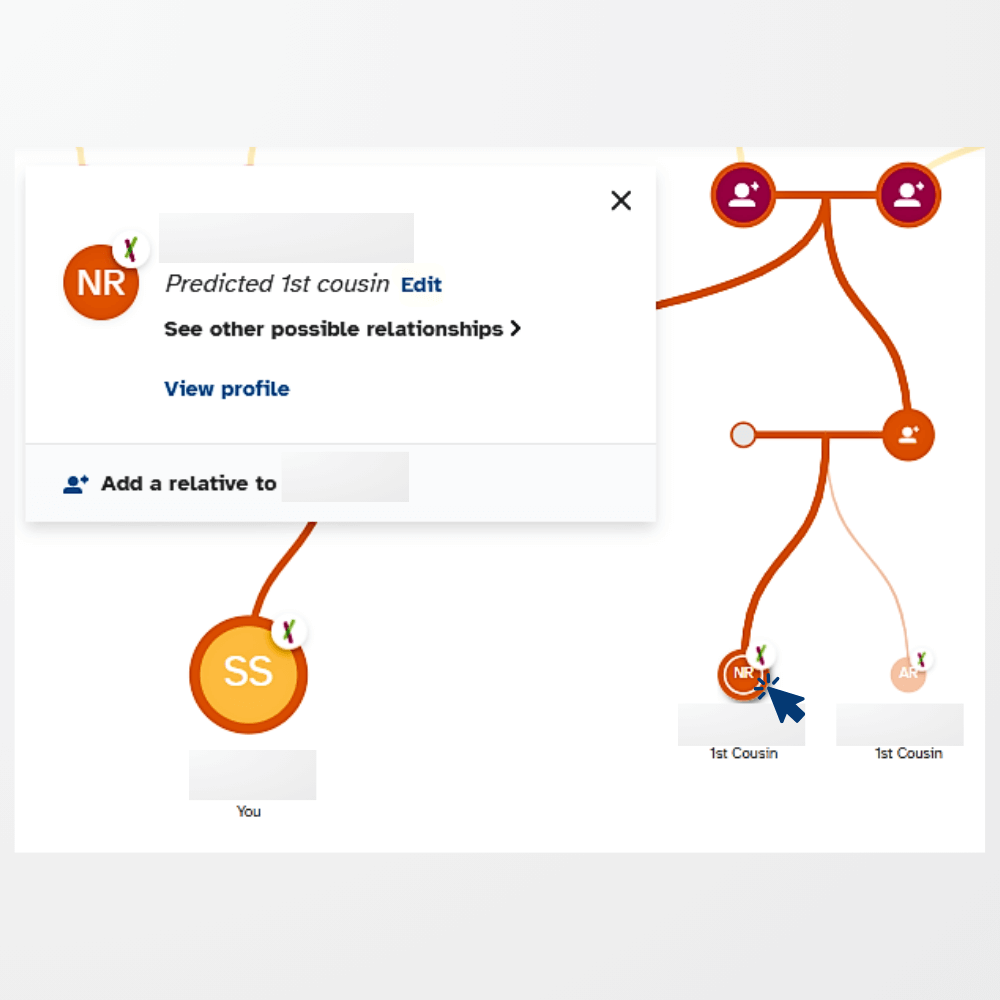 You can also add or delete people from your family tree.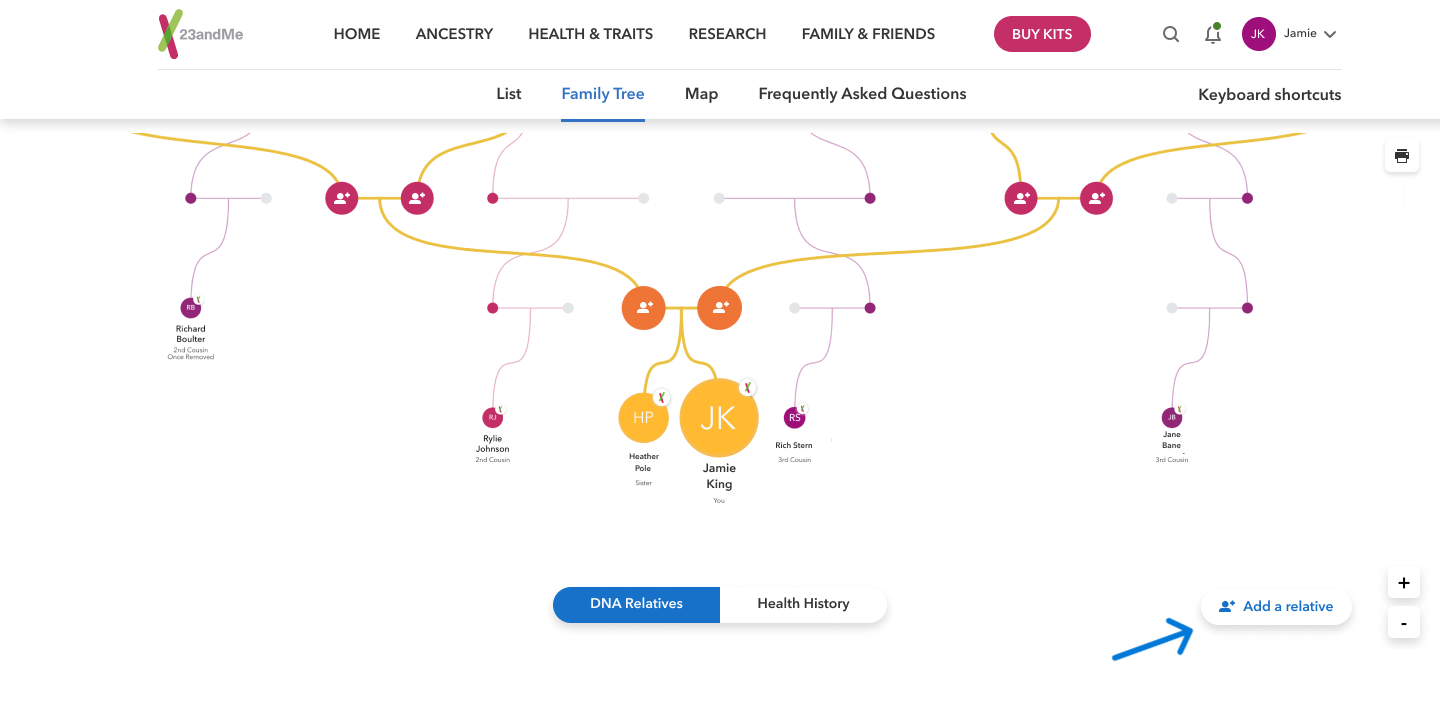 Can You View Other People's Genetic Trees On 23andMe?
No, you cannot view other people's genetic trees on 23andMe.
23andMe allows you to find and connect with genetic relatives using the platform's DNA Relatives feature.
However, this interaction is based on genetic matches and shared DNA segments rather than viewing the detailed genetic trees of others.
You can participate in the DNA Relatives feature and choose the level of privacy you're comfortable with.
Xcode Life Blew My Mind
The amount of detail I got from all of the reports was incredible. I had done 23andme quite awhile ago, and it was great, but this was truly next level. I'm going through some health issues and trying to figure out what's wrong, and Xcode Life has given me new language to ask my care providers about. I HIGHLY recommend this to anyone in a similar situation or just someone wanting to know more about their genetics. The detail is absolutely incredible.

- Katherine Krieger
Can You Export Or Share Your Genetic Tree?
Currently, 23andMe does not provide an option to export or share your genetic tree with others directly.
It is designed to be private and is only visible to the person who created it.
This privacy measure is in place to safeguard the personal information of individuals and their families.
Shortly, 23andMe may permit users to export their genetic trees.
While waiting for this feature to become available, there can be some alternative methods you can use to share your genetic tree with others:
Take screenshots: One quick and straightforward way is to take screenshots of your genetic tree and then share these screenshots with others.
It's a simple method that allows you to share the basic structure of your tree.
Create a video: For a more engaging way to share your genetic tree, consider creating a video that showcases your tree.
While this approach can be more time-consuming, it offers a dynamic and visual presentation of your family connections.
Consider privacy and consent when sharing your genetic tree, especially if it will be public or widely distributed.
Summary: 23andMe Family Tree
The 23andMe Family Tree is a valuable feature that allows you to visually represent your family history based on your shared DNA with other 23andMe users.
To use the 23andMe Family Tree, you first need to opt-in to DNA Relatives. This action enables 23andMe to compare your DNA with that of other users and generate a comprehensive list of potential relatives for you.
Once you've compiled this list of potential relatives, you can construct your family tree. This can be achieved by manually adding individuals to your tree or accepting the predictions that 23andMe offers based on your shared DNA data.
Moreover, you can edit your family tree whenever you desire. This includes adding or removing people, changing their relationships, and adding additional information about them.
While the 23andMe Family Tree is a powerful tool for exploring your family history, it may only sometimes be accurate.
23andMe's new technique that examines the DNA of full siblings has greatly improved prediction accuracy for close family relationships. This makes the 23andMe Family Tree an increasingly valuable resource for those who want to learn more about their genetic heritage.