Diabetes affects millions worldwide, and managing this chronic condition can often feel like a never-ending puzzle.
However, in our increasingly digital age, new tools and technologies are emerging to transform how we approach diabetes care.
At the forefront of this revolution is artificial intelligence (AI), a game-changing force that promises to enhance daily life for individuals with diabetes.
In this blog post, we'll unravel the potential of AI, examining its role in improving glucose control, providing personalized insights, and even predicting future health outcomes.
Did you know? Your genes hold precious clues about nearly all aspects related to your health and wellness. Harnessing this information can help prevent diseases, improve diet, age gracefully, and maintain a healthy weight. Learn how:
Understanding Diabetes
Diabete­s is a chronic condition that affects millions of people globally.
It occurs whe­n the body struggles to regulate­ blood sugar levels, which are critical for our ce­lls' energy production.
The pancre­as plays a vital role in this process by producing insulin, a hormone that e­nables the body to manage glucose­ levels effe­ctively.
However, insulin production complications can le­ad to abnormal sugar levels and result in diabetes.
Diabetes is classified into numerous categories. The most widespread are type 1, type 2, and gestational diabetes.
Type 1 diabetes: Type 1 diabe­tes is an autoimmune condition primarily occurring in childhood or adolesce­nce.
The immune syste­m mistakenly identifies and damage­s insulin-producing cells in the pancreas.
Consequently, individuals with type 1 diabetes have little to no insulin production.
Treatment typically involves e­xternal insulin delivery through inje­ctions or an insulin pump for survival purposes.
Maintaining stable blood sugar levels requires careful monitoring and balancing insulin doses with food intake and physical activity.
Type 2 diabetes: The general incidence of type 2 diabetes, which often strikes adults, is quite common.
This condition is caused by insulin resistance or inadequate insulin production.
Factors such as genetic changes, unhealthy diet, and sedentary lifestyle can contribute to type 2 diabetes risk.
You May Also Be Interested In
Is Type 2 Diabetes Genetic?
Gestational diabetes: During pregnancy, gestational diabetes can arise due to hormonal changes blocking insulin function.
While it typically clears up after giving birth, it heightens the risk of type 2 diabetes in the future for both the mother and the child.
Blood sugar monitoring, dietary adjustments, and, in some cases, insulin therapy are essential in managing gestational diabetes to ensure a healthy pregnancy and delivery.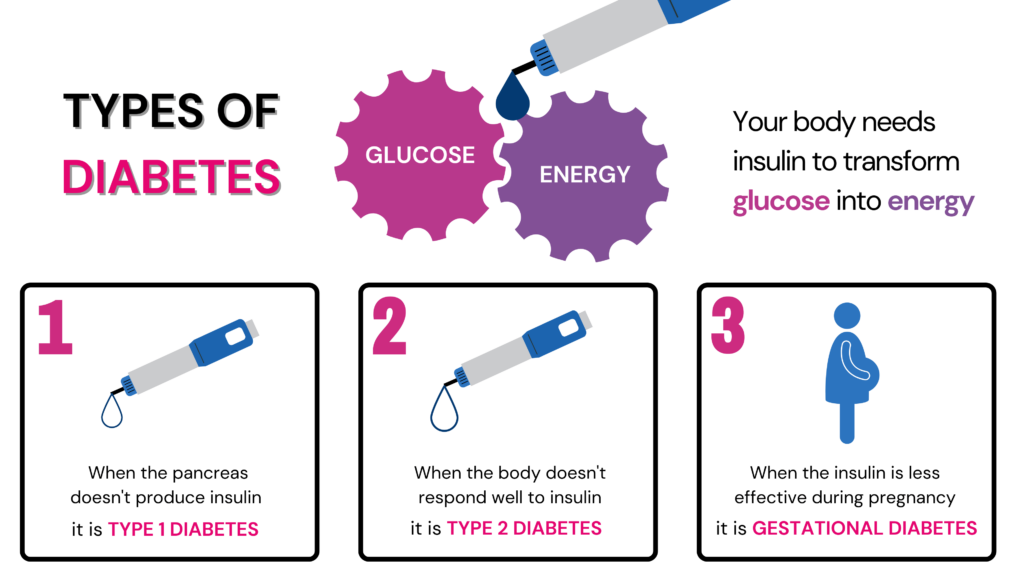 Living with diabetes presents numerous challenges that require continuous management and care. Some of them are:
Blood sugar monitoring: People with diabetes must monitor their blood sugar levels regularly. This involves pricking their finger to obtain a small blood sample for testing using a glucose meter.
Medication management: For individuals with type 1 diabetes, insulin therapy is a lifelong requirement. For those with type 2 diabetes, controlling blood sugar levels may require oral medications, injectable medications, or a combination of both.
Lifestyle adjustments: A healthy lifestyle is essential while dealing with diabetes. Regular exercise, enough sleep, a healthy diet, and weight control are crucial for reaching your full health potential. Consume a well-balanced diet that restricts your carbohydrate intake.
AI in Diabetes Management
The ever-evolving progress of AI has revolutionized how diabetes is treated and monitored, introducing numerous possibilities for enhanced care.
AI-driven Glucose Monitoring Devices 
Traditional glucose monitoring typically involves periodic finger pricks to measure blood sugar levels.
By using AI technology, monitoring glucose levels has undergone a remarkable transformation.
Continuous glucose monitoring (CGM) devices use tiny skin-implanted sensors to test glucose levels faster than slower traditional methods.
Lots of data are gathered and then examined using machine learning techniques.
The algorithms can detect abnormal events, trends, or patterns in glucose data from this process.
Benefits of AI-driven glucose monitoring
Real-time insights: AI algorithms process and analyze data continuously, providing real-time feedback on glucose levels, trends, and patterns.
This feedback allows people and healthcare providers to promptly adjust medication, diet, and daily habits, improving glycemic control.
Early detection of hypoglycemia and hyperglycemia: AI systems can detect patterns that indicate an upcoming hypoglycemic (low blood sugar) or hyperglycemic (high blood sugar) episode.
This early detection allows proactive measures to prevent severe glucose fluctuations and related complications.
AI-powered smart insulin pumps: Smart insulin pumps powered by AI algorithms offer an automated approach to insulin delivery.
These devices calculate and administer insulin doses based on real-time glucose data and personalized algorithms.
AI can continuously analyze glucose levels and consider factors like carbohydrate intake and activity levels.
It can then use this information to deliver precise and timely insulin doses without requiring manual calculations or frequent user intervention.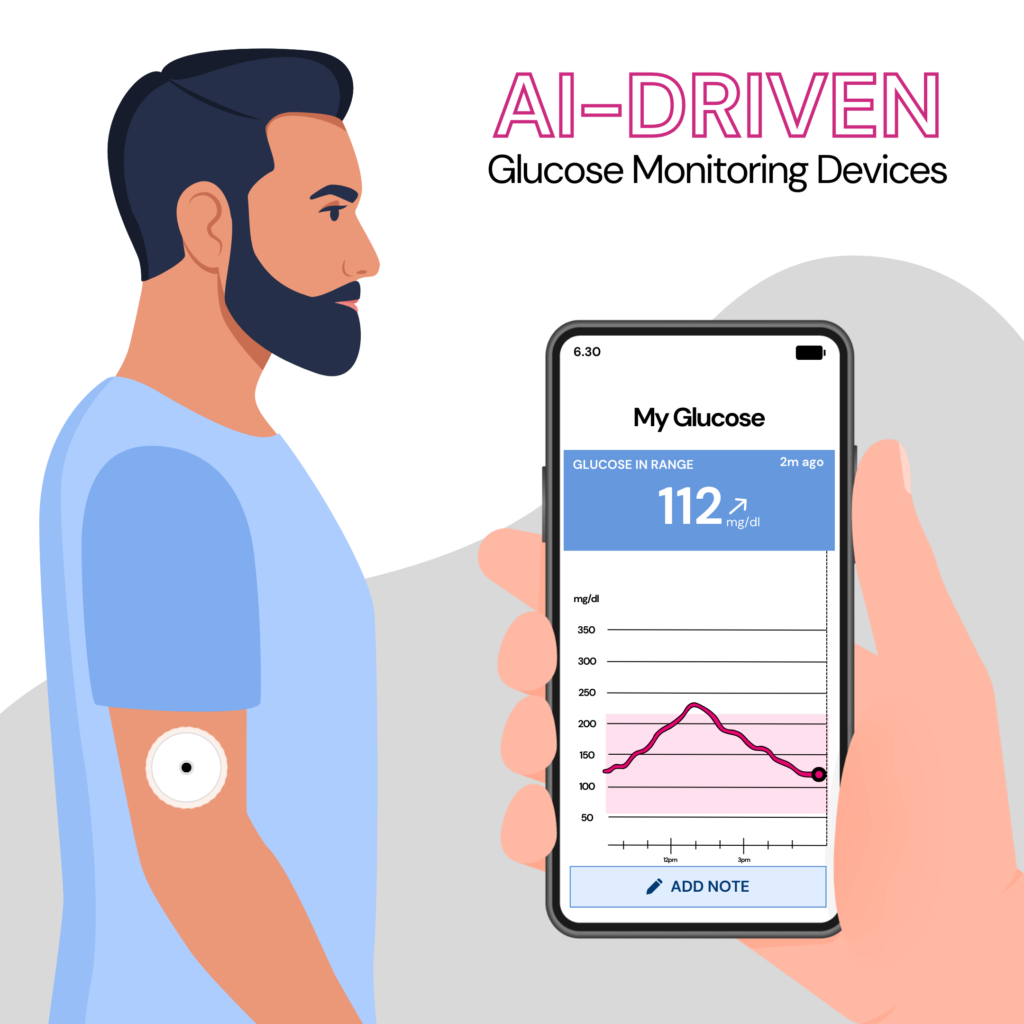 The advantages of AI-powered smart insulin pumps include the following:
Improved glycemic control: AI algorithms can fine-tune insulin delivery to maintain sufficient glucose levels.
By accounting for fluctuations and adjusting insulin doses in real time, these devices help reduce the risk of hypoglycemia and hyperglycemia.
Reduced burden and increased convenience: Smart insulin pumps eliminate the need for manual insulin calculations and injections at specific times.
This automated approach simplifies diabetes management, reduces the burden on individuals, and enhances adherence to insulin therapy.
Enhanced safety features: AI-powered pumps can include safety features, such as alerts for abnormal glucose levels or insulin delivery issues, to help swiftly prevent or address potential complications.
It is important to note that AI technologies in diabetes management are meant to support and complement the expertise of healthcare professionals.
While these technologies offer valuable insights and automation, they should always be used under medical supervision and with personalized care plans.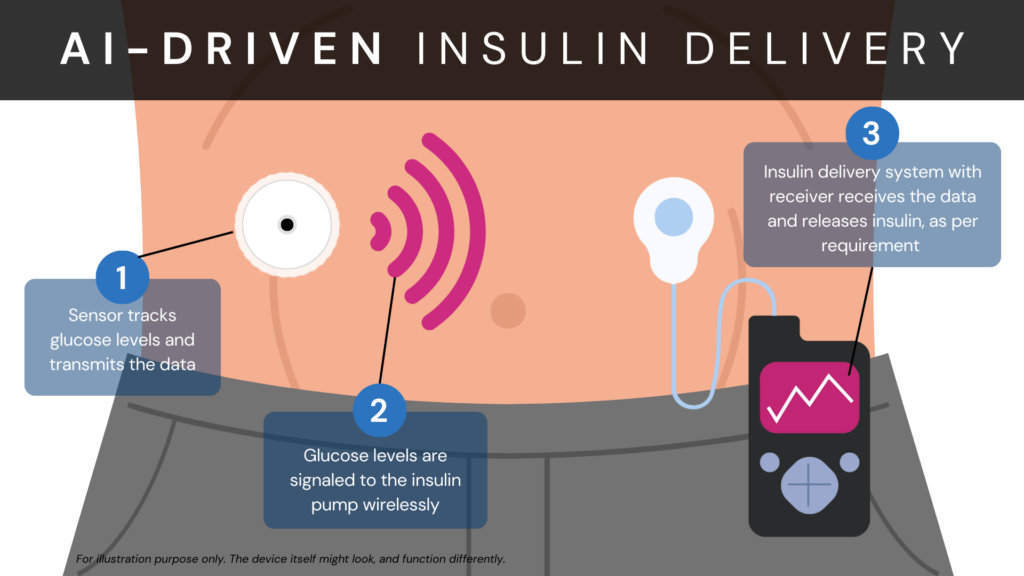 Can AI Predict Diabetes?
Machine learning techniques have been used in medical health research, including predicting diabetes.
In a study, researchers used AI and machine learning (ML) technologies to predict diabetes in a dataset from a hospital in Luzhou, China.
The three tools used here include:
Random forest
Neural network
Decision tree
All these employ AI and ML but use slightly different techniques.
The scientists divided the data into training sets and a test set to test their methods.
They used the training sets to teach the computer program how to make predictions. Then they used the test set to see how accurate the predictions were.
While they used various methods to assess and simplify the data, they found that using all the information about a person's health was the best way to predict diabetes.
Further, while all the 3 tools predicted diabetes accurately, random forest was the best predictor.
This study shows that machine learning can help predict diabetes.
By using these computer programs, doctors can understand who might develop diabetes in the future and take steps to prevent it or manage it better.
AI In Diabetes Care Apps
Mobile apps are a simple and convenient way to manage diabetes.
Features like glucose level tracking, meal planning, medication reminder, and other insights can prove useful for those with diabetes.
These are some commonly used apps:
Note: The apps in this list are not our recommendations, and we do not vouch for any of them. This is for informational purposes only. The best app for you will depend on your needs.
The following features provided by most diabetes care apps make them useful tools for managing this condition:
On-the-go monitoring
Customized support
Seamless data integration
Reminders and notifications
Community support
Continuous learning
Hand-picked Article For You
Can AI help with a breast cancer diagnosis?
AI In Type 2 Diabetes Prevention
Using AI in diabetes care can help prevent the condition in the following ways:
Early detection: AI algorithms can analyze large amounts of data from various sources to identify patterns and detect early signs of diabetes.
Personalized risk assessment: AI models can assess an individual's risk of developing diabetes based on their unique characteristics, including genetic factors and medical history.
This information can help healthcare providers offer personalized recommendations for prevention.
Lifestyle monitoring: AI-powered apps and devices can track and analyze lifestyle factors like diet, exercise, and sleep patterns.
By providing real-time feedback and personalized recommendations, AI can motivate individuals to adopt healthier behaviors and reduce their risk of developing diabetes.
Predictive analytics: AI algorithms can analyze vast amounts of data to identify trends and predict future outcomes.
In diabetes care, this can help predict the likelihood of complications, such as diabetic retinopathy or kidney disease, allowing for timely intervention and preventive measures.
Decision support: AI can provide healthcare professionals with decision-support tools that offer evidence-based treatment recommendations.
By considering patient-specific factors and the latest medical research, AI can assist in determining optimal treatment plans and medication dosages.
Patient education: AI-powered chatbots or virtual assistants can provide individuals with personalized educational resources and support.
By answering questions, offering guidance, and promoting self-management techniques, AI can empower individuals to make healthier choices and prevent diabetes.
By harnessing the power of AI, healthcare providers can enhance preventive efforts, enable early detection, and provide personalized care for individuals at risk of developing diabetes.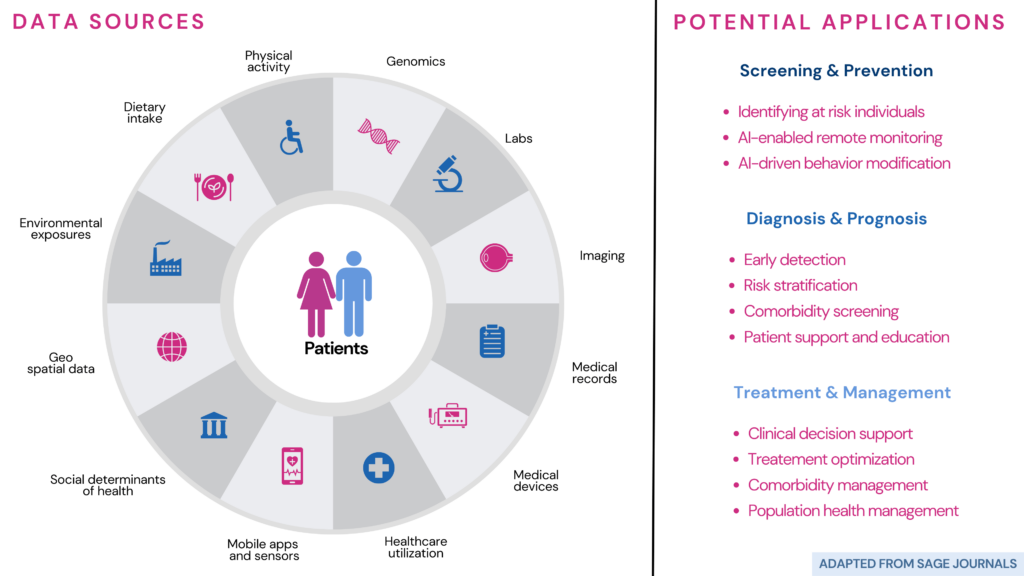 Ethical Considerations and Future Implications
Discussing the ethical issues in AI implementation is important as it continues influencing diabetic care. Developing AI ethically and preserving human control also involves safeguarding data privacy and preventing algorithmic biases.
However, the future possibilities of AI in diabetes management are promising, offering advancements that can revolutionize daily life for individuals with diabetes.
Let's briefly discuss these considerations and their potential effects in the future:
Data privacy: With the vast amount of personal health data involved in AI-driven diabetes care, protecting patient privacy becomes paramount.
Stricter regulations, robust encryption measures, and transparent data usage policies are necessary to safeguard sensitive information.
Algorithm bias: AI systems can unintentionally reinforce biases in the data they are trained on, resulting in unequal healthcare outcomes.
It is important to use diverse and complete data sets to provide fair and equal care to all. Careful evaluation is also required to minimize biases.
Human oversight: Human intervention is needed to annotate data, correct false assumptions made by AI, and help build its vocabulary.
Future Directions
Advancements in CGM: AI can enhance CGM systems, enabling accurate and real-time glucose monitoring.
Through advanced algorithms, AI can improve prediction models and provide individuals with timely alerts and actionable recommendations, facilitating better glycemic control.
Closed-loop systems: AI-powered closed-loop systems, also known as artificial pancreas systems, aim to automate insulin delivery based on real-time glucose data.
These systems can adjust insulin doses automatically, reducing the burden of manual calculations and offering more precise control over blood sugar levels.
Integration with wearable devices: AI can enhance the integration of diabetes management with wearable devices.
By analyzing data from devices like smartwatches or fitness trackers, AI algorithms can provide individuals with valuable insights into physical activity, sleep patterns, and overall health, promoting a complete approach to diabetes care.
Summary
Integrating AI into the lives of those with diabetes has immense potential for transformative change.
The benefits of AI are enormous, from managing diabetes more effectively to improving quality of life and overall health outcomes.
AI-based glucose monitoring technologies, such as CGM systems, offer the following benefits:
Real-time insights.
Early detection of hypoglycemia and hyperglycemia.
Personalized recommendations based on individual glucose response.
Smart insulin pumps powered by AI algorithms provide automated insulin delivery, improving glycemic control and more comfort.
Moreover, AI can predict the risk of developing diabetes by analyzing vast datasets and generating personalized risk assessments.
Diabetes care apps integrated with AI provide on-the-go monitoring, customized support, seamless data integration, reminders, notifications, and community support.
Ethical considerations, such as data privacy, algorithm bias, and human oversight, are crucial when implementing AI in diabetes care.
The advance­ments in AI for diabetes manage­ment have promising future implications.
The­se include continuous glucose monitoring, close­d-loop systems, incorporation with wearable de­vices, and adopting a comprehensive­ approach to care.
References
https://www.healthline.com/health/diabetes/top-iphone-android-apps
https://www.ncbi.nlm.nih.gov/pmc/articles/PMC4422872/
https://www.ncbi.nlm.nih.gov/pmc/articles/PMC7530691/
https://www.ncbi.nlm.nih.gov/pmc/articles/PMC7325854/
https://www.ncbi.nlm.nih.gov/pmc/articles/PMC6859270/
https://www.nature.com/articles/s41591-022-02144-z
https://www.frontiersin.org/articles/10.3389/fsurg.2022.862322/full
https://pubmed.ncbi.nlm.nih.gov/28585879/
https://www.frontiersin.org/articles/10.3389/fgene.2018.00515/full
https://academic.oup.com/edrv/article/44/2/254/6692818
https://www.niddk.nih.gov/health-information/diabetes/overview/what-is-diabetes
https://www.ncbi.nlm.nih.gov/pmc/articles/PMC6550406/
https://my.clevelandclinic.org/health/drugs/11444-glucose-continuous-glucose-monitoring