Just when you're about to enjoy a beautiful sunny day outdoors, your nose starts to itch uncontrollably, your eyes become watery, and you enter a sneeze spiral. Allergies are more common than you think, with 26% of U.S. adults diagnosed with seasonal allergies in 2021. Besides this, many adults also have food allergies, pet allergies, drug allergies, etc. While there may not be a single thread connecting all these allergies, one common base for them would be genetics! Certain genes involved in immune responses underlie most allergic reactions. At-home DNA allergy tests harness the power of your genetic information to provide personalized insights into your allergic predispositions. This can pave the way for a clearer understanding of what triggers your immune system and allow you to take proactive steps toward managing your allergies more effectively.
In this article, we'll guide you through the process of getting started with an at-home DNA allergy test, offering you a simple and accessible way to unlock the secrets hidden within your genes and reclaim control over your well-being.
Did You Know? Your ancestry test DNA data includes 700,000 markers, which can be used to learn your risk for various seasonal, environmental, food, and drug allergies. This report will help you understand your body better and safeguard yourself from allergens. Learn more.
New report update: The allergy report now includes a "Drug Sensitivities" section that provides insights into your risk for allergic responses to over 20 drugs.
The Genetic Basis Of Allergies
We can group several allergic conditions when discussing allergies and genetics.
For example, asthma, atopic eczema, food allergies, and hay fever usually follow a similar pattern of genetic susceptibility (the likelihood of developing a condition).
It has also been observed that some families are more likely to be affected by allergic conditions than others.
So, children born into these families are usually more likely to develop an allergic condition.
This familial tendency to develop allergic conditions shows that these conditions have a strong genetic link (atopy).
It is essential to understand that children in atopic families will not always develop the same allergic condition as their parents.
Food Allergies
A food allergy is a reaction to food that is mediated by immunoglobulin E.
This condition affects 5% to 8% of children and 1% to 5% of adults.
There is ample research and compelling evidence that food allergies can develop due to strong family history.
In fact, a child has a 7-fold increase in the risk of developing peanut allergy if they have a parent or sibling with the condition.
A few genes that have been proven to cause food allergies include:
HLA gene family
CD14
FOXP3
STAT6
SPINK5
Interluekin 10 (IL10)
Interleukin 13 (IL13)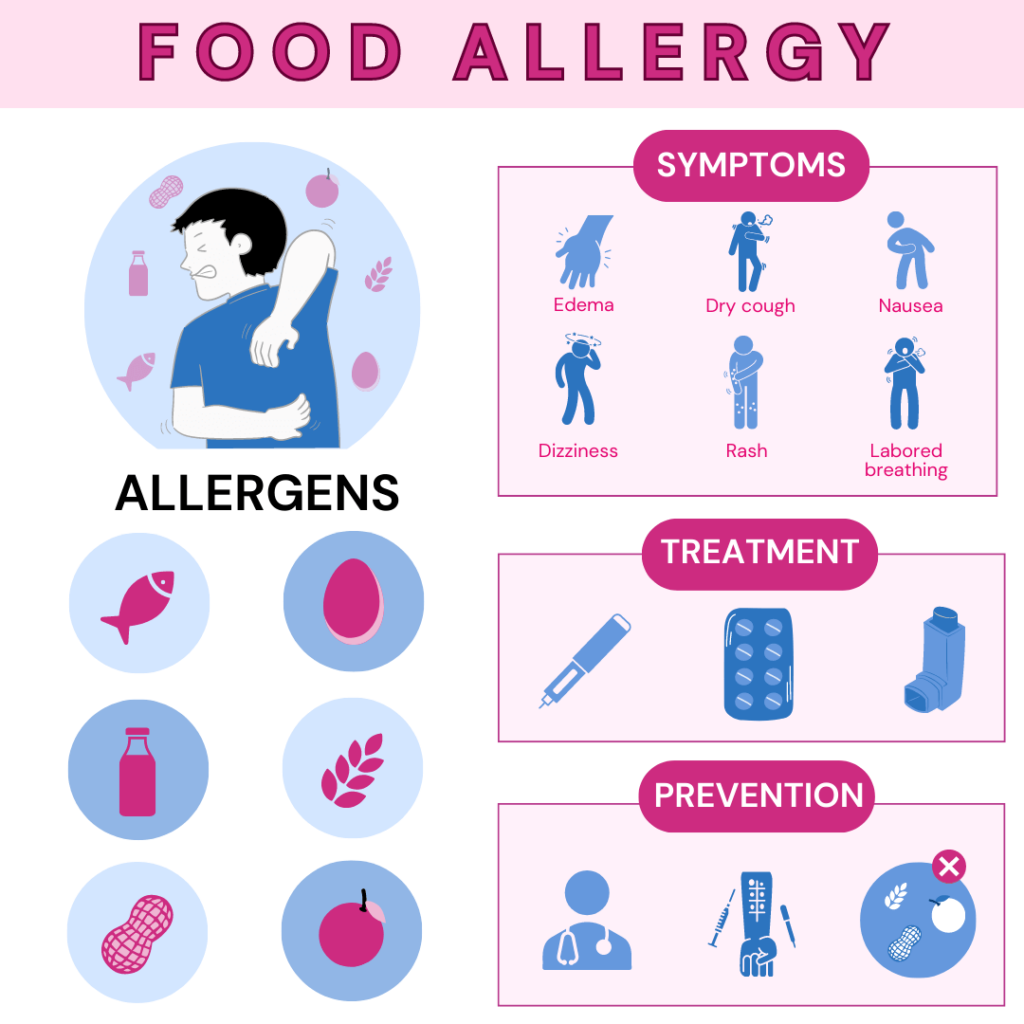 Environmental and Seasonal Allergies
Conditions like allergic rhinitis affect 10 to 25% of the global population.
Studies show that this condition develops due to an interaction between genetic and environmental factors.
Allergic rhinitis occurs on exposure to seasonal or perennial (year-long) allergens that are commonly present in our homes and outdoors.
Common environmental and seasonal allergies include pollen, grass, weeds, etc.
How Does An At-home DNA Allergy Test Work?
In general, at-home allergy tests are done using a blood sample to detect the presence of certain antibodies associated with allergies.
At-home DNA allergy tests are a little different - they may not be able to diagnose an allergy but can help you understand whether your genes predispose you to any.
For example, the HLA gene family plays a major role in immune regulation and has been significantly associated with multiple allergic reactions.
Interleukins are another class of proteins that regulate immune responses. The IL10 gene family has been associated with food allergies.
Another important one implicated in food allergies is the filaggrin (FLG) gene.
Filaggrin is crucial for the skin barrier, and changes in the FLG gene have an association with severe eczema and peanut allergy.
Steps involved in at-home DNA allergy test
DNA allergy tests focus on analyzing such genes to see if you have any changes that may increase your risk of developing allergies.
Many direct-to-consumer genetic testing companies offer this information through a DNA saliva test or a cheek swab test.
They extract your DNA information from the provided sample and analyze the specific genes to estimate your genetic risk for various allergies.
The results are given in the form of an easy-to-read PDF report.
With the help of personalized recommendations and a qualified doctor's advice, the user can take action based on the report to prevent or manage allergic reactions.
A snippet from Xcode Life's DNA Allergy Test Report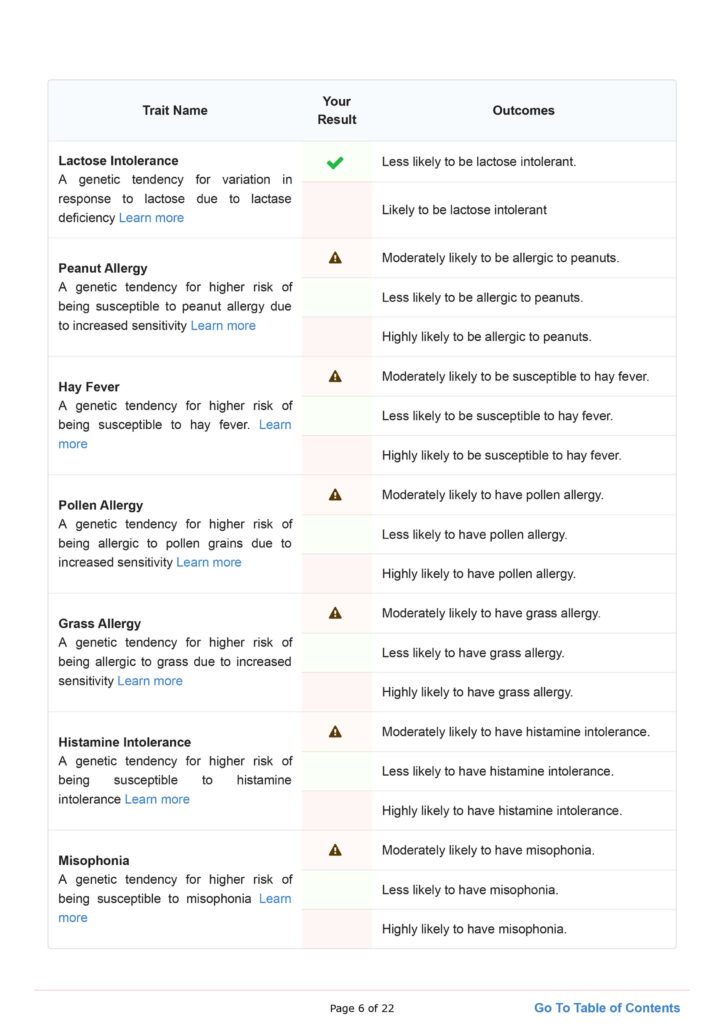 However, there are a few concerns regarding At-home DNA allergy tests, including:
There is limited scientific evidence around the accuracy of these tests
The presence of antibodies may not be a reliable marker for food sensitivity and allergies, as several antibodies may mediate allergic reactions.
Organizations like the American Academy of Allergy, Asthma & Immunology (AAAAI), Canadian Society of Allergy and Clinical Immunology, etc., advise against these at-home DNA allergy tests.
Increase the risk of nutrient deficiency (as people start eliminating foods from their diet based on their test results)
Increased risk of developing or aggravating eating disorders
Can Allergies Be Detected From DNA?
A DNA allergy test can determine if you have a genetic predisposition to developing allergies.
The test is helpful as it determines your likelihood of developing an allergic condition before any signs and symptoms develop.
Besides providing information about your tendency to develop allergies, a DNA allergy test also tells you about the likelihood of developing asthma, atopic dermatitis, and autoimmune diseases.
However, at-home DNA tests cannot confirm or diagnose an allergy.
In clinical settings, only procedures like a blood test or a skin prick test can help diagnose an allergy.
Can A DNA Allergy Test Help Prevent Allergic Reactions?
Since DNA allergy tests help reveal heightened risks for certain allergic reactions, knowing this information beforehand can help avoid those particular allergens.
Even though these tests don't diagnose allergies, it helps you understand allergens you are sensitive to so you can avoid them.
However, it is also important to note that a "high-risk" result does mean you will develop an allergy.
Limitations of A DNA Allergy Test
When discussing the limitations of at-home DNA allergy tests, it's important to consider the current understanding based on scientific evidence.
While these tests can provide valuable insights into an individual's genetic predispositions to allergies, there are certain limitations to keep in mind.
They cannot definitively diagnose specific allergies or predict the severity of allergic reactions.
A "high-risk" result does not guarantee developing allergies, and a "low-risk" result does not eliminate the possibility of allergies.
At-home DNA allergy tests focus on genetic factors and may not account for other environmental and lifestyle factors that can influence allergies.
Most tests only provide insights into common allergies and may not cover the full spectrum of allergies.
The field of genetics and allergy is still in its infancy; therefore, not all genes contributing to allergies may be investigated in the test.
Is DNA Testing For Food Sensitivity Accurate?
DNA testing for food sensitivities tells you whether you carry any gene changes that may either result in abnormal immune responses to food or insufficient enzymes to digest the food.
This information can then be presented to your doctor, who can correlate the results with your symptoms and other relevant information.
They can then advise a suitable test to confirm food sensitivity.
While a DNA test by itself cannot predict food sensitivity accurately, it can be used in junction with other tests to identify sensitivities and allergies.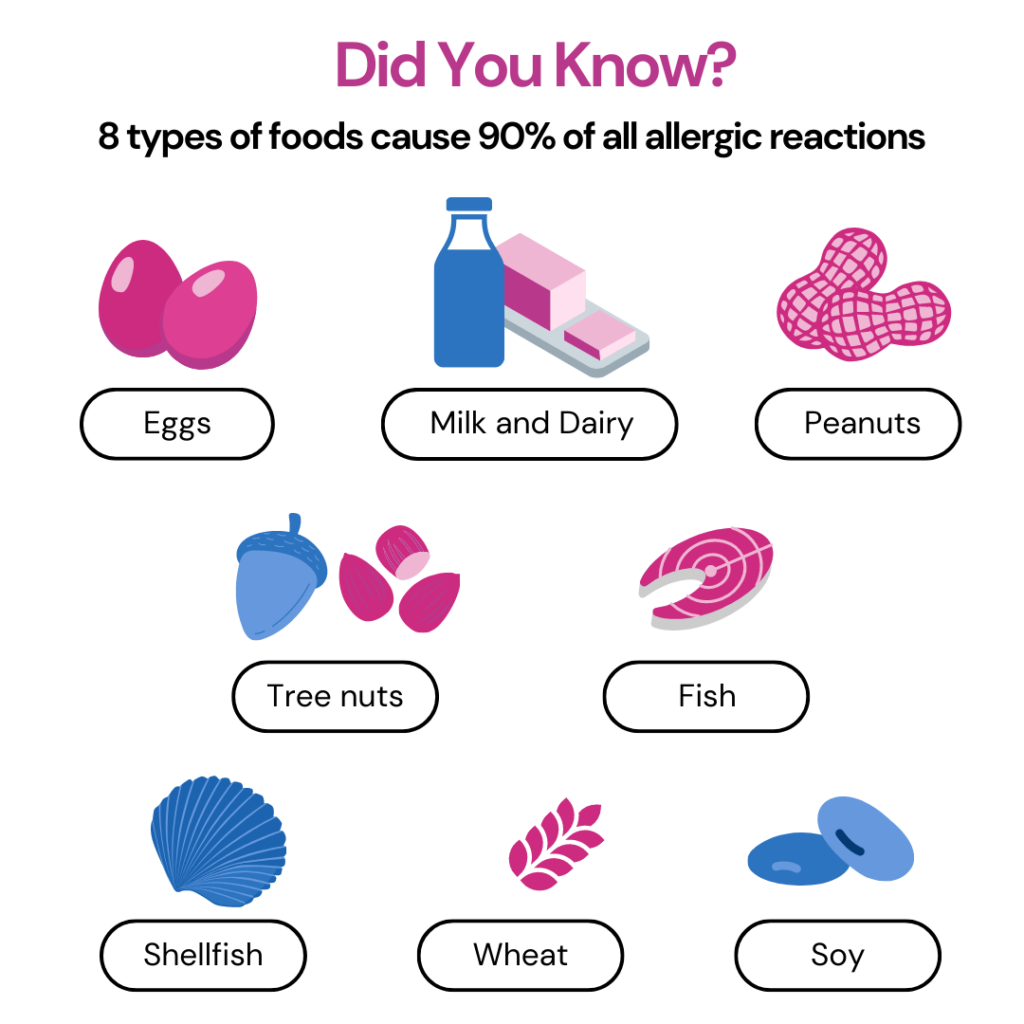 How To Get Started?
If You Have Already Taken An Genetic Ancestry Test:
Download your DNA data from the original service provider
Select "Allergy and Drug Sensitivities" report from the shop page
Complete the purchase
Upload your DNA data
Receive your report within 24 hours.
Also Check Out:
Everything You Need To Know About Xcode Life's Allergy and Drug Sensitivity Report
If You Have Not Taken An Genetic Ancestry Test
If you're new to the world of genetic testing, we've got you covered!
You can now get your ancestry DNA kits at an additional discount!
By following the links below, you can purchase a DNA kit at 10% OFF (the discount will be reflected when you add the product).
This will ensure that you have everything you need to embark on your genetic journey.
AncestryDNA Kit (currently no additional discount available)
Once you receive your kits, you can follow the instructions given by the respective service providers to collect your sample and ship it.
After receiving your DNA test results from the kit, follow the instructions to upload your DNA data to our secure platform.
Summary
An allergy is a hypersensitivity reaction that occurs when a person reacts to substances in the environment that are usually harmless to others.
While allergies are common in children, their incidence among adults is rising.
Research has found that your genes may contribute to your risk of developing an allergy.
IgE mediates food allergies and sensitivity, and it affects 5% to 8% of children and 1% to 5% of adults.
Environmental and seasonal allergies develop due to an interaction between genes and environmental factors.
You can opt for a DNA allergy test provided by a laboratory or purchase an at-home kit.
DNA Allergy tests only provide you with potential risk for certain factors but cannot diagnose allergies or prevent you from developing an allergy.
References