What Is A GLP-1 Agonist?
Glucagon-like peptide-1 agonist (GLP-1 agonist) is a class of drugs used in treating type II diabetes and helping with weight loss. 
According to the American Diabetes Association, metformin remains the most preferred drug to treat type II diabetes.
However, in the case of metformin intolerance or if diabetes is combined with obesity, GLP-1 agonist drugs may help.
There are two categories of GLP-1 agonist drugs available in the market.
Human GLP-1 backbone agents
Drugs in this category include:
Dulaglutide
Semaglutide
Albiglutide
Liraglutide
Exendin-4 backbone agents
Drugs in this category include:
Watch: Adiponectin- The Weight Loss Hormone
How Does GLP-1 Agonist Work?
People with type 2 diabetes have lower levels of insulin secreted in the body.
As a result, glucose from the food is not broken down.
This leads to higher blood glucose levels.
GLP-1 agonist drugs imitate a naturally produced hormone in the body called glucagon-like peptide 1 (GLP-1).
This hormone may help improve insulin secretion in the pancreas.
Therefore, this drug can reduce blood sugar levels and control type 2 diabetes.
Can GLP-1 Agonist Help With Weight Loss?
Recently, researchers have identified an added benefit of using GLP-1 agonist drugs - weight loss.
The GLP-1 hormone may help regulate hunger and appetite.
It helps in the following ways.
Delay emptying of the stomach, keeping you fuller for longer.
Suppress glucagon hormone production (glucagon increases blood sugar levels and promotes hunger)
Studies show that this drug class helped people lose an average of 2.9 kg compared to people who did not take it.
According to experts, GLP-1 agonist drugs also help decrease the overall mortality rate in people with type 2 diabetes.
Post Food and Drug Administration's (FDA) approval, the drug is prescribed for people with BMI > 30 or those with type 2 diabetes and BMI > 27.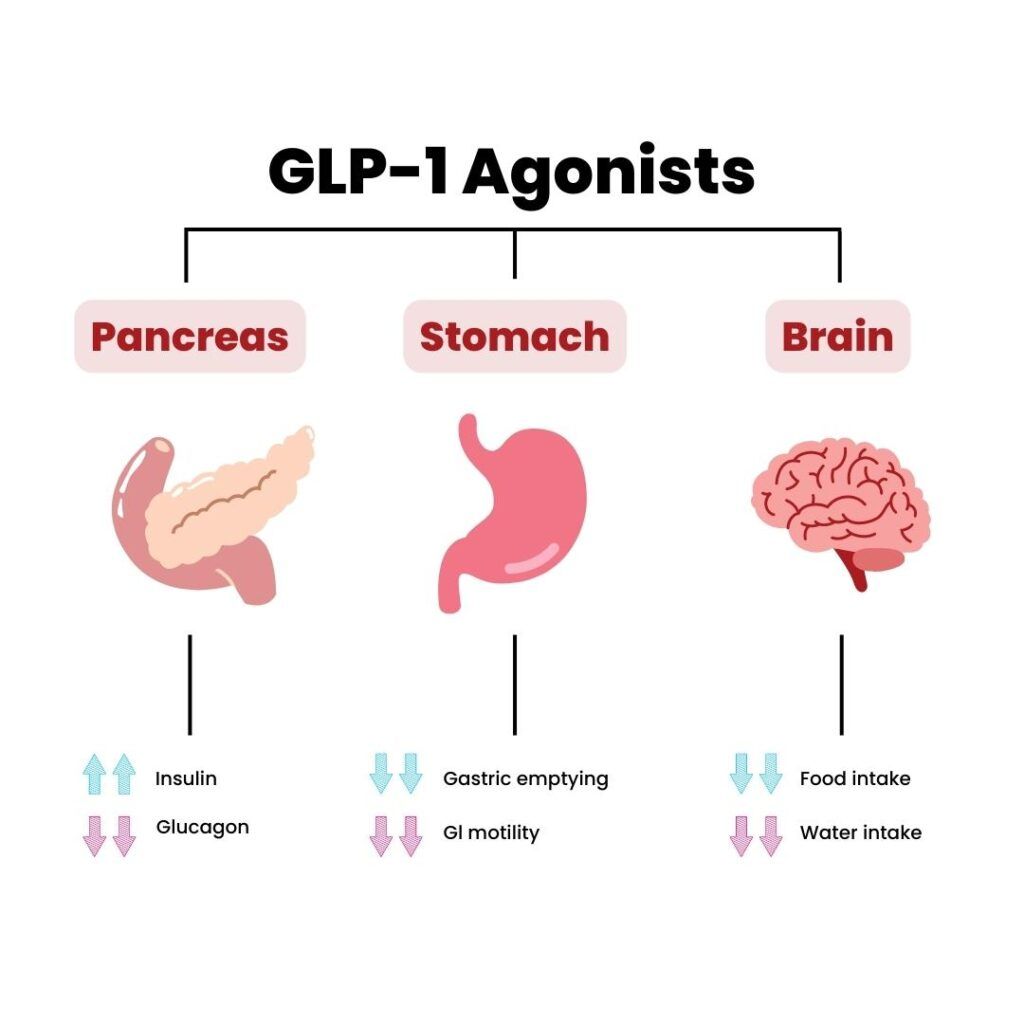 Please note: GLP-1 agonists can only be used under the supervision of a qualified medical practitioner. Xcode Life doesn't promote using GLP-1 or any other medication for weight loss.
What Are The Pros and Cons Of Using GLP-1 For Weight Loss?
Pros of GLP-1 agonist drugs for weight loss
It helps regulate blood sugar levels while encouraging weight loss.
It can bring down hunger and make it easy to follow restricted-calorie diets.
It may help reduce cholesterol and blood pressure levels and protect against cardiovascular problems.
Cons of GLP-1 agonist drugs for weight loss
Without insurance coverage, treatment could be expensive.
The drug must be administered as an injection and may require expert support.
This drug depends on suppressing hunger to lose weight. In some cases, factors like hormonal imbalance, genetics, or certain medications could still cause weight gain.
Side Effects Of GLP-1 Agonists
Some of the common side effects of GLP-1 agonists are:
Nausea
Vomiting
Diarrhea
Dizziness
Headaches
In rare cases, the patient's body can form antibodies against GLP-1 analogs, leading to reduced efficacy.
Long-term use of these drugs may increase the risk of gastrointestinal issues.
Other rarer side effects of the drug include the following.
Kidney injury
Increased risk of infections
Pancreatitis
Irregular heart rate
Mood swings
FAQs About GLP-1 for Weight Loss
Who Would Benefit From Using GLP-1 Agonist Drugs?
Doctors may prescribe GLP-1 agonist drugs for people with a BMI of more than 30 who can't lose weight with lifestyle changes.
The drugs may also benefit those over a BMI of 27 and with type 2 diabetes.
Are There Oral GLP-1 Agonist Drugs Available?
The first oral GLP-1 agonist drug approved by the FDA for type 2 diabetes and weight loss is oral semaglutide. The drug was approved in 2019.
Who Should Not Take GLP-1 Agonist Drugs?
The following people are not recommended to take GLP-1 agonist drugs.
Pregnant women
Nursing women
People with existing GI problems
People with pancreatitis
Individuals with kidney impairment
Can GLP-1 Agonist Drugs Alone Help In Weight Loss?
GLP-1 agonist drugs help suppress hunger and help people feel fuller for longer after a meal.
However, the drug needs to be backed by moderate exercise and dietary changes for it to work.
Summary: Using GLP-1 Agonists For Weight Loss
Glucagon-like peptide-1 agonists (GLP-1 agonists) are drugs that help handle type 2 diabetes and aid in weight loss.
Two categories of GLP-1 agonist drugs are available - Human GLP-1 backbone agents and Exendin-4 backbone agents.
GLP-1 agonists help delay the emptying of the stomach and suppress hunger. As a result, they may help you lose weight quickly.
GLP-1 agonists may cause nausea, vomiting, diarrhea, GI issues, and an increased risk of infections.
GLP-1 agonists are not recommended for pregnant and nursing women and individuals with existing pancreatitis, GI issues, and kidney impairments.
References