While the human lifespan has increased in the last few decades, the number of older adults living with coronary and circulatory conditions has increased too. According to the Centers for Disease Control and Prevention (CDC), 21.7% of all Americans over 65 have been diagnosed with Coronary Heart Disease (CHD), stroke, or both. Thus, the topic of heart health in the elderly has earned a spotlight in the research field.
What Are The Most Prevalent Heart Problems?
CHD is the most common type of heart problem affecting older adults. According to CDC, about 20.1 million people worldwide have this condition.
In the United States, one person gets a heart attack every 40 seconds, making this a prevalent heart problem too.
Heart failure happens when the person's heart cannot pump enough blood, which can turn fatal if not treated early on. About 6.2 million in the United States are diagnosed with heart failure yearly.
A stroke happens when the blood supply to the brain is cut off. One in every six cardiovascular deaths is due to stroke. Even if not fatal, stroke can lead to permanent disabilities and reduced mobility.
Who's At A Higher Risk For Heart Problems?
The following factors can interfere with your heart health and increase your risk for heart problems.
Age
Uncontrolled diabetes
Hypertension
Obesity
High triglyceride levels
High LDL cholesterol levels
Low HDL cholesterol levels
No or inadequate physical activity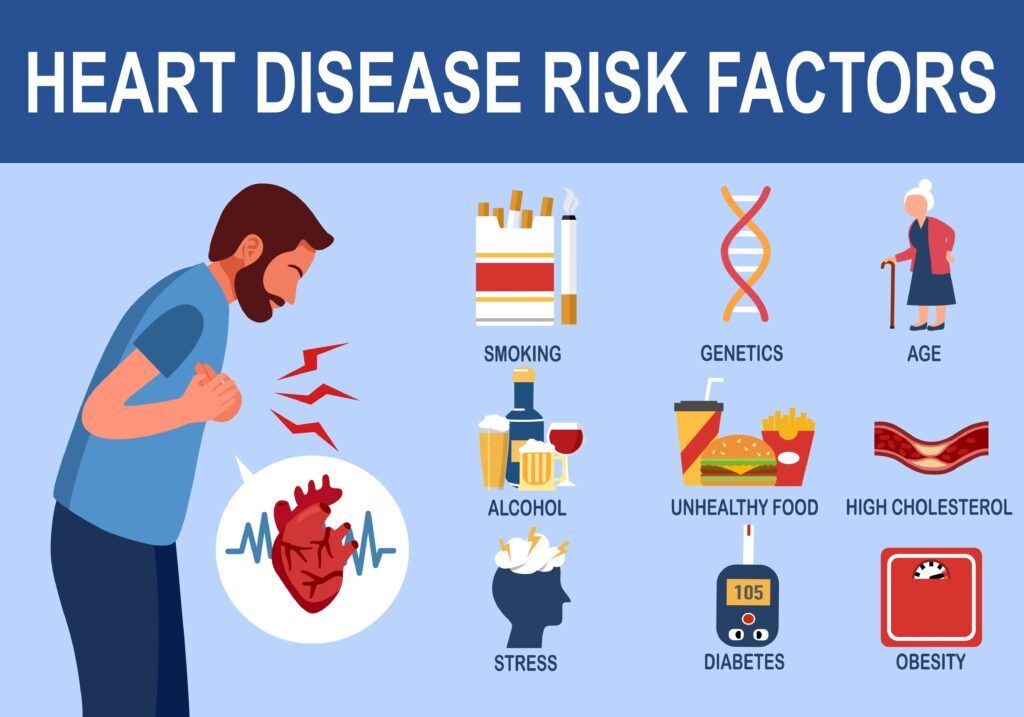 Link Between Number of Steps and Heart Disease Risk
Recently, everyone has been talking about increasing the daily steps people take to stay healthy. There are many fitness monitors and applications to monitor this.
The person is more active when the step count/day is higher—being physically active benefits multiple ways, including reducing the risk of heart disease and other lifestyle disorders.
The Study: 6K-9K Steps/Day Lowers Heart Disease Risk By 40-50%
Recently, scientists from the Department of Kinesiology conducted a study at the School of Public Health and Health Sciences. Kinesiology is the study of body movements.
According to this study, older adults who walked at least 6000-9000 steps a day had a 40-50% lower chance of developing cardiovascular problems than people who only walked 2000 steps a day.
Study Participants Details
This study was a meta-analysis, combining eight prospective studies. 20,152 adults aged 18 and above were part of the analysis.
The mean age of the study participants was 63.2±12.4 years. Of these, 52% were women, and the rest were men.
Study Observation
The individuals' daily step count was measured, and the follow-up happened after 6.2 years.
The study reported about 1523 cardiovascular disease incidents in these participants in this time.
This adds to about 12.4 incidents per 1000 participants.
The researchers considered the following cardiovascular incidents.
Fatal Coronary Heart Disease (CHD)
Non-fatal CHD
Fatal stroke
Non-fatal stroke
Fatal heart failure
Non-fatal heart failure
Study Results - Improve Heart Health With 6K Steps
According to the results, older adults who took 6,000-9,000 steps every day had a 40-50% lowered risk of developing heart conditions compared to those who only took 2,000 steps per day.
This study found this relationship between steps and cardiovascular disease risk applicable only in older adults. In younger adults, other co-factors like weight and diet could also influence cardiovascular risk, apart from the step count.
Study Conclusion
The study recommends that older adults focus on increasing their step count, whatever the present number is. People walking 2K steps a day would benefit by increasing it to 3,000 to 4,000 steps.
Those already in the 6K range can still decrease their risk of developing heart conditions by increasing the step count slightly more every day.
According to the study, average step count could be an easy metric for doctors to analyze the potential risk for developing cardiovascular diseases in older adult patients.
How To Get 6K Steps Every Day?
Take A Brisk Walk In The Morning
It is wiser to get at least 2-3K steps done first thing in the morning, so it is easy to complete the goal by the end of the day.
If possible, you could wake up and take a brisk walk inside the community. If not, you could walk in your garden or patio.
Find Walking Buddies
Find a walking buddy in the neighborhood. If you have a friend to walk with, you may do it more regularly. Having company while walking makes the process stress-free and enjoyable.
Be On Your Feet While On The Phone
Many older adults talk to their family or friends on the phone at least once a day. Try walking around the room while talking on the phone to increase the step count.
This can help increase the step count gradually throughout the day.
Make A Routine
You can schedule an alarm to remind you to take a walk. This way, you will remember, and even if you are feeling sluggish, the alarm may encourage you to get up and step outside the house.
Combine Walking With Other Essential Tasks
This is an effortless way to increase step count. Walk to the neighborhood stores to buy groceries or vegetables daily instead of ordering in or taking the car. Using the four-wheeler lesser would help increase step count over the day.
Try Spot Walking
Older adults who cannot independently walk outside the house can try spot walking. Spot walking is imitating walking while standing in the same spot. This gives the same benefit as actual walking and is safer for adults at risk for falls.
Summary: Heart Health Tips
According to the Centers for Disease Control and Prevention (CDC), about 21.7% of older adults in America live have been diagnosed with Coronary Heart Disease (CHD), stroke, or both.
CHD, stroke, heart attacks, and heart failure are four of the most common heart conditions diagnosed in older adults in the country.
A recent study by kinesiology researchers reports that older adults can reduce their risk of heart conditions by 40-50% when their daily step count is between 6K and 9K.
Older adults can increase their step count daily by taking a brisk walk, finding a walking buddy, combining walking with other essential tasks, and reducing dependency on four-wheelers.
References