An Overview Of Emphysema
Emphysema is a type of Chronic Obstructive Pulmonary Disease (COPD).
About 16 million Americans have COPD. Millions of others show the symptoms but are still undiagnosed or untreated.
It is a condition that causes breathing difficulties due to air sac (alveoli) damage in the lungs.
The alveoli are like tiny balloons. They expand when they are filled with air and deflate when it flows out.
Due to certain conditions, the alveoli walls may become weak and saggy and cannot fully inflate and deflate.
As a result, the lungs cannot receive the needed oxygen or send out carbon dioxide. 
Emphysema may go unnoticed in the early stages. Breathlessness sets in gradually, and people tend to ignore the symptoms until they worsen.
Emphysema often leads to lung failure and can be life-threatening. Therefore, it is important to get medical help early on.
Xcode Life's COPD DNA Report
Researchers have identified several genes associated with COPD.
In the sample report below, we've attempted to analyze some important genes that increase the risk of COPD.
You can identify your genetic risk of COPD by using your 23andMe DNA data and placing an order for the Gene Health Report.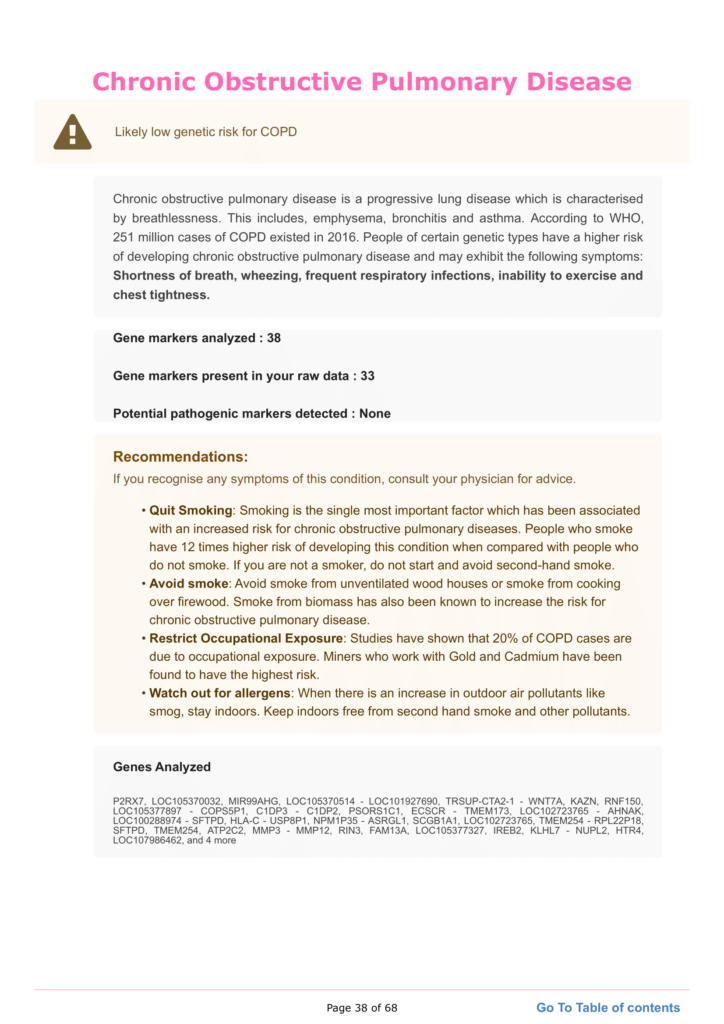 Symptoms
The first symptom of emphysema that people notice is breathlessness or breathing difficulties.
Initially, the person may get breathless while performing physical activities like walking or climbing stairs.
Over time, the person may face breathing difficulties even while resting.
Other symptoms of emphysema are:
Weight loss
Loss of skeletal fat and muscle (cachexia)
Chronic cough
Wheezing
Production of excess mucus
Causes
Smoking
Smoking remains the most common cause of developing emphysema.
Studies mention that about 10-15% of smokers develop the condition. The risk increases with the intensity of smoking.
Genetics may also play a role in causing the condition. We will discuss more on this in the coming sections.
Besides, environmental pollution could also lead to alveoli damage and emphysema.
Risk Factors
Some of the common risk factors of emphysema are:
Intensity Of Smoking
According to studies, people may develop emphysema after 20-pack years of smoking. This means smoking one pack/day for 20 years or two packs/day for ten years.
Age
The average age of onset of symptoms is around 40, and the risk increases with age.
However, in people smoking marijuana, a type of drug, emphysema occurs at a young age.
Exposure To Irritants
Chronic exposure to second-hand smoke, workplace chemical fumes, and air pollution can all increase the risk of developing emphysema.
Is Emphysema Hereditary?
Alpha-1 Antitrypsin Deficiency and Hereditary Emphysema
Emphysema could also be inherited and be a result of abnormal gene changes.
Alpha-1 Antitrypsin deficiency is a condition that leads to inherited emphysema.
Alpha-1 Antitrypsin (AAT) is a protein produced by the liver. Apart from various other functions, AAT protects the lungs from inflammation caused by exposure to external irritants.
When there is an AAT deficiency, there is a higher risk of developing emphysema and lung damage.
About one in 50 cases of emphysema could be inherited and caused by AAT deficiency.
SERPINA1 is a gene that controls the production of AAT in the body.
There are several mutations (abnormal changes) observed in this gene, and some of them could bring down AAT levels.
M is a normal allele of the gene, while Z is the risk allele that leads to low AAT production.
Studies suggest that there could be about 100,000 people living in the United States with the ZZ genotype, and they have a very high risk of developing severe emphysema.
Health Complications Due To Emphysema
Emphysema can lead to the below health complications.
Frequent Cold and Flu - People with emphysema develop cold and flu infections frequently, and the severity of the infection is high too.
Chronic Bronchitis - People with severe emphysema may develop chronic bronchitis, another type of COPD.
Both conditions, together, can lead to lung damage and subsequent failure.
Pneumonia - Due to alveoli damage, the person can develop pneumonia, a form of lung infection.
Lung Damage - If multiple alveoli get damaged, the lung's capacity to function may be affected, leading to lung damage.
Lung Cancer - Emphysema is a risk factor for developing lung cancer.
Diagnosis And Treatment Of Emphysema
Emphysema can be diagnosed with chest X-rays, CT scans, lung function tests, and other blood tests.
Emphysema cannot be cured. However, once diagnosed, it can be handled and kept controlled using the below solutions and treatment options.
Lifestyle Changes
Quitting smoking would be the first-line solution for smokers suffering from emphysema.
The patient may also need to avoid second-hand smoke and air pollution.
Doctors may suggest physical activity and a protein-rich diet to strengthen lung muscles over time.
Medicines and rehabilitation options
Bronchodilators help relax airway muscles, and these can be used through inhalers.
Patients may need additional oxygen support periodically or all the time to breathe.
Antibiotics are prescribed for those at risk of developing pulmonary infections.
Surgery
In the case of mild cases of emphysema, the damaged lung tissue may be removed.
In case of severe emphysema, lung transplantation could be the only solution.
Summary: Is Emphysema Hereditary?
About one in 50 cases of emphysema could be inherited and caused by lower production of the AAT protein.
Some people with just one risk allele could be carriers of the condition and pass them on to the next generation without getting affected.
Environmental factors and lifestyle habits may act as triggers for developing the condition early or can worsen the prognosis.
Genetic testing may provide valuable information on whether or not a person is at risk for developing the condition.
References