Did You Know? Many health conditions like hypothyroidism, cystic fibrosis, and kidney diseases can cause infertility.
Xcode Life's Gene Health Report covers the genetic risk for more than 50 conditions
Infertility: An Overview
The World Health Organisation (WHO) describes infertility as a condition of the male or female reproductive system due to which an individual is unable to achieve a pregnancy after 12 months or more of unprotected sexual intercourse.
Infertility affects millions of couples worldwide.
There are several causes for infertility, and sometimes it is difficult to pinpoint a cause.
Common causes of infertility in females include:
Blockage of fallopian tubes due to sexually transmitted infections, abortion, miscarriage, sepsis, or pelvic surgery
Uterine disorders like endometriosis (an inflammatory condition), congenital conditions, fibroids
Ovarian disorders like polycystic ovarian syndrome
Endocrine diseases that cause an imbalance in reproductive hormones
Common causes of infertility in males include:
Obstruction in the reproductive tract that prevents the normal ejaculation of semen
Hormonal disorders that affect testosterone levels (testosterone is vital for normal sperm production and ejaculation)
Failure of the testes to produce sperm (due to medications or treatments like chemotherapy)
Abnormal sperm production and quality
Environmental and lifestyle factors like smoking, eating junk food, obesity, and alcohol intake may also impact fertility in males and females.
Genetic Disorders That Cause Male Infertility
When infertility is a result of a genetic disorder, it is called secondary infertility.
A few genetic disorders that cause male infertility are:
Klinefelter Syndrome
Kallman Syndrome
Cystic fibrosis
Y-Chromosome microdeletions
Chromosome rearrangements
Genetic Disorders That Cause Females Infertility
Few genetic factors affect infertility in females, including inherited chromosome change or single-gene variants passed from a parent to the child.
When there is a family history of medical conditions like early menopause or endometriosis, an individual is at a greater risk of developing these conditions.
Genetic disorders that are associated with female infertility are:
Turner syndrome
Fragile X-associated Primary Ovarian Insufficiency (FXPOI)
Congenital Adrenal Hyperplasia (CAH)
Chromosome rearrangements
Is Infertility Genetic? Is There An Infertility Gene?
10% to 15% of couples in the world experience infertility.
Over half of these cases (over 50%) are due to an underlying genetic issue.
There is no single gene that causes infertility.
In fact, one of the primary challenges in trying to decode the genetic causes of infertility is that there are over 2,300 genes expressed in the testes alone, and hundreds of these could contribute to male fertility.
Does Infertility Run In The Family?
While genetics plays a role in infertility, your family history of infertility may have little to do with your inability to conceive or carry a baby till term.
However, if you and your partner are struggling with infertility, genetic testing may help get a clearer picture and the best way forward.
Sometimes, infertility is related to genetic conditions that may be inherited from parents or run in the family.
Can You Genetically Be Infertile?
If you have an abnormal genetic change (mutation) or inherited one from your parents, it may cause genetic infertility.
Genetic Disorders That Cause Miscarriages/Fetal Loss
Causes of recurrent miscarriages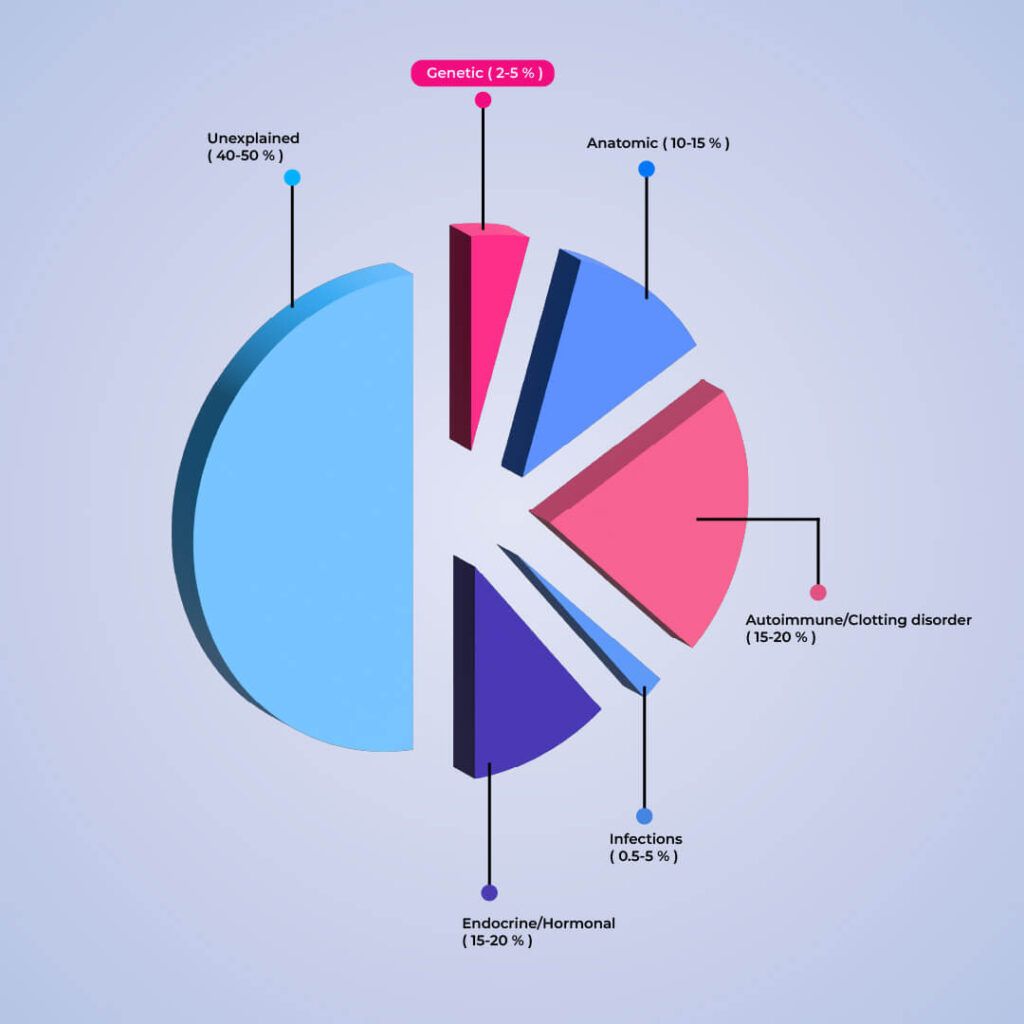 Miscarriages usually occur in the first trimester, most of which happen due to fetal chromosomal abnormalities.
However, recurrent miscarriages (having two successive miscarriages) may result from changes in parental genetic material.
A few parental genetic causes for miscarriages include:
Balanced chromosome aberrations
Congenital methemoglobinemia
Congenital arthrogryposis or Smith-Lemli-Opitz syndrome
Congenital thrombophilia following damage to the maternal factor V gene G1691A (Leiden mutation) and prothrombin gene (G20210A mutation)
Paternal congenital thrombophilia
Is There A Test To Identify Genetic Disorders That Affect Fertility?
With advanced technology, there are several genetic tests that men and women can opt for to know more about their fertility.
In fact, genetic testing is recommended as part of fertility evaluation before undergoing any fertility treatments.
Genetic testing for females experiencing fertility issues includes:
Genetic screening for Fragile X syndrome
This test analyzes a person's DNA to see if they carry other genetic conditions.
This screening test can be performed for couples at risk of having a child with a genetic disorder like Fragile X syndrome.
This blood test analyzes the number and structure of the individual's chromosomes. A karyotype test can help detect genetic disorders like Turner's syndrome or chromosome rearrangements.
Genetic testing for males experiencing fertility issues includes:
This screening test screens the individual's DNA to check if they are carriers of any genetic condition.
This test has many screening panels, including the test for cystic fibrosis, a condition that may affect fertility.
This blood test studies the number and structure of an individual's chromosomes.
A karyotype test can help detect Klinefelters syndrome and chromosome rearrangements.
Y Chromosome microdeletion studies
This blood test checks if specific areas on the Y chromosome that impact sperm development are missing.
Can Infertility Due To Genetic Conditions Be Treated?
Few genetic conditions that affect infertility can be treated.
However, it may be difficult for many people with fertility-affecting genetic disorders to become pregnant naturally.
Techniques like IUI and IVF are effective for these individuals.
Summary: Is Infertility Genetic?
Infertility is a prevalent issue among one-third of couples worldwide and is the inability to conceive after 12 months or more of unprotected sexual intercourse.
There are several causes for male and female infertility, including structural and hormonal disorders.
Environmental and lifestyle habits also influence fertility in men and women today.
Secondary infertility is due to an underlying medical or genetic condition like Klinefelter syndrome in males and Turner syndrome in females.
Over half the infertility cases worldwide are due to a genetic condition, which may or may not be inherited.
A few genetic conditions in the parents can increase the risk of miscarriage and fetal loss.
Genetic screening and karyotype testing are recommended for parents at an increased risk of having a child with a genetic condition.
References