The quest for longevity has always been a cornerstone of human curiosity. Among the myriad of diets and lifestyles that promise a longer, healthier life, the Blue Zone Diet stands out. Rooted in regions where people live significantly longer than the global average, this diet holds the secrets of centenarians from distinct parts of the world. However, the success of this diet revolves around 10 main rules. Let's find out what they are and more!
Genetic ancestry tests are becoming increasingly popular. While your DNA can be used to learn about your roots, did you know that it influences how well you respond to diet, what nutrients you need the most, your weight loss tendencies, etc? This allows you to craft a diet best suited for your body so that you can achieve your dietary goals. You can upload your DNA data to learn 1,500+ things about your health. Learn more.
What Are Blue Zones?
Blue zones are locations all over the world where people live significantly longer.
The name comes from the blue circles researchers drew around these places on the map when they first identified them.
These locations are across Europe, Asia, and North and Central America.
Inhabitants of these blue zones don't suffer from heart disease, cancer, or diabetes and often go on to live for over 100 years.
Diet and lifestyle seem to play a massive role in increasing the lifespan of people in these places.
The 5 Blue Zones
The five blue zones are:
Ikaria, Greece
Okinawa, Japan
The province of Ogliastra in Sardinia, Italy
The community of Seventh-Day Adventists, Loma Linda, California
The Nicoya Peninsula, Costa Rica
What Is The Blue Zone Diet?
The blue zone diet is an eating plan followed by people living in these locations.
The hallmarks of this diet are:
Eating a primarily plant-based diet includes fruits, vegetables, and legumes.
The 80 percent rule reminds people to stop eating when they are 80 percent full. Okinawans call it "Hara hachi bu".
Eating bigger meals earlier in the day and smaller ones in the afternoon and evening.
Having moderate amounts of wine.
The 10 Rules Of Blue Zones Diet
Eat a plant-based diet: People in the blue zones eat a 95% plant-based diet. Make sure to include leafy green vegetables like spinach. They are rich in vitamins A and C. Make sure to include healthy oils like olive oil. It contains antioxidants that help reduce inflammation and cell damage.
Include beans and legumes: Lentils, beans, and legumes are loaded with fiber, complex carbohydrates, vitamins, and minerals. Include one or two cups of beans and legumes in your daily diet. They can be added to salads and soups.
Eat whole grain bread: If you are following this diet, ditch the white bread and eat whole grain bread instead. Sourdough bread is a popular choice with people in the blue zones since it has a much lower glycemic index than white bread. It also contains vitamins B1, B6, and B12 and dietary minerals like zinc and magnesium. 
Consume whole foods: Whole foods undergo less processing and are high in nutrients. Whole foods like barley and oats have a lot of benefits, like preventing diabetes and keeping your heart healthy. Barley is also said to control cholesterol.
Limit dairy: This diet prompts moderate consumption of dairy. Dairy is high in fat. Some people in the blue zones eat sheep or goat dairy in the form of cheese or yogurt.
Avoid sugar: Adding sugar to coffee, tea, or other foods should be avoided whenever possible. Limiting the consumption of sweet treats and candies is also a rule of this diet. There is no restriction on naturally occurring sugar in fruits.
Avoid eggs: Eggs are not considered an essential part of the blue zone diet. People in the blue zones eat eggs only about twice a week as a side dish.
Exclude meat: The diet promotes a plant-based diet and limits or completely excludes meat. It includes meat otherwise considered healthy, such as chicken and turkey. 
Consume nuts: Nuts are rich in vitamins and minerals. They are also rich in unsaturated fats and are known to be good for heart health. If you are following the blue zone diet, consume a handful of nuts daily.
Drink water: Drinking water is an essential part of every diet. In the blue zone diet, you should drink adequate water and limit the consumption of sugary drinks. Additionally, people in the blue zone consume coffee, tea, and red wine.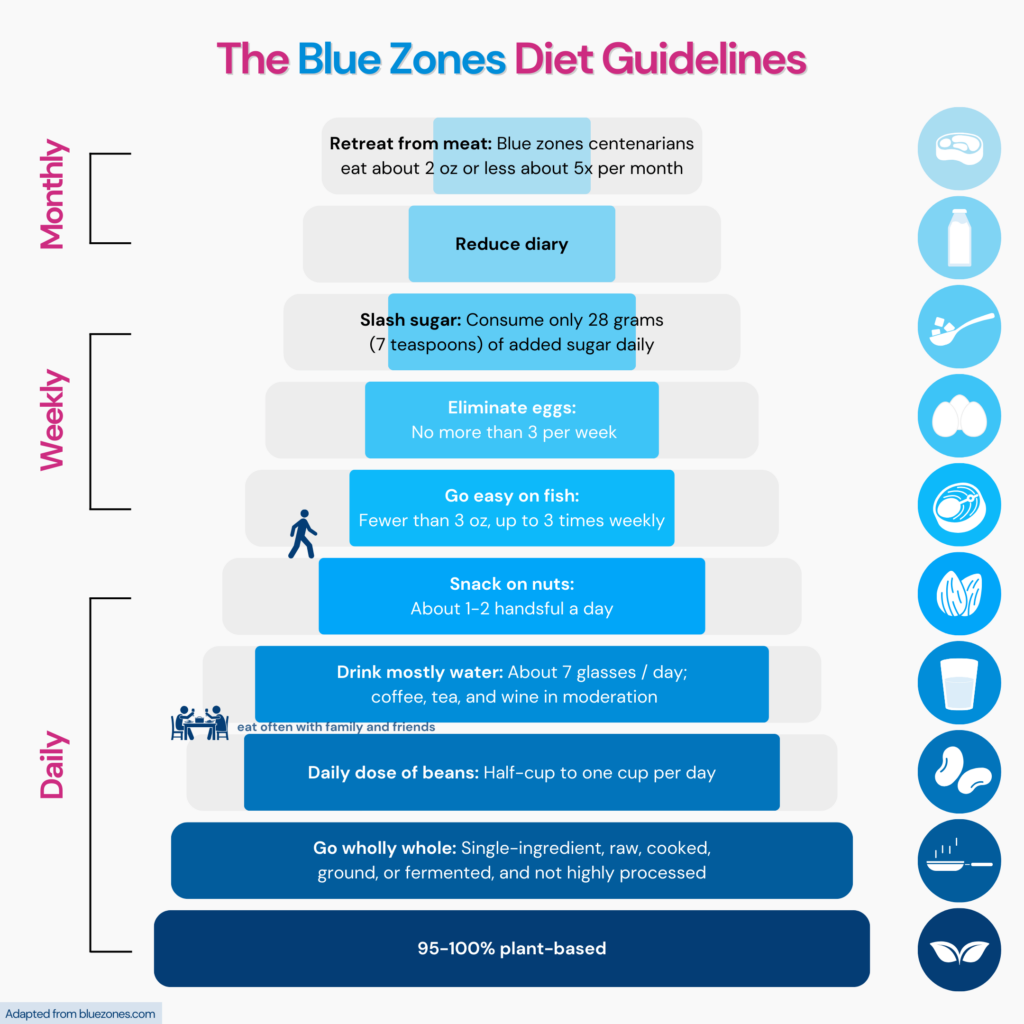 Best Foods
The blue zone diet focuses on consuming fresh fruits, vegetables, and whole grains while limiting processed foods.
Here are the best foods to include in your meals if you are following this diet:
Fruits, vegetables, whole grains, and legumes should be the bulk of your diet.
Beans such as black beans or soybeans.
Nuts, such as almonds or pistachios.
Fish such as sardines, anchovies, and cod.
How Does The Blue Zone Diet Help Boost Longevity?
A diet high in beans and whole grains can reduce the risk of developing certain cancers, such as pancreatic cancer.
A plant-based diet such as this one can significantly reduce the risk of heart disease. Including nuts in the diet also prevents cardiovascular disease.
Eating whole foods, fruits, and vegetables reduces the chances of developing type 2 diabetes.
Eating fiber-rich foods helps you sleep better and fight insomnia.
Is The Blue Zone Diet The Same As The Mediterranean Diet?
Two of the five blue zones lie in the Mediterranean region.
The blue zone diet has a lot of similarities with the Mediterranean diet.
Like the Mediterranean this diet also includes fresh fruits and vegetables and is low on meat and dairy.
Both types of diets focus on having a balanced approach toward food rather than eliminating entire food groups.
Weight Loss With The Blue Zone Diet
The blue zone diet is not necessarily designed for weight loss.
It mainly focuses on helping you live longer.
However, when you start making healthier food choices and eating only nutritious meals, chances are you will start losing excess weight.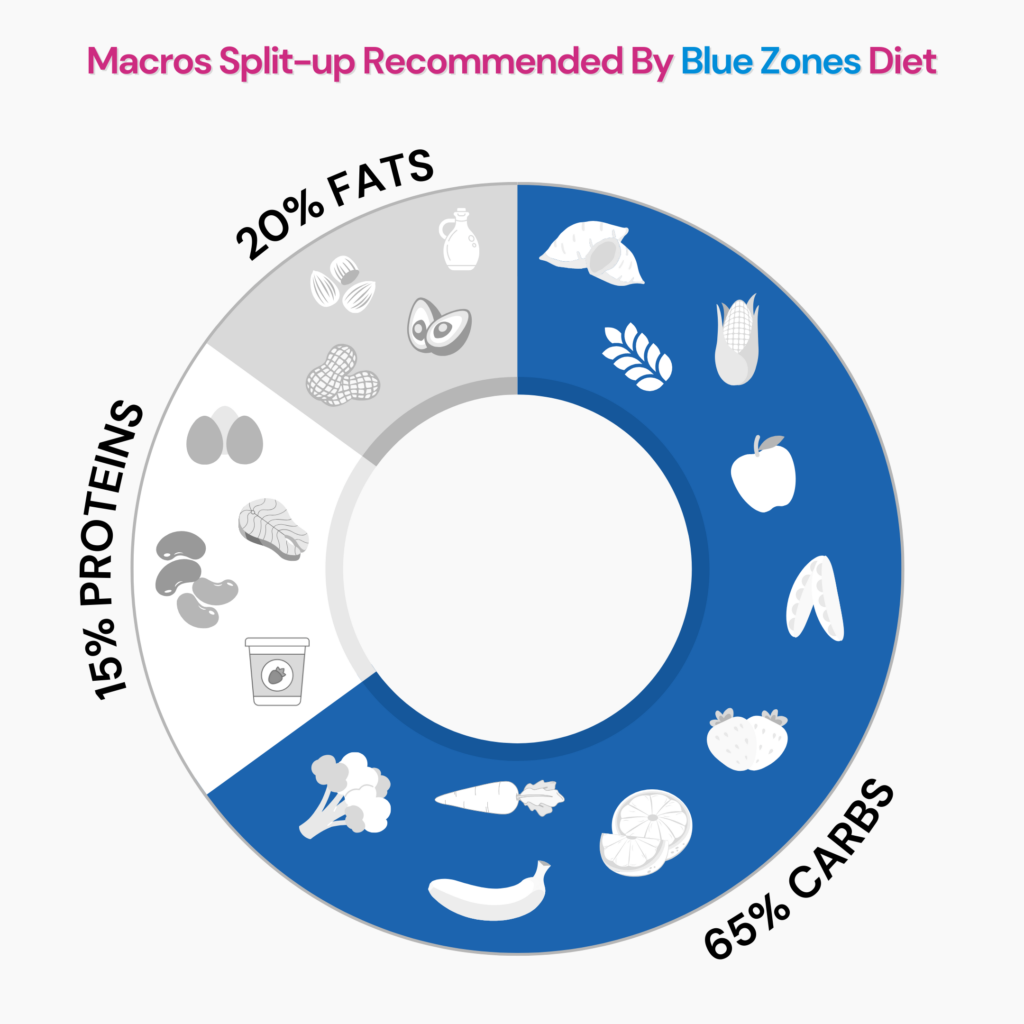 Other Healthy Practices To Boost Longevity
Besides diet, researchers have found that people in the blue zones practice other healthy habits, such as:
Not leading a sedentary lifestyle and moving naturally
Reducing stress
Belonging to a community
Having a purpose in life
Being part of social groups that foster healthy habits and behavior
Summary
The blue zone diet is found in some regions where people live significantly longer lives.
These areas are all over Central and Latin America, Europe and Asia.
People in these zones eat a primarily plant-based diet.
This diet includes fresh fruits, vegetables, whole grains, legumes, beans and nuts.
It also excludes processed food, sugar, and dairy.
People in the blue zones don't suffer from common lifestyle disorders like obesity and diabetes.
Since the blue zone diet reduces inflammation and free radical damage, it reduces the risk of developing cancer.
Apart from a healthy diet, people in the blue zones practice healthy habits such as belonging to a community and not living a sedentary lifestyle.
All these factors collectively make the blue zone diet a longevity booster.
References
https://www.medicalnewstoday.com/articles/what-to-know-about-the-blue-zone-diet-and-other-healthy-habits-for-longevity
https://www.everydayhealth.com/diet-nutrition/the-blue-zone-diet-a-complete-scientific-guide/
https://www.verywellhealth.com/blue-zone-diet-foods-4159314
https://www.healthline.com/nutrition/blue-zone-diets
https://www.verywellhealth.com/can-barley-lower-your-cholesterol-697944