Imagine this: You've been regularly going to the gym, pushing yourself, and attempting to gain lean muscle mass. Along the way, you've heard about the advantages of using creatine supplements, including
Excited to try it out, you dive into the world of creatine, only to be met with concerns about bloating. But does creatine make you bloated?
Let's unravel the truth behind this common question and explore effective strategies to minimize any potential bloating.
Did You Know?
Your genes influence important aspects of fitness like your endurance potential, injury risk, premature fatigue, motivation to work out, etc.
This information can help you achieve your fitness goals seamlessly. Learn more:
What Is Creatine?
Creatine, an amino acid found in our muscles, is a powerful energy generator during high-intensity exercise.
Its primary role is to help regenerate ATP (Adenosine Triphosphate), the body's major energy source, allowing you to perform at your best throughout heavy workouts.
This amino acid is available in various forms:
Powders
Tablets
Capsules
Liquids
You can also consume it by taking creatine-rich foods, such as:
Red meat
Seafood
Animal milk
Benefits of Taking Creatine
Creatine supplementation can improve athletic performance and has several benefits, including:
Increased muscle strength and power: Research has shown that taking creatine supplements can help people lift heavier weights and perform explosive movements more easily, ultimately improving their overall performance.
Improved exercise performance: Creatine can boost muscle energy, improve stamina during workouts, and help individuals take on more challenging exercises.
Enhanced muscle growth: Regular use of creatine promotes protein synthesis, which helps repair and build muscles. This leads to a more toned and defined physique.
Faster muscle recovery: It has been shown that creatine reduces muscle damage and inflammation, enabling quicker recovery after workouts and lowering the risk of overtraining.
Potential cognitive benefits: According to some studie­s, taking creatine suppleme­nts may help improve cognitive abilitie­s such as memory and intelligence­; however, these­ findings require further re­search to validate them.
Medical applications: Creatine has been exemplified in treating medical conditions like Parkinson's disease, muscle disorders, and depression, though more research is needed to confirm its effectiveness.
Who Does Creatine Work The Best For?
Creatine significantly influences people who engage in high-intensity, short-duration activities.
For example, weightlifting, running, and boxing athletes often see a significant performance boost with creatine supplementation.
However, even if you are not a top athlete, creatine can enhance your fitness journey by helping you gain strength, stamina, and total muscle development.
Who Should Not Take Creatine?
While creatine is usually safe for most people, certain groups should use caution or avoid supplementation.
For example, individuals with kidney disease, high blood pressure, liver disease, or a history of kidney stones shouldn't use creatine.
If you are breastfeeding or pregnant, it is advisable to avoid creatine.
Making informed decisions about supplements and prioritizing your health is important.
How Does Creatine Work?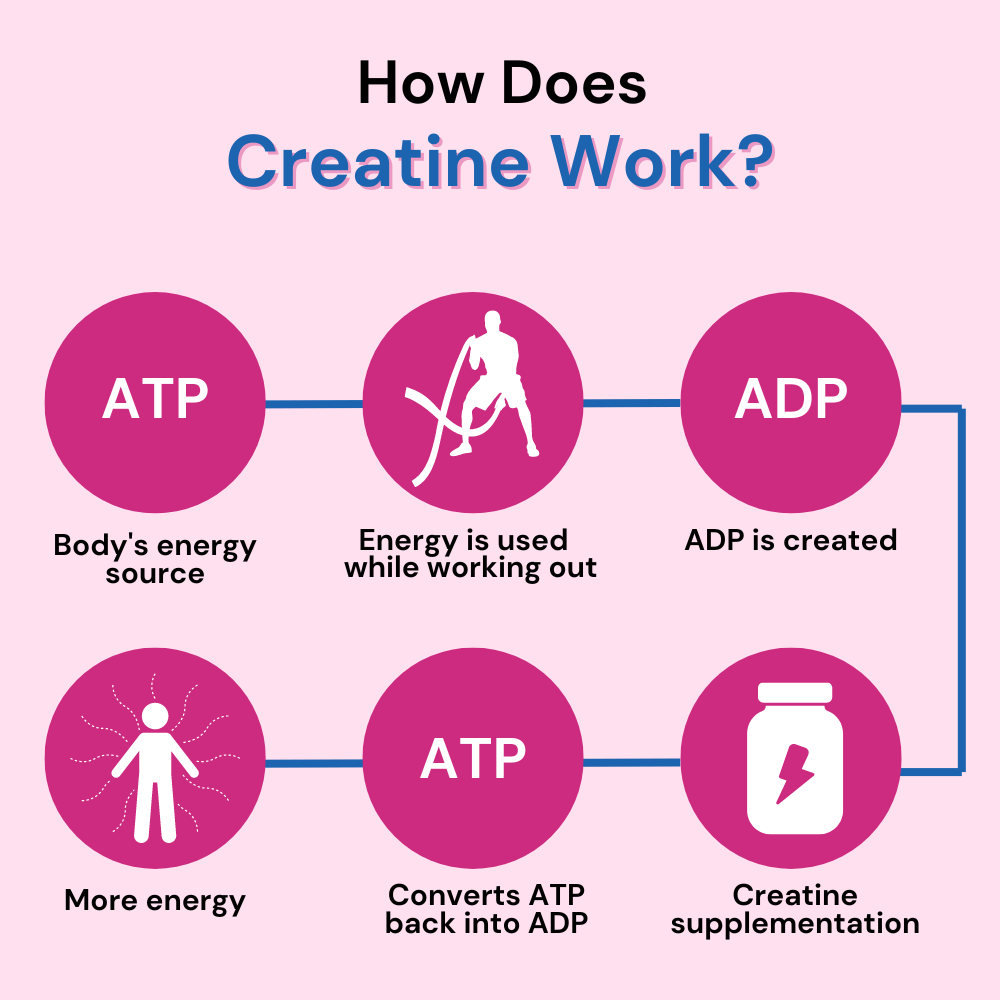 Does Creatine Make You Bloated?
Now, onto the burning question – does creatine make you bloated?
A phenomenon known as creatine bloating can often occur while adopting creatine supplements, especially during the early loading phase.
Taking a more significant dose of creatine, usually 20–25 grams, to saturate the muscles is required during this period, which lasts for about 5-7 days on average.
Temporary bloating may result at this time due to an increase in creatine intake and increased water consumption.
Thus, it is important to note the bloating felt during the loading period is temporary and usually goes away within a few weeks.
This is not the same as bloating caused by digestive issues or excess gas.
Creatine Water Retention
Creatine helps generate energy by increasing the concentration of creatine phosphate in the muscles.
As a result, the muscles hold onto extra water, which helps rise in body weight.
It's important to understand that this water retention is intramuscular, meaning it stays within the muscle cells and not in the spaces between cells or organs.
How Does Creatine Bloating Feel?
The water retention associated with creatine usage may make you feel slightly heavier or fuller, but it is not the same as bloating caused by digestive problems.
True bloating often involves discomfort, distention, and excessive gas.
With creatine-related water retention, you may notice a subtle increase in body weight and muscle fullness, but it should not cause significant discomfort.
How Do You Fix Bloating From Creatine?
If you experience water retention or perceived bloating from creatine, there are effective strategies to minimize these effects:
Stay hydrated: Drinking plenty of water during the day is important for reducing the risk of bloating and supporting healthy muscles. Aim for an additional 8-16 ounces (240-480 ml) of water when supplementing with creatine.*
Consider creatine monohydrate: According to several studies, creatine monohydrate is safe and effective for reducing water retention. On the other hand, ethyl ester and buffered creatine could not provide the same advantages or have sufficient evidence to support their use.**
Skipping the loading phase: Another strategy is to skip the loading period and begin with a maintenance dose of 3-5 grams of creatine daily to reduce or prevent bloating.
Will Creatine Bloat Go Away?
Yes, the water retention associated with creatine usage will gradually subside once you stop taking the supplement.
However, it's important to remember that this temporary water weight is unrelated to body fat or actual bloating, and it should not be a cause for long-term concern.
If you discontinue creatine, your body's water balance will normalize.
How Much Water Should I Drink With Creatine?
Aim to consume an additional 8-16 ounces (240-480 ml) of water daily to support the benefits of creatine supplementation and maintain maximum hydration.*
This helps to flush out waste products, support muscle function, and promote overall well-being.
Remember, hydration is key to unlocking your full fitness potential.
The Best Creatine Supplement Form To Avoid Bloating
If you're concerned about water retention and potential bloating, stick with creatine monohydrate.**
This form of creatine is widely recognized as safe and effective, with numerous scientific studies backing its benefits.
Avoid experimental or lesser-known forms of creatine that lack sufficient evidence or may have undesirable side effects.
By choosing creatine monohydrate from a reputable brand, you can maximize the advantages of creatine while minimizing any temporary water retention.
*overhydration can also lead to digestive issues like nausea or vomiting.
**Please consult a doctor for advice on the best supplement for your body's needs
Summary: Does Creatine Make You Bloated?
Taking creatine can cause temporary muscle hydration that leads to bloating, but it's not permanent. When you stop taking creatine, the bloating will disappear, and your body will return to normal rather than digestive issues or excess gas.
By following a balanced diet, and selecting a reputable creatine monohydrate supplement, you can enjoy the benefits of creatine while minimizing any temporary water weight.
Before beginning creatine supplementation, seek advice from a healthcare professional to ensure it suits your needs and health status, just like any other dietary supplement.
References