Happiness is a universal human desire but can be elusive and hard to measure. How do we define happiness, and how does it change throughout our lives? At what age are people happiest? What factors influence our happiness, and how can we increase it? Continue reading to explore these questions, based on a new study examining the relationship between age and happiness. We will also share some proven psychological strategies for increasing your happiness, regardless of age.
What Does Happiness Got To Do With Age?
Happiness is a complex and subjective phenomenon, influenced by many factors such as genetics, personality, culture, life events, health, income, social relationships, and more.
However, one factor that has received a lot of attention from researchers is age.
Various studies have explored the impact of age on happiness.
Some suggest that happiness follows a U-shaped curve, meaning that people are happier in their 20s and old age but less happy in their middle age.
Others point out that happiness declines with age as people face more challenges and losses.
Still, many argue that happiness increases with age as people gain more wisdom and perspective.
Are Children Happier Than Adults?
Whether children are happier than adults doesn't have a straightforward answer.
According to a research review, the happiness of children and teenagers aged 6-18 is significantly influenced by cohesion and family communication.
Good familial relationships and effective communication are vital in promoting a happy and healthy family environment.
This means that when children grow up in supportive and friendly families, they tend to be happier.
Family functioning isn't only essential for children and adults regarding happiness. Functional family dynamics can enhance the well-being of everyone in the family.
Additionally, children may have some happiness advantages over adults.
They typically face fewer stressors related to work and finances and enjoy more opportunities for play and leisure, contributing to their happiness.
It's crucial to remember that not all children are privileged to grow up in such supportive environments.
Children who experience abuse, neglect, or other forms of trauma are at a higher risk of facing mental health challenges and lower happiness levels.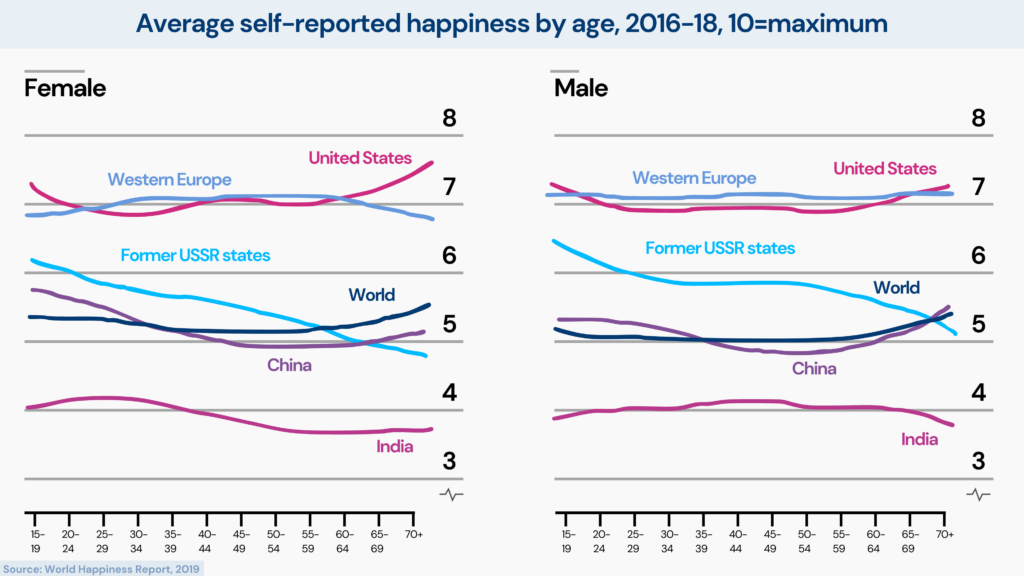 At What Age Are People The Happiest?
Study Overview
According to a study published in the journal Psychological Bulletin in 2023, researchers comprehensively examined subjective well-being (SWB) across the lifespan.
Their primary objective was to address the question of at what age people are happiest.
Study Participants
This study analyzed a vast dataset consisting of 443 samples from longitudinal studies, involving a staggering total of 460,902 participants.
The focus assessed changes in three fundamental components of SWB:
Life satisfaction
Positive emotional states
Negative emotional states
The study's enormous scope allowed researchers to draw meaningful insights from a diverse and extensive pool of participants.
These participants spanned various age groups and life stages, contributing to the depth and reliability of the findings.
Study Findings
This extensive research shed light on the intricate relationship between age and happiness. Here are the key takeaways:
Life satisfaction: The study revealed that life satisfaction follows a nuanced trajectory across the lifespan.
It showed a decline between the ages of 9 and 16, possibly due to the significant physical and social changes accompanying puberty.
However, life satisfaction gradually increased until around the age of 70.
Surprisingly, it then decreased once more after the age of 70, continuing until the age of 96.
Positive emotional states: Positive emotional states generally declined from age 9 to 94.
This suggests that while children and young adults may experience more frequent positive emotions, these feelings decrease as individuals enter late adulthood.
Negative emotional states: Negative emotional states showed a different pattern.
They fluctuated slightly between ages 9 and 22, then declined until around age 60.
After this point, negative emotional states increased again until age 87, indicating that middle age can be particularly challenging for emotional well-being.
Despite the fluctuations, the study indicated a positive trend in life satisfaction and negative emotional states over a significant portion of life.
As individuals navigate various life stages, their ability to find happiness and cope with negative emotions may improve.
Study Limitations
While this study shows valuable insights into the relationship between age and happiness, it's essential to acknowledge its limitations:
Generalizability: Although the study had a large number of participants, its conclusions may not be universally applicable. Cultural, regional, and individual differences can influence SWB.
Data collection methods: The accuracy of the results depends on the quality of data collected in longitudinal studies. Variations in data collection methods could introduce bias.
Subjective nature: SWB is inherently personal and can vary significantly from one individual to another. Quantifying it can be challenging.
Life events: The study did not account for the impact of significant life events, such as personal achievements or losses, on SWB.
5 Proven Psychological Strategies For Increased Happiness
The above study showed that happiness is not determined by age alone but by many other factors that our choices and actions can influence.
Therefore, we can increase our happiness by adopting some proven psychological strategies that have been shown to enhance well-being.
Here are 5 examples:
Practice gratitude: Cultivating a habit of gratitude can significantly boost happiness. Take time each day to reflect on the things you're thankful for. This simple act can shift your focus towards the positive aspects of life, leading to increased well-being.
Engage in mindfulness and meditation: Adding mindfulness practices and meditation into your routine can reduce stress and promote a greater sense of happiness. They help you stay present, manage negative thoughts, and promote a sense of calm and contentment.
Build meaningful relationships: Social connections are a powerful predictor of happiness. Invest time in nurturing your relationships with friends and family. Meaningful connections provide emotional support and a sense of belonging, contributing to overall well-being.
Set and pursue meaningful goals: Setting achievable and meaningful goals can give your life purpose and direction. When you have a sense of purpose, you're more likely to experience happiness and satisfaction as you work towards your aspirations.
Practice acts of kindness: Whether small or large, engaging in acts of kindness can boost mood and increase happiness. Promoting a sense of fulfillment and kindness towards others also strengthens social bonds.
Summary: At What Age Are People The Happiest?
Happiness is complex and influenced by age, with varying research findings.
Children's happiness relates to family dynamics, especially support and communication.
A study revealed that happiness in life follows a distinctive pattern over a lifetime.
It declines in adolescence, increases until around age 70, and then undergoes a shift.
Positive emotions also change with age, while negative emotions show different patterns.
To boost happiness, practice gratitude, meditate, build meaningful relationships, set goals, and engage in acts of kindness.
References
https://www.ncbi.nlm.nih.gov/pmc/articles/PMC7529452/
https://www.mdpi.com/1660-4601/19/24/16593
https://psycnet.apa.org/doiLanding?doi=10.1037%2Fbul0000401