What Is Agomelatine?
Agomelatine is an antidepressant drug that is closely related to melatonin in structure.
Melatonin is a hormone produced by the pineal gland (located in the brain) that affects the sleep-wake cycle in the body.
The brain produces several chemicals that are needed for its proper functioning.
But, conditions like depression may alter your brain's functioning via chemicals like noradrenaline, dopamine, and serotonin.
In people with depression, the levels of brain chemicals (also called neurotransmitters) are reduced.
Depression may also reduce melatonin levels in the body, causing sleep-related issues.
Melatonin enables you to get good sleep every night, and a reduction in its levels shows a direct effect on sleep.
Though many melatonin supplements are available, Agomelatine was the first antidepressant medication that increased melatonin activity directly.
Servier Laboratories Ltd. developed this drug.
Agomelatine resembles melatonin in structure.
So it competes with melatonin to attach to the melatonin receptors.
As a result, lesser melatonin molecules are in a bound state, increasing the level of free melatonin in the body.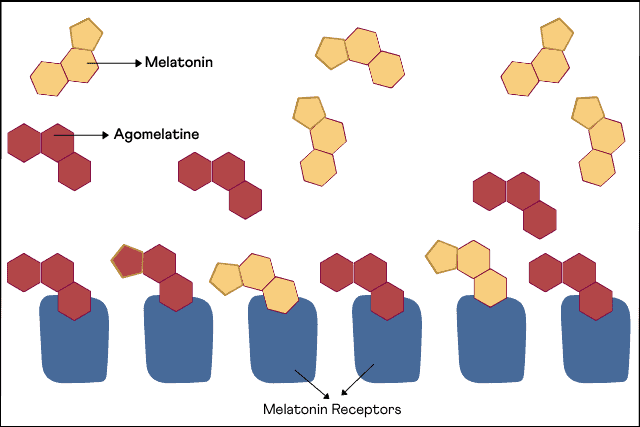 Image: Agomelatine preventing the binding of melatonin to its receptor
Agomelatine also increases the activity of other neurotransmitters like dopamine and noradrenaline.
Along with binding to the melatonin receptors, Agomelatine prevents serotonin (another neurotransmitter) from binding to the 5HT2c receptor.
This reduces anxiety and depression symptoms.
By increasing melatonin activity, Agomelatine also directly increases the activity of noradrenaline and dopamine.
Agomelatine is rapidly absorbed via the oral route.
It is metabolized by the CYP1A2 and CYP2C9 enzymes in the liver.
Consuming caffeine and nicotine may reduce Agomelatine levels in the blood.
How Does Agomelatine Work?
Agomelatine is a melatonergic agonist. This means Agomelatine binds to melatonin receptors and stimulates the body to produce melatonin.
Agomelatine binds to MT1 and MT2 receptors.
Agomelatine is also a 5HT2C antagonist, which means it inhibits the activity of the 5HT2C gene and enzymes.
5HT2C is involved in regulating serotonin levels in the body.
Agomelatine restores your body's normal circadian rhythm and resolves sleep disturbances.
Agomelatine also increases the production of noradrenaline and dopamine hormones.
This has an antidepressant effect on the body.
Agomelatine, is therefore, used to treat Major Depressive Disorder.
What Are The Side Effects Of Agomelatine?
Agomelatine is a safe drug but may cause side effects in some people.
Some mild side effects may get resolved on their own after a few days of taking the medication.
The most common side effects that you may experience after taking Agomelatine are:
Excessive sleepiness or drowsiness
Stomach ache
Headache
Side effects of Agomelatine seen in up about one in ten people include:
Anxiety
Nausea and vomiting
Insomnia
Dizziness
Fatigue and back pain
Abnormal dreams
Increase in weight
Change in bowel habits
Altered liver enzymes (observed in a blood test)
If you experience any of the following side effects after taking Agomelatine, you must visit your doctor or the nearest hospital immediately:
Breathing difficulty
Swelling of face, tongue, and throat
Skin rash with raised lumps
Dark urine, light-colored stools
Jaundice-like symptoms
Severe side effects of Agomelatine include seizures and behavior changes.
Agomelatine's Interaction With Other Drugs
Agomelatine may interact with other drugs, especially those that are processed in the liver. Some interactions of Agomelatine with other medications include:
Fluvoxamine is an antidepressant drug used to treat depression and Obsessive-Compulsive Disorder (OCD) in adults and children over eight years of age.
Fluvoxamine is a powerful CYP1A2 inhibitor and a moderate CYP2C9 inhibitor.
It reduces both CYP1A2 and CYP2C9 enzyme levels.
Since these enzymes are involved in the metabolism of Agomelatin, consuming these drugs together can lead to the accumulation of Agomelatin in the body.
When Agomelatine is prescribed in a patient taking estrogens, there is a significant increase in Agomelatine levels in the body.
This happens because estrogens are moderate CYP1A2 inhibitors that reduce Agomelatine metabolism, increasing its levels in the body.
Rifampicin is an anti-tuberculosis drug.
It stimulates all the three cytochrome enzymes involved in the metabolism of Agomelatine.
Due to this property of Rifampicin, it decreases the bioavailability (a part of the drug that enters circulation to bring about the required effect) of Agomelatine.
So, it is vital to inform your doctor about any pre-existing medications you may be taking to reduce the chances of drug interactions.
Herbal medicinal products
Herbal medicines may interact with CYP1A2 and CYP2C9 enzymes.
This interaction may lead to a decrease or increase in the bioavailability of Agomelatine.
Apart from the drugs mentioned above, smoking also affects Agomelatine's effect on the body.
Smoking stimulates CYP1A2 enzyme production, which reduces the bioavailability of Agomelatine.
This is seen mainly in heavy smokers (those who smoke over 15 cigarettes a day).
Gene-Drug Interaction: Agomelatine
ABCB1 Gene And Agomelatine
ATP Binding Cassette Subfamily B Member 1 or the ABCB1 gene produces enzymes that transport materials from inside the cell to the outside.
The ABCB1 gene is involved in multidrug resistance.
It affects Agomelatine absorption in the body.
rs2032582 (or G2677T/A) is a single nucleotide polymorphism or SNP in the ABCB1 gene.
Studies have shown that individuals having the A/A or A/T genotypes in this SNP had a lower concentration of Agomelatine.
So, people with the A allele of this SNP may require dosage alterations to achieve the desired effect.
Another SNP in the ABCB1 gene that influences Agomelatine therapy is rs1045642 (or CT3435T).
The T allele in this gene has been linked to a lower response to Agomelatine therapy than the C allele.
Recommendations For The Safe Use Of Agomelatine
Follow prescribed dosage strictly
You must always take Agomelatine in the exact amount prescribed by your doctor.
If you feel you have taken an excess dosage of this medication, report to your doctor immediately.
Stay in touch with your healthcare provider
Agomelatine is an antidepressant drug, but it does not help manage suicidal thoughts and feelings.
If you feel yourself developing suicidal thoughts, visit your doctor immediately.
Report any allergic or hypersensitivity reaction with Agomelatine to your doctor immediately.
Do not abruptly stop the medication
Stopping Agomelatine treatment abruptly may cause severe withdrawal symptoms and affect your health.
If you are thinking of stopping the drug or you already have, visit your doctor immediately.
Pre-existing medical conditions
Agomelatine is not recommended for patients with kidney or liver impairment.
The drug can cause an imbalance in the liver enzymes in people with liver/kidney diseases.
Liver Function Tests (LFT) are advised to all patients before starting them on an Agomelatine course.
In addition, your doctor may also recommend LFTs if they wish to increase the medication dosage.
People who are lactose intolerant must not take this medication.
Animal studies suggest that Agomelatine molecules may be expressed in breast milk.
So, if you are breastfeeding, you must inform your doctor of the same.
Summary
Agomelatine is an antidepressant drug that resembles melatonin in its structure.
Agomelatine works by binding to melatonin receptors and stimulating the body to produce melatonin.
Agomelatine regulates the sleep-wake cycle and is used to treat sleep disorders and major depressive disorder.
Though Agomelatine is safe to consume, some people may experience mild to moderate and sometimes severe side effects.
Agomelatine interacts with drugs like estrogens, Fluvoxamine, Rifampicin, and herbal medicines.
Two SNPs in the ABCB1 gene have been shown to affect Agomelatine metabolism.
For safe consumption of Agomelatine, you must always take the medication in the dosage prescribed by your doctor.
Agomelatine may not be safe for people with liver dysfunction as well as breastfeeding women.
A genetic test can help reveal how your body may respond to various drugs, including Agomelatine. It also provides information about your risk for side effects.
The genetic test results can help your doctor see how well you metabolize the drug in order to make accurate dosage recommendations.
References
https://go.drugbank.com/drugs/DB06594
https://www.ncbi.nlm.nih.gov/pmc/articles/PMC2655086/
https://www.ema.europa.eu/en/documents/product-information/valdoxan-epar-product-information_en.pdf
https://www.genecards.org/cgi-bin/carddisp.pl?gene=ABCB1
https://www.ncbi.nlm.nih.gov/gene/5243
https://www.futuremedicine.com/doi/pdf/10.2217/pgs-2020-0157