Are you one of the millions searching for answers to the persistent redness, bumps, and pimples on your face? The search for the cause of rosacea may lead you down a genetic path, as new research suggests a strong connection between this chronic skin condition and our DNA.
What Is Rosacea?
Rosacea is a chronic skin condition that causes redness, inflammation, and pimple-like bumps on the face.
It is most commonly found on the cheeks, nose, chin, and forehead.
The cause of rosacea is not well understood, but it is thought to be related to factors such as genetics, the immune system, and blood vessel abnormalities.
The condition can be managed with lifestyle changes and medical treatment, but there is no cure.
Impact Of Rosacea On Health
Rosacea is a skin condition, but it can also affect a person's mental health.
Some people with rosacea may experience low self-esteem, anxiety, and depression due to the redness and visible symptoms on their faces.
In severe cases, rosacea can also lead to eye problems such as conjunctivitis and corneal damage, so prompt diagnosis and treatment are important.
It's also important to note that while rosacea is not life-threatening, it is a chronic condition that requires ongoing management to prevent the worsening of symptoms.
Is Rosacea Genetic?
Studies have shown that there is a higher incidence of rosacea in people with a family history of the condition.
This suggests that there may be a genetic component to rosacea.
Several genes have been associated with rosacea, but the exact genes that cause the condition are poorly understood.
Many studies have identified genetic variations that are more common in people with rosacea than those without the condition.
Some of these genes are involved in the immune system and inflammation, while others are involved in the regulation of blood vessels and skin structure.
However, more research is needed to understand the genetic factors underlying rosacea fully.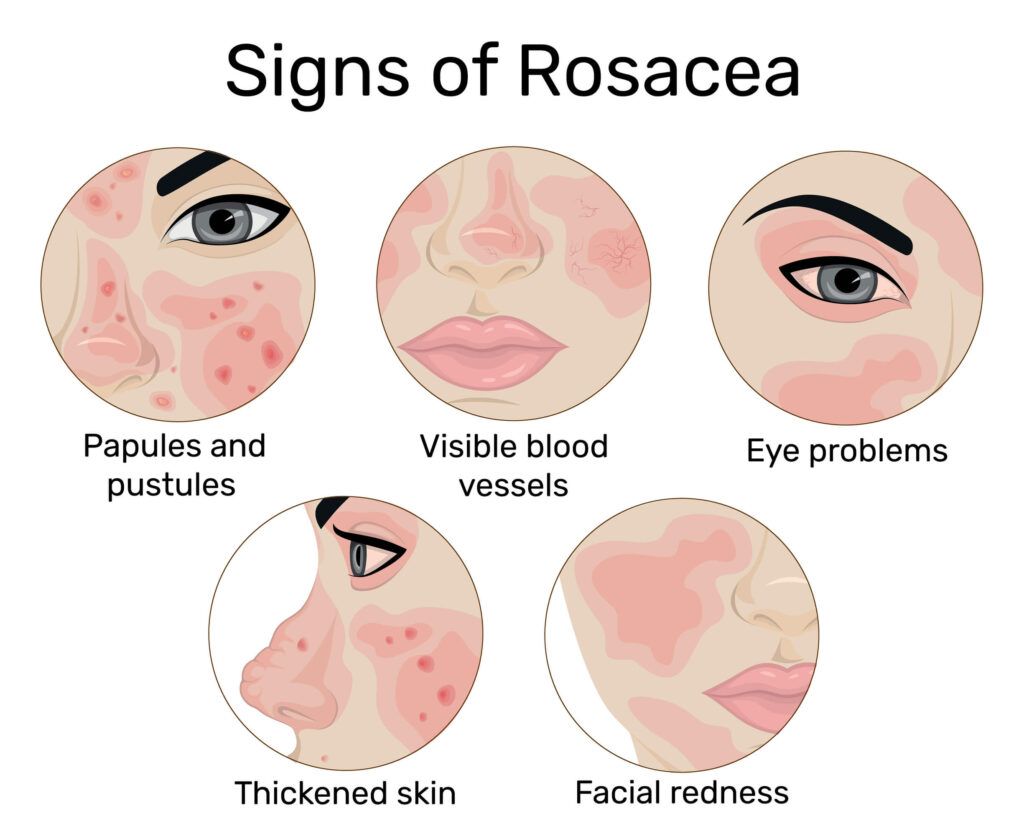 Other Risk Factors For Rosacea
Several factors may increase a person's risk of developing rosacea, including:
Age: Rosacea is most common in people between the ages of 30 and 60.
Gender: Women are more likely to develop rosacea than men, but men are more likely to have severe symptoms.
Family history: People with a family history of rosacea are more likely to develop the condition.
Skin type: People with fair skin, freckles, and light hair are more susceptible to rosacea.
Sun exposure: Prolonged sun exposure can trigger symptoms or make them worse.
Alcohol consumption: Alcohol can cause blood vessels to dilate, which can trigger rosacea symptoms.
Certain foods: Certain foods, such as spicy foods, hot beverages, and alcohol, can trigger symptoms in some people with rosacea.
It's important to note that not everyone with these risk factors will develop rosacea, and having none of them does not guarantee that a person will not develop the condition.
Further research is needed to fully understand the underlying causes of rosacea and the role of these risk factors.
Explore Your DNA Raw Data
Curious about your anxiety genes? Here's how you can learn about it in 3 simple steps:
Download your raw data file from 23andMe, Ancestry DNA or any other ancestry company. If you don't have one, you can get a 23andMe kit from here.
Buy the Gene Skin Report (or Xcode Life Premium Pack for a 70% discount)
Upload your raw data and get your results in 24 hours.