Freckles have been a source of admiration, envy, and curiosity for many generations. But how do they form? Why do some people have freckles on their faces and others do not? Along with sun exposure, your genes also play a role in the development of freckles.
Would You Like An In-Depth Analysis Of Your Skin?
How Do Freckles Occur?
Freckles are small brownish dot-like structures seen on sun-exposed areas (mainly the face) in some people.
During sun exposure, a type of skin cell called melanocytes produces a pigment called melanin. Melanin produces hair, eye, and skin pigmentation.
If the melanocytes produce melanin evenly, you get a tan when you're in the sun. But in some people, more pigment is produced in some areas than others, which results in freckles.
Genetics Behind Freckles
Certain genes regulate the function of melanocytes. Thus, these genes also play an important role in skin pigmentation. Any changes in these genes can put a person at a higher risk for freckles, sun spots, and tanning.
For example, a gene called MC1R produces the receptor for the melanocyte-stimulating hormone, one of the two hormones that regulate pigmentation.
Certain changes in MC1R results in lower stimulation of pheomelanin (the lighter pigment). This results in the overproduction of eumelanin (the darker pigment) in certain areas, leading to freckles.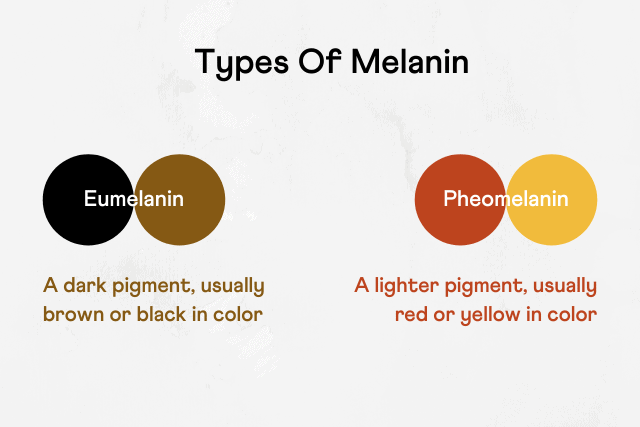 Image: Types of pigment
Did You Know?
The MC1R gene also influences the chances of someone having red-colored hair. In some people, the production of eumelanin is much lower compared to pheomelanin. This results in light-colored hair.
Explore Your DNA Raw Data
Curious about your freckles genes? Here's how you can learn about it in 3 simple steps:
Download your raw data file from 23andMe, Ancestry DNA, or any other ancestry company. If you don't have one, you can get a 23andMe kit from here.
Buy the Gene Skin Report (or Xcode Life Premium Pack for a 70% discount)
Upload your raw data and get your results in 24 hours.