If you are concerned about your sexual health, "scabies" must already be on your radar. When it comes to sexually transmitted diseases, AIDS, Chlamydia, and Syphilis are all some familiar names we come across. However, research suggests that even though scabies is a skin condition, it can be passed through sexual contact, prompting the question, is scabies an STD?
Did You Know? Certain gene changes influence your risk for various skin conditions like dermatitis, acne, psoriasis, etc. Learning about this genetic risk can help customize your skincare and elevate your skin health.
What Is Scabies?
Scabies is a highly contagious skin disease.
It is an intensely itchy skin condition caused by a type of mite.
It spreads through physical contact within families, schools, or nursing homes.
What Causes Scabies?
Scabies is caused by a tiny mite called Sarcoptes scabiei.
When this mite reproduces, it lays eggs under the surface of human skin.
When these eggs hatch, the new mites crawl on the skin, making new burrows.
It causes intense itching, which increases at night.
Scabies mites are found in the genital area, on the wrists and elbows, underneath the arm, on the stomach, feet, and ankle.
Signs and Symptoms of Scabies
The most common symptoms of scabies are:
Itching that worsens at night ( also called nocturnal pruritus). It is one of the earliest symptoms of scabies.
Rashes that look like tiny blisters or bumps.
Small raised tracks on the skin result from mites burrowing and crawling under the skin.
These symptoms show up three to six weeks after initial infection.
However, if you have had scabies previously and got reinfected, you might start showing symptoms immediately.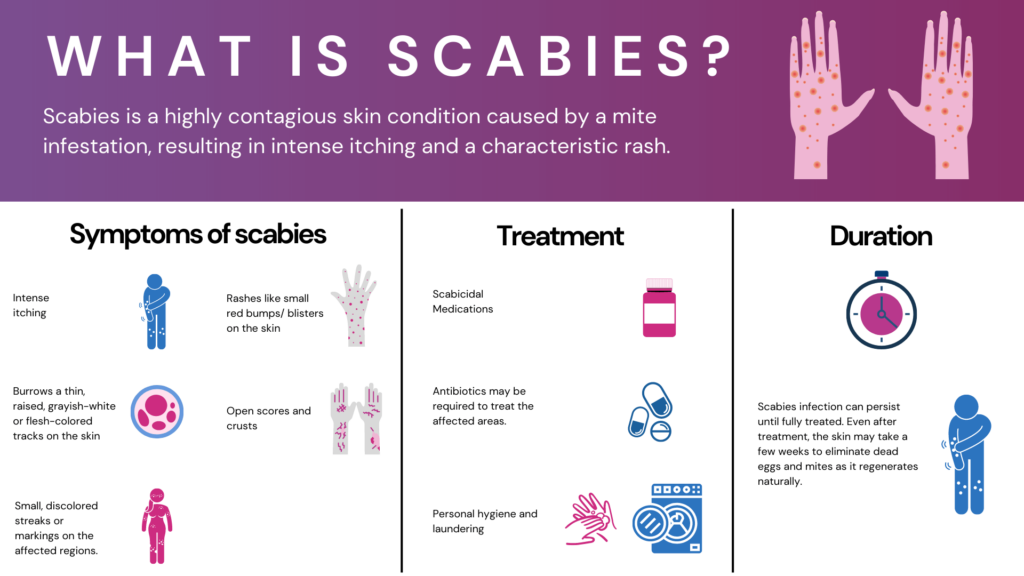 Is Scabies an STD?
Yes, scabies is considered an STD as it can spread by sexual contact.  But scabies can also apply by nonsexual routes.
Furthermore, unlike other STDs, barriers like condoms or dental dams don't guard against scabies.
Can It Be Transmitted Only Through Sexual Contact?
Scabies can also be transmitted without sexual contact.
People can get scabies by being in close contact with an infected person.
You can also get infected if you share bedding or clothing with an infected person.
Poor personal hygiene can make you more prone to getting a scabies infection.
What Is Crusted Scabies, And Is It An STD?
Crusted or Norwegian scabies is a severe form of scabies infestation.
Typically, a host has no more than 10-15 mites on their body.
But in crusted scabies, people can have hundreds of mites crawling under their skin, causing extreme itching.
The rashes are more prominent and look like crusted patches of skin that crumble when touched.
People with weakened immune systems usually suffer from crusted scabies.
Usually, older people and children, people suffering from an immunosuppressive disorder such as AIDS, suffer from crusted scabies.
However, it can also spread by hugging or being in close contact with an infected host.
How Else Does Scabies Spread? Is It Contagious?
Scabies is highly contagious and spread through skin-to-skin contact.
The most common form of scabies transmission is sexual contact.
However, scabies can also spread in nonsexual contact, such as:
By sharing towels, bedding, or clothing
Not showering regularly
In crowded places
Periodical gatherings like in schools, prisons, or nursing homes
You are more likely to get scabies from sustained skin-to-skin contact with a person.
Usually, a simple handshake does not transmit scabies.
Can Pets Spread Scabies?
Pet animals cannot spread human scabies.
Pets can be infected with another type of scabies mite that usually doesn't infect humans.
How Long Is Scabies Contagious?
Scabies mites can live on a host for 1-2 months.
They are contagious during this period.
Even after treatment, the itching and discomfort might last longer.
However, scabies cannot live for more than 48 hours off the host.
Mites die above 50 degrees Celsius.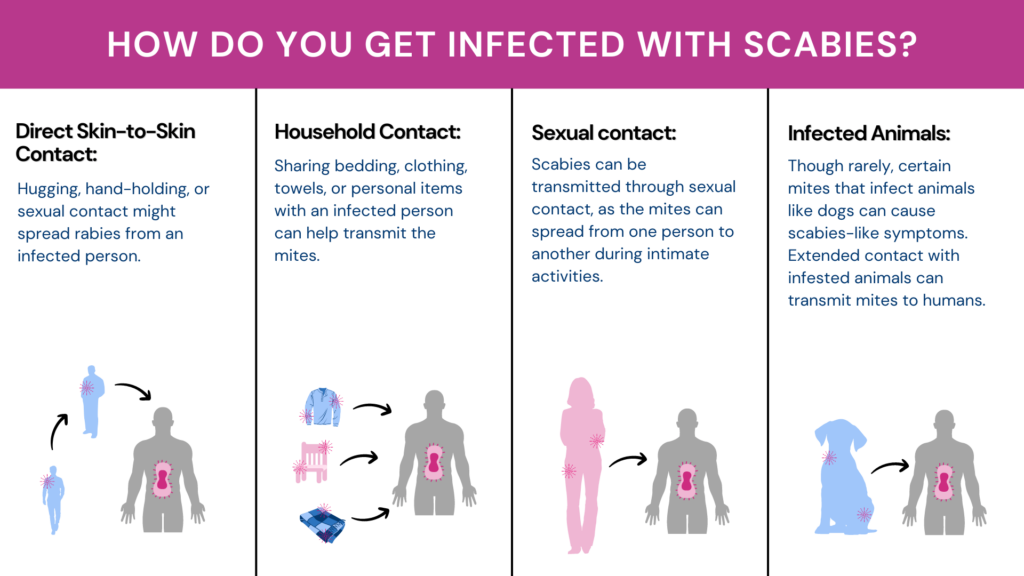 Diagnosis, Management, And Treatment
A simple physical exam can diagnose scabies.
Your doctor might also perform ink tests and tissue biopsies to detect scabies.
Scabies can be treated with overnight creams or lotions.
Permethrin cream is an FDA-approved treatment for scabies, safe for pregnant women and children over two months old.
Sulfur ointment can be used for patients under the age of two years.
Lindane lotion is used as a last line of treatment for scabies. However, it is unsafe for pregnant and breastfeeding women.
Benzyl benzoate is used topically to treat crusted scabies.
Your doctor will advise you how to use these treatments.
The itch may be persistent, and antihistamines can help.
All your close contacts in the household also need to be treated, even if they don't have symptoms.
All clothing should be washed at 50 degrees to kill the mites.
Everything that cannot be washed, such as leather jackets, should be put in a plastic bag and left untouched for three days until the mites die.
How To Prevent Getting Scabies?
Try to avoid close contact with someone with an unidentified rash. Avoid sharing their clothes or bedding.
Try to avoid sexual contact with unknown people. Sexual contact involves prolonged physical contact and is a common way to get scabies infestation.
Practicing good physical hygiene is a way to prevent scabies infestation. If you have unknowingly come in contact with an infected person, try showering, as it might remove the mites before they can burrow.
Ensure that everyone in the household is treated. Wash all clothes at a high temperature, and disinfect all your belongings.
Can Scabies Live In A Mattress?
Scabies can survive on mattresses or other inanimate objects for 2-3 days.
You can kill them with a vacuum or use high-temperature steam.
Avoiding Scabies Reinfection
It is vital to complete the entire course of treatment as prescribed by your doctor, as leaving it incomplete will not kill all the mites and increase the chances of reinfection.
Treating everyone exposed to the disease will reduce the chances of reinfection.
Vacuuming carpets and rugs will remove any surviving mites. Washing and disinfecting clothes and bedding is also essential to prevent reinfection.
Summary: Is Scabies An STD?
Scabies is considered an STD as the condition can spread through sexual contact.
It is caused by a mite that lives and burrows under human skin.
Scabies can also spread by casual physical contact, such as shaking hands or living with an infected person.
Practicing good personal hygiene habits and avoiding close contact with infected people are some ways to avoid scabies.
References
https://www.healthline.com/health/is-scabies-an-std
https://www.cdc.gov/parasites/scabies/index.html