Epigenetics is the study of how genes are expressed. Epigenetic testing looks at changes in gene expression that can influence a person's health. It is a new and emerging field of medicine that holds great promise for improved disease diagnosis and treatment. However, significant challenges must be addressed before this technology can be widely adopted. This article will discuss epigenetic testing and some of the challenges faced by this new field of medicine.
Did You Know? Your ancestry test DNA data includes 700,000 markers, which can be used to learn your risk for various seasonal, environmental, food, and drug allergies. This report will help you understand your body better and safeguard yourself from allergens. Learn more.
What is Epigenetics?
Your genes make most of who you are and play a significant role in your health.
But other factors like your behavior, environment, diet, and physical activity levels can also greatly impact your health.
Epigenetics is the science behind how environmental and lifestyle factors can change how a gene functions or turns "on and off" depending on certain external triggers.
While the genetic makeup you are born with doesn't change in your lifetime, epigenetic changes are reversible.
Since the latter occurs due to behavioral and lifestyle factors, modifying them can undo the epigenetic changes.
Types of Epigenetic Changes
| | | |
| --- | --- | --- |
| DNA Methylation | Histone Acetylation | Non-coding RNA |
| A chemical called the "methyl group" is added to the DNA. The place where it gets attached is blocked and "not" read to produce protein. So, DNA methylation turns "off" a gene. | DNA wraps around proteins called histones. When it is tightly packed, those segments of the DNA are not "read" to make proteins. The acetylation reaction loosens up the wound DNA enough to produce proteins. | Coding RNA helps make proteins. Non-coding RNA controls how genes function by attaching to the coding RNA. It also influences the function of histones. |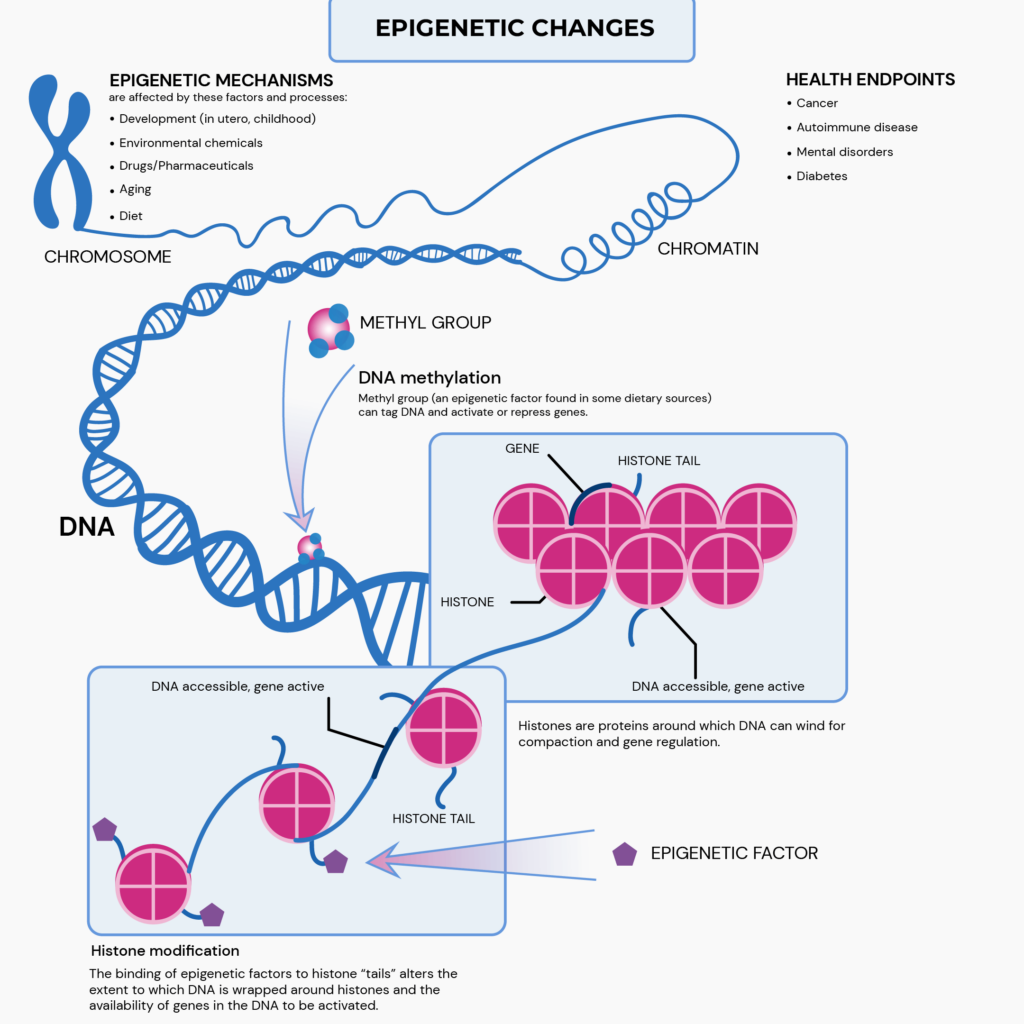 Epigenetics and Health
Epigenetics and Infections
Exposure to germs can result in structural modifications to histones resulting in tighter wounding of the DNA.
This can lead to the "turning off" of some important immunity genes. Thereby lowering your immune strength and making you more prone to infections.
Epigenetics and Cancer
Methylation of certain genes that protect you against cancer, like the BRCA genes and TP53 gene, can turn them "off."
This can lead to unrepaired DNA damage that can eventually lead to cancer.
What Is Epigenetic Testing?
While DNA tests provide insights into the potential disease risks you were born with, epigenetics tries to add the effect of environment and lifestyle to these results.
For example, if your DNA test results reveal that you do not have any risk variant associated with breast cancer, it likely means that you have a normal to decreased risk for the condition.
Studies suggest that higher glucose levels in one's diet and regular alcohol consumption impair methylation frequency in the BRCA genes.
In fact, according to a study, obese individuals receive a 1.89-fold change in hypermethylation of the BRCA1 gene.
This can increase breast cancer risk, even if you are born with normal risk.
Using blood or saliva samples, some companies measure your epigenetic changes.
The results can also reveal your "true age."
Chronological Age vs. Epigenetic Age
Your chronological or calendar age is how old you are from a time point of view (or the day you were born).
Epigenetic or biological age measures your age based on several biological markers.
These markers can be associated with disease risk and body functioning.
While chronological age increases at the same rate for everyone, biological age does not.
How fast you age biologically depends on your eating habits, physical activity levels, stress levels, and various lifestyle and environmental factors.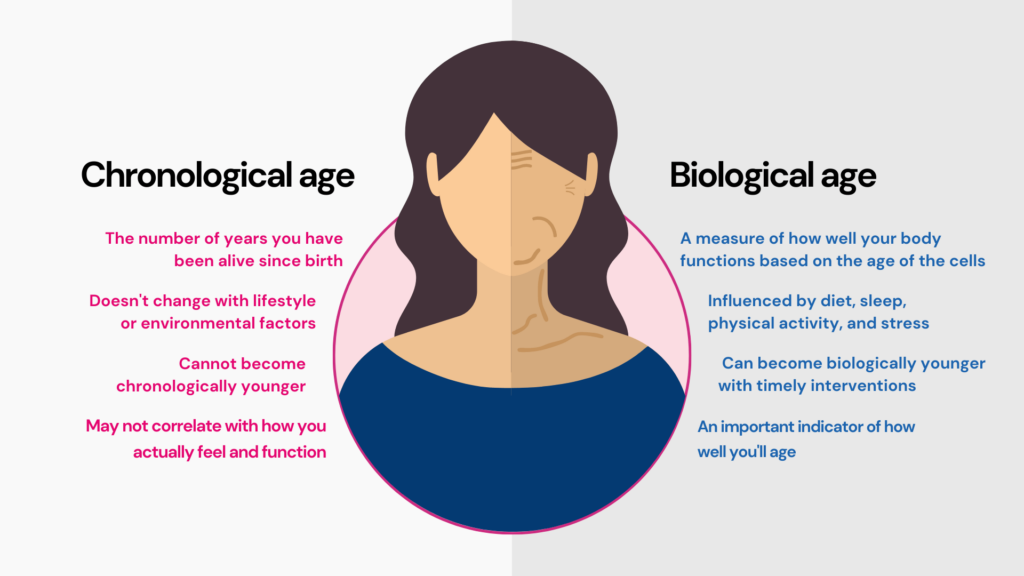 Can Your Epigenetics Change?
Epigenetic changes result from the normal development process, aging, and in response to your environment and lifestyle choices.
During development
Did you know that despite different cells of the body acting differently, they all have the same genes?
During growth and development, epigenetics determines what function each cell will have.
For example, your muscle and nerve cells have the same genes.
In your muscle cells, epigenetics "turns on" the muscle genes and "turns off" the nerve cell genes so that the former produces the required muscle proteins.
During aging
The epigenetic profile you are born with is not static and changes as you age.
The level of methylation decreases as we age, which can "turn on" certain "bad" genes that can increase our risk for many diseases.
With lifestyle and environment
Some epigenetic changes can be added or removed in response to changes in behavior or environment.
For example, smoking can reduce the methylation of certain parts of a gene called AHRR.
This can result in an increased lung cancer risk and mortality.
Quitting or reducing smoking can restore the methylation of this gene.
Over time, the restored methylation levels can reach that of a non-smoker.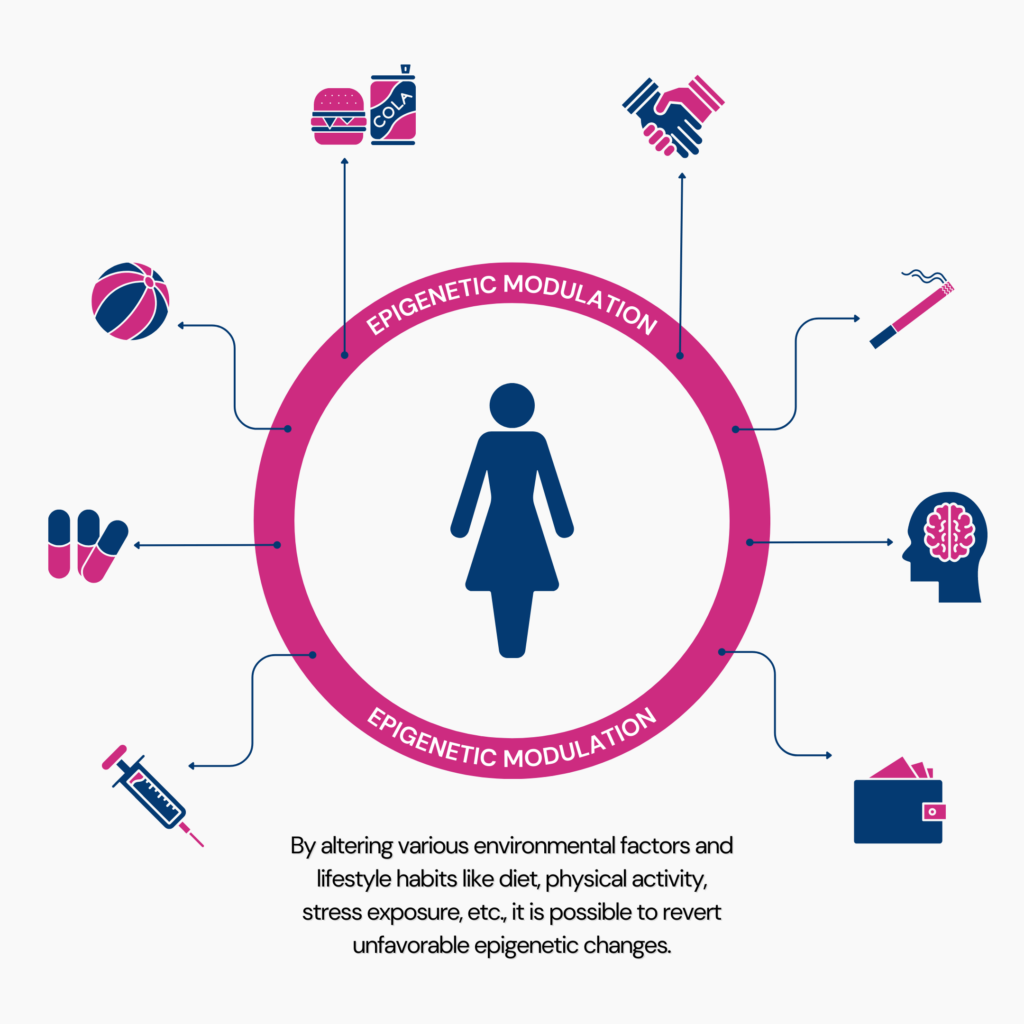 Challenges in Epigenetic Testing
Following the path of many direct-to-consumer (DTC) genetic testing companies, other private companies have recently started to offer DTC epigenetic testing (DTC-ET).
Medical Relevance
Most of these companies claim that the test results are medically significant, leading to an overestimation of the medical relevance of epigenetic tests.
Further, none of the DTC-ET tests are FDA-approved.
This can become extremely problematic if a consumer decides to follow recommendations from their DTC-ET tests instead of medically-approved interventions.
Privacy of Sensitive Information
Epigenetics testing may uncover a new layer of sensitive information.
While genetics tests only reveal increased risks for certain conditions. DTC-ET can provide information on exposure to stress, smoke, alcohol, and other pollutants.
Uncovering these aspects of personal and social life of an individual can give rise to privacy concerns.
No guidelines describe who can access this epigenetic information and under what circumstances.
There can also be a misuse of DTC-ET; for example, a parent wanting to know whether their teenage child is using drugs or smoking.
Discrimination
While there are laws that protect against discrimination based on genetic test results (such as the US Genetic Information Nondiscrimination Act 2008), there are no similar laws for DTC-ET.
This warrants additional caution and accountability on the part of DTC-ET companies.
Summary: Epigenetic Testing
Epigenetics is the study of how various behavioral, lifestyle, and environmental factors affect gene expression or how a gene functions.
Epigenetic changes can influence the risk of infections, cancer, and other health conditions.
Even if your genetic makeup indicates a low risk of a particular condition, your lifestyle, and environmental elements can induce epigenetic changes that change this risk profile.
Epigenetic testing involves studying the effects of epigenetic changes on various health parameters.
Direct-to-consumer epigenetic testing is not FDA-approved and has some concerns over privacy and data sharing issues.
References
https://www.cdc.gov/genomics/disease/epigenetics.htm
https://www.bibliomed.org/mnsfulltext/53/53-1493730609.pdf?1665565499
https://www.ncbi.nlm.nih.gov/pmc/articles/PMC4890602/
https://bmccancer.biomedcentral.com/articles/10.1186/s12885-020-07407-x