Messenger RNA (mRNA) is a molecule that helps "read" the genetic instructions of a gene and convert them into a protein. Proteins are the building blocks of all living things, so mRNA plays a vital role in synthesizing proteins. Without mRNA, proteins could not be made, and life as we know it would not exist.
What Is mRNA?
mRNA are molecules that exist in all the cells of our bodies.
Unlike double-stranded DNA, RNAs are single-stranded.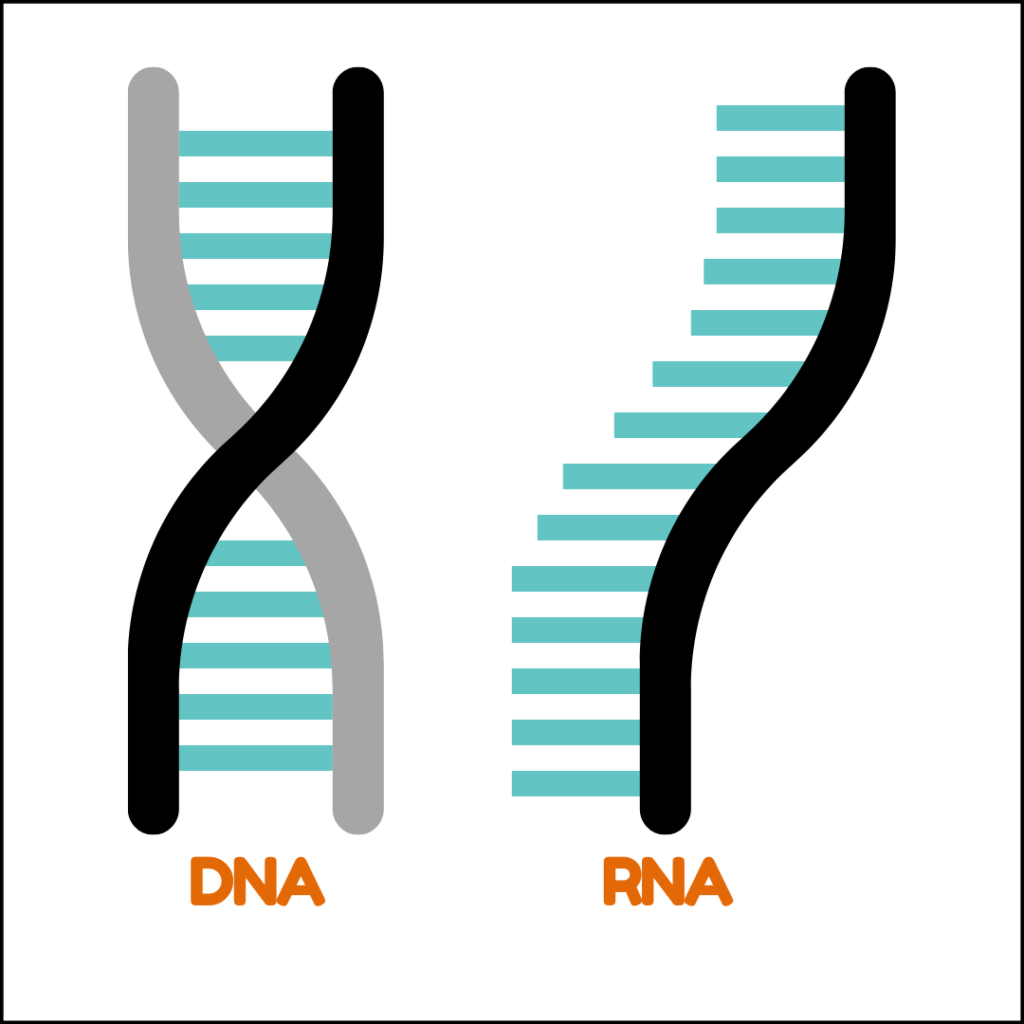 Using DNA as a template, mRNA is made through the process of transcription.
mRNAs are the only type of RNA from which proteins can be made, thus making them as essential as DNA.
Transcription to mRNA
Transcription is the process of making an RNA copy using a DNA strand as a template.
Transcription is like translating a book from one language to another - a universal biological language that the cellular machinery can use to assemble amino acids and form proteins.
The synthesized mRNA is chemically similar to DNA except for a base change.
Instead of T (Thymine) in DNA, we have U (Uracil) in RNA.
mRNA is much smaller than DNA and is far less stable.
It has a very short half-life (from seconds to minutes or hours) compared to that of nuclear DNA (years)
What Is The Function of mRNA?
Without mRNA, the human genetic code, the DNA, is 1.8 meters of junk.
The mRNA acts as an intermediary between the genetic information in DNA and the amino acid sequence of proteins.
Each mRNA carries instructions to make a specific protein.
These instructions are like a "blueprint."
mRNA delivers these instructions, and cells put the protein together.
Translation to Proteins
Translation involves decoding the letters of the mRNA strands to form chains of amino acids, called polypeptide chains.
The polypeptide later folds into an active protein and performs its functions in the cell.
mRNA also contains multiple regulatory regions that can determine the timing and rate of translation.
Two molecules called ribosomes and tRNAs are involved in translation.
The tRNA carries along with it an amino acid that will later become a part of the protein.
The ribosome provides a surface where tRNA can bind to the mRNA
The ribosome gets together with the mRNA and the first tRNA so translation can begin.
Each tRNA brings an amino acid to the ribosome, which are linked together to form a polypeptide chain.
The finished polypeptide is released to go and do its job in the cell.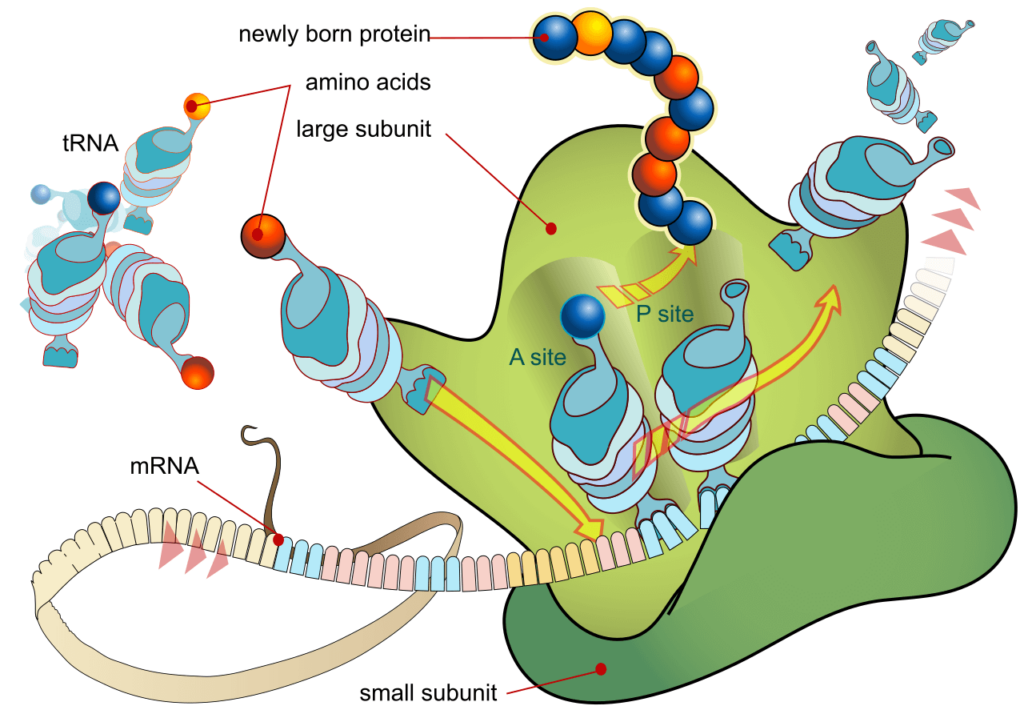 Source: Wikipedia
Image: mRNA Translation into Proteins
mRNA and Disease
Any abnormal changes in the DNA can lead to the transcription of defective instructions.
This can lead to insufficient or excess levels of a particular protein. It can also result in the production of abnormally functioning proteins.
Such defects in proteins can cause serious genetic disorders.
Over 200 diseases are associated with defects in pre-mRNA processing to mRNA.
*Pre-mRNA is the first form of RNA created through transcription.
mRNA-based Therapeutics
The mRNA molecule transfers a part of the DNA code to various parts of the cells to make proteins.
DNA-based therapeutics must enter the nucleus to be transcribed into the RNA for the medication to work.
In contrast, mRNA-based therapeutics don't need to travel to the nucleus since it gets translated into protein as soon as it reaches the cytoplasm.
Further, unlike DNA-based therapeutics, mRNAs do not go and integrate with the host's genome (entire genetic material).
This eliminates the risk of new mutations.
Therefore, mRNA-based therapeutics are good options for cancer vaccines, tumor immunotherapy, and infectious disease prevention.
mRNA Vaccines
To trigger an immune response, many vaccines put a weakened or inactivated germ into our bodies.
For mRNA-based vaccines, laboratories create an mRNA that can teach a cell how to make a protein or a part of the protein.
This triggers an immune response, producing antibodies.
When we are exposed to that protein again, the same antibodies protect us from getting sick.
Unlike DNA-based drugs, mRNA transcripts have a relatively high transfection efficiency and low toxicity because they do not need to enter the nucleus to be functional.
References