In the past, if a woman wanted to know her risk for developing breast cancer, she would simply look at her family history. However, thanks to advances in genetic testing, women can now get a more accurate assessment of their risk by testing for the BRCA genes. While this test is not foolproof, it can give women a better idea of their chances of developing breast cancer and help them make more informed decisions about their health.
Did You Know You Can Use Your Ancestry Test DNA Data To Learn About Your Breast Cancer Risk?
Why Should You Get A BRCA Report With 23andMe Data
Getting a BRCA genetic report for breast cancer can help you in numerous ways.
Some of them include:
Identifying predisposition for breast cancer

Gauging the r

esponse to chemotherapy

Determining the genetic prognosis of cancer

Learning about b

reastfeeding duration and risk of breast cancer

Identifying the link between breast size and risk of breast cancer

Finding out if m

enopausal hormone therapy increases your breast cancer

risk
The benefits of genetic testing are that it can be used for unique screening protocols, which will aid in the early detection of breast cancer or help identify breast cancer risk.
It is important to note that only 5 to 10% of breast cancer incidences are due to inherited mutations.
According to The National Comprehensive Cancer Network Clinical Practice Guidelines in Oncology (NCCN Guidelines) for Genetic/Familial High-Risk Assessment (version 2017): Breast and Ovarian cancer were developed with the intent to
Serve as a resource for healthcare providers to identify individuals who may benefit from cancer risk assessment and genetic counseling.
Provide genetic counselors with an updated tool for the assessment of individual breast and ovarian cancer risk and to guide decisions related to genetic testing.
Facilitate a multidisciplinary approach in the management of individuals at increased risk for hereditary breast and/or ovarian cancer.
Who Should Opt for the 23andMe BRCA Genetic Test for Breast Cancer?
You should consider genetic testing if you meet any of the following criteria.
Early onset breast cancer- less than 50 years.

Both Breast and ovarian cancer

Multiple breast cancers

Triple-negative breast cancer

Close relatives on the same side of the family with the same (or related) cancers

You have Ashkenazi Jew ancestry
Genetic surveillance of women, with the accent on the ethnic background, age, family history and in another appropriate clinical context, will help in stratifying women into high-risk groups so that there is increased surveillance, an extension of chemoprevention or the utilization of risk reduction surgery.
You can now find out if you carry the variants that increase breast cancer risk from Xcode's Breast Cancer report by uploading your 23andme or any other ancestry DNA raw data.
You can read more about the Xcode Breast Cancer report here.
3 Simple Steps To Get Xcode Life's BRCA Genetic Report
Step 1: Download Your DNA Raw Data
Step 2: Place An Order For The BRCA and Breast Cancer Report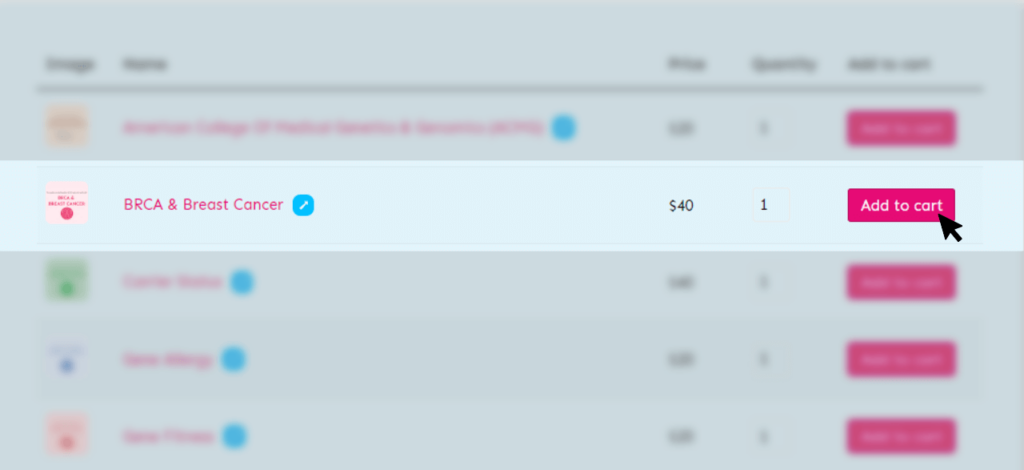 Step 3: Upload Your DNA Raw Data