Genomelink
Xcode Life
Type of genetic testing
DNA raw data analysis
DNA raw data analysis
Ancestry reports
Offered
Offered in select countries
Health reports
Not offered
Offered
Pharmacogenomic reports
Not offered
Offered
Raw data upload
Only from 23andMe, AncestryDNA, and MyHeritage
DNA raw data from ALL major providers accepted. Comprehensive list
Number of reports
9
15
Price
Single Reports: $39-$99
Trait plans: $14/month; Yearly payment: $96/year
Reports: $30-$50
Bundles: $160-$199
one-time payment
Price details
Sample reports
Available as PDF
Available as detailed report walkthrough videos
About Genomelink
Genomelink, with its headquarters set in Berkeley, California, is a DNA data upload and analysis site co-founded by Yuta Matsuda and Kensuke Numakura in 2017.
The company provides a personalized discovery platform for people to explore their DNA, catering to both amateurs and genealogists. It offers testing for a range of 200+ traits under categories like Personality, Intelligence, Fitness, etc.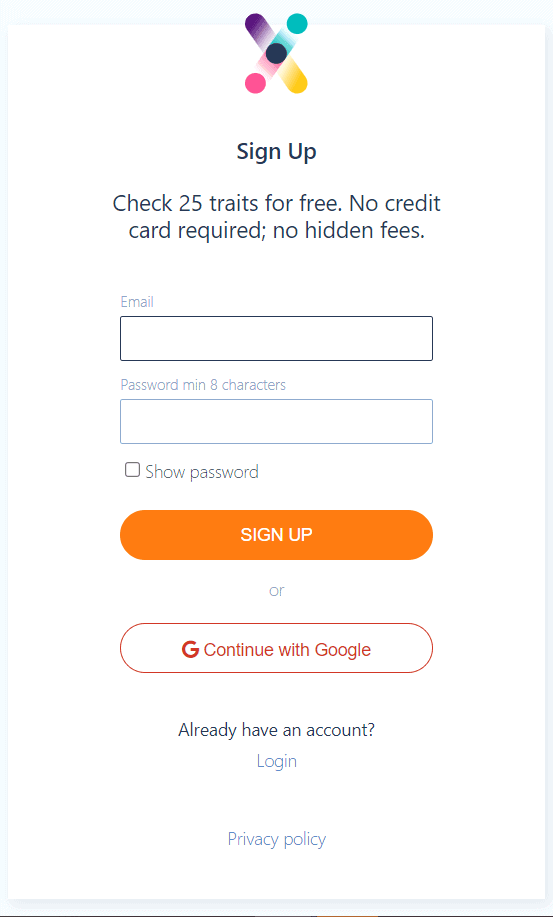 Genomelink Services
Getting Started
To get started, you need to sign-up and create an account. Upon signing up, you will receive a confirmation email to the registered account. The sign-up gets you access to 30 free traits upon DNA data upload.
Uploading your DNA raw data
You can choose to download your DNA raw data and upload it or directly import your data from 23andMe or MyHeritage. Raw data files from 23andMe, AncestryDNA, and MyHeritage are compatible with Genomelink.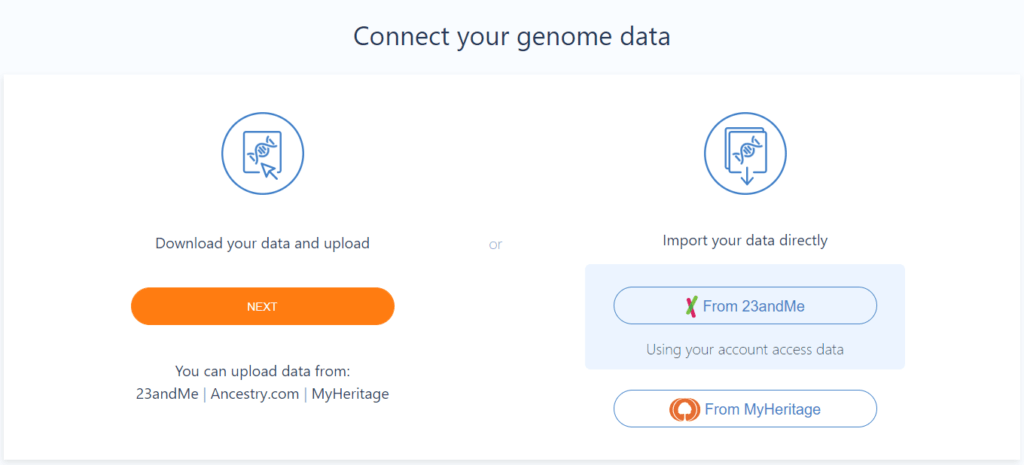 You can check out our DNA raw data download guides here:
Once the upload is complete, you will be required to answer the following questions:
Your Birthday
Your ethnicity
Your gender
Interested report categories
How you discovered Genomelink
You will then be taken to your account dashboard, where you will be able to view your results for the 30 free traits.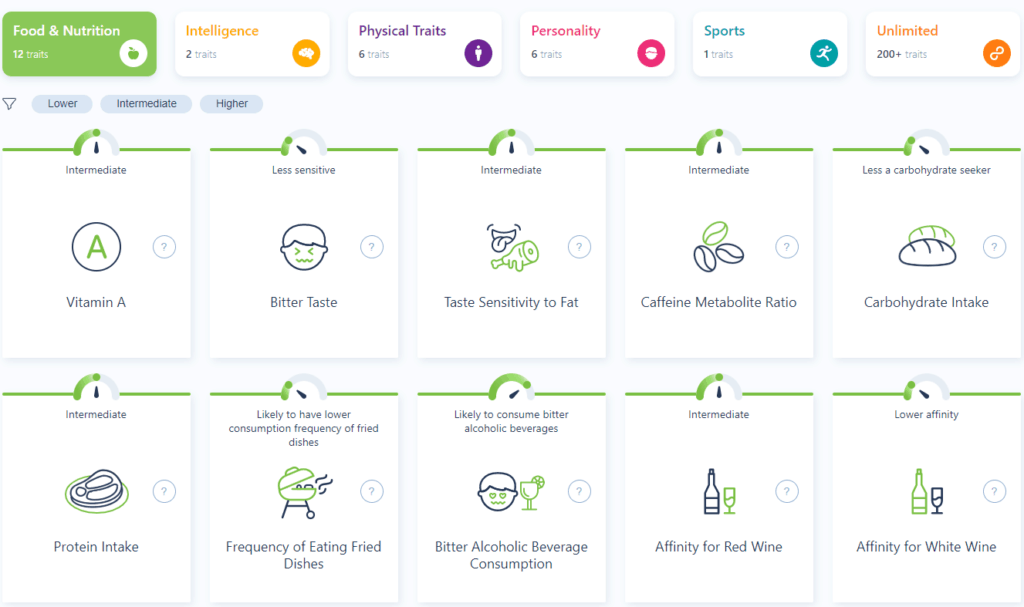 Genomelink Reports and Traits: An Overview
Genomelink offers 150+ traits under the following categories:
Personality
Food & Nutrition
Intelligence
Sports
Physical Traits
You can use the link below to view the overall trait list:
https://genomelink.io/trait/all
On your dashboard, you can filter your results for the 30 free traits, depending on the outcome: Lower, Intermediate, and Higher risk.
You can also click on each trait to view it in detail. The report includes:
2-3 line information about the trait
Your outcome
Associated research papers to support the results
Additional Features
Genomelink Compare
This feature allows you to upload the DNA raw data of your family members to compare your results with theirs.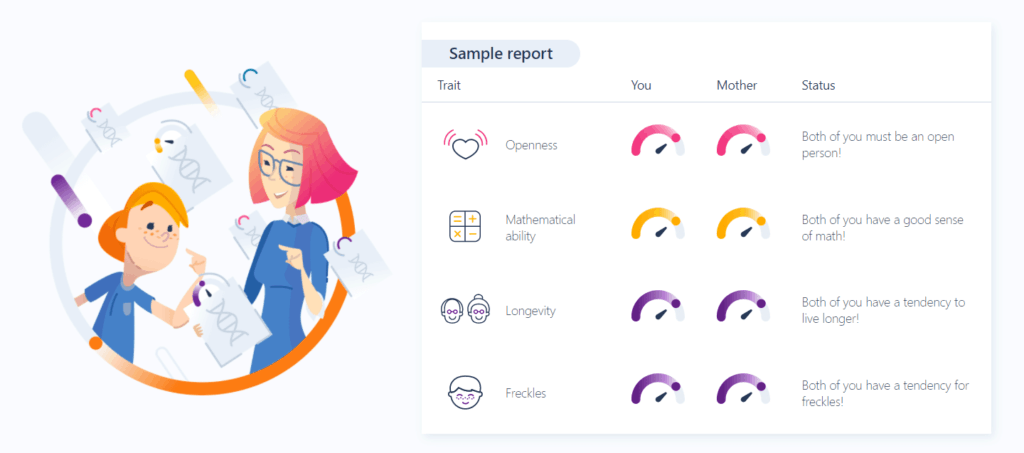 Genomelink Feedback
Genomelink uses this feature to collect feedback data for each trait analyzed! You can answer "Accurate," "Inaccurate," or "Not Sure" based on whether your genetic outcomes match your actual traits.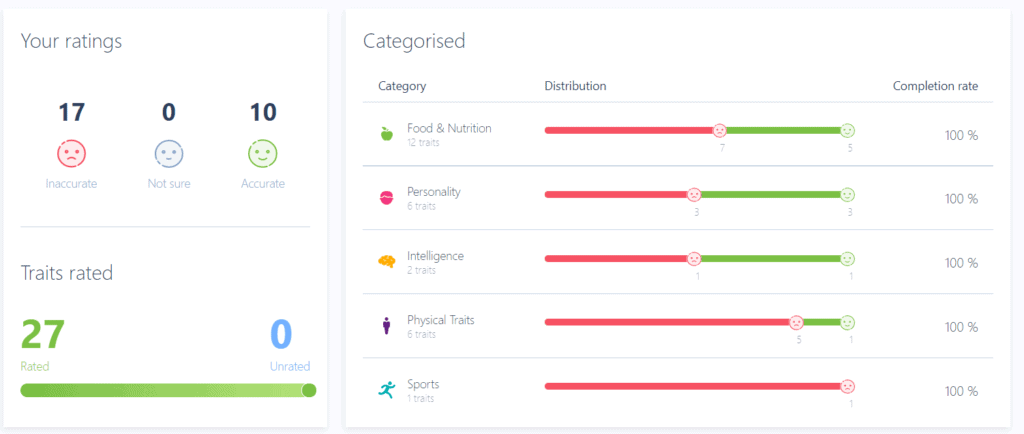 Genomelink also offers the traits bundled into the following nine reports:
Fitness Report - $39
The report includes the genetic analysis of your endurance, speed, and strength performance. It comes with personalized recommendations for aerobic training and resistance training.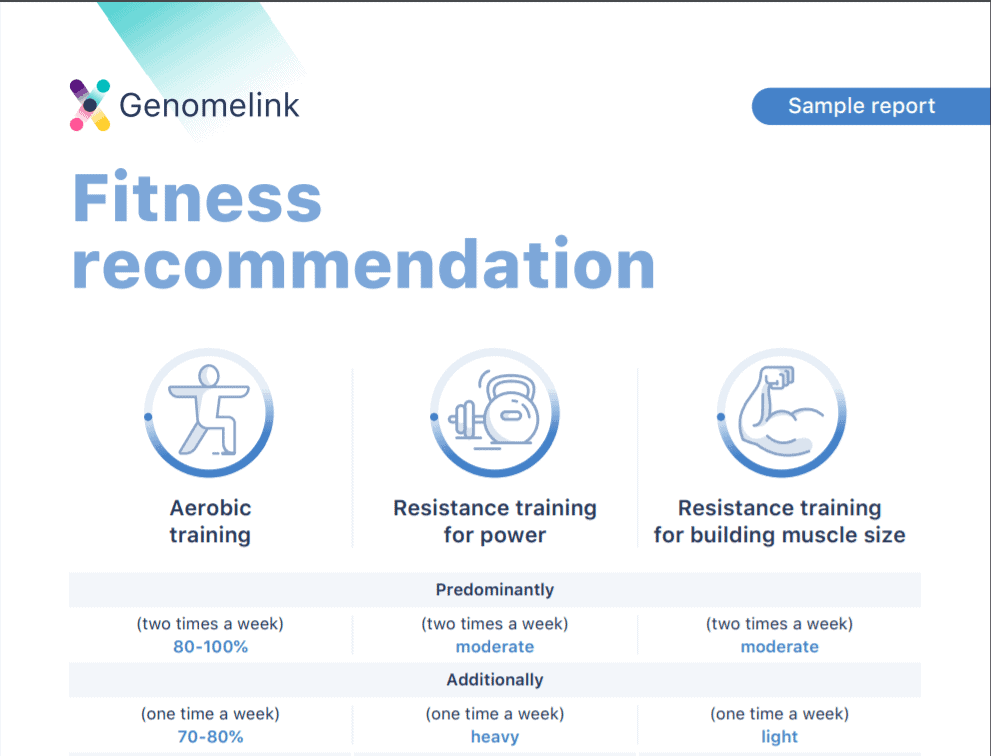 Xcode Life's Gene Fitness Report: 25+ Traits - $30
Nutrition Report - $24
The report offers analysis and personalized food recommendations for only six micronutrients.
Vitamin A
Vitamin B9 (Folate)
Vitamin B12
Vitamin C
Vitamin D
Vitamin E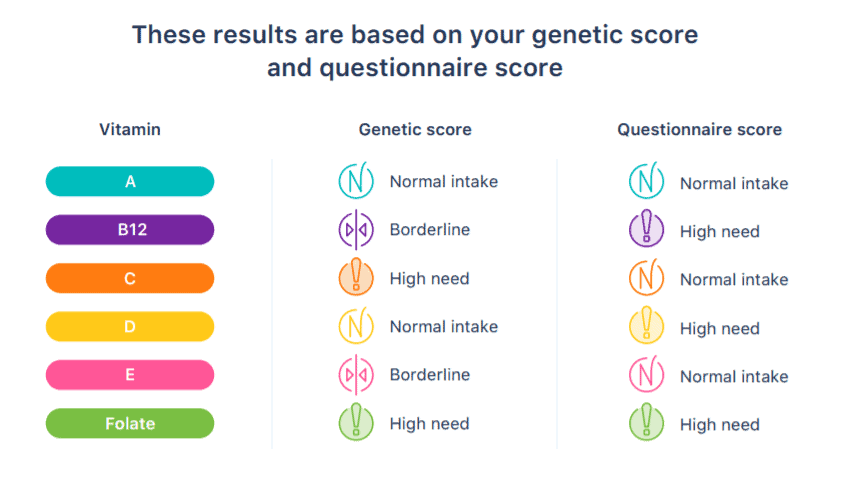 Xcode Life's Gene Nutrition Report: 45+ Traits - $40
Skincare Report - $35
The report provides personalized recommendations for 15 skincare-related traits.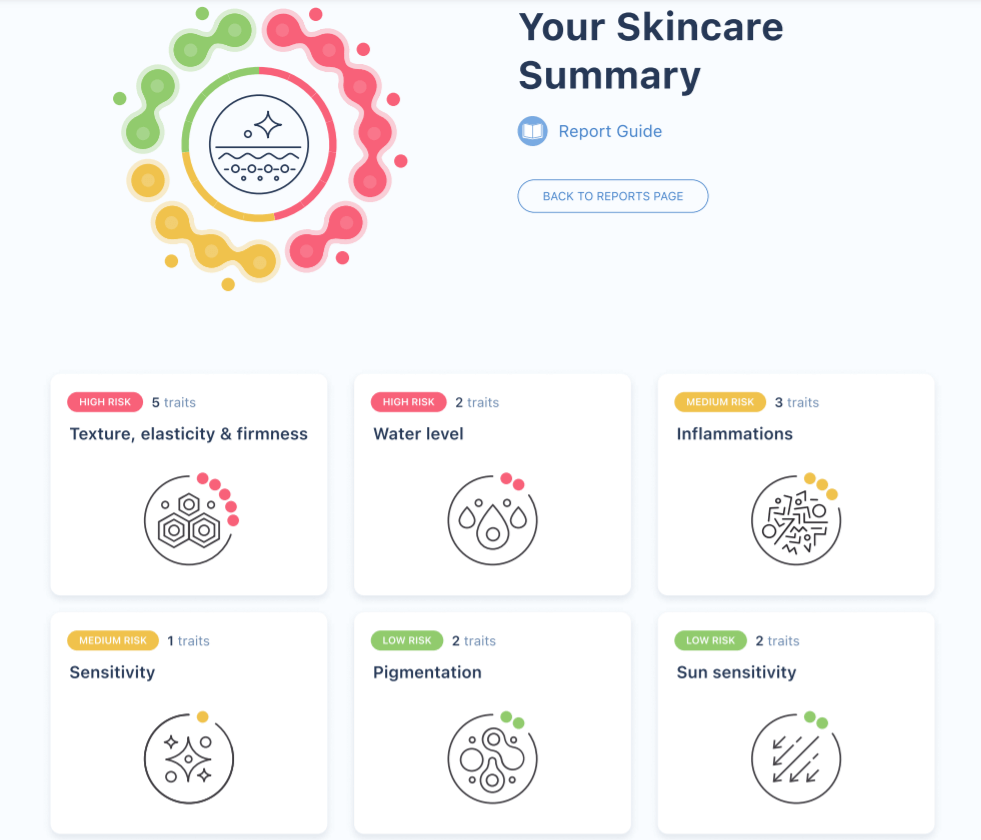 Xcode Life's Gene Skin Report: 25+ Traits - $30
Personality Report - $29
This report analyzes only the Big 5 Personality Traits - Conscientiousness, Extroversion, Agreeableness, Openness, Neuroticism. The report also comes with career recommendations depending on the outcome of each trait.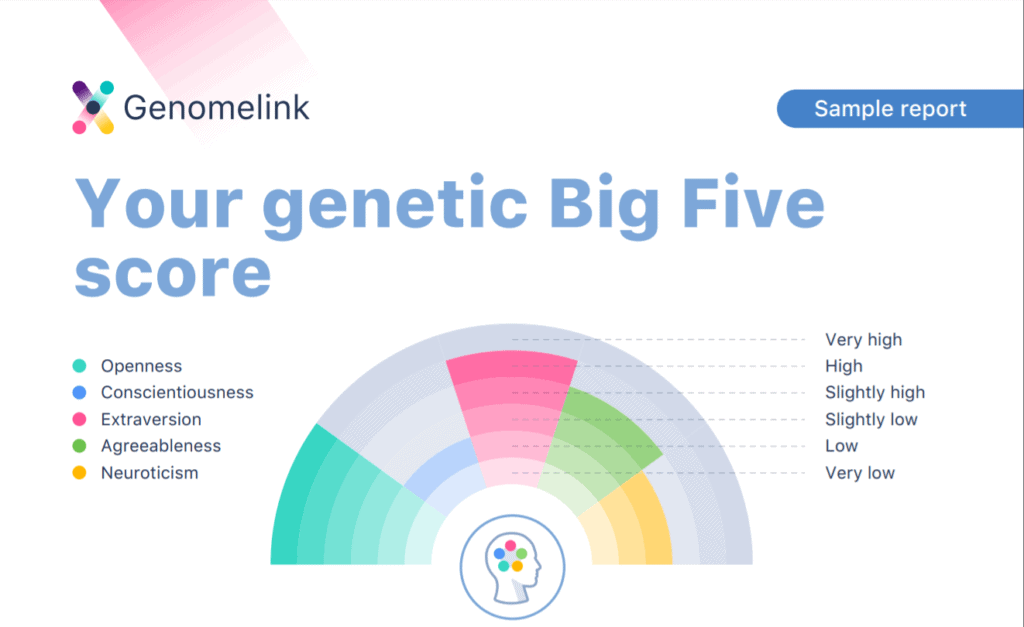 Mental Well-being Report - $34
The report analyzes traits that influence mental and emotional well-being, like self-esteem, optimism, anxiety, and happiness. It includes a generic roadmap for achieving mindfulness. The report also comes with personalized color representation based on your mental well-being.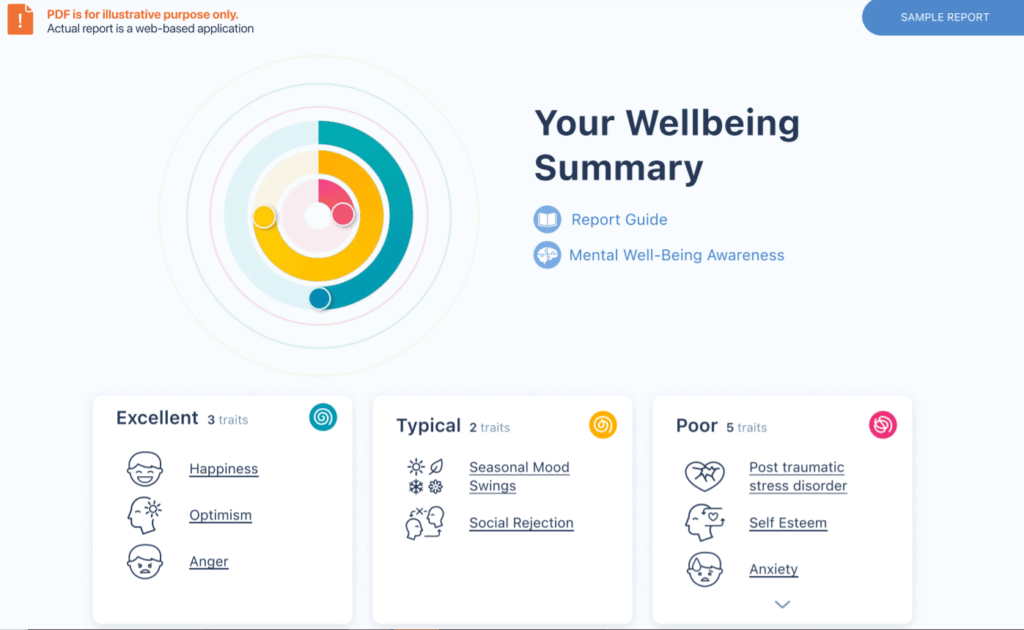 Xcode Life's Well-being and Personality Report: 30+ Traits - $30
Global Ancestry Report - $69
This report offers a deep DNA analysis based on a unique algorithm. The report has three tools:
3D globe: The ethnicity breakup percentage is represented in a visually appealing interactive 3D map.
Chromosome breakdown: The ancestry breakdown is provided for each chromosome (1-22).
Ancestry-related facts: Some interesting facts and content are provided for your potential common ancestor populations.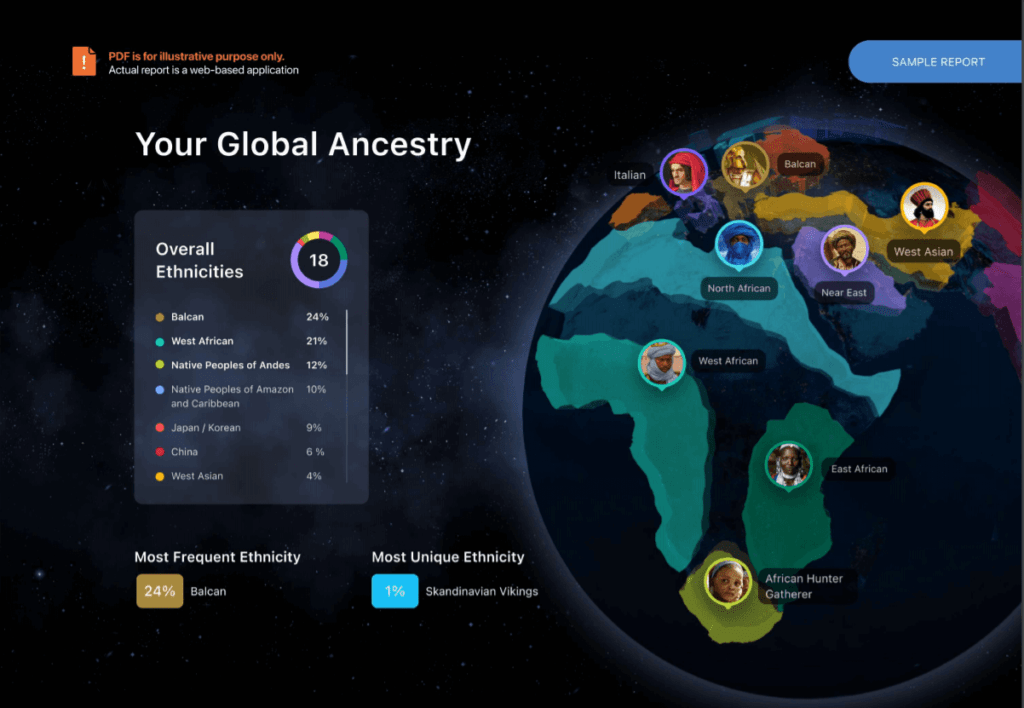 Ancient Ancestry Report - $29
The report gives insights into your relationship with ancient ancestors like Farmers, Hunter-gatherers, Native Americans, etc. It also provides information on the migration history for each ancestral population.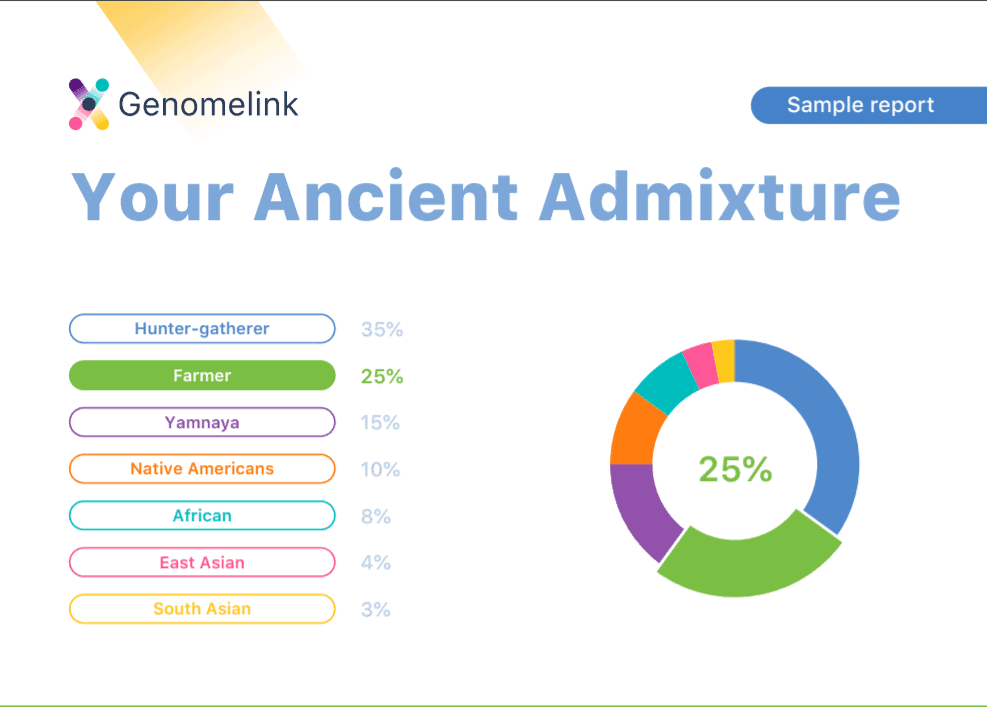 Viking Index Report - $29
This report shows your relationship with Vikings based on DNA matches with ancient fossil samples. It also includes descriptive stories for each match.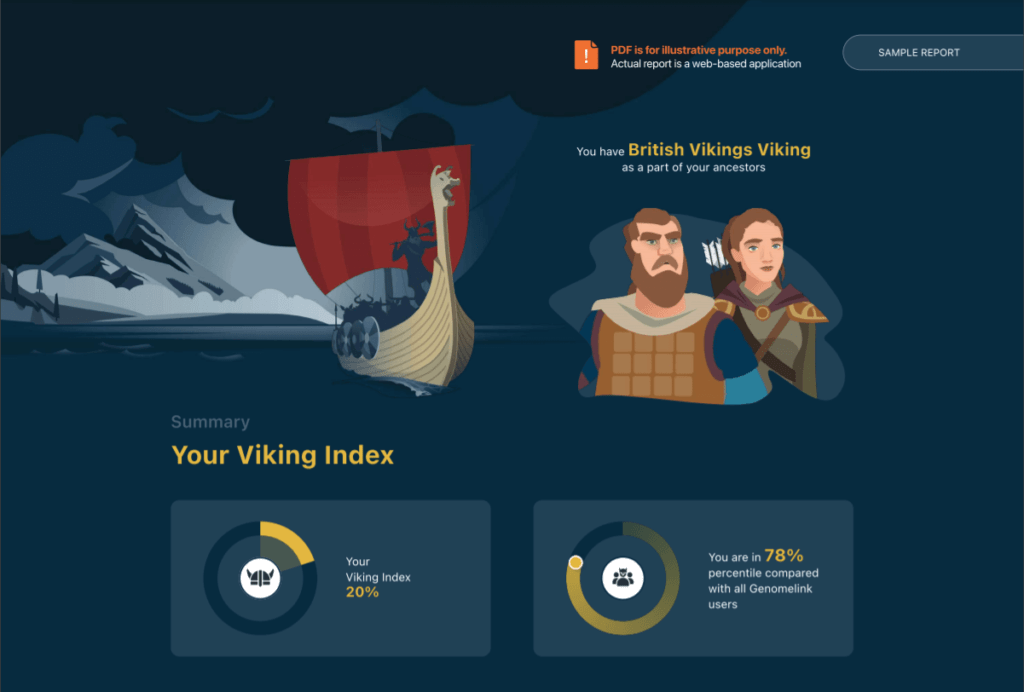 Political Report - $19
This report analyzes the genetic factors that could sway your political views. It also allows you to compare your DNA results with your real-time political views.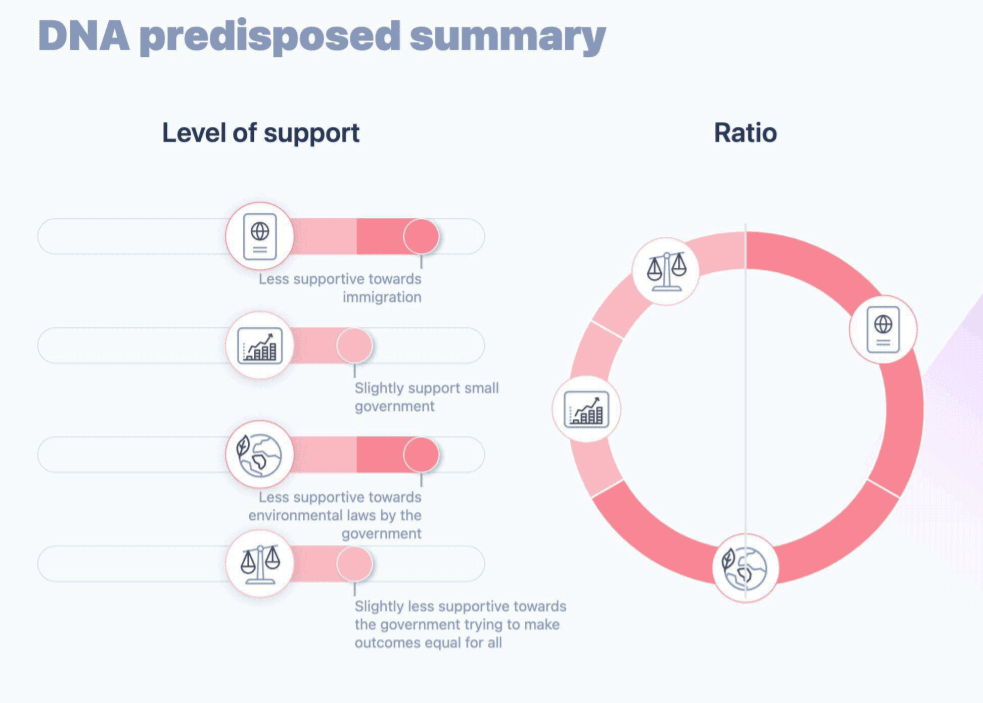 Genomelink Pricing
Genomelink sign-up process is free. You will be able to access only 30 out of 200 traits for free.
To access the remaining traits, you need to subscribe to a paid plan. There are two paid plan options:
Unlimited Monthly Plan ($ 14 per month)
Unlimited Annual Plan ($ 96 per year/ $ 8 per month)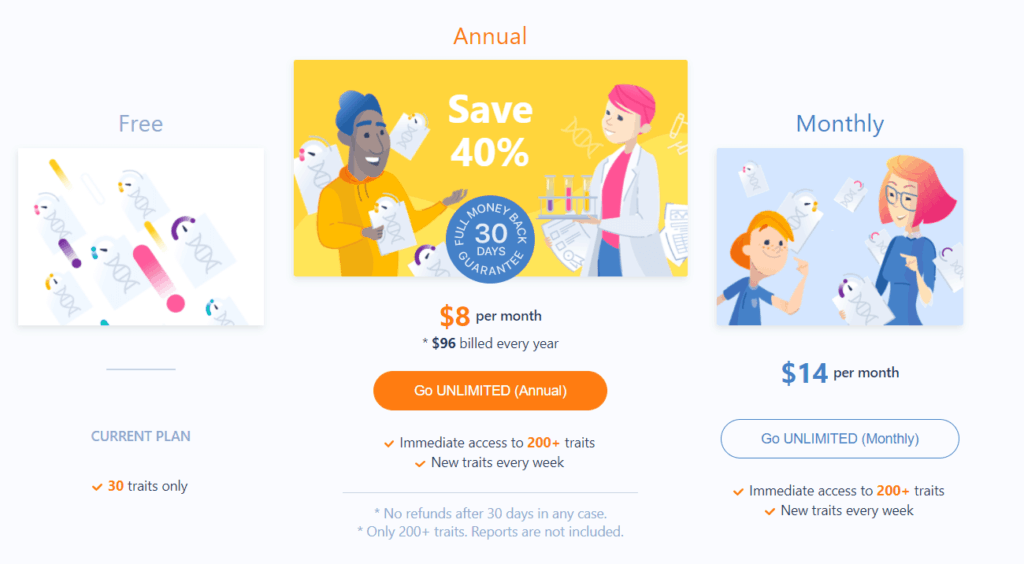 About Genomelink Privacy
After signing up, Genomelink displays a page with links to its Privacy Policy and Terms of Use. The users need to accept the terms and conditions to use the services.
The company shares your data to third-party research partners like Luna DNA, DNA Solves, etc., if you consent to aid scientific research.
What Do People Say? - Genomelink Reviews & News
Reviews
Genomelink Review on Trustpilot (4.5/5)
News
What Your DNA Can't Tell You What Your DNA Can't Tell You
Summary: Pros, Cons & Verdict of Genomelink
Pros
Instant free access to 30 traits
Detailed trait reports, backed by scientific research
Clear and simple reports
Cons
Unavailability of DNA testing services
Unlimited access to traits requires a paid subscription
Upload of raw data only from 23andMe, MyHeritage or AncestryDNA
The report bundles cover a very few traits and are priced much higher than other third-party DNA analysis services
For many, the results seem more like "fun facts" rather than a genetic analysis
Verdict
Genomelink can be a good cost-free place to start if you are new to DTC genetic tests. The results are mostly user-friendly to read. They seem to have in-depth information on privacy and the use of users' data. The free version of Genomelink is definitely worth a try.
You might want to think twice before going ahead with the subscription - Genomelink emails your results even for the locked traits - one each week.
The report bundles are definitely overpriced for the number of traits they cover. The reports do look visually appealing; however, the sample reports provided seem to only be for illustrative purposes. The real web-based reports need not be as attractive. It's better to check out other cheaper alternatives for these reports.
We recommend: June 2021 Update: Free tools for 23andMe, AncestryDNA raw data analysis
About Xcode Life