Genopalate founded by Dr. Sherry Zhang in 2016, is a genomics company that specializes in personalized nutrition.
Personalized nutrition is nutrition advice based on certain parameters of an individual like:
- Genetic makeup
- Metabolism
- Weight
- Medical data
- Lifestyle
GenoPalate Services
GenoPalate provides a personalized nutrition report, along with a recipe collection and supplement regimen. If you have already done a genetic ancestry test from companies like 23andMe and AncestryDNA, you can use your DNA raw data for the nutrition analysis.
You can check out our DNA raw data download guides here:
How To Download Your Raw Data From AncestryDNA
How To Download Your Raw Data From 23andMe
GenoPalate also provides its own DNA testing kit for sample collection.
GenoPalate DNA Testing Kit
If you do not have an existing DNA raw data file, you canpurchase a DNA testing kithttps://www.genopalate.com/pages/purchase from GenoPalate. This is a simple swab test.
However, please keep in mind that you won't be able to download your DNA raw data file from GenoPalate for use on other genomic websites.
What Is In The GenoPalate Report?
Once your DNA data has been analyzed, you will receive a personalized nutrition report.
This report provides insight on the following:
1. Macro breakup recommendations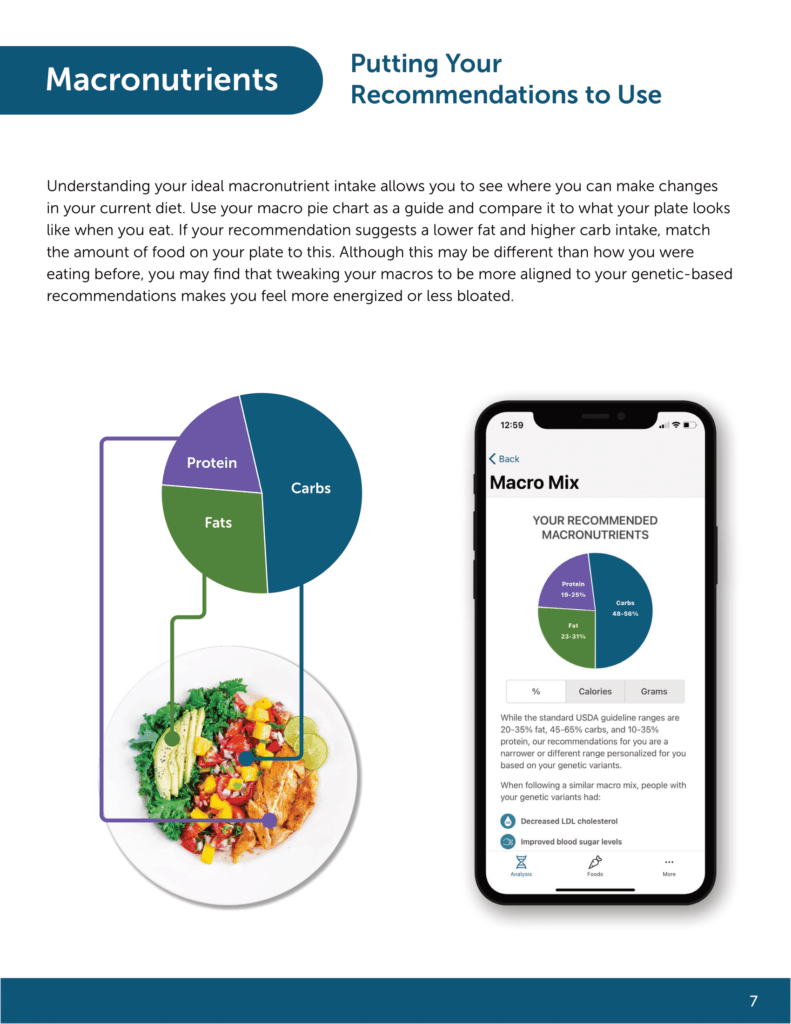 2. Vitamin and mineral recommendations
3. Genetic risk for lactose and gluten sensitivity
4. Caffeine & alcohol metabolism analysis
5. Optimal food recommendations
Apart from this, you can also sign up for a complimentary 30-45 minute group orientation session with one of GenoPalate's registered dieticians.
Personalized Recipes
It is an add-on product that can be purchased along with the nutrition analysis. The DNA-approved recipes are based on your genetic profile and include:
- 5 recipe option 1 breakfast, 2 lunches, 2 dinners
- 10 recipe option 2 breakfasts, 4 lunches, 4 dinners
Personalized Supplements
This is also an add-on product. With this product, you get recommended dosages for 21 ingredients based on your genetic makeup.
Getting Started
The website does not require any prior registration. You can view the products available and asample reporthttps://www.genopalate.com/pages/genopalate-report-pdf-download on their website.
After completing the payment and check out, you can create an account on GenoPalate using your order number and the product code. The account registration process requires you to fill out a questionnaire to help personalize your report. You can access them via the GenoPalate account on the website or the app.
GenoPalate Pricing
GenoPalate's nutrition analysis is offered at $159.
If you do not have your DNA raw data file, the price of the DNA kit, along with the analysis, comes up to $179.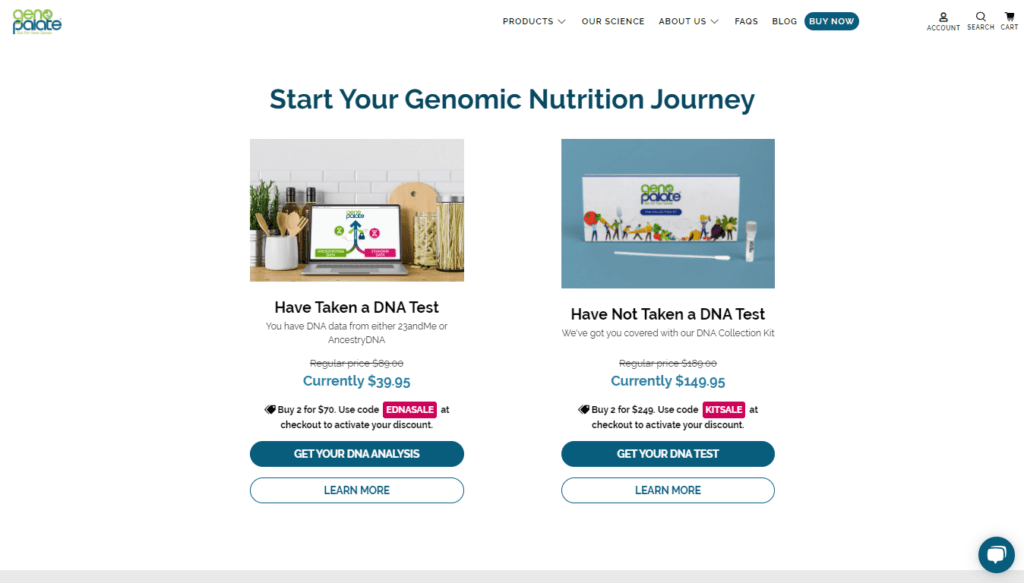 Apart from this, you can add on the 'Personalized Recipes' product for $29.99 or $49.99, depending on the number of recipes.
Personalized Dieticians Programs
This program allows you to meet with a registered dietitian to create a personalized nutrition plan that's unique to you, your needs, and your lifestyle. There are two products under this service:
GenoJump: $299
GenoGo: $449
About Privacy
GenoPalate lets users have control of how genetic information is used and with whom it is shared. GenoPalate assures that user data is never sold, rented, or leased for research purposes without explicit consent.
The company claims to have implemented appropriate security practices to protect user information, including industry-standard encryption methods.
The collected DNA sample is secure when users mail it to the lab, and the sample is de-identified upon reaching the lab. Users' personal information is stored separately from any genetic information.
For more information, read the company'sPrivacy Policyhttps://www.genopalate.com/pages/privacy-policy.
What People Say: GenoPalate Reviews & News
There seem to be only a few reviews about this company online.
You can readcustomer reviews and testimonialshttps://www.genopalate.com/pages/stories on the GenoPalate website.
Summary: Pros, Cons & Verdict
Pros
- The app allows easy access anytime, anywhere
- Provides 20-page detailed nutritional report
- Personalized recipes and supplements options are available
- Both DNA upload and DNA kit purchase options are available
Cons
- Recipe and Supplement subscriptions are expensive
- The report does not include insight on food allergies
- Waiting time for the DNA test is 4-6 weeks
- You cannot download your DNA raw data file
- You can only upload your DNA raw data from 2 companies - 23andMe and AncestryDNA
Verdict: Genopalate Reviews
GenoPalate offers personalized dietary recommendations based on your DNA for a reasonable price. However, their add ons are super expensive. There are other nutrition analyses from companies like Xcode Life that cover more traits for a cheaper price.