About Toolbox Genomics
Founded by Erika Gray and Elwina Hewitt in 2016, Toolbox Genomics provides alternative and holistic health services.
It is fundamentally a data interpretation service.
The company collects genetic data from its CLIA/CAP-certified labs to generate a personalized report with DNA and epigenetic insights.
Currently, Toolbox Genomics' services are limited to the US only.
Toolbox Genomics Services
Both practitioners or general users can avail themselves of the company's services.
The company offers two types of testing services.
DNA Test
The DNA test includes information on 16 health predisposition traits. It also has personalized advice about meal planning, fitness routines, and nutritional supplements.
Epigenetic Test
This test provides information on genes whose functions can be altered by environmental factors. The alterations can also be undone in some instances through targeted lifestyle interventions. This service is available for repeat testing to check whether a prescribed change has impacted the functioning of the gene or lack thereof.
Toolbox Genomics offers an app service, My Toolbox Genomics, available on the Apple App Store and Google Play.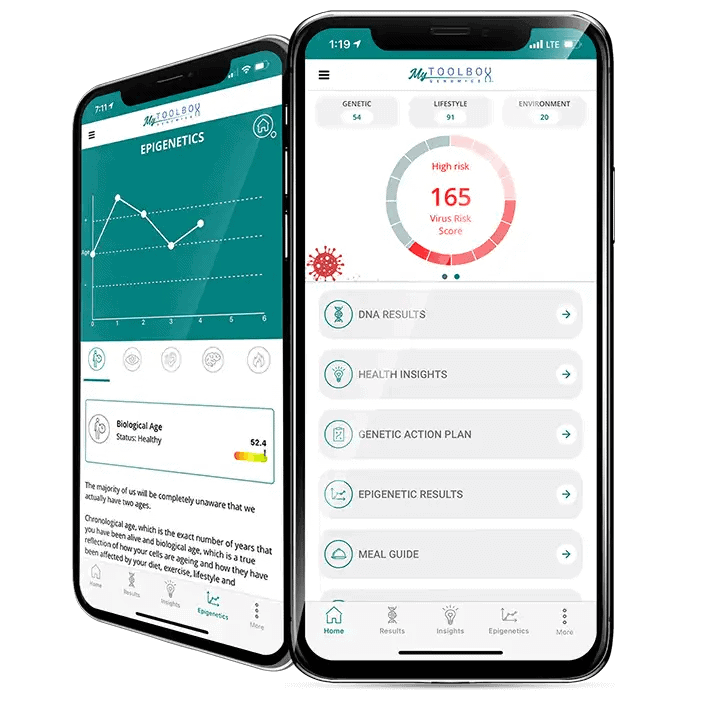 Toolbox Genomics Report Review
Toolbox Genomics hosts its Practitioners exclusive products under three categories: For Licensed Practitioners and Wellness Professionals, For Licensed Practitioners, and the Key Opinion Leader Panels.
For Licensed Practitioners and Wellness Professionals
Under this category, the company provides eight types of test panels:
Epigenetics Panel is designed to help users understand the aging process.
Traits included
Biological age
Eye Age
Hearing Age
Memory Age
Inflammation score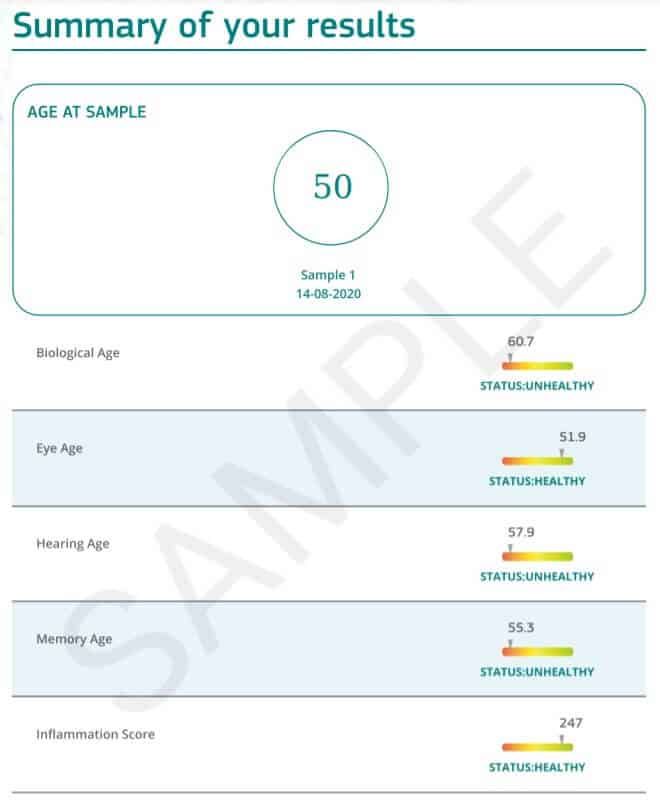 Image: Snippet from Toolbox genomics sample epigenetics report
Respiratory Resilience includes genetic predispositions to conditions or nutrient deficiencies that may decrease respiratory resilience and increase viral susceptibility.
Traits included
Vitamin D3
Vitamin C
Zinc
Selenium
Glutathione
Vitamin A
Inflammation
Oxidative stress
Blood pressure regulation
Glucose metabolism
COMT gene traits
Image: Snippet from Toolbox genomics sample Respiratory Resilience report
Nutrition Optimization panel is designed to inform individuals about nutritional deficiencies, food intolerances, and metabolism.
Traits included
Alcohol metabolism
Caffeine metabolism
Caffeine-related anxiety
Calcium
Choline
CoQ10
Folate
Gluten sensitivity
Iron
Lactose intolerance
Magnesium
Omega-3
Saturated fat response
Selenium
Vitamins A, B12, B6, C, and D3
Zinc
Image: Snippet from Toolbox genomics sample nutrition report
Xcode Life's Gene Nutrition Report - 48 Traits, $40 - No DNA test required
Detox Panel contains insights into weight loss, skin irritation, mood irregularities, fatigue, and detoxification of toxins.
Traits/Genes included
COMT
CYP1A1
CYP1A2
CYP1B1
CYP2s
Estrogen metabolism
Glutathione
Inflammation
MTHFR
NAT
Nrf2
Oxidative stress
SLC
SOD
SULT
SUOX
UGT
Image: Snippet from Toolbox genomics sample detox report
Endurance Performance panel is designed exclusively for endurance athletes to help them improve their injury recovery and susceptibility, knowledge of muscle fiber types, and predisposed nutrition deficiencies.
Traits included
Better endurance performance
Injury risks like disc degeneration
Ligament & tendon injury and muscle damage
Iron
Lactate
Metabolic rate
Motivation to exercise
Muscle fiber type
Novelty-seeking predisposition
Obesity predisposition
Recoveries including oxidative stress and sleep
Response to endurance training
VO2 max
Weight & fat loss in response to exercise
Image: Snippet from Toolbox genomics sample endurance report
Health Enrichment is a basic panel designed for someone new to genetic testing and includes information on almost everything like metabolism, nutritional deficiencies, workout suggestions & injury susceptibility.
Traits included
Aging
Blue light sensitivity
Exercise & fat loss
Heart health
Lactose intolerance
Motivation to exercise
Obesity predisposition
Sleep impairment
Stress response
Yo-yo dieting, etc.
Image: Snippet from Toolbox genomics sample health enrichment report
Xcode Life's Gene Health Report - 55 Traits, $50 - No DNA test required
Hormone panel covers aspects like hormone irregularities, depression, abnormal menstruation cycles, and libido.
Traits include
Cortisol
DHEA
Estrogen
Estrogen metabolism
Progesterone
Testosterone in men and women
Image: Snippet from Toolbox genomics sample hormone report
Weight Management is curated for individuals who aim to maintain a healthy lifestyle and provides information on weight loss, predispositions to obesity & eating styles, and predisposition to processing different nutritional elements.
Traits include
Dieting success
Hunger
Metabolic rate
Obesity & artificially sweetened beverages
Obesity predisposition
Snacking
Sweet tooth
Weight-loss & low-fat diets
Weight loss & protein diets
Yo-yo dieting
Image: Snippet from Toolbox genomics sample weight management report
For Licensed Practitioners
Toolbox Genomics offers 5 test panels exclusively for licensed practitioners.
Cardiometabolic Panel analyzes 77 genes and covers traits like
Coronary artery disease
Diabetes
Hypertension
Inflammation
Insulin resistance
Lipid impairment with Lp(a)
Metabolic syndrome
Oxidative stress
Image: Snippet from Toolbox genomics sample cardiometabolic report
Cognitive Panel analyzes 103 genes and covers
Alzheimer's disease
Anxiety
Concussion with TBI
Dementia
Depression
Inflammation
Mild cognitive impairment
Omega-3
Oxidative stress
Parkinson's disease
Image: Snippet from Toolbox genomics sample cognitive report
Energy/Fatigue Panel analyzes 60 genes and covers traits, including
Chronic fatigue syndrome
Cortisol
Depression
Fibromyalgia
Inflammation
Migraines
Musculoskeletal pain
Osteoarthritis
Oxidative stress
Stress response
Image: Snippet from Toolbox genomics sample energy/fatigue report
GI (Gastrointestinal) Panel analyzes 54 genes and covers
Celiac disease
Crohn's disease
Inflammation
Irritable bowel syndrome (IBS)
Ulcerative colitis traits
Image: Snippet from Toolbox genomics sample gastrointestinal report
Immune Panel analyzes 98 genes and covers traits like
Hashimoto's thyroiditis
Inflammation
Multiple sclerosis
Psoriasis
Rheumatoid arthritis.
Image: Snippet from Toolbox genomics sample immune report
Key Opinion Leader Panel
This test panel is an exclusive offering of Toolbox Genomics curated by Functional Medicine professionals renowned in their area of interest.
Dr. Rob Gut/Brain Panel covers the analysis of 28 genes. It includes conditions like
IBS
Gluten sensitivity
Lactose intolerance
Celiac disease
Inflammation
Concussion with TBI
Dr. Rob Musculoskeletal Panel analyzes 15 genes and covers traits like
Musculoskeletal pain,
Disc degeneration
Muscle damage
Vitamin D3
Magnesium
Vitamin C
Muscle fiber type
Image: Snippet from Toolbox genomics sample musculoskeletal report
Dr. Rob TBI/Concussion Panel analyzes 27 genes related to conditions like
Inflammation
Oxidative stress
Mild cognitive decline
Omega-3
Concussion with TB
Image: Snippet from Toolbox genomics sample concussion report
Toolbox Genomics Products
For Practitioners
HealthcarePro (HCP) Products
These products have been developed for licensed practitioners bearing an MD, NP, DO, DC, NMD, PA, PharmD, RN, and Dietitians. Such individuals can avail themselves of the HCP products (test ordering for their clients) by producing their licensure while mentioning their state of practice.
WellnessPro (WPRO) Products
These products are offered to dietitians, health coaches, trainers, nutritionists, RNs, and other wellness professionals.
For Consumers
Clients can order either a DNA or epigenetics test (or both), which involves sending a saliva sample or cheek swab sample to the company.
DNA Test Package
This includes :
Virus Risk Score (newly introduced)
16 Health Predisposition Traits
Immunity
Diet & Weight Loss
Anti-Aging
Mental Health & Memory
Sleep
Vitamin Deficiencies
Stress
Skin Health
Supplement Response
Injury Risk
Muscle Health
Eye Health
Gut Health
Heart Health
Exercise Response
Health Overview
Custom Meal Plans
Personalized Training Regimen
Vitamin Recommendations
Epigenetics Test Package
This includes:
Five insights to change, which provides for biological age, eye age, hearing age, memory age, inflammation score
Tracking changes in DNA expression over time
Impact of Air Quality on the client's wellbeing curated by location
Consumers can also ask for only the DNA raw data files by writing at info@toolboxgenomics.com.
Getting Started with Toolbox Genomics
For Clients
Purchase Toolbox Genomics Health Action Plan
The company mails the DNA collection kit
Account creation and signing of a consent form
Register the kit using the barcode printed on the received kit.
Image: How to get started with Toolbox genomics
The DNA collection kit contains directions, a cheek swab, a DNA sample envelope, and a prepaid return envelope.
After successful registration, collect the sample and mail it to the company. Then, download the app and view the results.
Clients can expect their test results within six weeks. Although for an epigenetics test, results may take up to 6-8 weeks.
Pricing
| | |
| --- | --- |
| Test | Pricing |
| DNA Test | $199 |
| Epigenetics Test | $273 |
| DNA + Epigenetics Test | $299 |
For more information, you can check out the pricing list.
About Toolbox Genomics Privacy
Toolbox Genomics claims protecting the client's personal health information is among their top priorities and only helps guide their healthcare decisions. The company analyzes and interprets the client's genetic data to curate personalized recommendations. The company claims to keep this genetic information "anonymized and de-identified" for privacy protection.
On registration, Toolbox Genomics collects the client's name, DOB, email and shipping address, credit card information (for purchase purposes), ordering practitioner's license type and number, and consent to share data with the client's practitioner.
Additionally, upon registration, the company also asks for additional information in the form of a questionnaire which includes the client's own and familial medical history, nutrition regimes, and diet. However, answering this questionnaire is optional.
The clients can opt for deactivation of their accounts by mailing the company at info@toolboxgenomics.com.
According to the company, data protection measures include:
Data Security: Identifying data at rest is encrypted using either AES256 or AES128. Data in transit is encrypted using TLS to ensure your privacy.
De-identified data and anonymity: All details used to identify you are separated from your genetic data. Our lab partners handle and process samples in a de-identified manner. This means all identifying information is separated from your genetic data.
Website security: All web pages on toolboxgenomics.com are served over HTTPS.
Personal Information: Your personal information is encrypted both when it's at rest in our servers and when it's in transit through the web.
For detailed information, please read the privacy policy.
News & Reviews
News
In June 2018, Toolbox Genomics partnered with the MedFit Education Foundation (MFEF) to educate fitness and healthcare professionals in translational genomics.
In Aug 2017, Toolbox Genomics made its app, My Toolbox Genomics, available in Sequencing.com's app store.
Reviews
Innerbody reviews Toolbox Genomics as a company whose clients take tests primarily due to their healthcare practitioners' recommendations.
dnatestingchoice.com ranks Toolbox Genomics as 4th in the Health Testing sector.
Summary: Pros & Cons
Pros
Provides epigenetic insights in addition to DNA insights.
Genetic testing focusing solely on health.
Availability of personalized app service.
Cons
Test pricing is expensive.
Epigenetic test results take a lot of time (6-8 weeks).
Practitioner involvement is required to sign up for tests.
Global service is not available.
Tricky test order service.
Toolbox Genomics
Xcode Life
Type of genetic testing
DNA kit
DNA raw data analysis
Ancestry reports
Not offered
Not offered
Health report
Offered
Offered
Pharmacogenomic report
Not offered
Offered
Raw data upload
Unavailable
DNA raw data from all major providers accepted. Comprehensive list
Number of traits analyzed
150+
3000+
Report updates
No
Yes
Price
DNA test: $199
Epigenetic test: $273
DNA + Epigenetic test: $299
Reports: $30-$50
Bundles: $160-1$99
Price details
No DNA test required
Sample reports
Available as PDF
Available as detailed report walkthrough videos
Updated May 26, 2023