MyHeritage was founded in 2003 by Gilad Japhet, a software engineer. MyHeritage's DNA testing service may be similar to its older rival, AncestryDNA, but it differs in one important way - it has most of its user base in Europe. The company is currently testing 42 ethnic regions and has around 45 million monthly users, making it a compelling choice for genealogical testing.
MyHeritage DNA: A Comprehensive Analysis
MyHeritage was founded in 2003 by Gilad Japhet, a software engineer. MyHeritage's DNA testing service may be similar to that of its older rival, AncestryDNA, but it differs in one important way: It has most of its user base in Europe. The company is currently testing 42 ethnic regions and has around 4 million customers, making it a compelling choice for genealogical testing.
Tests offered
MyHeritage Ancestry Kit
Priced at $79, the test is more affordable than many others on the market, especially considering that it not only offers ethnicity analysis but includes a family finder feature. The shipping costs $12; however, if you order two kits, you get half-price shipping. If you order three or more, you get free shipping.
MyHeritage Health kit
The kit costs $199 (excluding shipping charges), for only 36 health reports. This kit includes ethnicity estimate and DNA matches section as well. You can get the kit for a discount price of $99. Valid till March 31, 2020.
Ordering a MyHeritage DNA test kit
To order a kit, you need to make an account with MyHeritage, which would also be used to deliver my results. The payment methods include PayPal and the option to pay directly with your credit/debit card. Once you place your order, you will receive your DNA kit within seven days.
If you order a health kit, you will need to answer a Health Questionnaire, which an independent physician will evaluate
What's in a MyHeritage DNA kit?
Instead of collecting your saliva, MyHeritage DNA has two cheek swabs and vials you send off. Here's what's in the kit:
Two cheek swabs
Two vials filled with DNA preserving liquid
One plastic bag
Return envelope (not prepaid)
Activation card
Instructions
What do MyHeritage DNA results look like?
MyHeritage has a turnaround of 4 to 6 weeks after the sample arrives at the lab. That's faster than competitors AncestryDNA and 23andMe, which require 6 to 8 weeks. The results are sent via an email to the registered email address.
The Ancestry Report
The ancestry report contains two main parts, 'Ethnicity Estimate' and 'DNA Matches', each of which had several different features within it.
Ethnicity Estimate is a detailed breakdown of your unique DNA composition. Your ethnicity breakdown, covering 42 ethnicities from around the world, is present both as a map and as a percentage in your report.
DNA Matches is a technology that lets you connect with your 'relatives'. This involves the comparison of data from autosomal DNA test results and family trees to identify shared genetic sequences that indicate a family relationship. MyHeritage also allows you to upload your family tree from an existing genealogy program.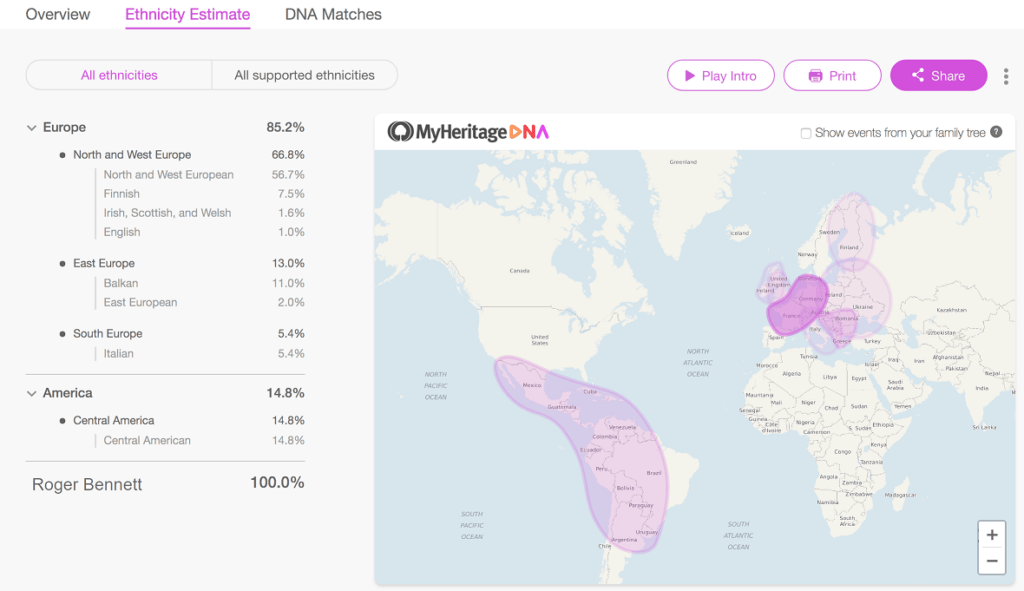 The Health Report
MyHeritage DNA Health results have two parts. With the ancestry part, you can connect with your relatives and learn more about your ethnic origin.
The health part helps you learn about your genetic risk for various health conditions like heart disease and breast cancer. The report also reveals details about the variants that may not affect you but can be passed on to your children and can affect them, if your partner is also a carrier of variants for the same condition.
The following blog by MyHeritage covers in-depth about the Health Report and also contains a sample report for each category.
Did you know?
You can download your DNA raw data from MyHeritage and learn your genetic risk status for over 50+ health traits and 280+ inherited conditions.
Results section: Raw DNA data download
This is a feature that the company does not advertise about, but one that can be very useful. You can download your DNA raw data file. You can follow these simple steps to download your data:
In your account, head over to the DNA tab and go to 'Manage DNA kits.'
On the right-hand side of the MyHeritage kit, click on the three dots and choose 'Download.'
Upon clicking download, you will see a pop-up on your screen with information on what you are about to download. Click the 'Continue' button on the pop-up.
The next pop-up will require you to accept the Terms and Conditions before clicking on the 'Continue' button.
Upon completion of this step, you will receive an email with instructions to download the data to your registered email address.
Find this email in your mailbox and click on the download link.
Important: The link is only valid for 24 hours. If you haven't used the link within 24 hours, you will need to start the process again from step 1.
The link will take you back to the site, where you need to enter your email ID and password and click on the 'Download' button.
The file will be downloaded to your computer.
MyHeritage DNA acquired Promethease and SNPedia in 2019
In September 2019, MyHeritage made an official announcement on their website about their acquisition of Promethease and SNPedia. "This marks our first consumer health acquisition and our 10th acquisition since MyHeritage's founding. Promethease will be made free through the end of 2019, and SNPedia will remain a free wiki resource for academic and non-profit use," quotes the article.
SNPedia
SNPedia, launched in 2006, is a wiki-based website that keeps track and contains information about all single nucleotide polymorphisms. It links these genetic variants to medical conditions. MyHeritage plans to maintain SNPedia as a free resource under the same terms and will utilize this comprehensive knowledge base to enhance future versions of MyHeritage's DNA health products.
Promethease
Promethease is a computer program developed by the SNPedia team, where users can get a DNA report with their DNA raw data. The Promethease reports are generated by taking into account all medical and scientific literature. Promethease currently charges $12 for its service and also lets their consumer store their DNA data.
Following this announcement, MyHeritage is transforming Promethease into a free service, effective today, and this free promotion will run until the end of 2019. MyHeritage intends to keep Promethease separate from its MyHeritage DNA health product line. Unlike Promethease, MyHeritage does not provide any health reports based on DNA data uploaded from other vendors. All of MyHeritage DNA's health reports are based on clinical validation of the underlying DNA data.
DNA raw data transfer and privacy
As of November 1st, 2019, the DNA raw data of the existing Non-European Promethease users will be copied to MyHeritage along with a new account accessible only by the customer. This account also comes with free services like ethnicity estimates and DNA matching for relatives. If you are not interested in your DNA data and reports being copied to MyHeritage, you can delete it from the Promethease server by November 1st, 2019.
People who wish to take a genetic health test or receive health reports are encouraged to purchase the MyHeritage DNA Health+Ancestry test, which is based on clinically validated genetic markers and robust scientific research. Promethease has sent out emails to all its users regarding the details of the acquisition bu MyHeritage for non-Europen users and the instructions for opting-in for its European users.
2022 Update: Deep Nostalgia By MyHeritage
Deep Nostalgia is a new addition to MyHeritage's suite of photo tools. This feature allows you to animate the faces of your loved ones in still photos. It detects the faces from old photos and creates a depiction of how the people from the photo could have looked if captured on a video. You need to create a free account with MyHeritage to avail this feature.
Announcing MyHeritage LIVE 2020
MyHeritage LIVE brings together family history enthusiasts, top international experts, and MyHeritage staff for two days of fascinating lectures covering the latest topics in genealogy and DNA. Each year, hundreds of MyHeritage users from around the world attend. MyHeritage LIVE 2020 will take place in October 2020, at the Hilton Tel Aviv. Set in landscaped Independence Park.
Do you have your DNA raw data from 23andMe, AncestryDNA, MyHeritage, FTDNA, LivingDNA, etc.?
Upload the file to Xcode Life to get insights into 700+health-related traits at a 55% discount!
Updated on June 11th, 2021