Have you ever caught yourself and your brother reaching for the same snack, noticed that your sister's laugh echoes yours, or why you both can't stand cilantro? It's no coincidence; these traits may well be written into your DNA. Siblings share a significant amount of their genetic material, which often accounts for those shared quirks and preferences. But just "how much DNA do siblings share?" is the question we're unpacking in this article. Read on to learn more about the significance behind sharing DNA.
Genetic ancestry tests are becoming increasingly popular. While your DNA can be used to learn about your roots, did you know that it can also reveal important things about your health risks and wellness aspects? This allows you to take proactive measures for health conditions, even before the symptoms appear, thereby preventing it. You can upload your DNA data to learn 1,500+ things about your health. Learn more.
Understanding Shared DNA and Genetic Relationships 
DNA Basics: How They Form Our Genetic Code
Genetic code is a set of rules that cells use to translate genetic information from DNA or RNA into proteins.
It is a sequence of nucleotides present in the DNA or RNA.
The nucleotide consists of a sugar molecule, a phosphate group, and a nitrogen-containing base.
In DNA, the bases are adenine(A), guanine(G), cytosine(C), and thymine(T).
Each genetic code uses these four nucleotides to spell three-letter codons in various ways.
These codons specify which amino acid is needed at each position within a protein.
Types of Siblings
Siblings can be either full siblings or half siblings.
Full siblings share the same biological parents.
Maternal half-siblings share the same mother, while paternal half-siblings share the same father.
What Is Shared DNA: How Does It Help Derive Familial Relationships?
Two individuals share the same DNA they inherited from their recent ancestors.
Testing how much DNA two individuals share can reveal if they are related.
You will share longer stretches of DNA with your relative than a non-relative.
If you share at least one continuous region of matching SNPs (Single Nucleotide Polymorphisms) longer than the threshold of 7 centimorgan, you could be relatives.
Distant relatives are less likely to be detected using this method, as they share shorter stretches of DNA segments.
How Much DNA Do Siblings Share?
How much DNA siblings share depends on their relationship with each other.
It also depends on whether they have one or both parents in common.
It can be anywhere from 25% to 50%.
Siblings DNA tests can determine whether two people are full or half siblings.
How Much DNA Do Half Siblings Share?
Siblings inherit 50% of their DNA from each parent.
Half of the siblings share 25% DNA.
50% of each half-sibling's DNA comes from the shared parent.
They inherit half of the same DNA from that shared parent.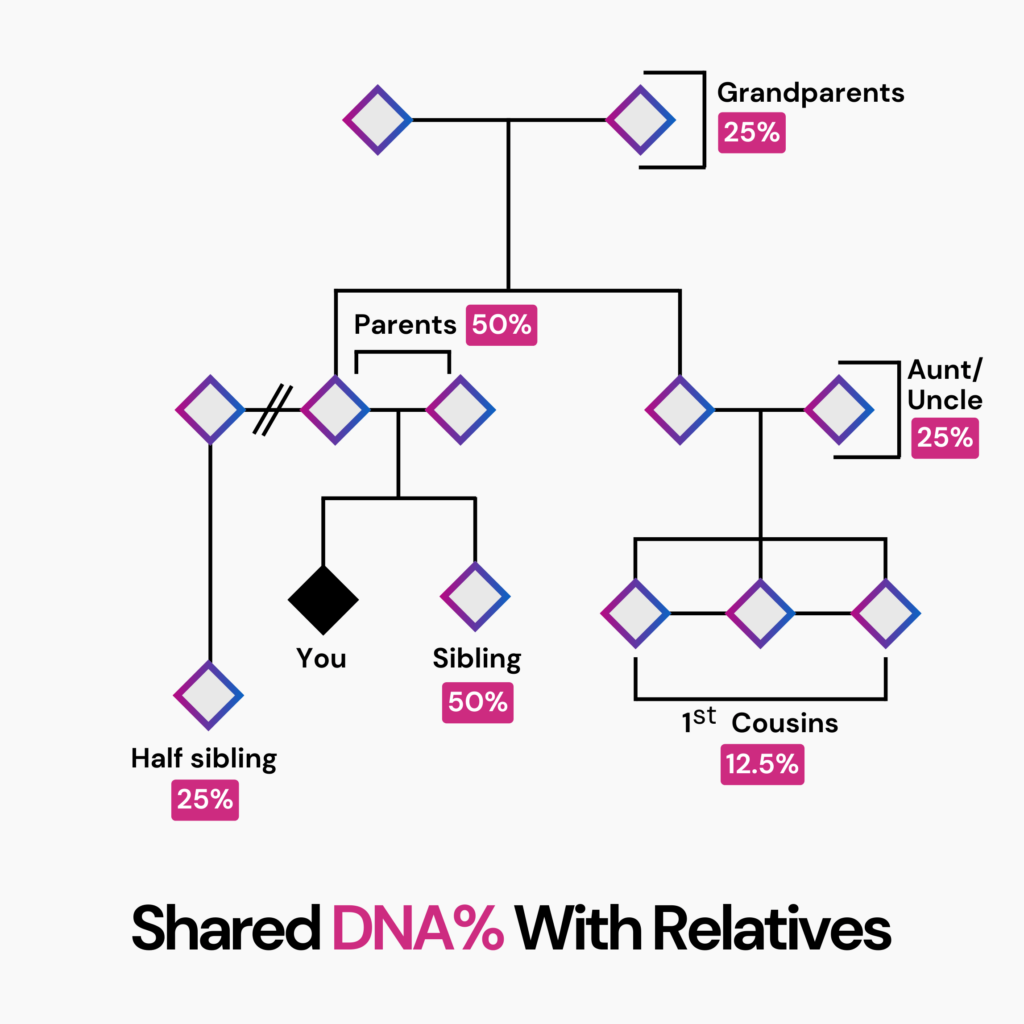 How Much DNA Comes From Each Parent?
DNA is organized into chromosomes.
Humans have 46 chromosomes, of which 23 are from their mother's side and the rest from their father's.
So, parents and children share 50% of their DNA.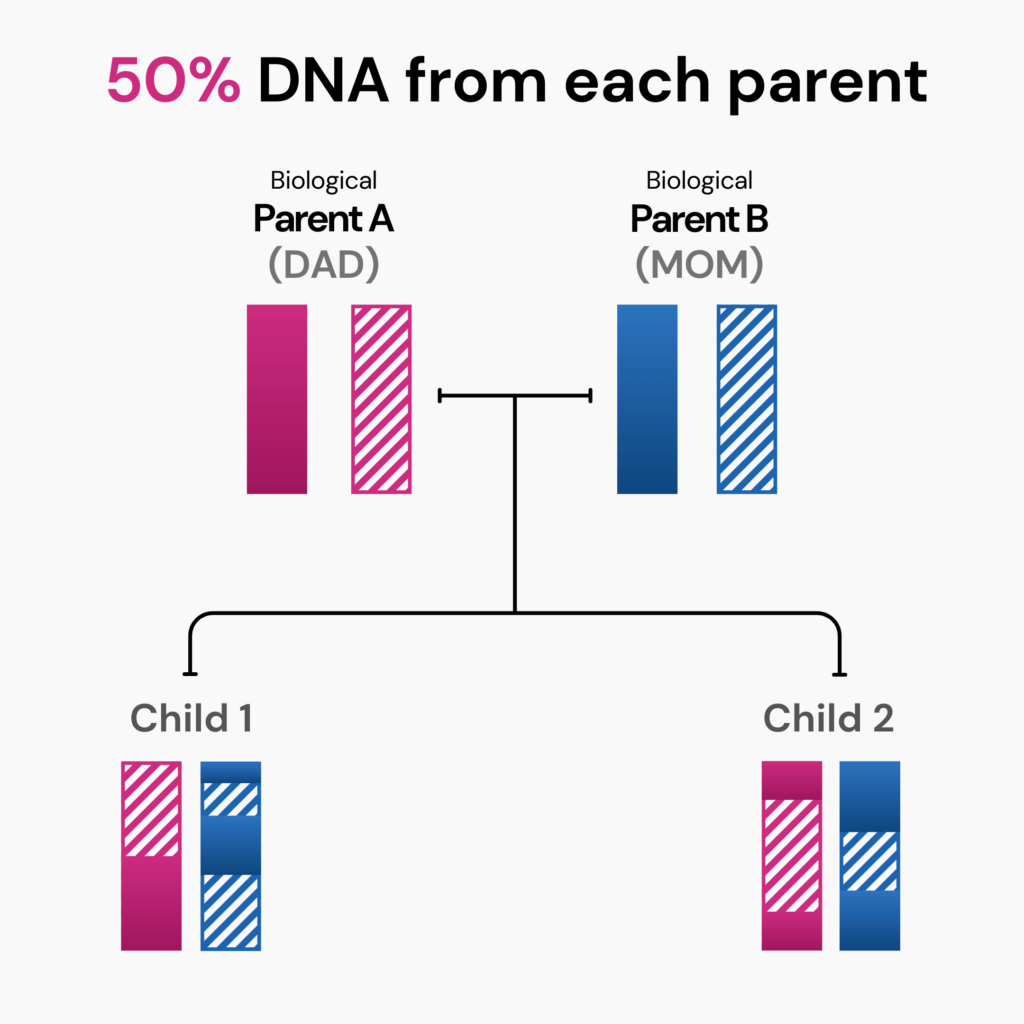 Why Don't Siblings From Same Parents Have The Same DNA?
Full siblings often don't share 100 percent of the same DNA.
It often needs to be clarified for people who use popular genetic testing kits like those made by AncetryDNA or 23andMe.
It is due to a process called genetic recombination.
It is a phenomenon where the body cuts the number of chromosomes in half when creating eggs or sperm.
Of the 46 human chromosomes, sperms and eggs carry only 23.
Due to this genetic trimming, cell chromosomes exchange genetic material before forming an egg or a sperm cell.
Each egg and sperm cell has its unique combination of genes.
Thus, both siblings do not inherit the same 50% from each parent, making them similar but not identical.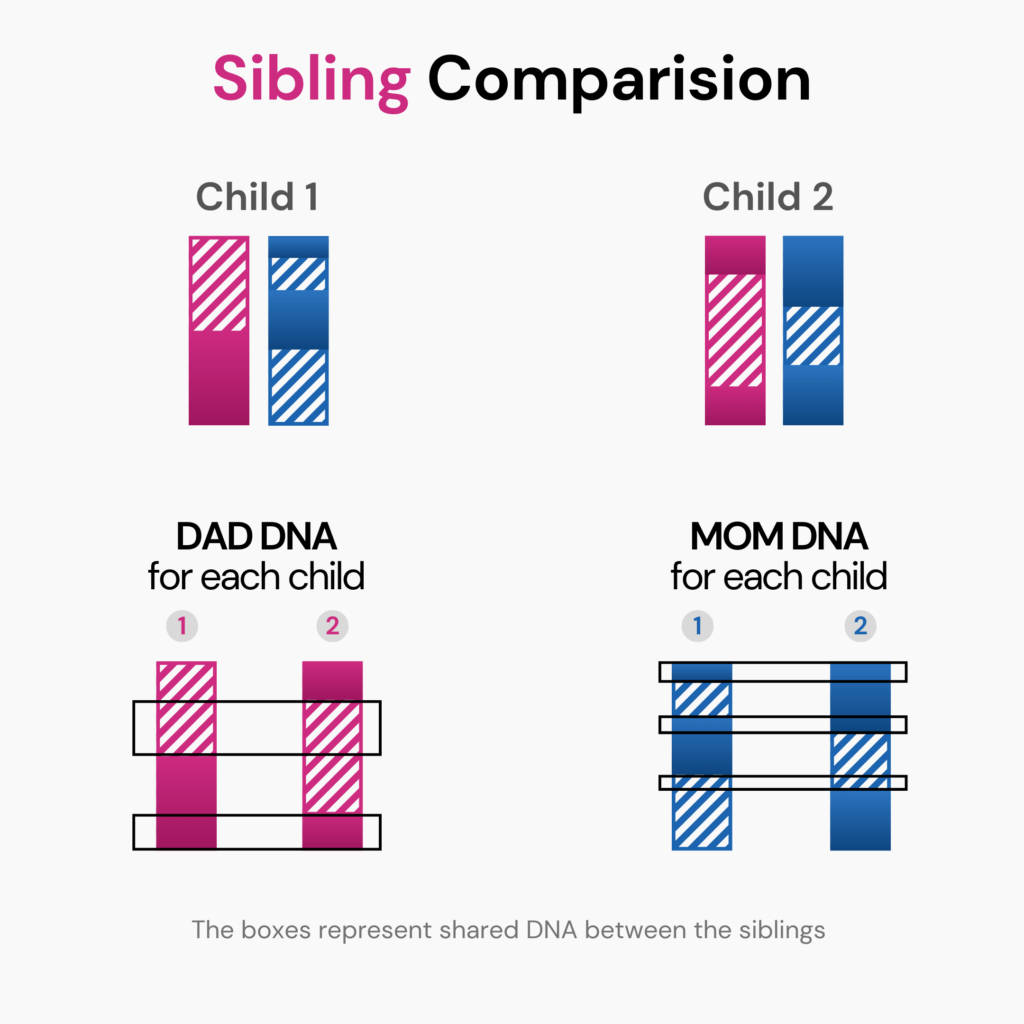 Do Twins Have The Same DNA? Identical vs. Non-identical
Identical twins are also called monozygotic twins.
They develop when one fertilized egg splits into two, whereas fraternal twins develop when two eggs are fertilized by two different sperms simultaneously.
Theoretically, identical twins share 100% of the same DNA, while fraternal twins, just like siblings, share 50%.
However, genetic mutations can still occur, and a small number of identical twins may not share the entire 100% DNA.
Why Did My DNA Test With My Sibling Reveal Only 38% Shared DNA?
You are almost undoubtedly full siblings even if you share only 38% DNA with your sibling.
Here, 38% is equivalent to 50%.
There are two different ways to count the DNA shared by two people, which leads to this variation.
There are two ways to tally the regions of DNA called "fully identical" by the DNA testing companies.
Counting entirely identical regions twice: It will show that full siblings share 50% of their DNA.
Measuring quite exact areas once: It will show that full siblings share 38% of their DNA.
The second method is more popular.
Hence, in this case, 38% is equivalent to 50%.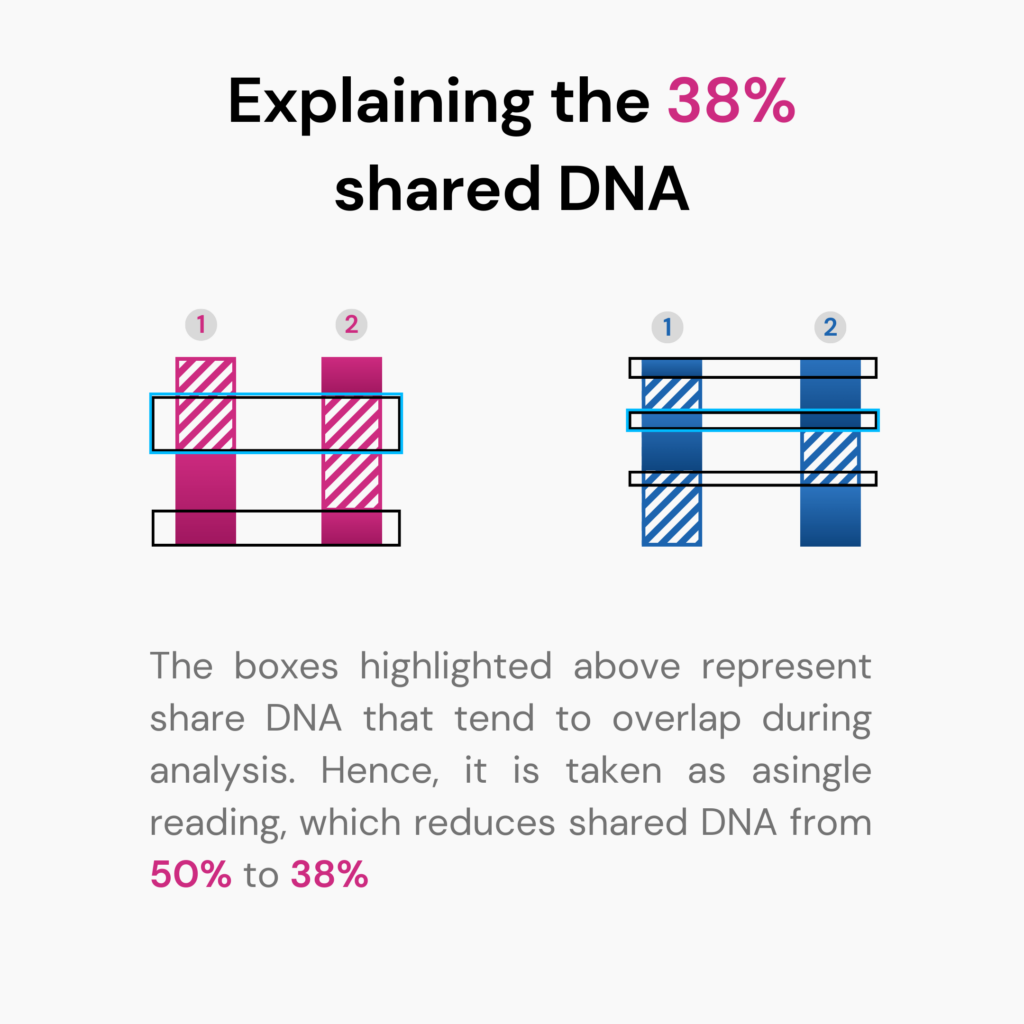 The Significance of Determining Shared DNA Between Siblings
Determining how much DNA siblings share is essential for several practical reasons.
It can help solve paternity disputes and child custody cases.
It can also be helpful for organ transplants, where determining a sibling becomes essential when choosing a donor.
Tracing Family Lineage And History
When siblings take a DNA test, the result is usually similar.
Surprisingly, two siblings from the same family and with the same parents can have vastly different ethnicity results.
Many factors can affect genealogical ethnicity.
DNA mutates over time and makes copies of itself.
Single-nucleotide polymorphisms (SNPs) are tiny portions of DNA that remain unidentical when copied.
These SNPs can determine family lineage and genealogy.
For example, if you have an SNP that only appears in Egyptians, the odds are that you might be an Egyptian relative.
An exciting consequence is that you and your siblings can show different relative matches.
Because the DNA does not exactly match with your sibling, the relatives you are matched with may be different as well.
Legal And Paternity Issues
Legal sibling DNA testing results may be used to solve child custody disputes.
It can also be used to establish the parenthood of an individual in court cases such as child support and social security.
Such a DNA test must be conducted under a proper "chain of custody."
It simply means that the sample must be collected in front of the judge or a representative appointed by the court.
How To Take A Sibling DNA Test?
A sibling DNA test determines the amount of shared DNA between two people.
It can determine whether two people have one or both familiar parents or neither mother nor father in common.
Unlike a paternity test, sibling testing does not provide a genetic profile that matches at every step.
In this test, a siblingship index is calculated.
A siblingship index value of less than 1.00 indicates that two people are unrelated.
While a value above 1.00 indicates that two people might be whole or half-siblings.
The sample needed for a sibling DNA test can be collected using an oral swab.
The test results usually arrive within 7-10 working days. 
Download Your 23andMe Data For 1000+ Health And Wellness Insights
Summary: How Much DNA Do Siblings Share?
Understanding how much DNA siblings share has always been exciting and valuable.
Siblings share similar but not identical DNA due to a phenomenon called recombination.
DNA shares between half and full siblings can also differ widely.
Understanding how much DNA siblings share can help solve paternity and child custody cases.
It can help understand family lineage better.
It can also help in determining a possible donor for an organ transplant.
References
https://atlasbiomed.com/blog/do-siblings-have-the-same-dna-the-facts-on-family-genetics/
https://pubmed.ncbi.nlm.nih.gov/1955016/
https://www.genome.gov/genetics-glossary/identical-twins