Xcode Life's Gene Health report profiles genes that are shown to influence the risk of certain health conditions. This report is aimed at helping you understand your risk for diseases based on your genes so that you can modify your lifestyle accordingly.
Genetic Health Testing
Certain diseases, like diabetes, run in families. This means, if a person in your family has diabetes, you may be at an increased risk for it as well. A family history of certain health conditions can predispose you to it. For many health conditions, however, you can break the chain by taking a few measures.
When you learn about your predispositions, you have an opportunity to take preventive action by changing your lifestyle. Research shows that lifestyle intervention reduces the risk of health conditions like heart diseases and diabetes considerably.
According to a New England Journal of Medicine study, even with a high genetic risk for heart disease, people can significantly lower their risk by leading a healthy lifestyle.
Some interesting facts about genes and health
Studies conducted on twins have shown that 50–70% of the body mass index (BMI) variance may be explained by genetics. One copy of the FTO risk allele increases the risk of developing type 2 diabetes by 25%; having two copies increases the risk by 50%.
People carrying one copy of the FTO risk allele have a 30% increased risk of being obese compared to a person with no copies. However, a person carrying two copies of the allele has a 70% increased risk of being obese, being on average 3 kg heavier than a similar person with no copies.
According to WHO, the global prevalence of diabetes among people over 18 years is 8.5% (422 million adults). One-third of people with diabetes do not know that they have diabetes.
Heritability studies have shown 30-70% risk for type 2 diabetes among families.
A large Nurses' Health Study concluded that around 30% of the new cases of obesity and 43% of type 2 diabetes could be prevented by adopting a relatively active lifestyle. Lifestyle intervention reduced the risk for type 2 diabetes by 58% in a Finnish population, 67.4% in a Japanese population, and 28.5% in the Indian population.
Gene Health Report
The Gene Health Report aims to help you understand your body better, align your lifestyle to your genetics, reduce your risk for diseases, and improve your chances for a disease-free life.
The Outcome Table in the report indicates your outcome for each trait.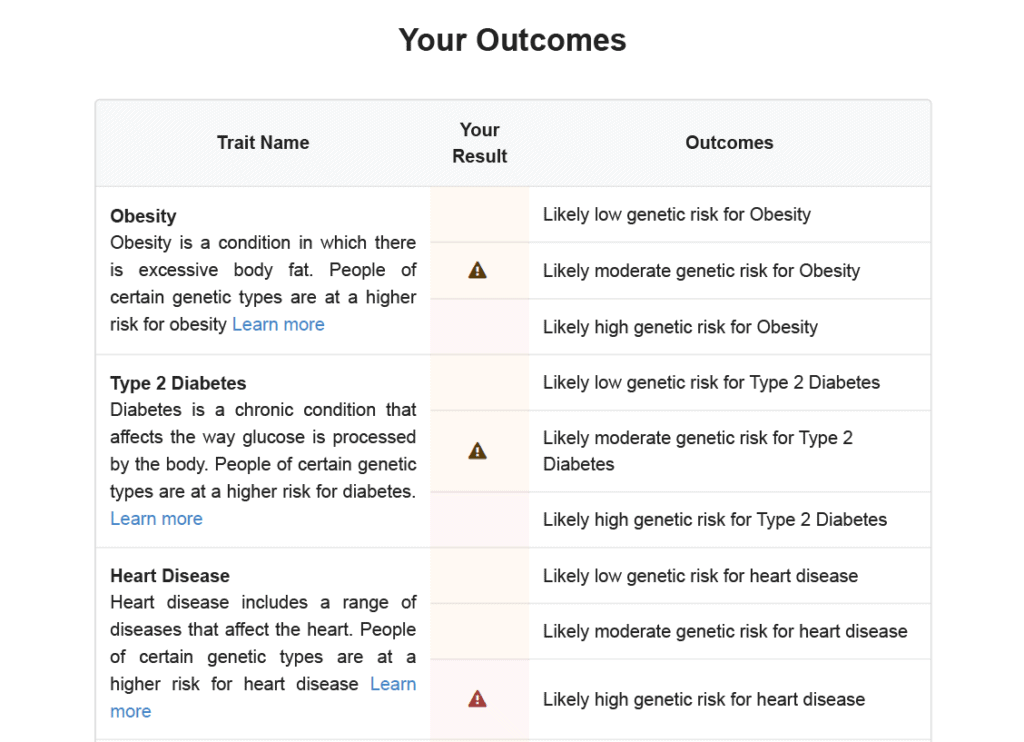 Based on your genetic makeup, your risk for over 45 health conditions is indicated in the report. Each health condition comes with the following information
A small description of the condition
The number of gene markers we analyze
The number of gene markers present in your DNA raw data
The potential pathogenic markers present in your data for that condition
Personalized lifestyle recommendations based on your result.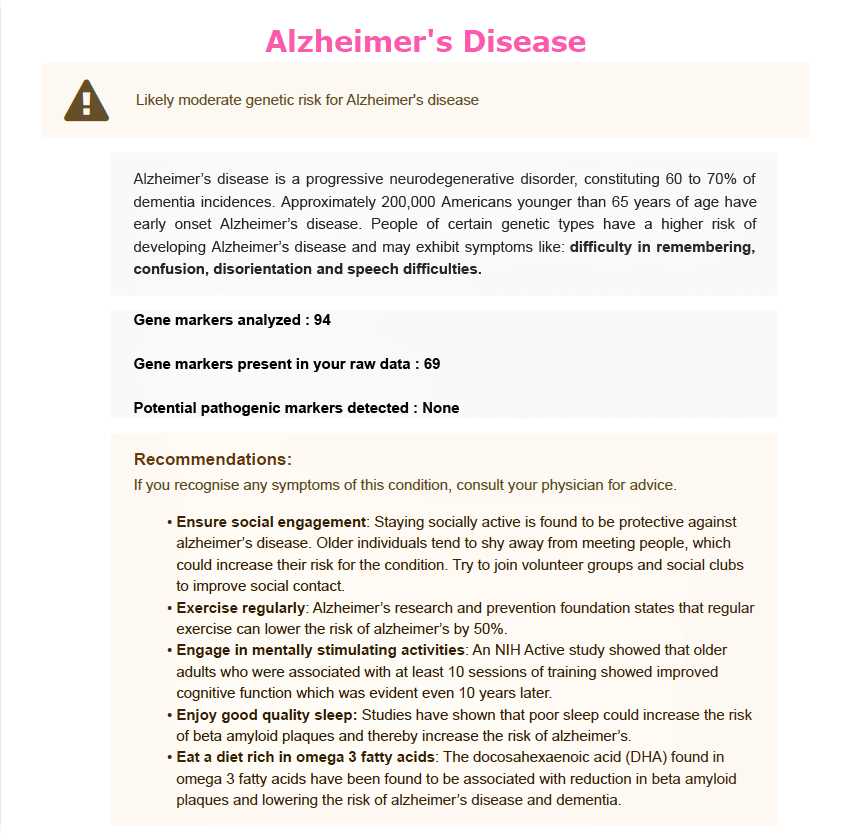 What are the traits covered in this report?
The report analyzes your genetic risk for more than 45 health conditions, including obesity, type 2 diabetes, heart disease, cardiomyopathy, migraine, and glaucoma. For a comprehensive list of the traits covered, click here.
For a sample health report/ preview of the report, click here.