Our bodies are happy when our colons are happy. And, how do we keep them happy? Among the many health habits you could adopt, ensuring you get enough fiber tops the list. This is because a lack of fiber in your diet has been associated with a condition called diverticulitis, which occurs when small, bulging pouches develop in your colon and get infected. But diet is not the only contributor to this condition. A family history of diverticulitis appears to increase one's risk of developing it, raising a crucial question - is diverticulitis hereditary?
Genetic ancestry tests are becoming increasingly popular. While your DNA can be used to learn about your roots, did you know that it can also reveal important things about your gut health? This allows you to take proactive measures for health conditions, even before the symptoms appear, thereby preventing it. You can upload your DNA data to learn 1,500+ things about your health. Learn more.
What Is Diverticulitis?
Diverticula are small bulges or pockets forming in the colon's wall.
They are usually found in the lower part of the colon, called the sigmoid colon, but they can occur anywhere along the colon.
Diverticula are thought to develop due to increased pressure in the colon from straining during bowel movements or from a low-fiber diet that causes hard stools.
Diverticulitis happens when the diverticula becomes inflamed or infected due to bacteria.
This can happen when fecal matter or food particles get trapped in the diverticula and cause irritation or blockage.
It generally affects people in their older age.
Symptoms Of Diverticulitis
The most frequent symptom of diverticulitis is abdominal pain, usually in the lower left abdomen.
The pain may be sudden, severe, mild, and chronic. It may also radiate to the back or groin.
Other symptoms of diverticulitis may include:
Fever
Nausea
Vomiting
Diarrhea
Constipation
Bloating
Gas
Loss of appetite
Blood in the stool
What are the early warning signs of diverticulitis?
Some people may experience mild or intermittent symptoms of diverticulitis before they develop a full-blown attack.
These early warning signs may include:
Cramping or discomfort in the lower abdomen
Changes in bowel habits, such as more or less frequent stools
Mucus or blood in the stool
A sensation of incomplete evacuation post-bowel movement
You should consult your doctor for further evaluation and treatment if you notice any of these signs.
Early detection and prompt treatment of medical issues can help prevent complications and lower the risk of recurrence.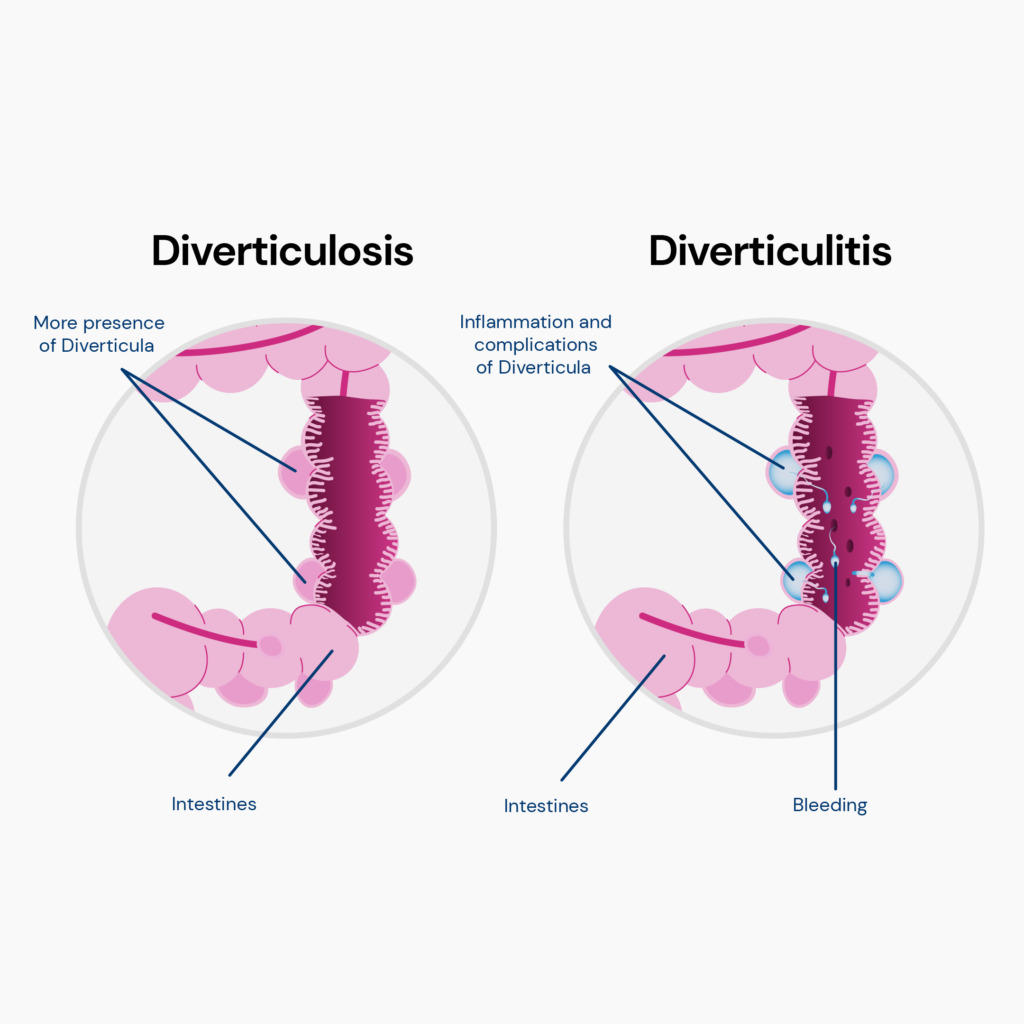 What Causes Diverticulitis?
The cause of diverticulitis is unknown, but certain risk factors may contribute to its development, such as:
Age: The risk of developing diverticulitis increases as the colon weakens with age and becomes more prone to producing diverticula.
Diet: A low-fiber diet that leads to hard stools and increased pressure in the colon may increase the risk of developing diverticula and diverticulitis.
Obesity: Being overweight or obese may increase the pressure in the abdomen and the colon, contributing to diverticular formation and inflammation.
Smoking: Smoking may impair blood flow to the colon and weaken its immune system, making it more susceptible to infection and inflammation.
Lack of exercise: Physical activity may help stimulate bowel movements and reduce pressure in the colon.
Medications: Nonsteroidal anti-inflammatory drugs (NSAIDs), steroids, opioids, and antibiotics can increase diverticulitis risk by affecting colon lining or bacterial flora.
Is Diverticulitis Hereditary?
While environmental factors play an essential role in diverticulitis, there is also evidence that genetic factors may influence its susceptibility and severity.
A study analyzed over 142,000 incident cases of diverticular disease diagnosed at hospitals or outpatient visits in Denmark.
They found that if someone in your family has diverticular disease, your risk of getting it is higher.
In fact, the risk is almost 3 times higher for siblings of individuals with diverticular disease compared to the general population.
Additionally, the study examined twins.
It found that if one identical (monozygotic) twin had diverticular disease, the other twin had a much higher chance of having it than non-identical (dizygotic) twins.
So, to answer the question, "Is diverticulitis hereditary?" - Yes, there is a hereditary aspect to diverticulitis, primarily due to genetic factors.
In What Pattern Is Diverticulitis Inherited?
Diverticulitis is inherited in a complex pattern, which means that a combination of environmental and genetic factors most likely causes it.
However, the exact pattern of inheritance requires further comprehension.
It is unclear whether diverticulitis is inherited in a dominant, recessive, or X-linked manner.
Different genes may also be involved in different cases of diverticulitis.
Researchers have discovered several genes linked to a higher chance of developing diverticulitis.
These genes involve various cellular processes, including inflammation, connective tissue formation, and gut immunity.
It is important to note that even if you have a family history of diverticulitis, it does not mean that you will automatically develop the disease.
Other factors, such as diet and lifestyle, also influence risk.
Genes Associated With Diverticulitis
Various genes may be linked to diverticulitis, but the following three stand out:
ARHGAP15 (Rho GTPase-activating protein 15): This gene affects cell movement and shape, increasing the risk of diverticulitis when mutated.
COLQ (collagen-like tail subunit of asymmetric acetylcholinesterase): Responsible for colon wall structure, mutations heighten the chances of diverticulosis, a precursor to diverticulitis.
FAM155A (family with sequence similarity 155A): This gene regulates inflammation and is linked to diverticulitis development, particularly the inflammation and complications associated with the condition.
Remember, these genes alone don't guarantee diverticulitis; environmental factors play a significant role.
Research is ongoing to uncover all genetic links and understand their interplay with environmental factors causing diverticulitis.
Diagnosis And Treatment Of Diverticulitis
Diverticulitis is typically diagnosed when someone experiences a strong and noticeable attack with severe symptoms.
The diagnosis process can include:
Physical examination: The doctor checks the abdomen for tenderness and signs of infection or inflammation. For women, a pelvic exam may be performed to rule out other roots of abdominal pain.
Blood tests: A complete blood count (CBC) might be ordered to look for infection or anemia, which can indicate bleeding in the colon.
Urine test: This helps rule out urinary tract infections or other causes of abdominal pain.
Pregnancy test: For women of childbearing age, this test ensures pregnancy is not causing abdominal pain.
Stool test: To check for infections like Clostridium difficile or blood in the stool, which can lead to diarrhea and colon inflammation.
CT scan: This is used to identify issues like infected pouches, pus collections (abscesses), unusual connections between organs (fistulas), holes (perforations), or blockages in the colon.
Liver function tests: These tests help exclude other reasons for abdominal pain.
Treatment for diverticulitis depends on how severe it is:
Mild cases can be effectively managed with rest, dietary adjustments, and antibiotics.
Severe or complex cases may require hospitalization, intravenous (IV) antibiotics, abscesses draining, or surgery.
Can You Prevent Diverticulitis?
Following certain lifestyle measures can prevent the development of diverticula or reduce the risk of inflammation or infection.
These measures include:
Eating a high-fiber diet: Fiber helps soften the stool and reduces pressure on the colon wall. It also helps prevent constipation, which can increase the risk of diverticulitis. Some of the best sources of fiber come from fruits, vegetables, whole grains, beans, nuts, and seeds.
Drinking plenty of water: Drink enough water to keep your body hydrated. This helps keep the stool soft and easily passable while helping flush out toxins and bacteria from the colon.
Regular exercise: Exercise enhances bowel motions, digestion, and blood circulation. It also helps maintain a healthy weight, reducing the risk of diverticulitis.
Avoiding smoking: Smoking can impair the healing of the colon wall and increase the risk of infection and inflammation.
Diverticulitis is a severe condition that can affect your quality of life and lead to complications.
By following these tips, you can prevent or manage diverticulitis and enjoy a healthy and happy colon.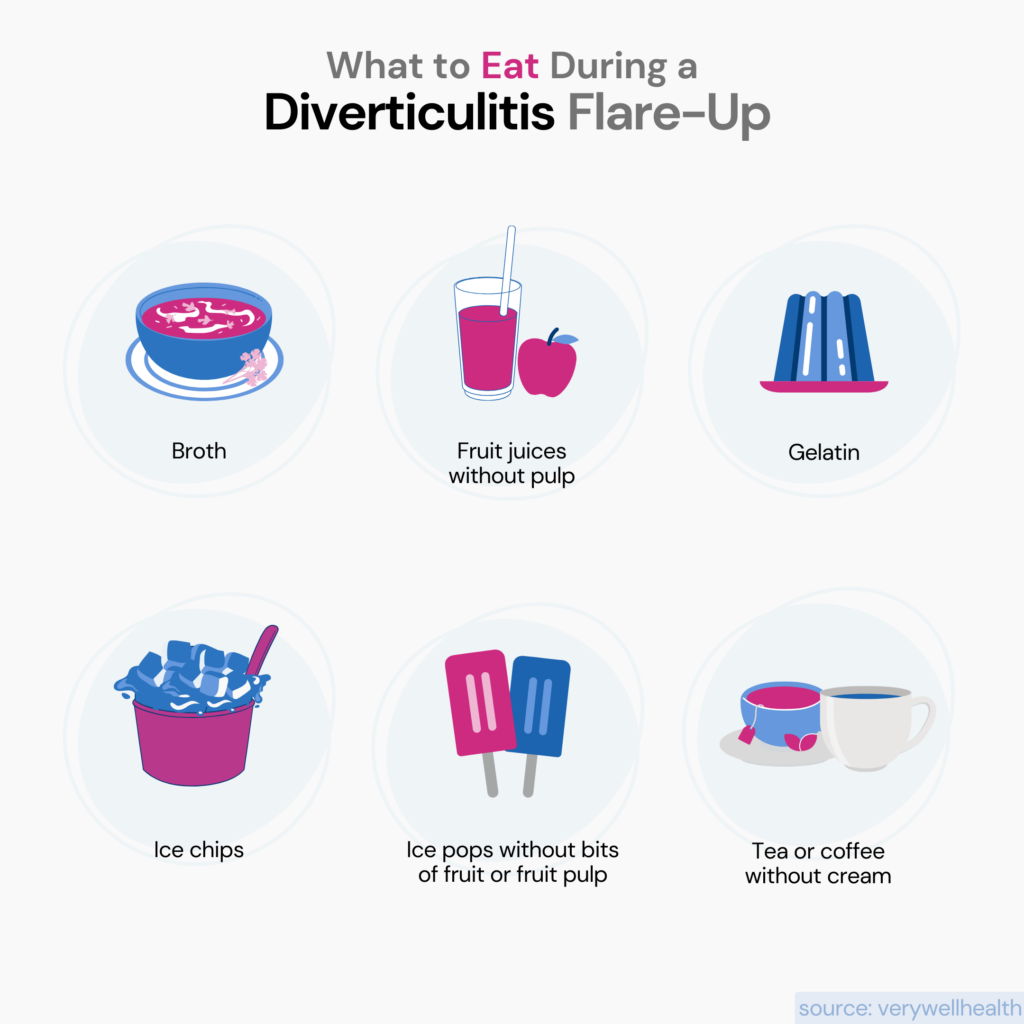 Summary: Is Diverticulitis Hereditary?
Diverticulitis is when pouches form in the colon wall and become inflamed or infected, often affecting older individuals.
Symptoms include severe abdominal pain, nausea, fever, and bowel changes.
Early signs may include cramps, blood in stool, or feeling incomplete after bowel movements.
While its exact cause is unknown, factors like age, diet, obesity, smoking, and inactivity can contribute.
Studies suggest a family link to diverticulitis. Siblings of those with the condition are three times more likely to get it.
Inheritance is complex, involving genes and environment. Genes like ARHGAP15, COLQ, and FAM155A play roles.
Prevention means a high-fiber diet, hydration, exercise, and quitting smoking.
Genes matter, but lifestyle choices are vital in lowering risk.
Is Diverticulitis Hereditary? Yes, but it's a mix of genes and a way of living.
References
https://my.clevelandclinic.org/health/diseases/24883-diverticulosis
https://www.health.harvard.edu/blog/looking-out-for-diverticulitis-202108162572
https://www.mayoclinic.org/diseases-conditions/diverticulitis/symptoms-causes/syc-20371758
https://www.sciencedirect.com/science/article/abs/pii/S0016508513000061
https://www.ncbi.nlm.nih.gov/pmc/articles/PMC7529918/