What is Ashwagandha?
Ashwagandha is a herb gaining popularity worldwide for its various medicinal properties.
Scientifically called Withania somnifera, ashwagandha is a commonly grown shrub in various parts of India, Africa, and the Middle East.
The name ashwagandha is derived from Sanskrit, 'ashwa' meaning horse and 'gandha' meaning odor or smell.
Ashwagandha is one of the most commonly used herbs in Ayurveda, an alternative medicine practiced in India.
What Are The 7 Top Ashwagandha Benefits for Men?
While ashwagandha is beneficial for both men and women, it may have additional benefits for men.
Please know that ashwagandha needs to be consumed only after discussing it with a medical practitioner.
The following are seven top ashwagandha benefits for men.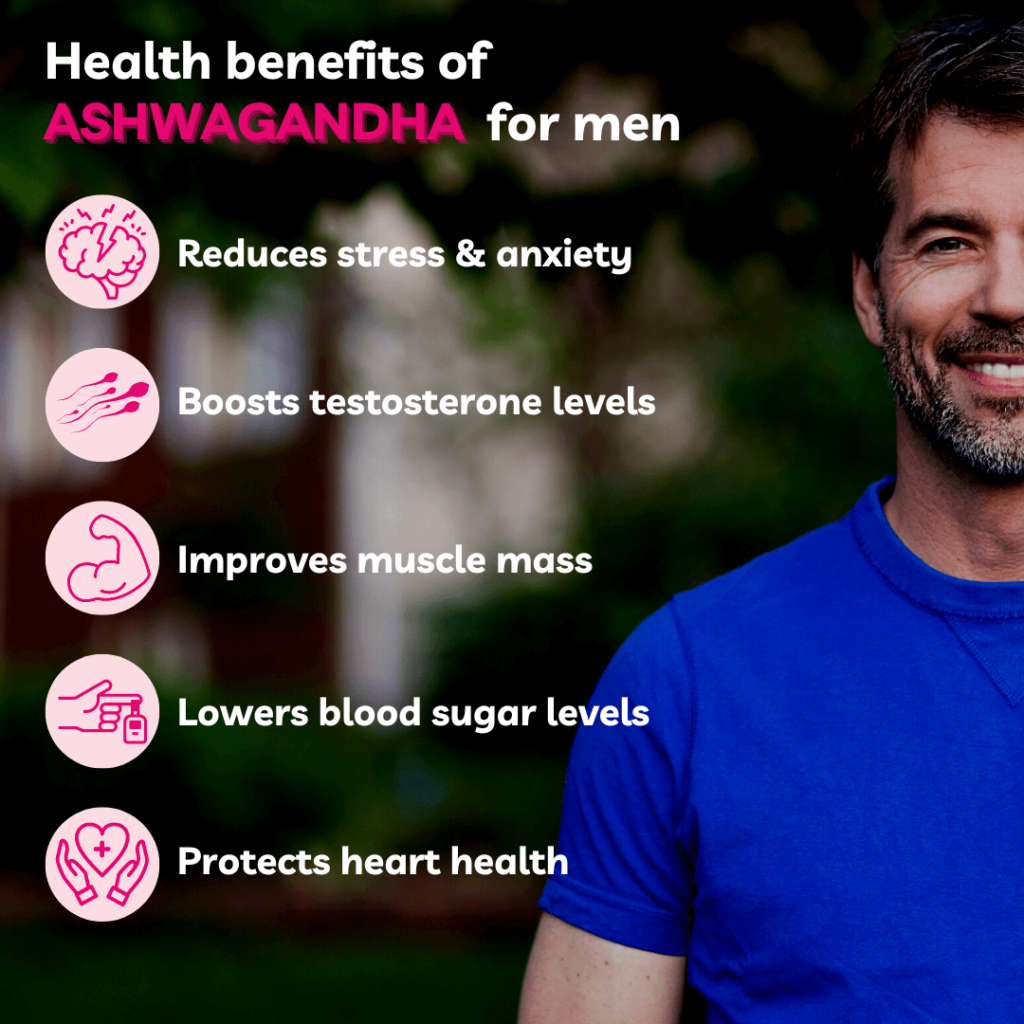 May Reduce Stress and Anxiety
Ashwagandha is best known for its ability to bring down anxiety and stress levels.
A 60-day randomized study analyzed the effects of ashwagandha in adults diagnosed with stress and anxiety.
A group of 60 adults was offered either a placebo or 240 mg of ashwagandha once a day.
At the end of the study, people who consumed ashwagandha had lowered levels of morning cortisol (stress hormone) and a lower stress rating on the Hamilton Anxiety Rating Scale (HAM-A).
Also Read: Can Vitamin Deficiency Cause Anxiety?
May Boost Testosterone Levels and Increase Fertility
Ayurvedic medicine experts suggest that ashwagandha may help men handle low testosterone levels and infertility.
A 2018 study examined the role of ashwagandha in handling male infertility.
This study mentions that consuming the right amounts of ashwagandha root extracts may help improve sperm count and sperm motility (movement).
It may also regulate the reproductive hormones in men.
Another study investigated the effects of ashwagandha on men between the ages of 40 and 70.
Apart from improved energy levels, these men had a 14.7% increase in testosterone levels.
May Improve Muscle Mass and Strength
Men looking to improve muscle mass and physical strength may benefit from ashwagandha supplements.
A 2015 study reports that men who consumed ashwagandha for eight weeks showed significantly better muscle strength and increased muscle mass in the chest and arms.
These individuals also had reduced exercise-induced muscle damage.
May Lower Blood Sugar Levels
Ashwagandha may help stabilize blood sugar levels in both men and women with diabetes mellitus.
A 2020 meta-analysis of 24 studies mentions that ashwagandha may help stabilize blood sugar and insulin and reduce HbA1c levels in people with diabetes.
Ashwagandha encourages your cells to use more glucose from the bloodstream.
May Improve Sleep
Ashwagandha could help restore sleep quality for people struggling with insomnia.
A 2021 meta-analysis of five independent studies shows that there could be a small but significant improvement in overall sleep in people treated with ashwagandha supplements.
Another study analyzed the effect of ashwagandha in 80 individuals (40 healthy and 40 with insomnia).
At the end of the study, ashwagandha caused a definite improvement in sleep quality in those with insomnia.
Also Watch: Your genes, sleeping patterns, and sleep disorders risk
May Improve Memory
Ashwagandha has long been associated with improved memory and alertness.
A 2017 study analyzed the effects of ashwagandha on cognitive functions and memory.
According to it, people who consumed ashwagandha for eight weeks experienced improvements in general memory, immediate memory, and attention span.
May Support Heart Health
Cardiorespiratory endurance is the ability of your heart, lungs, and related muscles to deliver oxygen to the other parts.
Studies show that ashwagandha root extracts may improve cardiorespiratory output and ensure the heart and lungs are fit.
Side Effects of Ashwagandha on Men
The following could be some of the common side effects of ashwagandha in men.
Gastrointestinal troubles (especially in the first few weeks)
Headaches
Nausea
Dry mouth
Who Shouldn't Take Ashwagandha
The following individuals are not recommended to take ashwagandha.
Pregnant and breastfeeding women
Individuals with low blood sugar levels (hypoglycemia)
People with low blood pressure (hypotension)
Those with existing gastrointestinal problems
People with autoimmune conditions (as ashwagandha may further boost the immune system)
How To Take Ashwagandha
The recommended dosages of ashwagandha are between 300 mg and 500 mg per day. This could be taken at once or divided into smaller doses throughout the day.
The herb will be better handled by the stomach when had after a meal.
Talk to your medical practitioner to know the exact dosage levels.
Ashwagandha supplements are available in powders or capsules, and both are equally effective.
Always start with the lowest dosage levels and slowly increase them with time.
Summary: Ashwagandha Benefits For Men
Ashwagandha is an herb that has become popular for its various medicinal properties.
Ashwagandha roots may reduce stress and anxiety, improve memory and sleep quality, and regulate blood sugar levels.
Ashwagandha may also help improve male fertility, increase testosterone levels, improve muscle strength, and support heart health in men.
Some possible side effects of consuming ashwagandha are headaches, gastric issues, nausea, and dry mouth.
Ashwagandha is not recommended in people with low blood sugar levels, low blood pressure, existing gastrointestinal problems, and autoimmune conditions.
References