Vitamins and Mental Health
Vitamins are essential micronutrients and form an integral component of a balanced diet.
They are organic substances that are not produced by the body.
So, they are derived from the food we eat.
Vitamins are classified as:
Fat-soluble: Vitamins A, D, E, and K dissolve in fat and accumulate in the body
Water-soluble: Vitamins B and C must dissolve in water before they can be absorbed. These vitamins cannot be stored in the body, and an excess of them is eliminated via the urine.
Though several diseases are studied in association with vitamin deficiency, few people know the impact vitamins have on mental health.
Mental health illnesses are any condition or disorder that affects an individual's mood, behavior, or thinking.
While several treatment modalities are available for treating mental health illnesses, nutrition therapy may be effective in some.
Depression is one of the most common mental health conditions and affects nearly 8% of Americans.
Deficiency of one or more B vitamins may contribute to symptoms of depression and anxiety.
A Sneak-peek Into the Gene Health Report
5 Vitamins Deficiencies that can Cause Anxiety
Several vitamin deficiencies have been associated with anxiety and other mental health symptoms. These include:
Vitamin B1 and Energy Production
Thiamine or vitamin B1 belongs to the B complex vitamins.
This vitamin participates in energy metabolism, cell function, development, and growth.
A study published in the International Journal of Clinical Medicine in 2011 stated that 100 mg of vitamin B1 daily in the participants improved their Hamilton Anxiety Rating Scale (HARS) scores.
The study also reported that these patients showed improved appetite and energy levels and reduced fatigue.
Vitamin B6 and Mood
Vitamin B6 is also called pyridoxine and is essential for the metabolism and health of the central nervous system.
A study published in the International Journal for Vitamin and Nutrition Research in 2019 stated that low intake of vitamin B6 was associated with increased risk for mental health conditions like depression and anxiety.
The study recommended adequate intake of nutritional status of the individual, including vitamin B6.
Vitamin B12 and Neurotransmitters
Vitamin B12, or cobalamin, is a vital B vitamin as it plays a role in red blood cell formation and acts as a co-factor in DNA synthesis.
A deficiency of vitamin B12 results in pernicious anemia, characterized by a problem in oxygen transport in the body.
Since vitamin B12 also acts as a co-factor in synthesizing neurotransmitters like serotonin and dopamine, vitamin B12 deficiency causes symptoms like mood swings, paranoia, irritability, and confusion.
Vitamin D and Brain Health
Vitamin D is a fat-soluble vitamin produced by the body on exposure to sunlight.
You can also get this vitamin via diet and supplements.
People with anxiety and other psychiatric disorders tend to have lower vitamin D levels.
Since nearly 50% of the general population is at risk of vitamin D deficiency, the risk of developing associated anxiety is also relatively high.
Vitamin C and Stress
Vitamin C plays an essential role in mental health.
People who are deficient in vitamin C experience depression and chronic fatigue.
Studies show vitamin C improves mood, lowers stress and anxiety symptoms, and boosts cognitive function.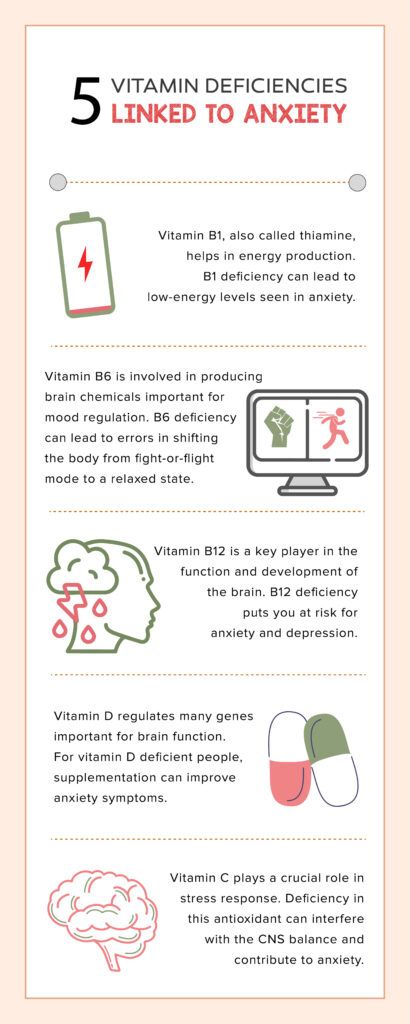 Image: Vitamin deficiencies that play a role in anxiety
Mineral Deficiencies Contributing to Anxiety
Besides vitamins, minerals are the other essential micronutrients that may contribute to mental health conditions, including anxiety.
Magnesium and Stress Response
Magnesium is the fourth most abundant mineral in the body.
Since magnesium plays a role in optimal neurotransmitter activity and proper nervous system functioning, it affects brain function and mental health.
Research states that low magnesium levels can contribute to and aggravate neuropsychiatric conditions, including anxiety, primarily due to changes in the composition of gut bacteria.
A study found that magnesium has a calming effect as it activates the GABA (A) receptors, so this mineral is often found in anti-anxiety medications.
Iron and Mood Regulation
Iron is a trace mineral found in every cell of the body.
It is an integral part of hemoglobin, the blood pigment responsible for carrying oxygen to all parts of the body.
Iron is also a co-factor in synthesizing the neurotransmitter serotonin ( a chemical found in the brain).
A deficiency of iron has been shown to increase the risk of developing anxiety, mood, and panic disorders.
Studies have shown that people with iron deficiency have increased anxiety and fearfulness.
Zinc and Brain Function
Zinc is another mineral that is required as a co-factor for various enzymes in the body.
It is also essential for mental health as it participates in the production of neurotransmitters and is required for the normal functioning of the nervous system.
Studies have shown that people with lower levels of zinc have a higher tendency for anxiety.
Taking zinc supplements can help reduce anxiety symptoms.
Omega-3-Fatty Acids and Anxiety
Omega-3 fatty acids are called essential fatty acids as the body does not produce them and have to be obtained through diet.
These fatty acids are vital for the normal functioning of the brain and nervous system.
Some studies have shown low levels of omega-3 fatty acids in anxious individuals, and extremely low levels correlate to severe anxiety.
Nutritional Recommendations to Prevent Anxiety
Nutritional therapy uses dietary recommendations to prevent and manage anxiety.
If you are struggling with anxiety, here are a few foods that you can include in your anti-anxiety diet:
Magnesium-rich foods like dark leafy greens like spinach, chard, legumes, nuts, seeds, and whole grains
Zin-rich foods like cashews, oysters, egg yolks, and beef
Omega-3 fatty acids-rich foods like fatty fish, nuts, and seeds
Probiotics like pickles, yogurt, sauerkraut, and kefir
Vitamin B12-rich foods like avocado, almonds, and milk
Antioxidant-rich foods like apples, walnuts, pecans, red kidney beans, blueberries, strawberries, broccoli, kale, and ginger
References