Are you tired of feeling forgetful, sluggish, and unmotivated? Do you wish to boost your brain function and improve your mental performance?
Many methods and techniques exist to achieve this, including brain exercises, meditation, and nutritional supplements. 
One of the most popular supplements is BDNF, which is known for its potential to improve memory, learning, and focus.
But can BDNF supplements really boost brain function? Let's find out.
Did You Know?
Many nutrients, like vitamins and minerals, are essential in supporting brain function. Even with a healthy diet, you may be at increased risk for some nutritional deficiencies due to specific genetic changes you carry.
What is BDNF?
BDNF (Brain-Derived Neurotrophic Factor) is a protein found in the brain. It is a neurotrophin, which is a growth factor for neurons.
BDNF helps develop, grow, and function the neurons in the brain.
Neurons are messengers that carry information to different parts of the brain and the nervous system as electrical and chemical impulses.
Brain BDNF levels keep neurons healthy and, as a result, improve brain functioning.
BDNF and Health
While most BDNF gets used in the brain, other organs like the heart, lungs, kidneys, GI tract, and muscles also use this protein.
BDNF helps muscles take up glucose from the blood, thereby supporting glucose metabolism.
This protein also protects the beta cells in the pancreas that produce insulin.
BDNF supports heart muscle contractions and improves blood circulation in the body.
BDNF and Brain Function
The brain has billions of neurons and connections. With time, the brain keeps forming new connections and eliminating unused ones.
The brain changing its connections, structure, and function based on external or internal stimuli is called neuroplasticity or brain plasticity.
Brain plasticity is essential for the brain to stay active, upgraded, and fully functional.
BDNF is vital for the process of neuroplasticity.
Alzheimer's, dementia, depression, and other diseases of the Central Nervous System result from neural degeneration and eventual death of brain cells.
A 2014 study states that higher BDNF levels helped lower the risk of Alzheimer's Disease and dementia by 33%.
Similarly, studies show that dysfunctional or decreased levels of BDNF can affect synaptic plasticity (plasticity occurring at the single-cell level) and lead to depression.
Image courtesy: https://www.frontiersin.org/files/Articles/500839/fncel-14-00082-HTML/image_m/fncel-14-00082-g002.jpg
A 2004 article supported this theory and reported that BDNF supplements could exhibit antidepressant qualities and help treat Major Depressive Disorder (MDD) in patients.
According to a 2020 article, low BDNF levels in the hippocampus region in the brain may increase the risk of developing Post-Traumatic Stress Disorder (PTSD).
Genetic Variants That Influence BDNF Levels
The BDNF gene controls the production of BDNF proteins in the body. Mutations or changes in this gene can influence BDNF production, affecting the body and the brain.
BDNF Levels And Chronic Fatigue
Studies show that changes in BDNF levels can stimulate a neurotransmitter receptor called glutamate. Overstimulated glutamate receptors can lead to mental fatigue and fibromyalgia (chronic fatigue and muscle pain).
rs11030104 is a Single Nucleotide Polymorphism (SNP) in the BDNF gene. People with the A allele of this SNP have a higher risk of developing fibromyalgia due to increasing BDNF expression than those with the G allele.
BDNF Levels And Anxiety
Low levels of BDNF cause dysregulation in the hippocampus region of the brain and can cause feelings of anxiety.
rs6265 is an SNP in the BDNF gene. People with the C allele of this SNP have an increased risk of developing anxiety compared to those with the T allele.
BDNF Levels And Cognitive Function
Cognitive function is the ability of the brain to think, reason, remember, make decisions, pay attention, and solve problems.
People with the beneficial C allele of the SNP rs6265 are associated with better cognitive abilities, including enhanced long-term memory and verbal ability, compared to those with the T allele.
BDNF Levels And PTSD
The A allele of the SNP rs56164415 in the BDNF gene is associated with an increased risk of developing PTSD compared to those with the G allele.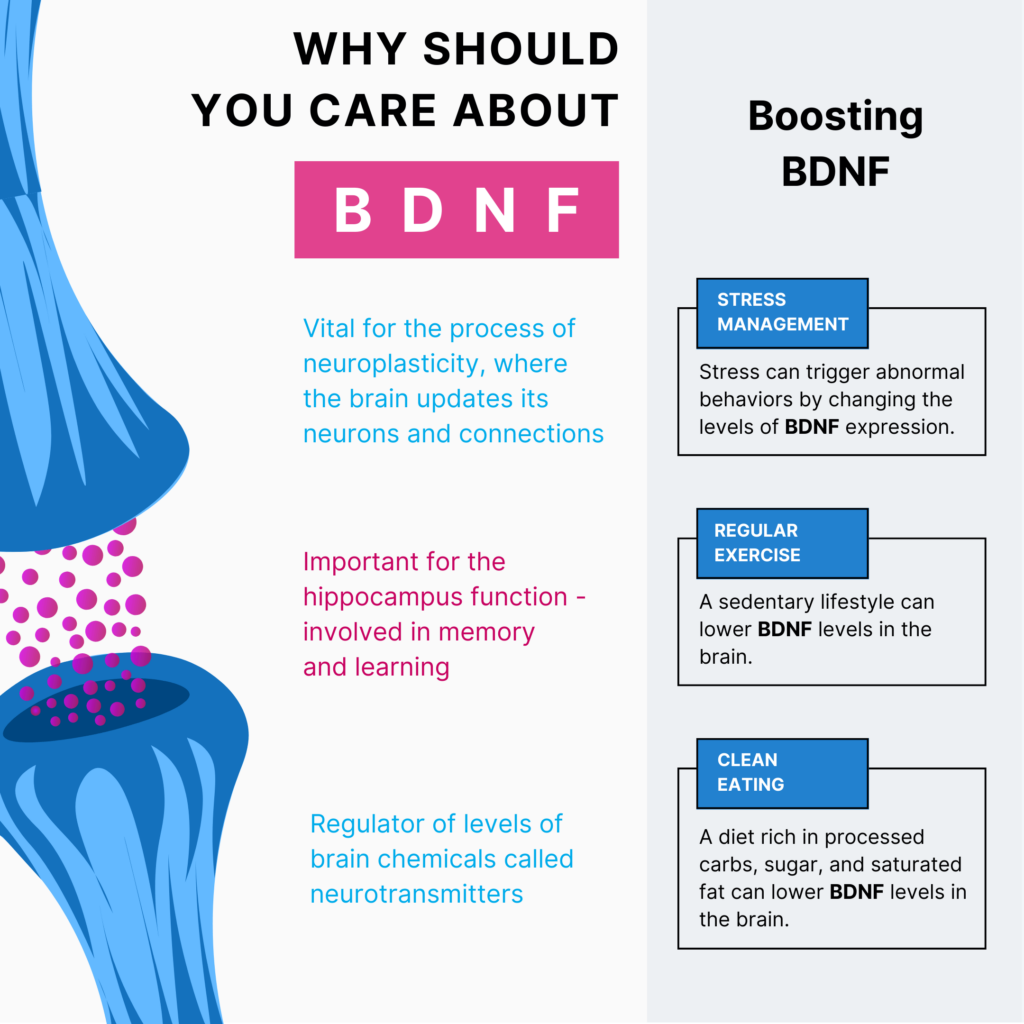 Other Factors Influencing BDNF Levels
Age
The BDNF levels decrease with age, and this is natural. This is why the elderly are at higher risk for disorders like Parkinson's and Alzheimer's.
Lifestyle
Studies show that BDNF levels increase with physical activity. A sedentary lifestyle can lower BDNF levels in the brain.
Diet
The typical western diet, rich in saturated fats, sugar, and carbohydrates, can decrease BDNF levels, especially in the brain's hippocampus region. This region controls memory, learning, and thinking skills.
According to experts, a high-protein, low-carbohydrate diet could enrich BNDF levels.
A 2021 study reported that intermittent fasting (restricting food consumption to a small window and fasting for the rest of the day) could increase BDNF levels and keep the brain healthy.
Chronic Stress
Chronic stress may reduce the levels of BDNF in the hippocampus region.
Stress can trigger abnormal behaviors by changing the BDNF gene's expression levels in the brain.
Natural Supplements That Boost BDNF
Disclaimer: This article is for informational purposes only. Please consult a qualified medical practitioner before making any significant changes to your diet. Do not consume any supplements without the advice of your physician.
Summary: BDNF Supplements
BDNF keeps the brain healthy, active, and flexible and helps in brain plasticity. BDNF may strengthen connections between neurons, aiding in healthy cognitive functioning.
Some people could be genetically prone to BDNF imbalance, increasing their risk for mental conditions and cognitive decline.
Genetic testing may help you know if you have a mutated BDNF gene.
Choosing natural BDNF supplements, staying physically active, and living stress-free can all help regulate BDNF levels in the body and brain and keep the brain younger for a long time.
References