Have you ever wondered why some people can eat a lot without gaining weight while others struggle to lose weight even when they count every calorie? The answer partly lies in how our ​genes interact with the nutrients in our diet. Some people are genetically wired to be more efficient at breaking down fats and carbs than others. A ​DNA diet test can provide valuable insights into our genetic makeup and how it relates to our diet and nutrition. Beyond weight loss insights, it can reveal ​vitamin deficiencies that cause fatigue and muscle cramps, as well as ​food intolerances that lead to bloating and digestive issues. In this article, we will explore what DNA diet testing is, how it works, what it can and cannot do, and where to get it.
---
Did You Know?
A DNA diet test can provide insights into many aspects, from lactose intolerance and gluten sensitivity to vitamin, mineral, & macro needs. Our users experience significant improvement in their diet after taking this report. You can your existing ancestry test DNA data to access these insights and much more!
Learn How.
---
Why Look At Our DNA?
Our DNA contains the genetic code that influences our health and nutritional needs.
Genetic testing can reveal insights about an individual's unique traits and predispositions.
This information can provide personalized dietary and lifestyle recommendations customized to an individual's genetic profile.
Some genetic variants may increase susceptibility to certain conditions, so knowing one's genetic makeup can help guide preventative measures and targeted nutrition.
Overall, analysis of DNA gives people more knowledge about how their genes impact their well-being and responses to different foods and lifestyles.
Understanding DNA Diet Test
DNA diet testing involves analyzing a person's DNA for genetic variants affecting nutrient digestion, athletic performance, exercise response, and overall well-being.
These genetic variants are called single nucleotide polymorphisms (SNPs).
SNPs are places in the genetic sequence where a single letter of DNA differs between individuals.
We all have millions of SNPs that make each person's DNA one-of-a-kind. Most SNPs have no effect, but some can impact essential processes in the body.
For example, certain SNPs affect how a person digests or transports vital nutrients like vitamin B12, fat, and caffeine.
Other SNPs influence factors like muscle-building capacity, endurance, ability to burn calories, or tendency to store fat.
Testing also looks for SNPs tied to risks for certain health conditions.
Specific examples of genetic variants affecting nutrient processing
---
Kimberlee Says
I had my DNA results from Ancestry and was able to upload them to XCode and get answers to so many of my gene questions. Super quick turn around - I felt I needed to get answers to my breast cancer possibilities. XCode gave me answers in ~12 hours... Read More.
---
Leading DNA Testing Companies
Many DNA testing companies offer different DNA tests, but some stand out for their quality, accuracy, and features.
Xcode Life analyzes your DNA raw data from any ancestry test and gives insights into your nutrition, mental health, fitness, skin, allergies, methylation, MTHFR, and more.
You can upload your whole genome sequencing data, get access to over 1500+ genetic traits, and join the satisfaction of over 150,000+ happy customers.
To meet your diverse needs and budgets, we offer customized super saver packs, such as:
Genome pack
Health pack
Wellness pack
Each pack provides personalized insights and recommendations aligned with your specific requirements and budget.
Other DNA testing companies you may have heard of are:
Athletigen
Genopalate
Genomelink
Vitagene
Fitness Genes
DNAFit
Orig3n
These companies focus on specific areas of your health and wellness, such as diet, sports performance, personality, or beauty.
Choose the best DNA testing company based on your goals and interests and discover how your genes affect your life.
Benefits of DNA Diet Testing
DNA diet testing offers several advantages in enabling personalized dietary and lifestyle choices for optimal health and wellness:
Caffeine sensitivity: DNA analysis reveals how your body responds to caffeine, impacting tea and coffee consumption. This insight can guide whether caffeine raises or lowers blood pressure, facilitating personalized choices.
Cholesterol management and heart health: Understanding your genes provides insights into alcohol metabolism, potentially affecting cholesterol levels. This helps in making informed decisions about alcohol consumption for better heart health.
Gut health and gluten sensitivity: DNA testing identifies genetic risks for celiac disease and wheat intolerance. This is particularly valuable for those who find it challenging to follow the traditional gluten-based diagnostic approach.
Lactose intolerance detection: A DNA test helps determine lactose intolerance by identifying whether your body generates the enzyme required to break down milk. This eliminates the need for trial and error in determining lactose intolerance.
Personalized weight management: DNA testing provides personalized insights into how your body responds to nutrients. This paves the way to a more effective weight loss approach than generic methods.
Vitamin D requirements: DNA analysis can identify gene variations related to vitamin D, facilitating personalized recommendations for optimizing immunity and bone health.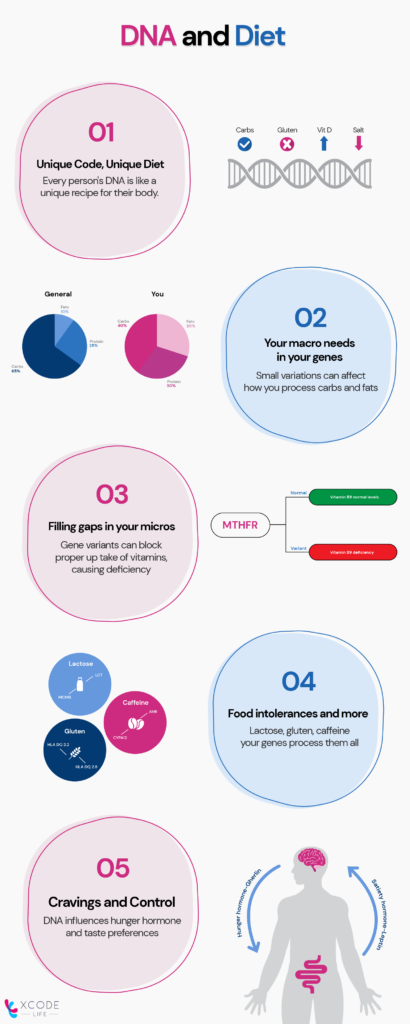 How DNA Diet Test Works
The DNA diet testing process involves several key steps that transform genetic information into practical insights:
Step 1: DNA collection
The first step is to collect a DNA sample from the individual through a simple cheek swab or saliva sample. This is then sent to a laboratory.
Step 2: DNA extraction and purification
The lab receives the sample and extracts the DNA, purifying it to isolate high-quality genetic material for analysis.
Step 3: DNA amplification
The extracted DNA is amplified using polymerase chain reaction (PCR) to generate many copies of specific DNA segments for deep analysis.
Step 4: DNA sequencing
The amplified DNA is then sequenced to determine the order of nucleotides (A, T, C, and G) in the individual's unique genetic code.
Step 5: Genetic analysis and interpretation
The sequenced DNA is analyzed and compared to a database of known genetic variants related to diet, nutrition, sensitivities, and weight. The analysis is carefully interpreted to identify key genetic factors influencing the individual's dietary needs and weight management.
Step 7: Personalized insights and recommendations
Based on the genetic analysis, personalized diet and lifestyle recommendations are customized to the individual's genetic makeup to optimize health and wellness.
DNA diet testing should not be seen as a one-time event. Ongoing guidance from a healthcare professional is crucial for interpreting test results, making informed dietary decisions, and monitoring progress.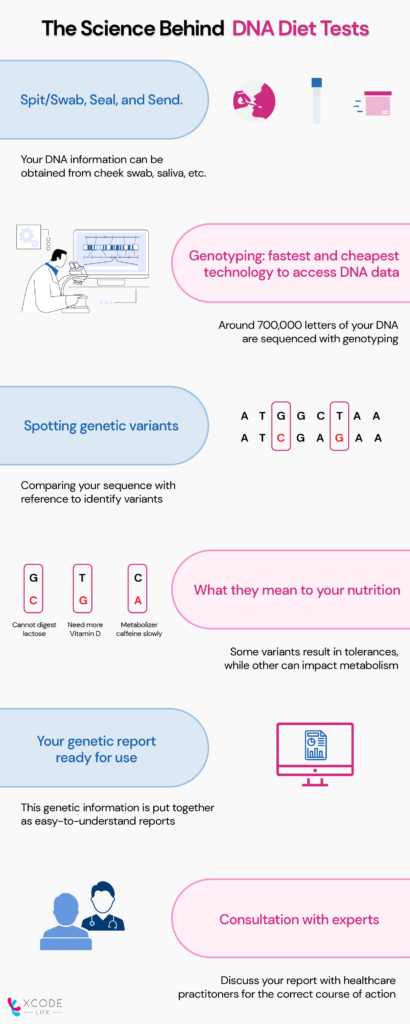 Linda's Story: A DNA Diet Test Case Study
Let's delve into Linda's journey with nutrigenomic assessment. Linda, in her early 30s, was the epitome of what we might consider active and health-conscious. Daily jogs at dawn, yoga sessions, and a diet teeming with what the latest health blogs touted as 'superfoods' were all part of her routine.
Despite her dedication to maintaining what she believed was an optimal lifestyle, Linda often felt at odds with her own body – battling unexplained fatigue, bouts of random muscle cramps, troubling gut, and a persistent sense of not being at her peak.
After countless generic health check-ups and dietary tweaks that bore no significant results, Linda's quest for answers made her take a "DNA diet test."
What Did Linda's Test Reveal?
When the results came back, they painted a vivid picture of her body's unique nutritional needs and its potential pitfalls.
Among the revelations, a significant one stood out. Linda possessed a genetic variant that dramatically increased her risk of magnesium deficiency.
How Did Linda Use Her Report To Improve Her Health?
She took this report to her doctor, who correlated her results with the symptoms that had been clouding her day-to-day vitality. Low magnesium levels, the doctor explained, could be contributing to her muscle cramps and fatigue, as this micronutrient is pivotal for muscle and nerve function, as well as energy production.
The doctor recommended a course of high-quality magnesium supplements and advised incorporating magnesium-rich foods into her diet—dark leafy greens, nuts, seeds, and whole grains were to become her new staples.
Linda's results also revealed that she carried a mutation that made her lactose intolerant. Although she occasionally consumed ​dairy with no immediate adverse effects, she sometimes experienced bloating and discomfort without making the connection to her dairy intake. Her doctor suggested incorporating lactose-free alternatives such as ​almond milk, ​coconut yogurt, and ​hard cheeses that are naturally lower in lactose.
Empowered with this personalized dietary blueprint, Linda embraced her new regime. Over the following weeks, she noticed a tangible uplift in her well-being. The fatigue that once loomed over her mornings began to lift, and the random cramps that had interrupted her yoga flows became infrequent guests rather than persistent intruders. Her gut never felt better!
The changes didn't stop there. The insights from the nutrigenomic assessment enabled her to understand her predisposition to other conditions, nudging her to make preventative lifestyle adjustments.
---
Gene Nutrition Report: 48 unique dietary insights for just $40
---
What A DNA Diet Test Can't Do
While DNA diet tests can provide valuable insights into your genetic makeup and its impact on health and wellness, it's crucial to recognize their limitations.
These tests cannot:
Ensure weight loss or disease prevention: Genetics play a role in weight management and disease risk. But lifestyle factors like diet, exercise, and stress have a more significant influence. DNA diet tests cannot guarantee weight loss or prevent diseases.
Diagnose or treat medical conditions: A DNA diet test should not replace professional medical advice or treatment. If you have health concerns or symptoms, consulting your doctor is essential before making any diet or lifestyle changes based on test results.
Provide a cure-all solution: DNA diet tests offer valuable information but are not a cure-all for health problems. An overall approach considering genetics, lifestyle, and overall health is necessary for optimal well-being.
Guarantee long-term effectiveness: Despite the growing research in nutrigenetics, there is still insufficient evidence to support the long-term effectiveness of DNA diet tests. These tests are yet to be conclusively proven for weight management or overall health improvement. Further research is needed to establish these tests' validity and long-lasting benefits.
What Is The Cost Of A DNA Diet Test?
The cost of a DNA diet test can vary depending on the provider, test type, and desired level of detail.
Prices can vary from $49 to over $999, considering additional expenses like shipping fees, lab charges, and optional services such as consultations or detailed reports.
At Xcode Life, affordable and personalized genetic insights are essential. Our range of targeted DNA tests, starting at just $30, covers various aspects of health and wellness, including diet, fitness, and disease risk.
Note: Prices are subject to change, so it is advisable to verify the current cost directly with the provider to ensure you have the most recent and accurate information.
Summary
A DNA diet test is an innovative method that analyzes an individual's genetic makeup to personalize nutrition and health choices.
This process identifies single nucleotide polymorphisms (SNPs) influencing nutrient processing, exercise response, and health risks.
Leading companies like Xcode Life offer comprehensive DNA testing services, allowing individuals to understand various aspects of their genetic traits.
The benefits include personalized insights into nutrient digestion, athletic performance, exercise response, and overall health and wellness.
The testing process involves DNA collection, extraction, amplification, sequencing, genetic analysis, and interpretation, leading to personalized recommendations.
However, it's essential to recognize the limitations of DNA diet tests, as they cannot provide a cure-all solution or guarantee long-term effectiveness.
The cost of a DNA diet test varies but can start at $30, with prices subject to change.
While these tests offer valuable information, ongoing guidance from healthcare professionals is crucial for interpreting results and making informed decisions.
Reference
https://www.ncbi.nlm.nih.gov/pmc/articles/PMC2906751/
https://www.cdc.gov/ncbddd/folicacid/mthfr-gene-and-folic-acid.html
https://medlineplus.gov/genetics/gene/apoe/
https://medlineplus.gov/genetics/condition/lactose-intolerance