Sugar And Dopamine
What is it about sugary foods that just make our mouths water? There's actually a scientific explanation for this salivation!  The term 'sugar' refers to a class of carbohydrate molecules that include glucose, fructose, sucrose, maltose, lactose, dextrose, and starch.
So, how does your brain react to these sugar molecules? As soon as the sugar hits the tongue, it activates the sweet receptors. They, in turn, send a signal to the specific region of the cerebral cortex in the brain. The signal activates the reward system in the brain, which is a series of chemical reactions. This "reward" is communicated through the release of dopamine, which is popularly known as the "happy hormone." 
The Food-Reward System
Incidentally, food-reward is a common form of animal training routines. An animal is rewarded with a treat when it performs certain actions, and animal trainers routinely use this programming of food-reward in zoos and entertainment venues and other animal training facilities. Basically, when you feel this sense of reward, your brain motivates you to "do it again"!
Interestingly, food is not the only thing that activates this reward system. Drugs, sexual behavior, and socializing have all been studied to stimulate this sense of reward.
Dopamine Overdrive
While the reward system induces pleasurable feelings, overactivation of this system is really not good for the body! Overconsumption of drugs can send our body into dopamine overdrive, which leads to the sense of 'feeling high.'
Non-sugary foods, like your veggies, have no effect on dopamine. Thus, when you eat a balanced meal every day, your dopamine levels begin to level out. This will make you want to include more varieties of foods in your diet. How does this happen?
Our brains are tuned to be attentive to different kinds of tastes for two reasons - to be able to detect spoilt food and to seek out different nutrients our body needs for healthy functioning.
With sugar-rich foods, the dopamine levels never level out, and as a result, we do not tend to seek new foods. This can put you at risk for health conditions like diabetes and obesity, and various nutritional deficiencies.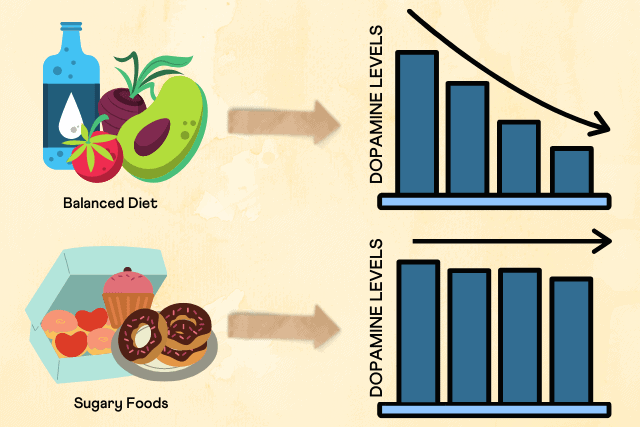 Genetics and Sweet Taste Preference
Your preference for sweet foods is influenced by the sweet taste receptors in your tongue. Their expression, in turn, is influenced by the TAS1R2 and TAS1R3 genes. If you have a higher expression of the sweet taste receptors, you are likely to be more sensitive to the sweet taste and hence consume less sweet foods. 
Getting a Genetic Test
You can identify your tendency to prefer a specific taste by studying your genetic makeup. All you need is your genetic ancestry test raw data to get started! You can upload this file and order a nutrition report.
Xcode Life then analyzes your raw data in detail to provide you with comprehensive nutrition analysis, including your genetic preference for various tastes.
Video