Aging gracefully is not just about having wrinkle-free glowing skin. Maintaining adequate muscle mass and preventing age-related loss can play a significant role in how one experiences the aging process. Adequate muscle mass, power, and strength are essential for better mobility and balance and also help protect against age-related conditions, such as osteoporosis. In this article, we'll delve deep into the importance of muscle mass for healthy aging and explore what vitamin stops age-related muscle loss.
Did You Know? Your genes play a crucial role in influencing your vitamin levels. Even if you have a healthy diet, if there are any variations in your DNA that impact the absorption or metabolism of vitamins, you may be at risk for nutritional deficiencies. Learn more.
What is Age-Related Muscle Loss?
A decline in muscle mass is a normal part of aging, but that does not mean you cannot stop it.
Age-related muscle mass is called sarcopenia.
Did you know your muscle mass decreases approximately 3% to 8% per decade after age 30?
Most men will lose about 30% of their muscle mass during their lifetimes.
A reduction in muscle means decreased flexibility and less mobility, which increases the risk of falls and fractures.
A 2015 study states that people with sarcopenia had a 2.3 times higher risk of having a low-trauma fracture from a fall.
Muscle strength is the fitness component that refers to the ability of a group of muscles to exert force.
The reduction in muscle strength has been attributed to reduced activity of the muscle group.
What Happens To Your Muscle Power As You Age?
When we learn about muscle power, we do so in the context of skeletal muscles.
Skeletal muscles are the voluntary muscles found in different parts of the body like arms, legs, hands, feet, hips, jaw, etc.
These muscles move when you want them to move, unlike those found in the abdomen (called involuntary muscles).
Just like other cells and tissues in the body, skeletal muscles also undergo aging changes, which results in loss of muscle mass, strength, and power.
Age-related muscle loss is very subjective and depends upon several factors, like gender, age, lifestyle factors, genetics, and activity level.
Besides muscle-related aging changes, there may be muscle weakness due to nerve-related issues.
This may also cause a loss of muscle power.
Some reports suggest that muscle weakness in old age may be due to the reduced ability of the individual to control their skeletal muscles.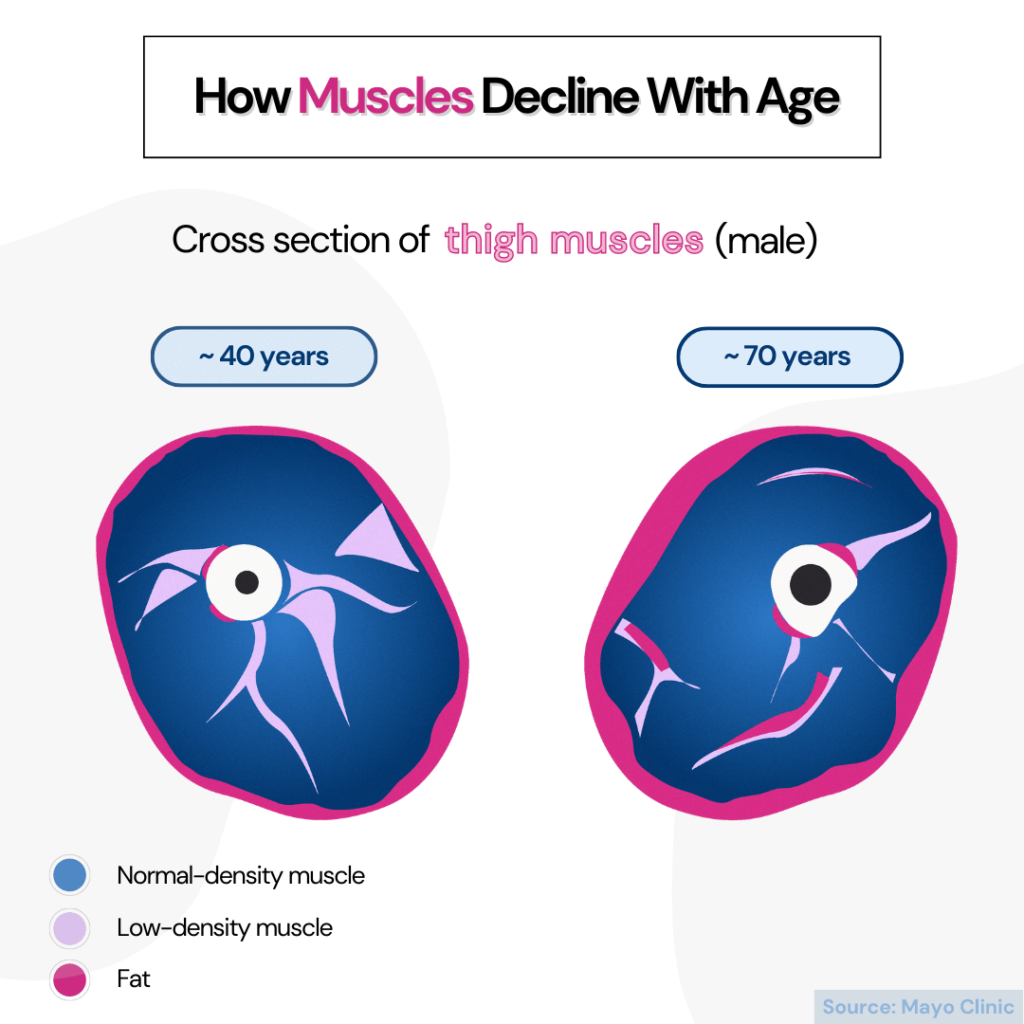 The Importance Of Muscle Mass and Power
Here are some reasons why muscle mass and power are essential:
Loss of age-related muscle mass and power has been correlated with disability.
For example, the extensor muscle in the knee is predictive of how you perform your daily activities, like rising from a chair, climbing stairs, etc.
A lack of muscle mass reduces power in the knee extensor muscles, making it difficult to perform these regular activities.
Older adults are prone to falls.
Falls usually occur when you lose balance after slipping or tripping.
With aging comes a loss in muscle mass, strength, power, and coordination, all of which increase the risk of slips and trips, leading to falls.
Nutrients Required for Optimal Muscle Mass
Nutrition and diet are essential in ensuring optimal muscle mass while aging.
While bone loss has always been blamed for the increased risk of fractures and other injuries among older adults, sarcopenia has recently received more attention.
Loss of the fast-twitch fibers (muscle fibers that support quick and powerful movements), proteins, and the development of insulin resistance may have a role to play in the loss of muscle strength and the development of sarcopenia.
A few nutrients that are required to maintain optimal muscle mass, especially during aging, are:
Proteins
Vitamin B12
Folic acid
Vitamin C
Vitamin D
Besides ensuring an adequate intake of these nutrients, it is essential to ensure optimum acid-base balance.
What Vitamin Stops Age-Related Muscle Loss?
Two important vitamins that can reduce age-related muscle loss are vitamins C and D.
Vitamin C
A 2020 research from the University of East Anglia (UEA) shows that older individuals who ate a lot of vitamin C had the best skeletal muscle mass.
Vitamin C consumption is associated with skeletal muscle mass.
According to a study, circulating vitamin C levels are positively associated with skeletal muscle mass in middle-aged and older men and women.
This vitamin has strong antioxidant properties and defends cells and tissue from free radical damage.
These free radicals contribute to muscle destruction and loss and accelerate age-related muscle decline.
The study does not recommend consuming heavy doses of the vitamin.
Eating a citrus fruit like an orange or sweet lime daily and a vegetable rich in vitamin C is sufficient for most people.
Vitamin D
Vitamin D regulates the structure and function of several body systems, including the skeletal muscles.
This vitamin stimulates the proliferation and differentiation of skeletal muscle fibers, thereby maintaining and improving muscle strength.
While vitamin D deficiency is widely prevalent across various age groups, it is particularly pronounced in the geriatric population.
This may be due to low dietary intake and reduced exposure to UV rays of the sun.
A deficiency of vitamin D in older individuals may contribute to sarcopenia.
Several studies have shown that low serum vitamin D levels are linked to loss of muscle mass and a decline in muscle strength.
This is more pronounced in men than women.
Research also states adequate nutritional intake or vitamin D supplementation can effectively prevent and treat sarcopenia in older adults.
However, more studies are needed to determine vitamin D's exact role in preventing and treating sarcopenia.
Dig Deeper
Can Vitamin D And B12 Deficiency Occur Together?
Other nutrients
Muscles are groups of fibers, where each fiber is made up of blocks of proteins called myofibrils.
Each myofibril comprises a protein called myoglobin.
For this reason, adequate protein intake is essential to maintain optimum muscle mass.
While most Americans consume more than the required amount of protein, inadequate protein in the diets of older adults is common.
Compounding the problem is the decreased capacity of older adults to digest and absorb protein.
Several studies suggest that the protein requirements of older adults are higher than those of younger individuals.
Older adults must consume high-quality protein to support and preserve their muscle mass and maintain muscle strength and power.
Other Ways To Gain Muscle Mass After 50?
Two types of exercises can help you gain muscle mass after 50:
These exercises consist of performing exercises that activate metabolism using short cycles of stretching and shortening the muscle fibers.
An excellent example of this type of exercise is basketball practice.
During these exercises, repetitive movements are performed at a constant speed.
The weight can be modified while maintaining the same speed.
For those over 50, here are some ways to gain muscle mass and improve muscle strength, power, and endurance:
Slow-twitch muscles
Endurance exercises engage and work the slow-twitch muscle fibers through various repetitions.
These fibers can stay contracted for a long time.
Regular and continuous training helps make these slow-twitch fibers stronger and more efficient.
Examples of endurance-building exercises include brisk walking, running, jogging, cycling, and climbing stairs.
You must start small and slow when you are building muscle post-50.
Weight training
Weight training is a type of resistance exercise.
It is one of the best ways to reverse age-related muscle loss and benefits people of all genders and ages.
Weight training is recommended to be done 2 to 3 times a week and helps increase muscle mass and improves flexibility.
It also lowers the risk of cardiovascular diseases, obesity, and strain on the various joints, improves back strength, and relieves pressure on the spine.
Use of resistance bands
Resistance bands are another excellent way of improving your overall muscle mass.
Using these resistance bands correctly creates tears in the muscle fibers.
Your body repairs these muscles by adding more muscle. This usually occurs 72 hours after exercising.
Other exercises like squatting, hip lunges, pushups, etc., work larger groups of muscles, engage your joints and improve muscle strength and power.
Always consult with your healthcare provider to know more about the best exercises for you.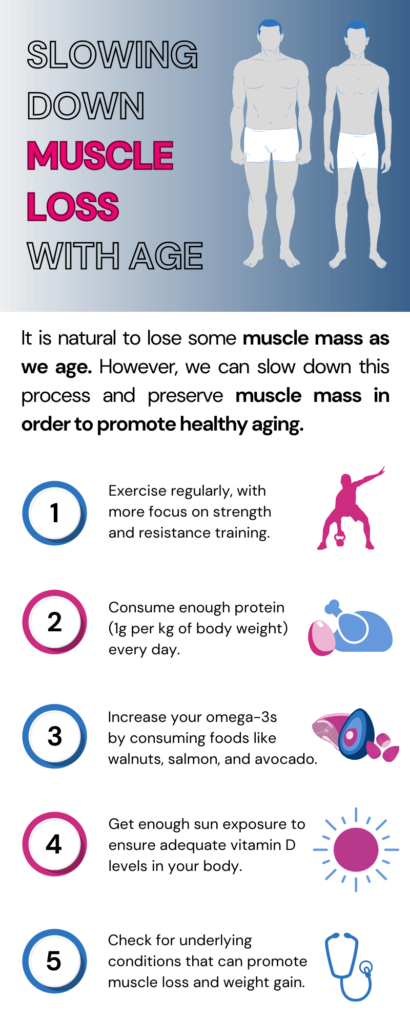 Summary: What Vitamin Stops Age-Related Muscle Loss?
Age-related muscle mass is called sarcopenia, and muscle mass decreases approximately 3% to 8% per decade after age 30.
Aging can cause a decrease in skeletal muscle strength and power, increasing the risk of falls, disability, and joint pain.
Age-related muscle loss is subjective and depends upon factors like gender, age, lifestyle factors, genetics, and activity level.
Nutrients like proteins, vitamins B12, C, D, and folic acid play a role in maintaining optimum muscle mass and preventing aging-related muscle loss.
Besides nutrition, plyometric and isometric exercises are important for preventing aging-related muscle loss.
References