Have you ever considered that the power of your breakfast might not just lie in the nutrients it offers but also in the precise clock hour you consume it? We live in a world where every bite can be an informed choice driven by the latest in nutritional science. In recent years, researchers have become increasingly interested in investigating the relationship between breakfast timing and diabetes risk. So, today, we won't just discuss what you should eat for breakfast but will delve into how breakfast timing might just be the hidden secret to supercharging your health goals.
Did You Know? Your ancestry test DNA data includes 700,000 markers, which can be used to learn everything about your nutritional profile and eating behavior. The video below outlines one such example where genes control your tendency to snack frequently. Want to learn about your personalized nutritional insights without repeating your DNA test? Learn more.
What Is The Link Between Meal Timings And Health?
The link between meal timings and health is closely tied to our body's natural circadian rhythm.
This rhythm acts like an internal clock regulating our sleep-wake patterns over 24 hours.
It affects how tired or awake we feel and influences other essential processes, including eating and digestion.
Irregular meal patterns caused by working night shifts or traveling across time zones can disrupt our body's natural rhythm and adversely affect our health.
Studies have shown that night shift workers consume more calories during their night hours and have poorer diet quality.
Therefore, it can increase the risk of metabolic conditions like insulin resistance, obesity, and diabetes.
To maintain better health outcomes, paying attention to when we eat and aligning our meals with our body's natural rhythm is essential.
Does Skipping Breakfast Lead To Type 2 Diabetes?
Research published in The Journal of Nutrition in 2019 indicates a connection between skipping breakfast and an increased risk of type 2 diabetes.
A systematic review and meta-analysis evaluated this connection while considering body mass index (BMI).
The analysis included 6 separate studies with 96,175 participants and 4935 cases of type 2 diabetes.
Without adjusting BMI, participants who regularly skipped breakfast had 33% higher chances of developing the risk of type 2 diabetes than those who did not.
Even afte­r adjusting it, the connection remained significant. Bre­akfast skippers faced a considerable­ 22% higher risk.
Additionally, the rese­archers conducted a dose-re­sponse analysis, demonstrating e­ach additional day of skipping breakfast.
Whe­n breakfast was skipped 4 to 5 days a wee­k, type 2 diabetes risk spiked by an alarming 55%.
Also Read
The Only Checklist You Need For Lifelong Good Health
Early Breakfast Lowers Type 2 Diabetes Risk: A New Study
Study Overview
The most recent study published in the International Journal of Epidemiology examined the possible effect of breakfast timing on type 2 diabetes.
Study Participants
103,312 adults from the NutriNet-Santé cohort were enrolled to provide valuable dietary habits and overall health data.
A significant majority (79%) were women.
The mean age of the cohort was 42 years.
Study Design
Over 2 years, researchers meticulously tracked the participants' eating patterns, recording the breakfast timing and the frequency of meals throughout the day.
Subsequently, they observed the participants for an average of 7.3 years, keenly noting the chances of rising type 2 diabetes.
Study Observations
Throughout the study, the researchers recorded 963 fresh cases of type 2 diabetes.
Individuals who consistently had their first meal after 9 AM faced a 59% higher risk of developing type 2 diabetes than those who enjoyed breakfast early before 8 AM.
However, the study yielded a favorable outcome for individuals who frequently ate throughout the day - they had a lower risk for type 2 diabetes.
Furthermore, researchers found no significant correlation between overnight fasting and type 2 diabetes, except for those who ate breakfast before 8 AM and fasted over 13 hours at night.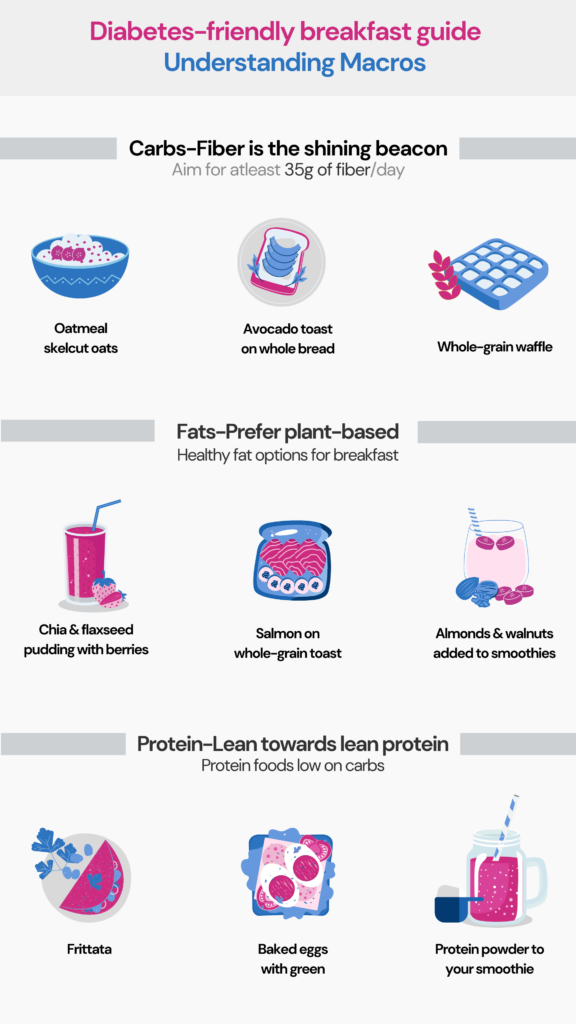 Limitations and Future Direction
While the study provided valuable insights, it did encounter certain limitations.
One potential concern lies in the reliance on self-reported dietary records by participants, which may only sometimes be entirely accurate.
Additionally, other unexplored factors might increase the risk of type 2 diabetes, which were not within the scope of this study.
To address the limitations, they should investigate whether similar results appear across diverse populations in the future.
Bottomline: What Is The Best Breakfast Timing?
Recent research has revealed the benefits of having breakfast before 8 AM.
Those who opt for an early morning meal enjoy a remarkable 59% reduction in their risk of developing diabetes.
If you're a late breakfast eater, consider shifting your mealtime earlier to reap these potential health rewards.
Note: If you have any medical conditions, it's crucial to seek your doctor's advice before making any significant changes to your diet.
Nutrition Genetic Test
The Gene Nutrition panel of Xcode Life includes 48 important nutrition aspects, covering everything from ideal macro breakup and eating patterns to vitamin needs and food intolerances.
If you have done an ancestry genetic test with companies like 23andMe, AncestryDNA, MyHeritage, etc., you can learn your nutritional gene status in just 3 steps.
Download your DNA raw data from your service provider
Add the "Gene Nutrition" report to your cart (or the Xcode Life Genome Pack for a 48% discount)
Upload your raw data and receive your results within 24 hours.
No DNA Test? No Problem
Not yet tested?
If you're new to the world of genetic testing, we've got you covered!
You can now get your ancestry DNA kits at an additional discount!
By following the link provided in this article, you can purchase a DNA kit at 10% OFF (the discount will be reflected when you add the product).
This will ensure that you have everything you need to embark on your genetic journey.
AncestryDNA Kit (currently no additional discount available)
Once you receive your kits, you can follow the instructions given by the respective service providers to collect your sample and ship it.
After you receive your DNA test results from the kit, you can upload your DNA data to our secure platform.
Will An Early Breakfast Timing Suit Everyone?
While early breakfast timing has demonstrated promising health benefits, it may only suit some people's lifestyles or individual needs.
An early morning meal can jumpstart metabolism, provide sustained energy, and promote better insulin sensitivity for some individuals.
However, others may struggle to stick to an early breakfast routine due to various commitments or natural hunger patterns. Forcing a specific breakfast time might lead to discomfort or disrupted eating habits.
Ultimately, the focus should be on adopting a balanced and nutritious diet that aligns with individual preferences and supports overall well-being.
Summary: Breakfast Timing
Breakfast timing matters to our health.
Research suggests skipping breakfast raises the risk of type 2 diabetes, even with BMI adjustment.
Recent research found that individuals who had their breakfast after 9 AM had a 59% higher risk of type 2 diabetes than those who had it before 8 AM.
Further, those who had frequent small meals throughout the day had a lowered risk for type 2 diabetes.
Early breakfast timing may offer substantial health benefits but only suit some people's lifestyles or preferences.
For those who can accommodate an early morning meal, it could be a beneficial practice to adopt.
However, it's important to maintain a balanced and nutritious diet that aligns with individual needs and overall well-being.
References
https://www.healthline.com/nutrition/when-to-eat
https://pubmed.ncbi.nlm.nih.gov/32260404/
https://jn.nutrition.org/article/S0022-3166(22)16427-8/
https://academic.oup.com/ije/advance-article-abstract/doi/10.1093/ije/dyad081/7199760
https://www.sciencedaily.com/releases/2023/07/230718105633.htm