What Is Neuroticism?
Neuroticism is a negative personality trait that reflects an individual's emotional stability.
People with this trait find it difficult to control their emotions, have poor self-regulation, and have trouble dealing with stress.
Individuals who are neurotic also become easily aroused or stimulated and find it difficult to calm themselves down.
Neuroticism is considered one of the 'Big Five personality traits with extraversion, openness, conscientiousness, and agreeableness.
Learn more about how genes affect your personality and behavioral traits
Common Neurotic Traits
Common neurotic traits that are observed in people at the higher end of the spectrum include:
Constant anxiety and irritability
Poor emotional stability
Excessive sensitivity to environmental stress
Self-consciousness and shyness
Negative neurotic traits like aggression, negativity, and anxiety.
Moodiness and depression
Very low or no resilience to stress
Chronic worrying
Jealousy
Guilt and fear over small things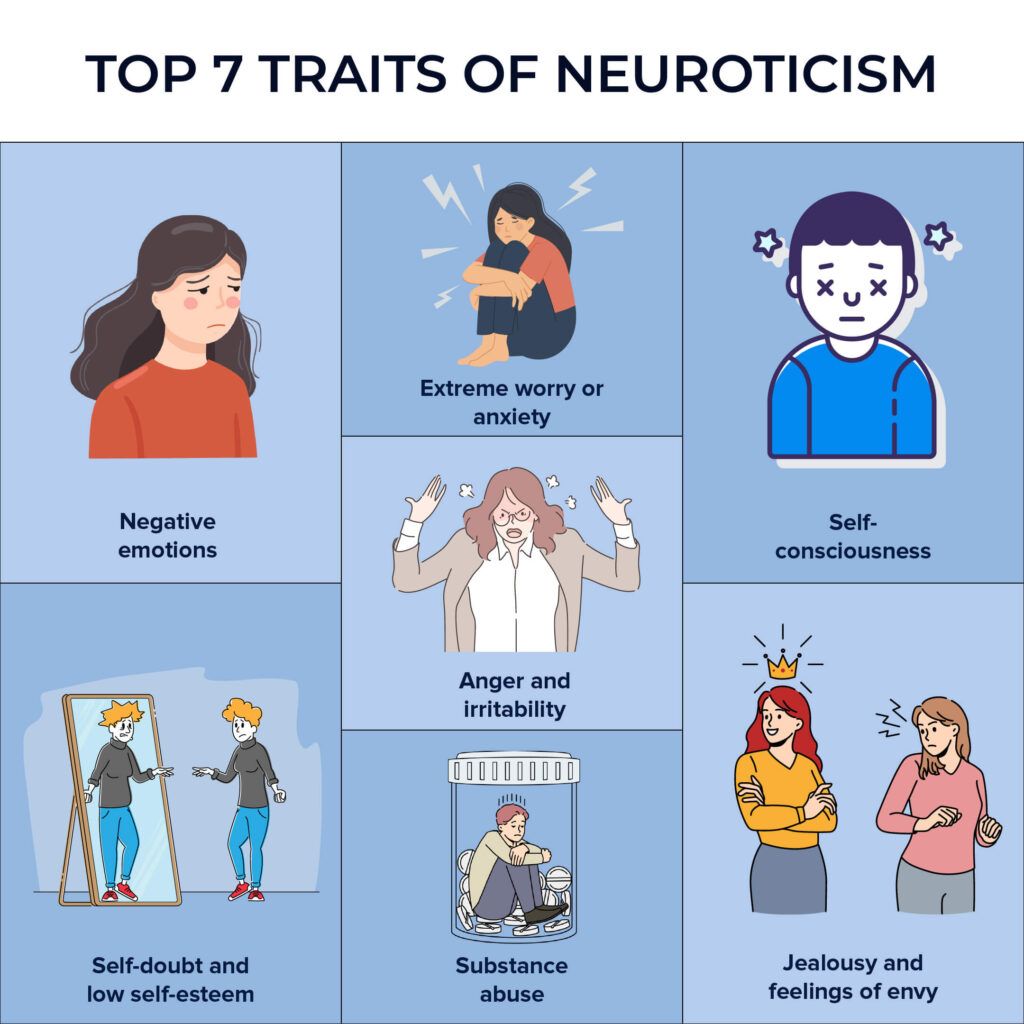 Image: Top 7 traits of Neuroticism
Neuroticism and Relationships
Due to the unpredictability and a tendency for negative behavior among people with neuroticism, they may find it difficult to maintain relationships, especially marital ones.
Few reasons why people with neuroticism may rattle those around them:
They tend to be overly critical of others
They may be excessively dependent on others
They have a tendency to complain often
Many of them require and ask for constant reassurance
They tend to blow up minor issues into big fights
Is Neuroticism Genetic?
A study published in Molecular Psychiatry in 2016 found new gene associations linked to neuroticism.
These genetic links indicate an individual's tendency to develop neuroticism.
People with neuroticism also tend to develop conditions like anxiety, depression, obesity, and heart disease.
How Does Our DNA Influence How Neurotic We Are?
Though several places in our genes may contribute to neuroticism traits, only 15% of neuroticism is determined by genetics.
This means the remaining 85% is influenced by the environment.
This means that just because you have a genetic tendency for neuroticism, you will not positively develop it.
Further research is required to pinpoint the exact locations on the DNA responsible for this condition.
CNR1 Gene and Neuroticism
Variations in the cannabinoid receptor 1 or CNR1 gene, located on chromosome 6, have been associated with an increased risk of depression in some people in response to stressful situations.
Some variations in the CNR1 gene have been linked to high neuroticism and low agreeableness.
rs7766029 is a single nucleotide polymorphism (SNP) in the CNR1 gene that shows a significant interaction between negative life events and the risk for depression.
The common allelic variants, i.e., T carriers, are more vulnerable to negative life events and higher neuroticism than those having the rare allele (C).
Modifying The Neuroticism Behavior
Neuroticism modifies an individual's behavior and affects every aspect of their life, from health to relationships. Here are some ways to manage and cope with neuroticism:
Seek professional therapy
Though neuroticism is not a medical condition, most people with this personality trait have one or more psychological conditions. So, if you are struggling with neuroticism or behavior, seek professional help.
Treatments like Cognitive Behavioral Therapy (CBT) and Acceptance and Commitment Therapy (ACT) may help you deal with negative emotions better.
Believe that change is possible
It may seem difficult for people high on neuroticism to find positivity. However, believing that change is possible is one of the first steps to modifying their neurotic behavior.
When these individuals realize they have control over their emotions in stressful situations, the subsequent steps to modify their neuroticism will become easier.
Mindfulness and meditation
People with neuroticism may benefit from mindfulness or meditation, which allows them to calm their minds and live in the present moment.
These practices also help reduce stress and lower blood pressure, calming the mind and body.
Develop practical problem-solving skills
Individuals with neuroticism tend to get flustered easily as they don't look at issues objectively.
Developing problem-solving skills will help them convert their negative emotions into constructive solutions rather than allowing their emotions to pile up.
Change how you behave or talk to themselves
People aware of their neuroticism are most often powerless when it comes to defeating their behavior. A good place to begin is by changing the way they talk to themselves.
Constant positive reinforcements can help modify underlying neurotic tendencies and replace them with optimistic thoughts.
Summary
Neuroticism is a negative personality trait; people with this have poor control over their emotions.
Neuroticism is considered one of the 'Big Five' personality traits.
People with neuroticism show many signs, including anxiety, irritability, poor emotional stability, and depression.
Due to a lack of control over their emotions and behavior in stressful situations, neurotic people tend to have troubles in their relationships.
Neuroticism is said to have a genetic linkage though only 15% of the condition is determined by genetics.
Variations in the CNR1 gene are said to be associated with an increased tendency for neuroticism.
Since neuroticism is not a medical condition but a personality trait, timely intervention can help modify it and simplify life for the individual.
References