Have you ever experienced a sudden and unexplained pain in your back?
While incorrect posture and a sedentary lifestyle can explain the pain, there is another surprising cause for your back pains!
Stress.
Our muscles tense up unconsciously when we are under pressure.
This can cause muscle inflammation and soreness in various parts of our bodies, such as the neck, shoulders, and back. If left unattended over time, this condition can worsen into an endless cycle of pain.
So, if you're dealing with back pain, it's time to examine your stress levels more closely and discover ways to manage them effectively.
Let's explore some strategies to help you break the stress and back pain cycle.
How Does Stress Affect Your Body?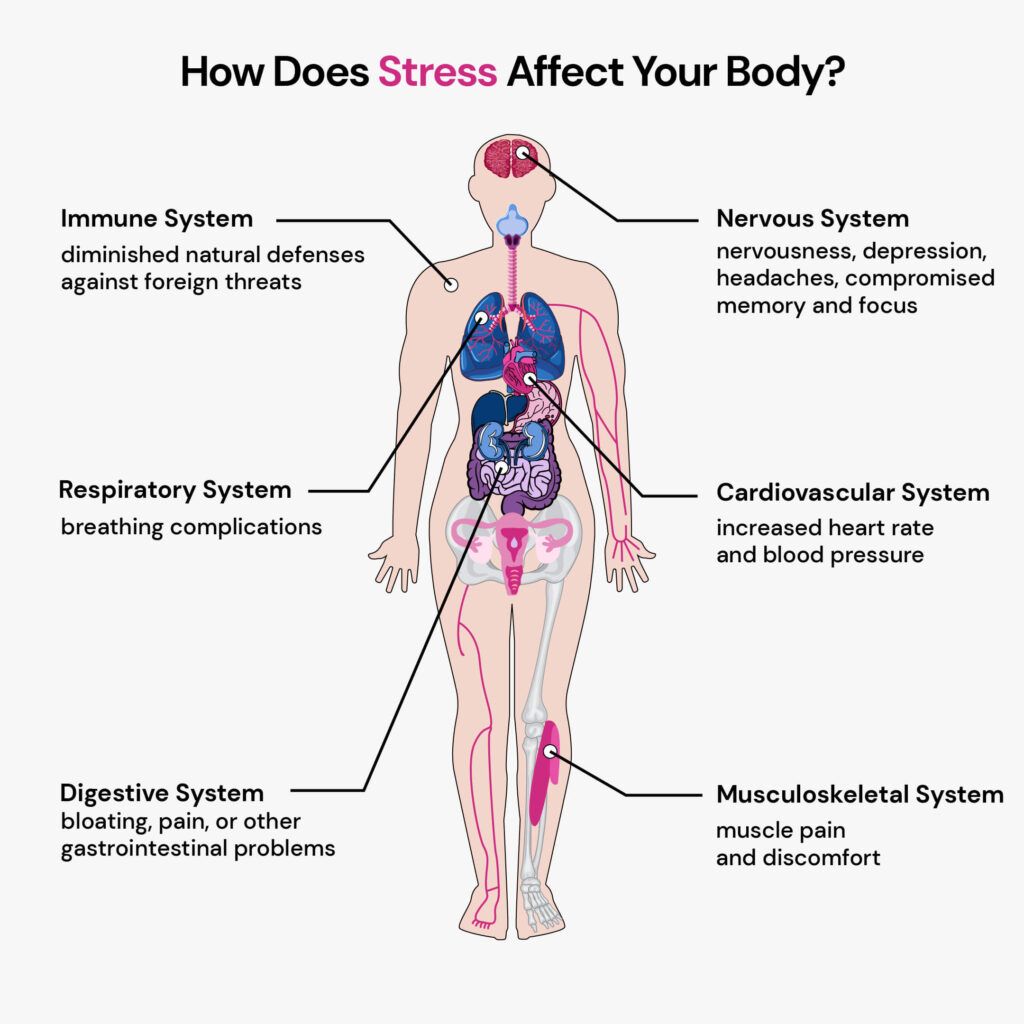 It can disrupt various systems within our body, resulting in discomfort and prolonged health issues.
The following are some ways that stress may impact our bodies:
Musculoskeletal System: When we experience stress, it causes muscles to tense up, which may lead to pain or discomfort.
Digestive System: Communication between the brain and gut becomes interrupted due to stress leading to bloating, pain, or other gastrointestinal problems.  
Cardiovascular System: High-stress levels over an extended time increase the heart rate, ultimately increasing blood pressure and raising the risk of heart attack and stroke.
Immune System: Prolonged stress can diminish our body's natural defenses against conditions and illnesses, harshly impeding its capability of repelling potential health threats.
Respiratory System: Stress hormones can create breathing complications, particularly in those with pre-existing respiratory sicknesses.
Nervous System: Chronic strain can disrupt nearly all biological activity within our body, contributing towards physical as well as mental afflictions, including but not limited to–nervousness, depression, headaches, muscle-based pain, heart disease, elevated blood pressure, stroke, sleep deprivation, obesity, compromised memory, and focus.
What Is The Relationship Between Back Pain And Stress?
'Stress-related' back pain is the idea that psychological and emotional factors significantly impact the condition.
A well-known physician and professor of physical medicine and rehabilitation at New York University have also introduced a widely-accepted concept regarding stress-induced back pain called 'Tension Myositis Syndrome (TMS).'
He believes that psychological and emotional elements could be the sole contributing factors to back pain. 
There are a bunch of studies that support this theory. Let's have a look at some:
A scientific study of a diverse population across the United States discovered that the gravity of anxiety has a clear correlation with chronic low back pain. It was found in this survey that severe psychological strain is associated with 2.8 times more elevated risk for long-term low back pain when compared to the general populace's data.
According to a two-year healthcare study, psychosocial tension was a significant factor in causing increased spinal pain. The study found that the top 2 triggers for intolerable distress were stress due to job and social situations.
A group of Danish researchers found a significant association between perceived stress and odds of low back among healthcare providers.
There are several theories on why stress can cause or worsen back pain. For example, stress can cause muscle tension, leading to pain and discomfort in the back. Additionally, stress can affect the body's inflammatory response, which may contribute to pain.
While, in some instances, physical health conditions could be responsible for chronic back pain, it is evident from these studies that any kind of emotional distress, including stress, is a significant risk factor for back pain. 
However, at this point, it may be interesting to note that the relationship between stress and lower back pain may vary among individuals due to various factors, including the person's genetic makeup.
For example, COMT is a gene that influences how people react to stress. This gene comes in 3 variants:
So, depending on their genetic makeup, even if two people are under the same stressful conditions, they may respond differently to stress. 
Gene changes or variations can also affect an individual's pain perception and the response to and effectiveness of pain medication. 
Therefore, incorporating genetic information can lead to personalized treatment plans and better management of this condition.
What Does Back Pain From Stress Feel Like?
Stress-related back pain is increasingly recognized with different symptoms and treatment considerations.
The overall characteristics of stress-related back pain include symptoms such as:
Muscle tightness or stiffness in your back
A dull, achy pain that may feel like it is coming from the muscles, bones, or joints in the back
Sharp, shooting pains that may be localized to one area of the back or radiate down the legs
A feeling of weight or tightness in the back
A sense of discomfort or soreness that worsens with movement or activity
A burning or tingling sensation occurs in the back muscles.
In many stress-related back pain cases, patients complain of the pain 'moving around.'
How Long Does Stress Back Pain Last?
Pain connected to stress can differ in duration based on numerous elements, including discomfort and the person's reaction to strain.
Acute (temporary) back pain usually persists for a few days to many weeks, then discontinues by self-care – like exercising and deep breathing approaches.
If you have been experiencing pain in your back for more than 12 weeks, even after receiving treatment for the initial cause, it is referred to as chronic back pain. In cases where stress is the primary cause of this pain, a modified treatment plan may be required to address the condition's physical and mental aspects.
If your back pain prolongs longer than three months, it's viewed as long-term and might need medical support to stop irreversible loss of operation.
Unaddressed stress-related back pain can result in enduring distress, thus making it paramount to secure medicinal attention if you think your back ache is due to strain.
Tips For Relief From Stress-induced Back Pain
Stress-induced back pain can be relieved through various methods.
Here are some tips that can help:
Exercise and stretch: Physical activity can release endorphins that reduce stress levels. Incorporate some physical activity during the workday, such as taking breaks or using a standing desk. Schedule regular exercise time at home.
Apply cold and hot compresses: Using a cold compress and a hot compress can help alleviate neck and back pain caused by stress. Wrap an ice pack and a hot water bottle separately and apply them to the affected area.
Maintain good posture: Maintaining good posture can alleviate back pain. Sit and stand upright, and avoid slouching or hunching forward.
Seek treatment: Treatment options for stress-related back pain include physical therapy, medications (such as muscle relaxants or antidepressants), and psychotherapy to address underlying psychological issues.
Manage stress: To reduce stress-induced back pain, try managing your stress levels with relaxation techniques like meditation and deep breathing. It may also be helpful to seek guidance from a healthcare professional, like a physical therapist or counselor, for treatment.
Summary
Stress-related back pain is a growing concern for many individuals today.
However, it can be relieved through various methods, including stress reduction techniques, regular exercise, stretching, good posture, and ergonomic workstations.
If you suspect your back pain is stress-related, seeking medical advice to rule out other possible causes is recommended.
A healthcare professional can create a treatment plan considering physical and emotional pain. This may include exercises, physical therapy, and stress management techniques.
References