What Are Analgesics?
Analgesics, also called painkillers or pain relievers, are a group of medications that relieve pain and inflammation without making you drowsy. They are available as over-the-counter and prescription drugs.
There are different classes of analgesics, but the two most commonly used ones are Non-steroidal Anti-inflammatory Drugs (NSAIDs) and opioid analgesics (narcotics).
Analgesics are always prescribed based on how strong they are. The WHO recommends using the analgesic ladder, a step-wise approach to pain relief.
According to this ladder, non-opioid analgesics (like acetaminophen and NSAIDs) are prescribed for mild-to-moderate pain, weak opioids (like codeine tramadol) for moderate-to-severe pain, and stronger opioids (oxycodone and morphine) for severe pain.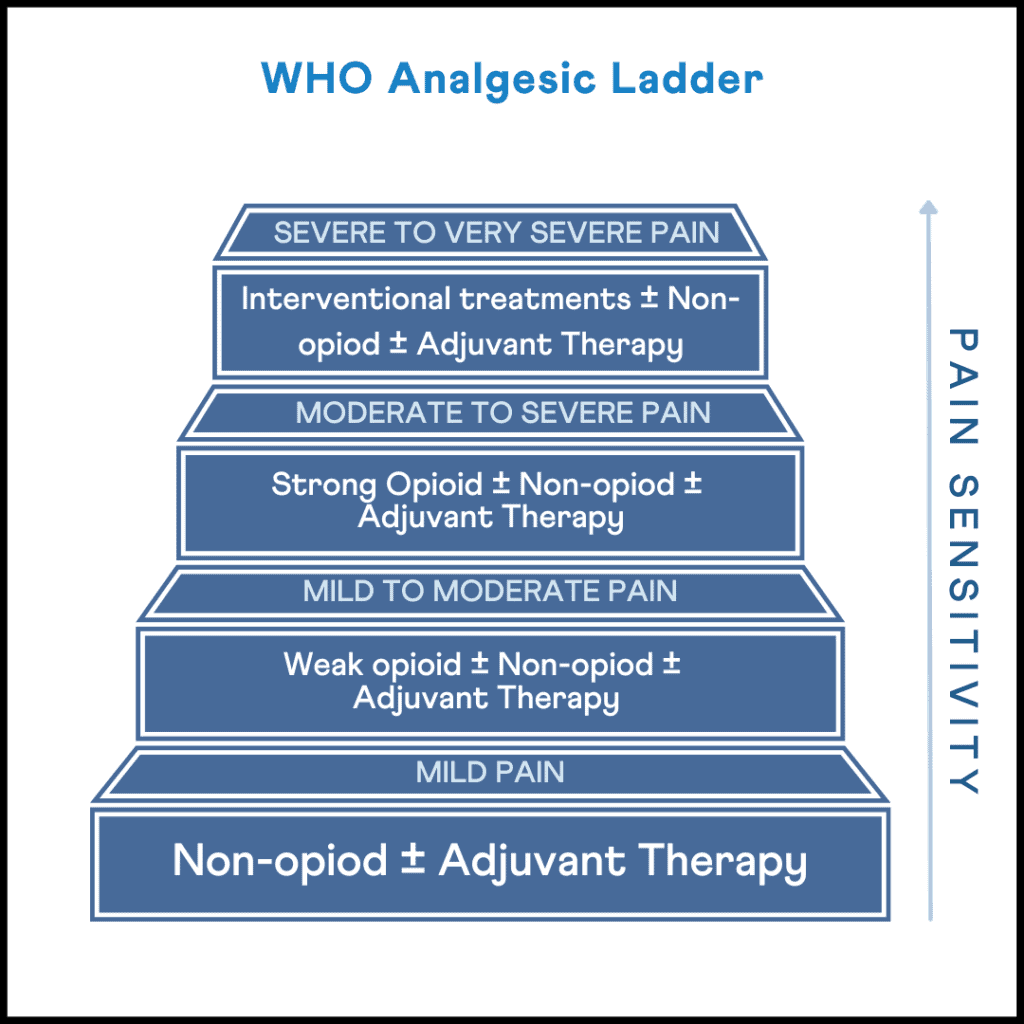 Image: WHO Analgesic Ladder
Analgesics are available in different forms:
Films placed under the tongue
Orally consumable liquids
Injectable liquids
Oral pills, tablets, and capsules
Nasal spray
Powder
Topical cream
Analgesics may be used to relieve pain and inflammation due to various reasons:
After a surgery
Following an injury like a fracture
Headaches
Bone-related pain seen in conditions like arthritis
Acute and chronic body pains
Muscle soreness
Menstrual cramps
Cancer
Migraines
Gastrointestinal disorders
Fibromyalgia
How Do Analgesics work?
Different analgesics have different mechanisms of action.
NSAIDs bring about pain relief by blocking the effect of cyclo-oxygenase enzymes.
These enzymes play a role in producing prostaglandins, chemicals responsible for pain and inflammation at the injury site.
When there is a reduction in prostaglandin production, pain and inflammation are reduced.
Other analgesics that have a similar mechanism of action to NSAIDs include acetaminophen, aspirin, and COX (cyclo-oxygenase) inhibitors.
Though paracetamol is known to work similarly to NSAIDs (blocking the cyclo-oxygenase enzymes), it does not reduce inflammation.
Opioids work by binding to opioid receptors in the central nervous system or CNS, gut, and other parts of the body and altering how your brain perceives pain.
As a result, you feel less pain, and in a way, these drugs increase your pain tolerance.
Some examples of opioids are codeine, fentanyl, methadone, naloxone, and oxycodone.
What Are The Side Effects Of Analgesics?
Though analgesics are widely used, they may cause side effects in some individuals when used too often or in large doses.
Some side effects of analgesics are:
Heartburn
Diarrhea or constipation
Nausea
Vomiting
Dark urine
Dizziness
Ringing in the ears
Allergic reaction
Excessive bleeding
Tiredness
Yellowness in the eyes and skin (symptoms of jaundice)
Opioid Addiction - What Are The Signs?
Opioid analgesics may also cause any of the above side effects in addition to causing physical dependence.
Some signs that you may be addicted to an opioid analgesic are:
Taking the drug too often or more than required
Inability to cut back on the intake of the drug
Difficulty in going about your daily routine
Continued consumption of the drug despite experiencing side effects
Having withdrawal symptoms on reducing drug intake.
If you experience any of the side effects mentioned above, you must consult your doctor. If you notice any of the following side effects, stop taking the NSAIDs or analgesic drugs and report to your doctor immediately:
Swollen ankles
Difficulty in breathing
Black-colored stools
Dark, coffee-colored vomit
How Do Analgesics Interact With Other Drugs?
Some drugs that cause significant interactions with analgesics are:
Antacids and food are both known to delay the absorption of analgesics, which means the slow effect of the analgesic on pain.
Drugs bound to proteins such as phenytoin, warfarin, and phenylbutazone compete with the binding site of salicylates (a subclass of NSAIDs). This reduces the efficacy of the analgesic.
Consuming beta-blockers with salicylates can affect their metabolism (breaking down and processing the drug) and elimination from the liver.
Some NSAIDs interactions with other drugs that may cause adverse reactions are:
Taking NSAIDs with blood thinners like warfarin can increase the risk of bleeding.
When combined with ACE inhibitors (medicines used to treat high blood pressure and heart problems), analgesics may cause kidney failure. The same adverse effect may be seen when analgesics are consumed with diuretics (medicines that remove excess fluid from the body).
When two NSAIDs like a low-dose aspirin are combined with another NSAIDs drug, there may be a greater risk of ulcer formation or bleeding in the gastrointestinal tract.
Taking analgesics with antibiotic isoniazid may cause liver damage. So, it is best to avoid taking these drugs together.
Always inform your doctor about your current medications to avoid adverse effects due to analgesic interaction with other drugs you may be taking.
Genes- Drug Interaction: Analgesics
KCNJ6 and Analgesics
The KCNJ6 gene contains instructions for producing an enzyme called Potassium Inwardly Rectifying Channel Subfamily J Member 6. This enzyme allows a greater inflow of potassium ions into the cell.
In doing so, this gene regulates body processes like heart rate and the activity of nerve cells.
Certain changes in the KCNJ6 gene have been associated with analgesic requirements in patients who have undergone surgery.
Patients having a change (variation) called 1032A/A in the KCNJ6 gene required more analgesics than those with the other variations - 1032A/G and 1032G/G.
This is because 1032A/A is associated with lower levels of the enzyme and insufficient analgesic effects.​​
COMT and Analgesics
Val/Met
The COMT gene provides instructions for making the enzyme catechol-O-methyltransferase.
The COMT gene has 3 types named Val/Val, Val/Met, Met/Met. The three types each produce different levels of the COMT enzyme.
The COMT gene has been associated with postoperative pain treatment using opioid analgesics.
According to a study, individuals having the Val/Met type required less opioid analgesia in the first 24 hours after surgery.
This was not seen with individuals carrying the Va/Val and Met/Met types.
OPRM1 and Analgesics
The OPRM1 gene gives instructions for making a mu-opioid receptor protein.
These receptors form a part of the body's system that regulates pain, reward, and addictive behaviors.
A study found that individuals with the 118G or GG type of the OPRM1 gene require more postoperative analgesics than those with the AA or the AG types.
Recommendations For The Safe Use Of Analgesics
Analgesics like NSAIDs, opioid analgesics and acetaminophen are all metabolized in the liver.
So, if you suffer from any liver disease or condition, you must inform your doctor.
To avoid adverse reactions or severe side effects of analgesics, people with chronic liver diseases, especially hepatitis and cirrhosis, must avoid consuming analgesics.
Analgesics are known to interact with different drugs. Therefore, to avoid adverse reactions, you must inform your doctor about any medicines or supplements you are currently taking before taking analgesics.
Alcohol and analgesics are both known to irritate the stomach lining.
Drinking alcohol while taking NSAIDs may increase your risk for gastrointestinal lining damage and bleeding.
So, if you are taking analgesics, especially NSAIDs, you must avoid drinking alcohol.
Appropriate dosage and duration
Always take an analgesic when necessary and in the minimum dose possible that relieves your pain.
It is also important to take the painkiller only as long as it is needed.
Genetic testing can be beneficial in determining how your body may respond to analgesics and identify your risk for any side effects.
Analyze Your Genetic Response to Analgesics
Summary
Analgesics, also called painkillers, are a group of drugs that relieve pain and inflammation.
There are different groups of analgesics, but the most commonly used are NSAIDs and opioid analgesics.
Opioid analgesics carry a risk of substance abuse and physical dependency on the drugs.
Different analgesics have different mechanisms of action to bring about pain relief and decreased inflammation.
Though analgesics are largely safe, they may cause side effects in some individuals.
Analgesics interact with other drugs, including NSAIDs, beta-blockers, antihypertensive, and blood thinners.
Three genes that show modified analgesic requirements in post-operative patients are the KCNJ6, COMT, and OPRM1.
To ensure safe consumption of analgesics, inform your doctor about your medical history and current medications, and avoid alcohol consumption.
Genetic testing helps your doctor determine the right type and appropriate dosage of analgesics for you.
References