While many quickly point to tight shoes as culprits for bunions, the backstory might be more rooted in our genes than our wardrobe choices. Much like inheriting specific facial features or body types from our parents, our feet's shape and structure—down to conditions like bunions—might also be a family legacy. This article delves deep into bunions and aims to answer the question, "are bunions genetic?" while exploring how hereditary factors combine with external influences in shaping our feet's health and appearance.
Genetic ancestry tests are becoming increasingly popular. While your DNA can be used to learn about your roots, did you know that it can also reveal important things about your health risks and wellness aspects? This allows you to take proactive measures for health conditions, even before the symptoms appear, thereby preventing it. You can upload your DNA data to learn 1,500+ things about your health. Learn more.
What Are Bunions?
Bunions are bony bumps on the side of the foot at the base of the big toe.
They are also called hallux valgus.
Bunions can exert pressure on the joint and move the big toe out of place.
Bunions can cause foot pain, stiffness, and swelling.
If left untreated, they can get worse over time.
Are Bunions Normal?
A small bump at the base of the big toe is common.
It could be a part of the average foot shape.
Bunions themselves are also reasonably common.
They are reported in 23 percent of people aged between 18 and 65 and 36 percent of people older than that.
Some people feel bunions are harmless and don't need treatment.
However, bunions are a symptom of a progressive bone disorder and can cause long-term problems if left untreated.
At What Age Do Bunions Develop?
Bunions can occur at any age.
However, they are more common as you get older.
People start to notice bunions, usually in their 20s or 30s.
However, children as young as 4 or 5 can also develop bunions.
Rarely children may be born with bunions, called congenital hallux vagus.
The earlier the onset, the more severe the problem.
How Do Bunions Look Like?
A bunion looks like a bulging bump on the outside of the base of the big toe.
It might be accompanied by swelling and redness around the big toe joint.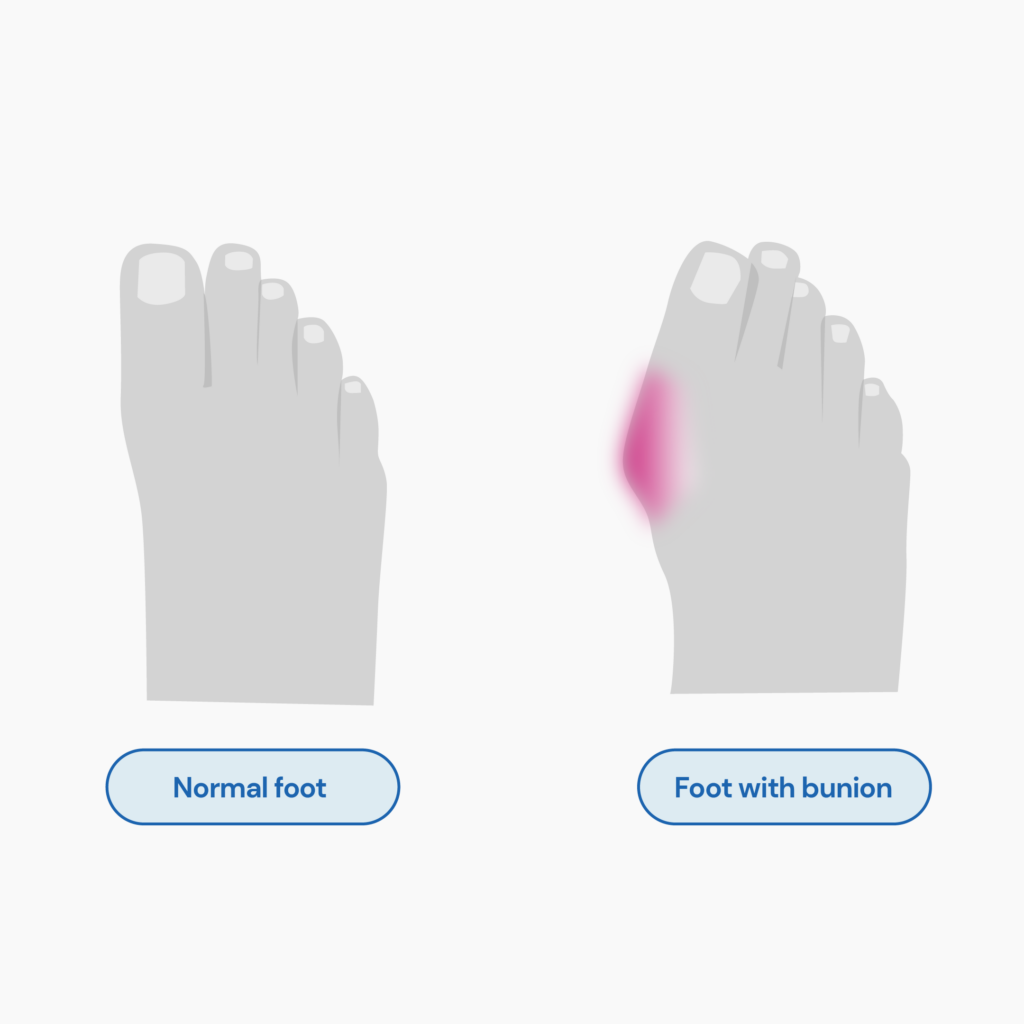 What Is The Main Cause Of Bunions?
The exact cause of developing bunions is not known.
However, multiple factors could contribute to it.
Genetics: Studies have shown that bunions might be genetic. Some people who inherit foot structures, such as flat feet, are more likely to develop bunions. Genetic disorders such as Ehlers-Danlos syndrome and Down syndrome can also contribute to developing bunions.
Disorders: Suffering from inflammatory arthritis in the foot, like rheumatoid arthritis, can make you prone to developing bunions. Neuromuscular conditions like cerebral palsy and polio might also be a risk factor.
Wearing poorly-fitted footwear: Although this is not the leading cause of bunions, wearing poorly-fitted footwear, like pointy shoes and high heels, can worsen bunions over time.
Foot injury or trauma: Foot fractures and toe sprains can cause bunions. Turf toe, a significant toe sprain caused by a sports injury, is a risk factor for bunions.
Are Bunions Genetic?
Bunions are genetic, although they don't have a clear inheritance pattern.
Many affected individuals have multiple family members affected by bunions.
The risk of developing bunions is higher for those with first-degree relatives affected by the condition, such as a parent or a sibling.
Can You Inherit Bunions From Your Biological Mom Or Dad?
Bunions need a clear pattern of inheritance.
You can inherit it from either of your parents.
You also have a risk of having if your siblings have bunions.
Surprisingly, some people will never have bunions, even if it runs in their families.
Also Check Out: How To Download 23andMe DNA Data?
Is There A Bunion Gene?
There are no specific genes associated with bunions.
Some foot shapes and conditions are associated with an increased risk of developing bunions.
Hypermobility is a genetic condition where the ligaments are loose and cannot hold the metatarsal in place.
A tight Achilles tendon is also a genetic condition and a risk factor for bunions.
Can You Prevent Genetic Bunions?
Your genes increase the risk of you getting bunions.
However, it does not mean that you will get them.
Sometimes, you might not get them even if you have them in your family.
Likewise, you can get them even though no one in your family has the condition.
If you risk developing bunions, consider monitoring your feet and wearing comfortable footwear.
Even if you get them, you can prevent it from worsening.
Are Bunions Considered To Be Birth Defects?
Children are rarely born with bunions.
However, a person can be born with an abnormal alignment of bones, which can cause bunions later in life.
Thus, bunions are not precisely a congenital disability.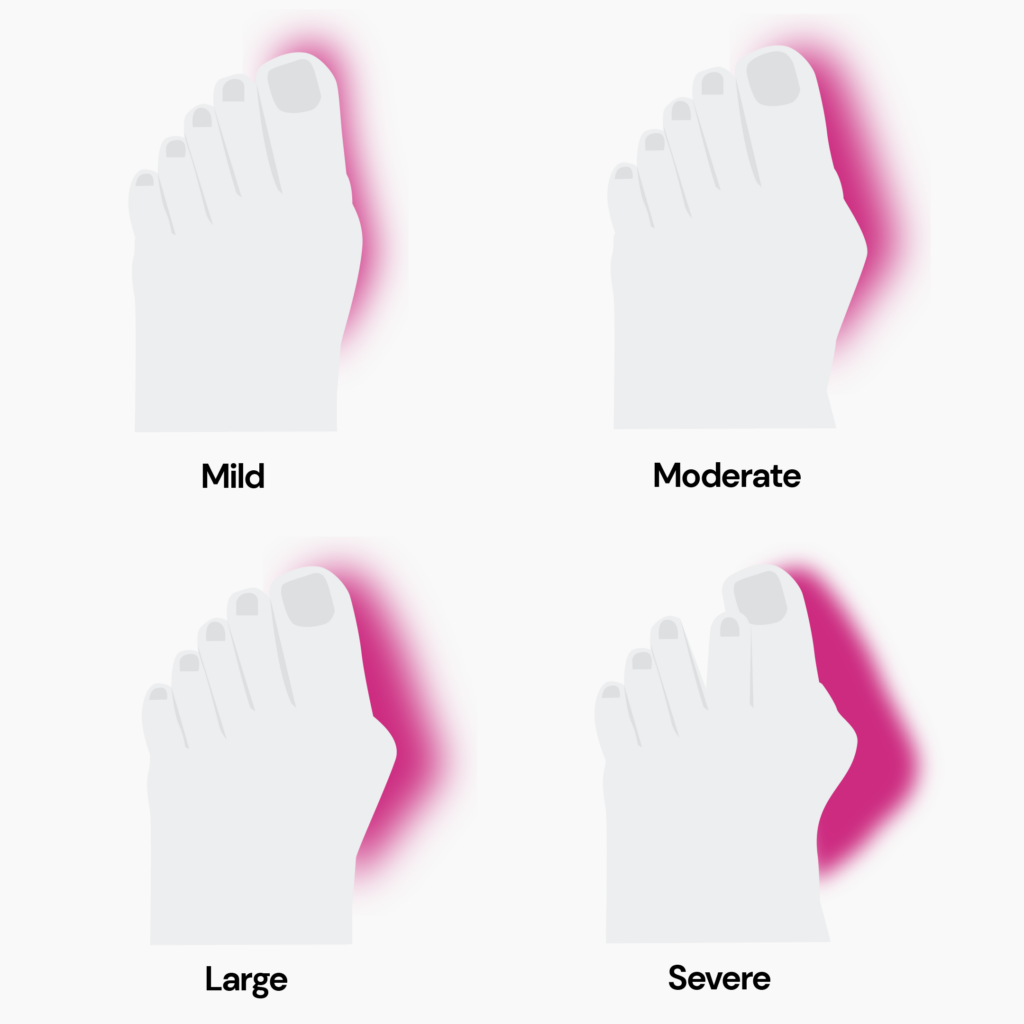 Who Is More Prone To Bunions?
Bunion is a genetic condition and runs in families.
People with a parent or sibling with bunions are more likely to develop bunions over time.
Women are more likely to have bunions than men.
Pregnancy and menopause can worsen bunions.
Prevention And Treatment
Bunion is a common condition and can be managed with treatment.
Treatment options include management techniques and surgery.
Is It Possible To Prevent Bunions?
Even if you have a foot shape that can potentially lead to developing bunions, you can still prevent it from setting.
If bunions run in your family, keep track of your feet as they develop.
Make sure to wear well-fitting footwear.
Regularly stretch your feet and toes to keep the joint mobile and the supporting muscles and ligaments strong.
What Are The Treatment Options Available For Bunions?
Treatment options for bunions include conservative measures and surgery.
Bunions can be managed by:
Wearing comfortable shoes with a wide toe box. It is better to avoid pointy shoes or high heels as they put a lot of pressure on the feet.
Using over-the-counter padding or inserts. It will prevent pain and reduce symptoms.
Taking anti-inflammatory medications like NSAIDs. Your doctor might also prescribe cortisone injections to reduce swelling.
Applying ice packs on the affected area to reduce pain and swelling.
Surgery might be the last resort if you are in excessive pain due to bunions. A surgery can realign the joint, correct any deformities, and alleviate pain.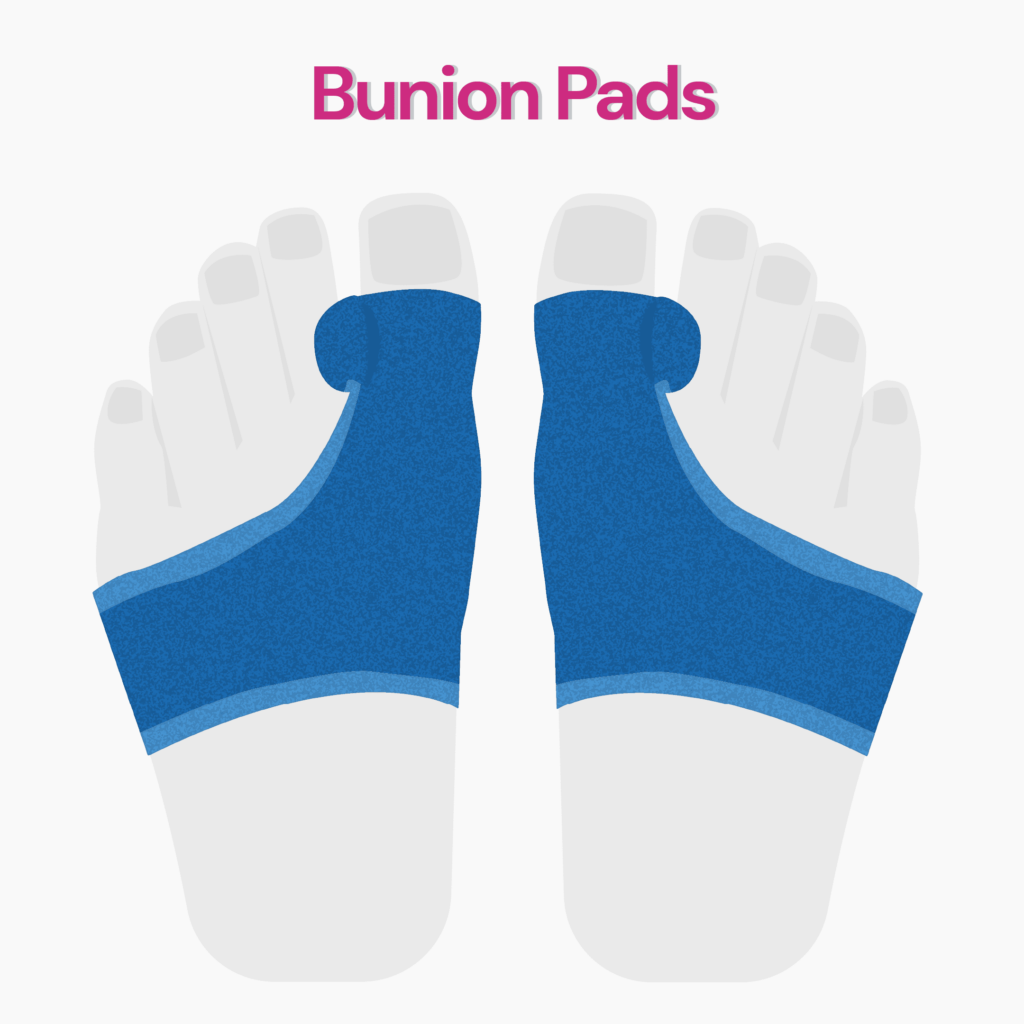 Can Bunions Be Cured Naturally?
Bunions don't heal on their own.
However, supportive treatment can help alleviate pain and relieve symptoms.
Non-surgical methods can also prevent bunions from worsening.
However, surgery is required if you want to cure bunions completely.
Does Exercising Help With Bunions?
Exercising can help with bunions.
Five critical muscles in the leg help support body weight and foot movement.
When strengthened, these muscles, 3 in the foot and 2 in the calf can help reduce bunion-rated pain.
Simple exercises like calf raises and picking up small objects with your toes will help strengthen these muscles and prevent bunions.
Other Management Options
Custom orthotics: If you face extreme discomfort and pain from bunions, consider getting a custom orthotic. It will give your feet better support and pain relief.
Maintaining a healthy weight: Excess weight can put a lot of pressure on your feet. Bunion pain worsens if you are suffering from obesity. Thus, maintaining a healthy weight is essential to prevent excess strain on your feet.
Getting adequate rest will take the pressure off your feet and help manage bunion pain.
Summary: Are Bunions Genetic?
Bunions are a bump that forms at the base of the big toe.
It is a common condition that usually affects adults.
If left untreated, it can worsen over time and lead to pain and mobility issues.
Bunions are genetic and run in families.
Some diseases like polio can also be a risk factor for developing bunions.
Wearing comfortable footwear and exercising the feet can help manage bunion pain.
If the condition is severe, you can also opt for surgery.
References
https://medlineplus.gov/genetics/condition/bunion/#inheritance
https://www.ncbi.nlm.nih.gov/books/NBK513134/