About Genesight
GeneSight, founded in 2014, is a clinical genomic testing company that analyzes how genes influence your responses to mental health medications.
This pharmacogenomics company attempts to provide DNA-based recommendations for certain medications.
GeneSight is a part of a biogenetic company, Myriad Genetics. Myriad was founded by previous CEO and President Peter Meldrum, Walter Gilbert, Kevin Kimberlum, and Mark Skolnick. It is currently led by CEO and President Paul J Diaz.

Overview of GeneSight Services
GeneSight offers 2 tests for its users:
The GeneSight Psychotropic Test
The GeneSight Psychotropic test examines your genetic makeup and provides insights into how likely your body may respond to medications that are used to treat mental health conditions like depression, anxiety, and ADHD.
This information can help your clinician alter your dosages and recommend an alternative drug, if required, to minimize the side effects.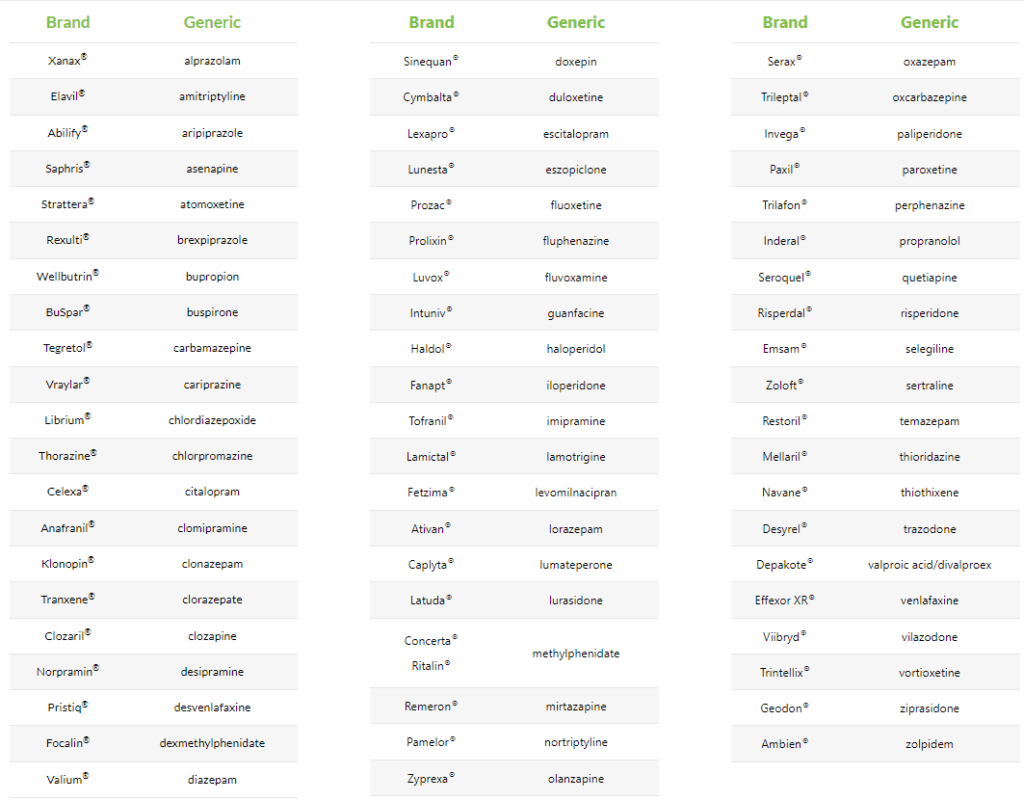 Image: Drugs covered in GeneSight Psychotropic Report
Check Out: Xcode Life's Personalized Medicine Report - 500+ drugs, $50
The GeneSight MTHFR Test
MTHFR (methylenetetrahydrofolate reductase) enzyme is very crucial for converting the inactive form of vitamin B9, folate, or folic acid, to the active form.
The active form is called L-methylfolate. This test examines whether a person carries any changes in the MTHFR gene that may interfere with conversion and lead to vitamin B9 or folate deficiency.
Check Out: Xcode Life's MTHFR and Methylation Report (15 genes) - $30
GeneSight: How to Order?
Users cannot directly place an order for the DNA test kit. It must be done through a doctor or nurse practitioner.
Specimen collection (cheek swab) can either be done by the clinician or at home - in the latter case, your clinician can have the kit directly shipped to your home.
Once the sample is collected, it needs to be sent to the lab for analysis. The results are typically available after 2 days.
The results are sent to the healthcare provider who placed the order. Only after they consult with the company to understand the information can they communicate the results to their patients.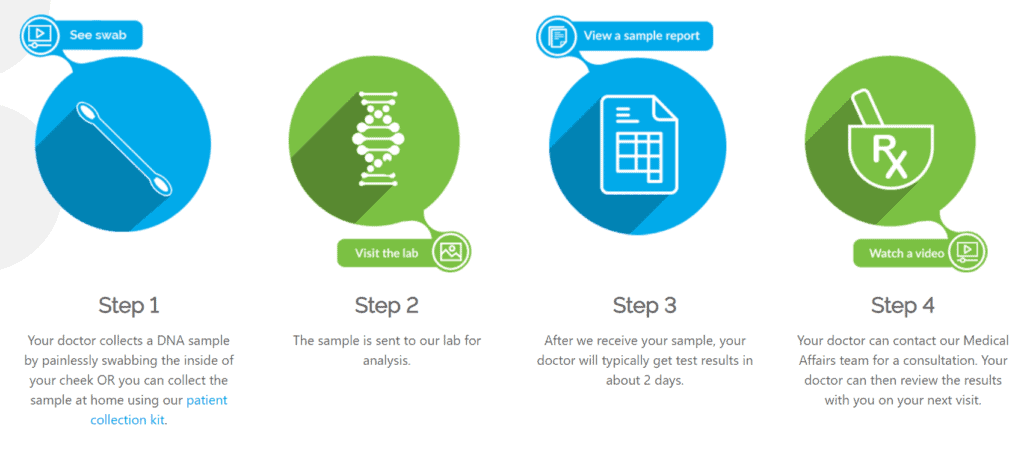 Image: GeneSight Ordering Process
Overview of Genesight Reports
The genetic testing reports differ for the two tests.
GeneSight Psychotropic Report
The 12-page Psychotropic Report analyzes two sets of genes to provide information on how likely you are to respond to certain medications.
Pharmacokinetic Genes
These genes influence how your body acts upon medications; they influence the transport and metabolism of the drugs.
CYP1A2
CYP3A4
CYP2D6
CYP2C19
CYP2C9
CES1A1
CYP2B6
UGT1A4
UGT2B15
Pharmacodynamic Genes
These genes influence how the medication may affect the body - side effects, risk of addiction, etc.
SLC6A4
HTR2A
HLA-A*3101
HLA-B*1502
ADRA2A
HTR2A
The first few pages of the report categorize different drugs based on how the genetic influence exerted on them:
Use As Directed: No known association with genetic issues
Moderate Gene-Drug Interaction: Maybe less likely to work or less efficient
Significant Gene-Drug Interaction: Maybe less likely to work and may cause side effects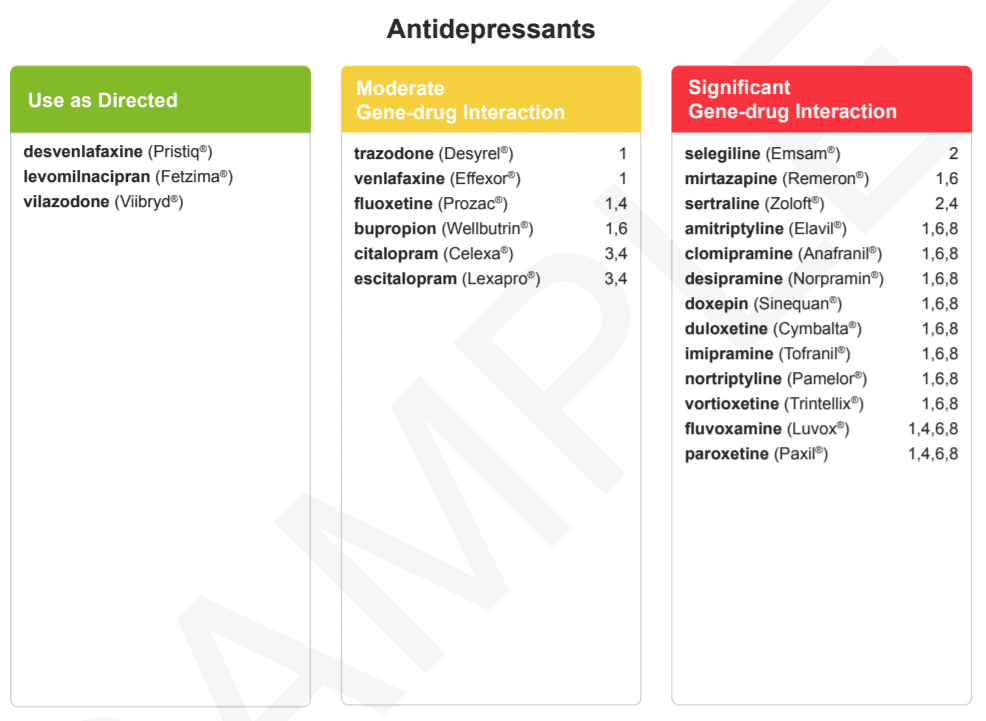 Image: Snippet from GeneSight's Psychotropic Sample Report
It is followed by the "Clinical Considerations" section to be reviewed by the clinician. The clinical considerations explain why a medication is listed in a particular category and how it must be administered if the patient wishes to pursue the treatment.

Image: Snippet from GeneSight's Psychotropic Sample Report
The following two pages provide information about the genotypes and phenotypes of the patients, which are of medical importance.
The first page contains information about pharmacodynamic genes and their relation to specific disorders.
Image: Snippet from GeneSight's Psychotropic Sample Report
The second page contains the same information regarding pharmacokinetic genes.
Image: Snippet from GeneSight's Psychotropic Sample Report
The report also includes information on other genotypes that do not have a strong association with medication outcomes.
The last section of the report is the "Gene-drug Interactions." This is a comprehensive overview of which genes interact with which drugs and affect their functioning. The section is broken down into 3 segments - Use as directed, Moderate gene-drug interaction, and Significant gene-drug interaction.
A filled circle means that the particular gene interacts with the functioning of that particular drug. An empty circle indicates no interaction.
Image: Snippet from GeneSight's Psychotropic Sample Report
GeneSight MTHFR Report
The compact 1-page MTHFR Report isn't all that informative. It reports the patient's MTHFR genotype along with how efficiently they convert inactive folic acid to active folic acid or L-methylfolate.

Image: Snippet from GeneSight's MTHFR Sample Report
GeneSight Pricing
GeneSight claims that 95% of their users pay $330 or less for the test. If the cost exceeds that amount, the company will call the patients.
Medicare/Medicaid - Full testing cost covered
Medicare Advantage Covered Tests and Other Insurance - You may need to pay $330 or less
Uninsured - Cost varies - financial assistance may be provided for some
Once they receive the sample, the cost is confirmed. If it exceeds $330, the patients receive a call from the company. The company then submits the claim to the insurance company and checks for eligibility for financial assistance. Patients then receive an explanation of benefits from their insurance company before receiving a bill.
Image: GeneSight Pricing and Insurance Claim
About GeneSight Privacy
As Genesight is a part of Myriad Genetics, the privacy policy of Myriad Genetics applies to Genesight.
Myriad collects a selection of names, email addresses, phone numbers, addresses, personal or family health histories, as well as employment and insurance information for marketing, advertising, and service improvements.
The company clarifies that they share and disclose some information to third parties. Those companies are under Myriad's security and privacy policy to secure client information.
For more information, read the company's privacy policy
GeneSight - News and Reviews
News
Myriad launches new psychotropic patient collection kit
Barrons: Myriad Genetics stock has an FDA issue
GeneSight Mental Health Monitor shows misunderstanding of depression and treatment
Reviews
GeneSight reviews on Facebook (5/5 based on 5 reviews)
Summary: Pros and Cons of GeneSight
Pros
Offers an unparalleled service specifically for psychiatric medicine, which other genetic testing companies do not generally provide.
Clinical studies support the tests.
Works accompanied with clinicians and healthcare providers.
Helps patients from choosing the correct and suitable medications.
Potential for reduced testing cost for most users as insurance may cover the cost.
Cons
Access to raw data is unavailable.
Requires users to contact a healthcare provider first.
Does not accept data from other genetic testing providers like AncestryDNA and 23andMe.
Choosing a medication based on trial and error methods can be exhausting.
Shares some client personal information with third parties.
| | | |
| --- | --- | --- |
| | Genesight | Xcode Life |
| Type of genetic testing | DNA kit | DNA raw data analysis |
| Health report | Not Offered | Offered |
| Pharmacogenomic report | Offered | Offered |
| Raw data upload | Unavailable | DNA raw data from all major providers accepted. Comprehensive list |
| Number of reports | 2 | 10 |
| Report updates | No | Yes |
| Report categories | Personalized medicine and MTHFR reports | Nutrition, Fitness, Skin, Allergy, Health, Personality, Breast Cancer, MTHFR, Personalized Medicine, Sleep Genetic Reports |
| Price | ~$300, higher or lower in some cases depending on insurance coverage | Reports: $30-$50Bundles: $160-$199Price details |
| Sample reports | Available as PDF | Available as detailed report walkthrough videos |
| Personalized blog posts | No | Yes |