What Is Food Intolerance?
Food intolerance or food sensitivity describes the difficulty in digesting certain foods and can lead to unpleasant reactions like intestinal gas, abdominal pain, or diarrhea.
The symptoms of food intolerance appear only after a few hours of consuming the food.
It can be difficult to identify food intolerance as the symptoms are often mistaken for other conditions.
Some common symptoms of food intolerance include:
Bloating
Headaches/Migraines
Runny nose
Stomach ache
Hives
Food intolerances aren't life-threatening. However, they can be very problematic for those affected.
Some causes of food intolerance are the absence of certain digestive enzymes (proteins that help with the digestion of food), some chemicals/additives in the food, and toxins.
Common food intolerances seen in people are:
Lactose intolerance: Inability to digest a protein, lactose, found in dairy products
Gluten intolerance: Inability to digest a protein, gluten, found in barley, wheat, and rye
Caffeine intolerance: Inability to digest a chemical, caffeine, found in beverages like coffee and tea
What Is The Difference Between A Food Allergy And Food Intolerance?
While food intolerance is a problem with digesting food, food allergies are due to our immune system reacting to the food item itself.
Food allergy occurs when the immune system sees a specific component in the consumed food as an "enemy" to the body and sends out a response that results in allergic reactions.
The symptoms of food allergy occur soon after eating the food and are much more severe than those seen in the case of food intolerances.
In rare cases, food allergies can result in a reaction called 'anaphylaxis' where your blood pressure drops and your airway narrows down - this can potentially be life-threatening.
Introduction to Mushroom Intolerance
Mushrooms are loved worldwide as they contain flavor enhancers and are a gourmet's delight. This makes them the most popular choice for pizza topping, after pepperoni!
Some nutritional facts about mushrooms
Mushrooms are a "powerhouse of nutrition" and not a white food to be avoided.
Not only are they cholesterol-free, but they are also low in calories, fats, and sugars.
They also contain modest amounts of minerals and vitamins.
In fact, they are also claimed to be one of the richest sources of an antioxidant, ergothioneine.
Some research studies show that they can be used to lower the risk of diseases such as cancer, Alzheimer's, and Parkinson's.
The Genetic Basis of Mushroom Intolerance
OCTN1 Gene
Also known as SLC22A4, this gene is located on the long arm or the q arm of chromosome 5.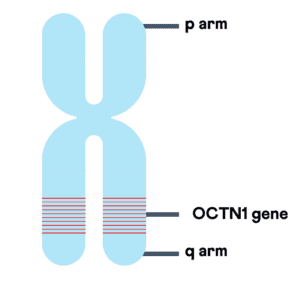 OCTN1 produces a protein that is responsible for the transport of positively charged compounds - in this case, ergothioneine - a substance present at high levels in mushrooms.
A study established an association between the OCTN1 gene and mushroom intolerance risk.
This interaction was observed among patients with Crohn's disease.
Crohn's falls under a group of diseases (called the inflammatory bowel diseases) that affect the digestive tract - the mouth, esophagus, stomach, small intestine, and large intestine. Crohn's results in the inflammation or swelling of the digestive tract, which can lead to side effects like stomach pain, diarrhea, and weight loss.
rs1050152
rs1050152 of the OCTN1 gene has an association with mushroom intolerance. In a study conducted in the New Zealand population, among the people who were mushroom intolerant, it was found that the T allele of rs1050152 was present in a higher number (in people with and without Crohn's disease). This suggests that having a T allele in rs1050152 can increase your risk for mushroom intolerance.
rs1050152 was previously found to be associated with a risk for Crohn's disease.
Shiitake Mushroom Intolerance
The shiitake is an edible mushroom native to East Asia. Shiitake mushroom intolerance is one of the most common forms of mushroom intolerance.
The American chemical society in 2005 stated that mushroom contained the highest concentrations of ergothioneine, higher than either of the two dietary sources, wheat germ and chicken liver - which were previously believed to contain the most.
When compared with the other types of mushrooms cultivated in the US, the shiitake variety contained the highest amount of L-ergothioneine, which explains why shiitake mushroom intolerance is more common.
Sudden Mushroom intolerance
There have been reported instances of people developing sudden mushroom intolerance, without any prior incidents.
This could either be due to the type of mushroom consumed or a mushroom allergy.
The best way to find out is to take up a food intolerance test.
Risk Factors For Mushroom Intolerance
People at high risk for mushroom allergy include:
Individuals handling mushrooms in packaging industries
Those who consume mushrooms without sufficient cleaning
Those who inhale the fungal spores
Remedies For Mushroom Intolerance
The best and the only way to avoid mushroom intolerance is to remove mushrooms from the diet completely.
The available study on the reason behind mushroom intolerance identified ergothioneine as the 'component' that leads to intolerance. So, it is also important to be wary of foods containing ergothioneine. Foods high in ergothioneine include:
Mushrooms
Asparagus
Black beans
Oat bran
Kidney beans
Garlic
Soy products
Brazil nuts
References:
Updated 13th March, 2021