Our gut is a host to a big microbial community that includes both the bad bacteria and the good bacteria. When good bacteria overpowers bad bacteria, our gut is happy, and all's well. However, do you know what happens when the abundance of bad bacteria increases? Yes, our gut goes kaput, but the imbalance in this microbial community also leads to a higher risk for mental conditions like depression. Keeping this important gut-brain connection in mind, researchers are exploring the idea of "probiotics for depression," and the results seem very promising.
Did You Know? Your ancestry tests DNA data includes 700,000 markers, which can be used to learn everything from disease risk and drug sensitivities to nutritional requirements and fitness parameters, including your risk for various mental health conditions like depression and anxiety. Learn more.
What Are Probiotics?
Probiotics are live microorganisms, typically good bacteria or yeasts, that provide health benefits when consumed adequately.
These beneficial bacteria are commonly found in certain foods and supplements and are known for their positive impact on gut health.
Some help us digest our food better, while others are like little soldiers fighting the bad germs that can make us sick. They even make vitamins that our bodies love!
Many of these probiotics are the same or very similar to the microorganisms naturally living inside us.
So when we take probiotics, we give our body some extra backup to stay strong and keep us feeling great!
Sources Of Probiotics
Probiotics can be obtained from various sources, making them easily accessible in our daily diet. Some familiar food sources rich in probiotics include:
Yogurt: Yogurt is one of the most well-known sources of probiotics. It contains live cultures of beneficial bacteria, such as Lactobacillus and Bifidobacterium.
Kefir: Kefir is a fermented milk drink packed with probiotics, vitamins, and minerals.
Sauerkraut: Sauerkraut is fermented cabbage that offers a healthy dose of probiotics and is rich in vitamins and fibers.
Kimchi: Kimchi, a traditional Korean dish, is typically made with fermented cabbage as the common ingredient but can also be made with other vegetables.
Miso: Miso is a traditional Japanese seasoning produced by fermenting soybeans with salt and a koji fungus. It is widely used in soups and stews.
Pickles: Pickles made through the process of lacto-fermentation offer probiotic benefits. It's important to remember that pickles made using vinegar don't have live probiotics.
Are All Probiotics Equal?
While probiotics share the common characteristic of being beneficial bacteria, not all probiotics are equal in terms of their effects on health.
Different strains of probiotics have specific functions and benefits.
Think of probiotics like a diverse team of tiny helpers.
Some strains may be superstars at promoting good gut health, while others might have special talents in supporting our immune system.
They all work together, but their specific roles can vary.
Each species and strain might impact our bodies differently, so learning more about their unique characteristics is essential.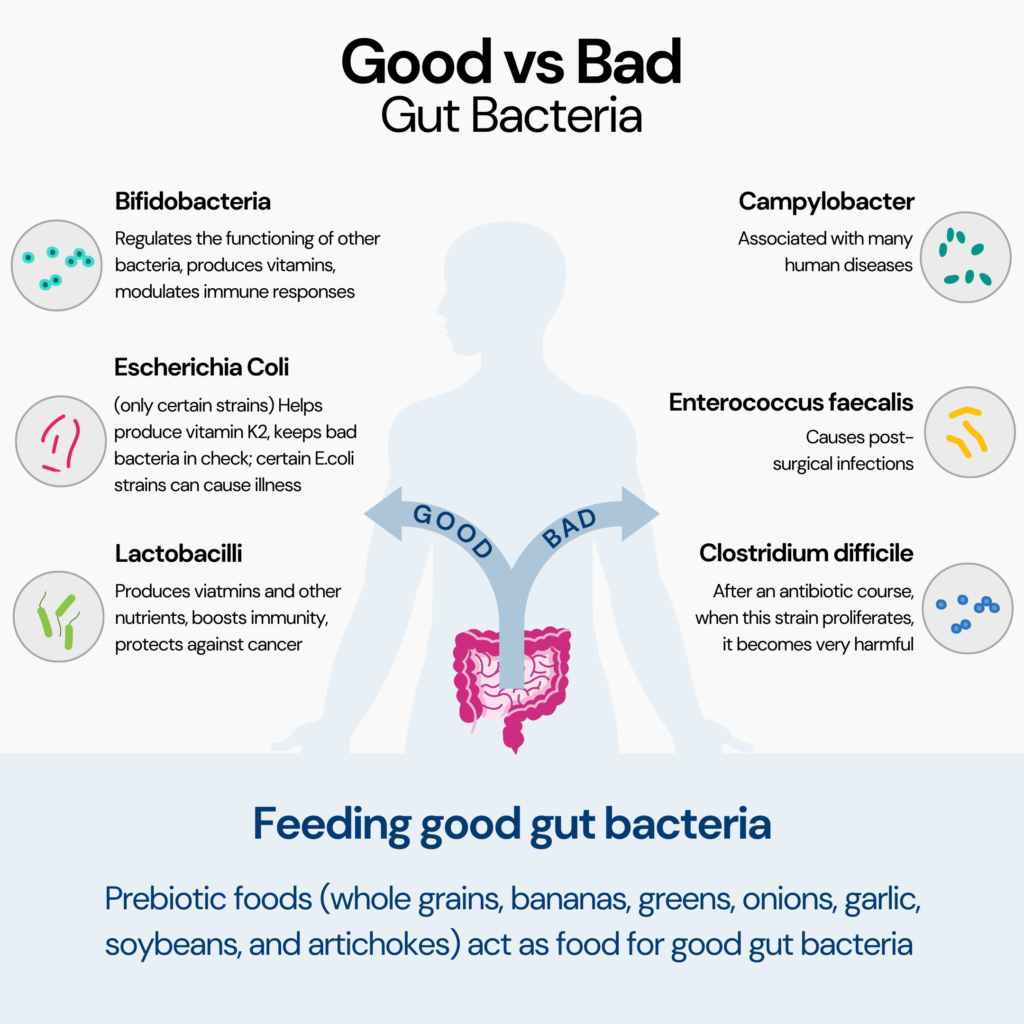 Benefits Of Probiotics
Probiotics offer many health benefits that can make a real difference in our feelings.
Keeping your digestive system happy: Probiotics act like superheroes for our gut by restoring the balance between good and bad bacteria. When this balance is off, it can lead to tummy troubles, allergies, and even mess with our mood.
Defending against diarrhea: Probiotics come to the rescue regarding diarrhea, especially the one caused by antibiotics. They can reduce the risk and intensity of those uncomfortable bathroom visits.
Boosting your mood: Probiotics may help kick anxiety and depression by enhancing mood and mental health.
Heart health supporters: Some probiotics are heart heroes too. By working their magic on cholesterol and blood pressure, they help to keep our heart healthy and functioning at its best.
Comfort for allergies and eczema: While more research is needed, some probiotics might relieve allergies like eczema.
Easing digestive troubles: Probiotics can be lifesavers for those with digestive disorders. They can reduce the discomfort and make life smoother.
Boosting your immunity: Our immune system also gets a helping hand from probiotics. They may lower the risk of getting sick and help keep our urinary tract healthy.
Helping in weight loss: Some probiotics could be our secret weapon against belly fat. They might help with weight loss by stopping some of our fat from sticking around.
Are There Any Potential Side Effects Associated With Probiotics?
Probiotics are usually well-behaved, causing little to no trouble for most people.
However, some people might initially experience mild issues, like bloating, gas, or diarrhea, after taking the supplements.
But, if you notice any following side effects such as:
Stubborn stomach pain
Persistent gas or bloating
General gastrointestinal distress,
Then consult with your doctor before giving probiotics supplements another try.
They'll help determine what's causing the disturbances and suggest a different blend of probiotics or adjust the dosage.
How Does Gut Health Affect Mental Health?
You know that feeling when something big happens, and your gut starts doing flip-flops? Or when stress makes your stomach feel queasy? The real reason behind those sensations is the gut-brain connection at work.
Our gut and brain are like best buddies, always chatting. When we're anxious, depressed, or excited, our gut can feel it too.
It's like our emotions have a direct line to our stomach.
This connection goes both ways.
When our gut is troubled, it can send signals to our brain, affecting our feelings.
When our brain is stressed, it can mess with our stomach, causing gut troubles.
So, neglecting our gut health can also impact our mental health.
Also Read
Genetic Testing For Mental Health: How To Go About It
Can Consuming Probiotics Improve Mental Health?
Our gut and brain have this incredible connection called the gut-brain axis (GBA).
The GBA links our brain and spinal cord to our gut, where probiotics do their magic. They create neurotransmitters that affect our mood and feeling.
In clinical trials, probiotics like Lactobacillus and Bifidobacterium have shown promise in supporting mental health.
But we're all unique, and so are our gut buddies. How we experience mental health symptoms and how probiotics work for us can differ.
Various factors, such as our genes, life experiences, and the specific combination of gut bacteria, influence our overall mental well-being.
Even though we're still on this exciting journey of discovery, scientists are digging for the right probiotics and dosages to improve mental health.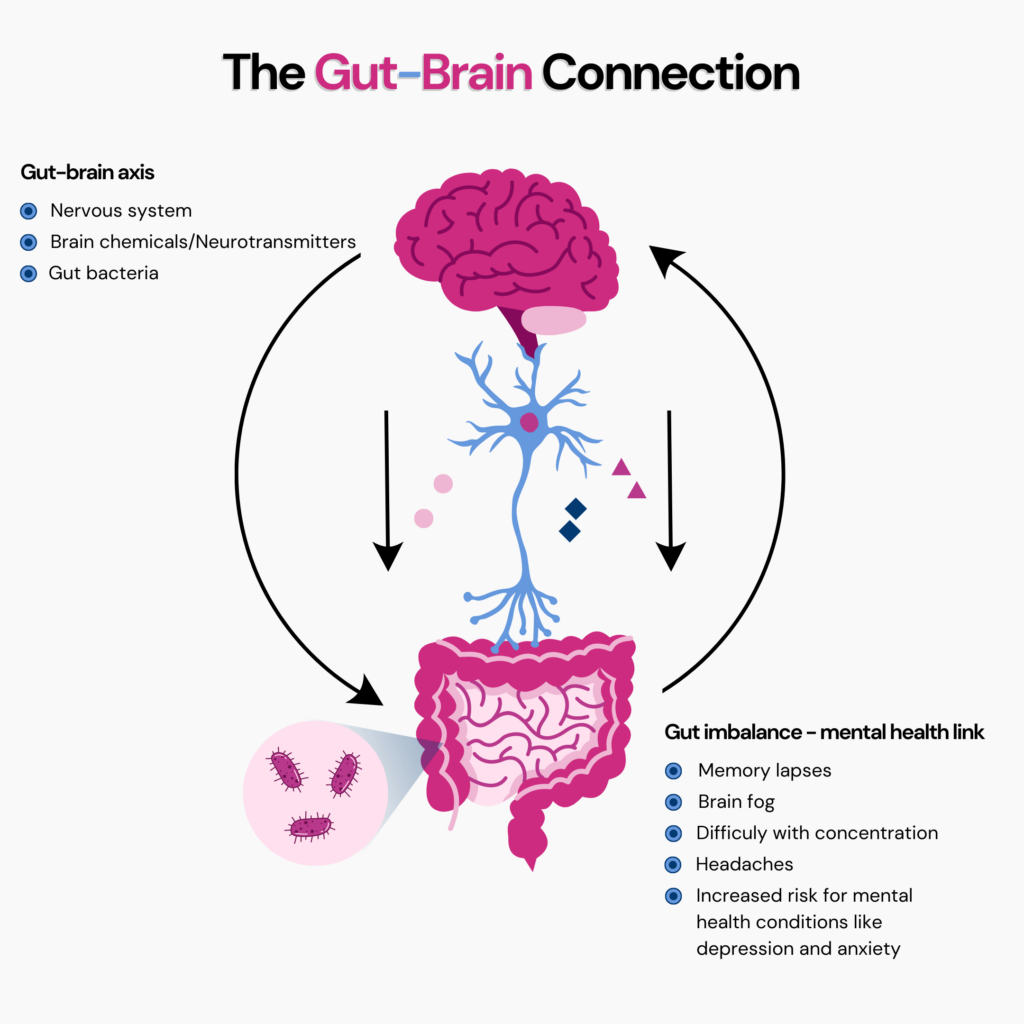 Mechanism Behind How Probiotics For Depression
To comprehend the mechanism behind probiotics for depression, let's split some valuable information to acquire a better grasp.
Can reduce inflammation: Depression is often linked to inflammation caused by stress, an unhealthy diet, and insufficient physical activity. Probiotics have the remarkable ability to reduce inflammation in both your gut and brain.
Can increase serotonin production: Serotonin, the brain chemical responsible for mood, sleep, and appetite, can receive a natural boost from probiotics. These beneficial microorganisms increase serotonin production in your gut, potentially uplifting your mood when it reaches the brain.
Can improve cognitive function: With the help of probiotics, you can improve your cognitive function to its full potential. Scientific studies on animals demonstrate their ability to enhance cognitive performance. Encouragingly, some research also indicates similar benefits in humans.
Can modulate the gut-brain axis: The gut-brain axis forms a fascinating link between your gastrointestinal tract and the central nervous system. Probiotics play a pivotal role in modulating this bidirectional system, promoting communication between the gut and brain.
What Does The Scientific Research Indicate? - Research Review For Probiotics For Depression
The effect of probiotics on depressive symptoms: A 2017 systematic review
The researchers looked at 5 databases to see whether probiotics for depression can actually work.
They examined the ten studies that met the criteria, focusing on mood, anxiety, and thinking skills.
Many studies have shown promising results that suggest probiotics can help alleviate depression.
The challenging aspect lies in the fact that each study had a significant variation in the types of probiotics used, the amount consumed, and the duration of consumption.
Interestingly, none of the studies checked how probiotics affected sleep, which is a big deal for people with depression.
Overall, the results look hopeful for using probiotics to help with depression.
However, further studies with larger groups of people are necessary to obtain more definitive conclusions.
The efficacy, safety, and tolerability of probiotics on depression: A 2021 pilot study
The researchers investigated the potential of probiotics to alleviate depression in patients who had not previously received treatment.
The study involved 10 patients with Major Depressive Disorder (MDD) from Kingston, Ontario, Canada.
The participants consumed a probiotic supplement containing a specific strain of bacteria once daily for 8 weeks.
The researchers measured the patient's depressive symptoms at the beginning of weeks 4 and 8.
The results were promising. By week 4, significant improvements in mood-related symptoms were observed, and these improvements continued through week 8.
By week 8, the patients reported improved subjective sleep quality.
The supplement was well-tolerated by all the participants without any side effects.
Top Probiotics For Brain Health/ Depression
In a research article published by PubMed in 2016, the most used probiotics with promising benefits for brain health and depression were identified as follows:
Bifidobacterium longum
Bifidobacterium breve
Bifidobacterium infantis
Lactobacillus:
Lactobacillus helveticus
Lactobacillus rhamnosus
The studies included human and animal research with these probiotic doses ranging from 108 to 1010 CFU for 2 weeks in animals and 4 weeks in humans.
The results indicated that these probiotics may positively impact central nervous system function and mental health, showing potential improvements in anxiety, depression, and memory abilities.
However, it is crucial to acknowledge that scientific research is ongoing, and staying updated with the latest results is essential.
Individuals with depression or other mental health concerns should seek guidance from healthcare professionals before considering new medications.
Summary
Probiotics, the beneficial bacteria in our gut, can improve mental well-being.
They enhance mood, and memory abilities, boost serotonin production, and improve cognitive function. In addition, probiotics to alleviate depression and anxiety may do so by reducing inflammation.
Different strains of probiotics have specific functions and benefits.
The gut-brain axis plays a significant role in this process.
Probiotics are found in yogurt, kefir, kimchi, sauerkraut, miso, and pickles.
Scientific research suggests probiotics may alleviate depression symptoms.
Further studies with larger groups are needed for more conclusive results.
Consulting healthcare professionals is essential before considering probiotics for mental health.
References
https://my.clevelandclinic.org/health/articles/14598-probiotics
https://www.healthline.com/nutrition/11-super-healthy-probiotic-foods
https://www.medicalnewstoday.com/articles/probiotic-supplements-may-help-with-depression
https://www.healthline.com/nutrition/8-health-benefits-of-probiotics
https://www.healthline.com/health/probiotics-depression
https://www.health.harvard.edu/diseases-and-conditions/the-gut-brain-connection
https://www.ncbi.nlm.nih.gov/pmc/articles/PMC6971226/
https://www.frontiersin.org/articles/10.3389/fpsyt.2021.618279/full
https://www.ncbi.nlm.nih.gov/pmc/articles/PMC5319175/
https://www.ncbi.nlm.nih.gov/pmc/articles/PMC4367209/