Have you ever pondered the effects of alcohol on your blood pressure? While many know that excess alcohol does raise blood pressure, what about moderate or occasional consumption? Is there a safe threshold for alcohol intake concerning heart health? In this informative exploration, we delve into the latest research on how alcohol raises blood pressure and unveil strategies to mitigate risk factors.
Did You Know? Your genes influence how your body processes alcohol and your risk for being an alcohol dependent. You can use your ancestry test DNA data to learn everything from disease risk and drug sensitivities to nutritional requirements and fitness parameters. Learn more.
How Does Alcohol Affect Blood Pressure?
Yes, alcohol does affect blood pressure through various mechanisms. Let's explore these in detail:
Vascular constriction: Alcohol consumption impacts the kidney-controlled renin-angiotensin-aldosterone (RAAS) system.
The body employs hormones like renin, angiotensin, and aldosterone to regulate blood pressure.
Alcohol increases renin levels, which causes blood vessels to narrow and ultimately raises blood pressure.
Less water retention: Alcohol decreases vasopressin production, a hormone that helps your body hold onto water.
When you have less of this hormone, it can lead to a rise in urination frequency. This, in turn, may cause dehydration and higher blood pressure levels.
Stress hormones: Alcohol can boost stress hormones like cortisol, which impacts metabolism, immune function, and inflammation.
Increased cortisol releases catecholamines, chemicals that affect numerous bodily processes, including fluid discharge regulation.
Elevated catecholamines reduce urine output, raising blood pressure.
Baroreceptor sensitivity: Alcohol decreases the sensitivity of baroreceptors, specialized receptors that regulate blood pressure.
They adjust how much your vessels stretch to keep things balanced if your blood pressure goes up or down.
Alcohol can make these receptors less effective at sensing when they need to adjust, leading to higher blood pressure.
Weight gain: Excess body weight significantly burdens the cardiovascular system, often resulting in elevated blood pressure.
Notably, alcohol is calorie-dense and can promote weight gain, indirectly contributing to higher blood pressure levels.
How Much Does Alcohol Raise Your Blood Pressure?
The impact of alcohol on blood pressure is notable among heavy drinkers, typically resulting in an average increase of 5 to 10 millimeters of mercury (mmHg).
Importantly, the rise in systolic blood pressure (during heartbeats) is usually greater than in diastolic blood pressure (during rest between beats).
Occasional Drinking Can Raise Blood Pressure In Adults Even Without Hypertension: The Study
Overview
A comprehensive study involving 19,000 adults in the US, Korea, and Japan found a connection between alcohol consumption and higher blood pressure.
Design
This groundbreaking research combined data from seven diverse international studies between 1997 and 2021. Crucially, none of the participants had been previously diagnosed with high blood pressure (hypertension) or related conditions, ensuring a clean starting point.
Observation
The study found that even moderate alcohol consumption is linked to higher systolic and diastolic blood pressure. Systolic pressure rose by 1.25 mm Hg with 12 grams of daily alcohol, increasing to 4.9 mm Hg at 48 grams. Diastolic pressure rose by 1.14 mm Hg at 12 grams and 3.1 mm Hg at 48 grams.
Importantly, this effect was more pronounced in males than females.
Conclusion
This research highlights that even a low level of alcohol consumption can increase blood pressure.
No health benefits were found with moderate consumption. This may heighten the possibility of experiencing cardiovascular events.
Limitations
While these findings are significant, it's essential to consider certain limitations. The study relied on self-reported alcohol consumption, which can introduce recall bias.
Additionally, the research spanned five years, possibly not capturing longer-term effects accurately.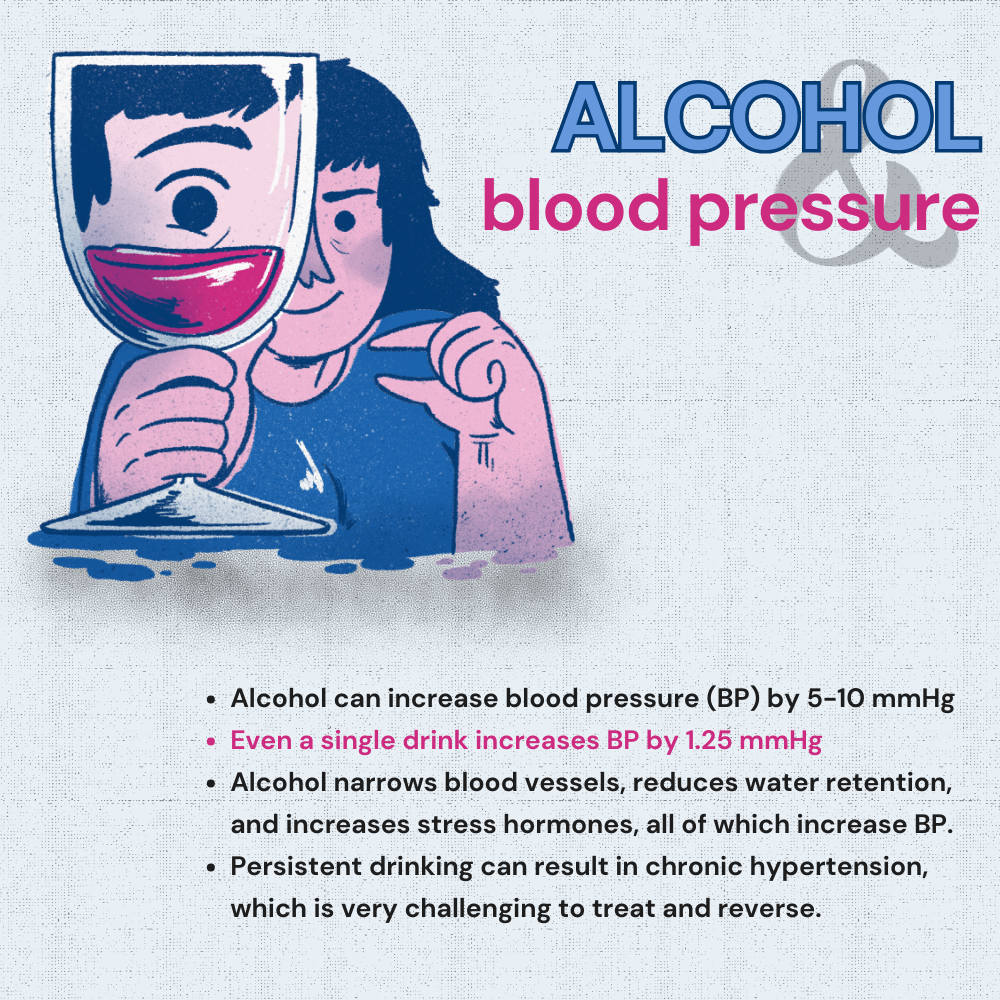 How Much Is Too Much Alcohol?
Determining how much alcohol is too much involves considering various factors, including individual tolerance, gender, and the pattern of drinking.
The instructions from the National Institute on Alcohol Abuse and Alcoholism (NIAAA) provide significant considerations.
Binge drinking: This is a pattern of alcohol consumption that elevates blood alcohol concentration (BAC) to 0.08 percent or higher. This typically equates to:
For males: Consuming 5 or more drinks in about 2 hours.
For females: Consuming 4 or more drinks in about 2 hours.
Heavy alcohol use: Heavy alcohol consumption is defined as follows:
For males: Consuming more than 4 drinks daily or exceeding 14 per week.
For females: Consuming more than 3 drinks in a day or surpassing 7 drinks per week.
Is There A "Safe Limit" For Drinking When It Comes To Blood Pressure?
The American Heart Association (AHA) advises that if you consume alcohol, you should limit your intake to no more than 2 drinks per day for males and 1 for females when managing blood pressure.
It's important to understand what constitutes a standard drink:
A 12-ounce beer: This is like a regular-sized can of beer.
A 5-ounce glass of wine: Approximately the size of a teacup.
1.5 ounces of 40% alcohol by volume (ABV): Roughly a shot glass of strong liquor like whiskey, vodka, or rum.
Exceeding these limits can increase blood pressure.
Managing Blood Pressure Risk Factors
Managing blood pressure involves lifestyle changes and medical interventions.
Here's a breakdown of key strategies to manage risk factors, including the impact of alcohol on blood pressure:
Do's:
Eat vegetables and fruits: A diet rich in fruits and vegetables provides essential nutrients and can help lower blood pressure.
Stay physically active: Participate in physical activities like walking, running, swimming, or exercises that improve your strength.
Maintain a healthy weight: Losing excess weight if you're overweight can significantly lower blood pressure.
Take prescribed medicines: If your healthcare professional has prescribed medication to manage your blood pressure, taking it as directed is essential.
Keep medical appointments: Regular check-ups with your healthcare provider help monitor your blood pressure and adjust treatment as needed.
Don't:
Limit salt intake: Avoid consuming excessive salty foods and aim to stay under 2 grams of salt per day. High salt intake can give rise to blood pressure.
Quit smoking: Smoking and tobacco use can raise blood pressure and elevate the risk of heart disease.
Moderate alcohol consumption: As mentioned earlier, limiting alcohol intake can be advantageous for effectively managing blood pressure.
In addition to the above, consider these steps to reduce the risk of high blood pressure further:
Manage stress: Acquire healthy ways to manage your stress, as chronic stress can elevate blood pressure.
Manage other medical conditions: Effectively managing conditions such as diabetes or high cholesterol is crucial as they contribute to high blood pressure.
Also Read
Can Alcohol Consumption Lead To Hypothyroidism?
Summary: Does Alcohol Raise Blood Pressure?
Alcohol does raise blood pressure, even with as little as one drink.
It affects through mechanisms like narrowing blood vessels, reducing water retention, increasing stress hormones, and altering baroreceptor sensitivity.
Heavy alcohol consumption can cause a noticeable increase in blood pressure, especially in the systolic reading during heartbeats.
Recent research indicates a relationship between alcohol and high blood pressure, even in people who have never had hypertension.
The study underlines that moderate alcohol consumption can lead to higher blood pressure levels, especially in males.
The American Heart Association advises limiting alcohol to no more than 2 drinks daily for males and 1 for females.
Alongside moderation, a balanced diet, regular exercise, weight management, and stress reduction are essential for blood pressure control.
Regular monitoring and managing related health conditions, such as diabetes and high cholesterol, are also vital to reducing the risk of high blood pressure.
References
https://www.medicalnewstoday.com/articles/alcohol-and-blood-pressure
https://www.mayoclinic.org/diseases-conditions/high-blood-pressure/expert-answers/blood-pressure/faq-20058254
https://www.ncbi.nlm.nih.gov/pmc/articles/PMC4038773/
https://www.niaaa.nih.gov/alcohol-health/overview-alcohol-consumption/moderate-binge-drinking
https://www.heart.org/en/health-topics/high-blood-pressure/changes-you-can-make-to-manage-high-blood-pressure/limiting-alcohol-to-manage-high-blood-pressure
https://www.who.int/news-room/fact-sheets/detail/hypertension