Why Is Gut Health Important?
Our gut is home to various bacteria, viruses, and fungi called the microbiome.
These microbiomes can be either good or bad for the body.
When you have a healthy gut, the good bacteria balance out the bad ones.
Therefore, gut health is essential for our overall health.
Our bodies will stop functioning correctly in the absence of our gut microbiome.
In addition, our gut bacteria strengthen our immune systems.
They also help in the digestion and metabolism of nutrients present in food.
Our gut bacteria reduce the risk of certain cancers, heart disease, and obesity.
Learn More About Ideal Nutrition For Good Gut Health
Signs That Your Gut Is Out Of Balance
The most obvious sign that your gut is out of balance is suffering from frequent episodes of diarrhea.
It is normal to have diarrhea after you have eaten an unhealthy or undercooked meal.
But having frequent episodes of it might point to gut bacteria imbalance.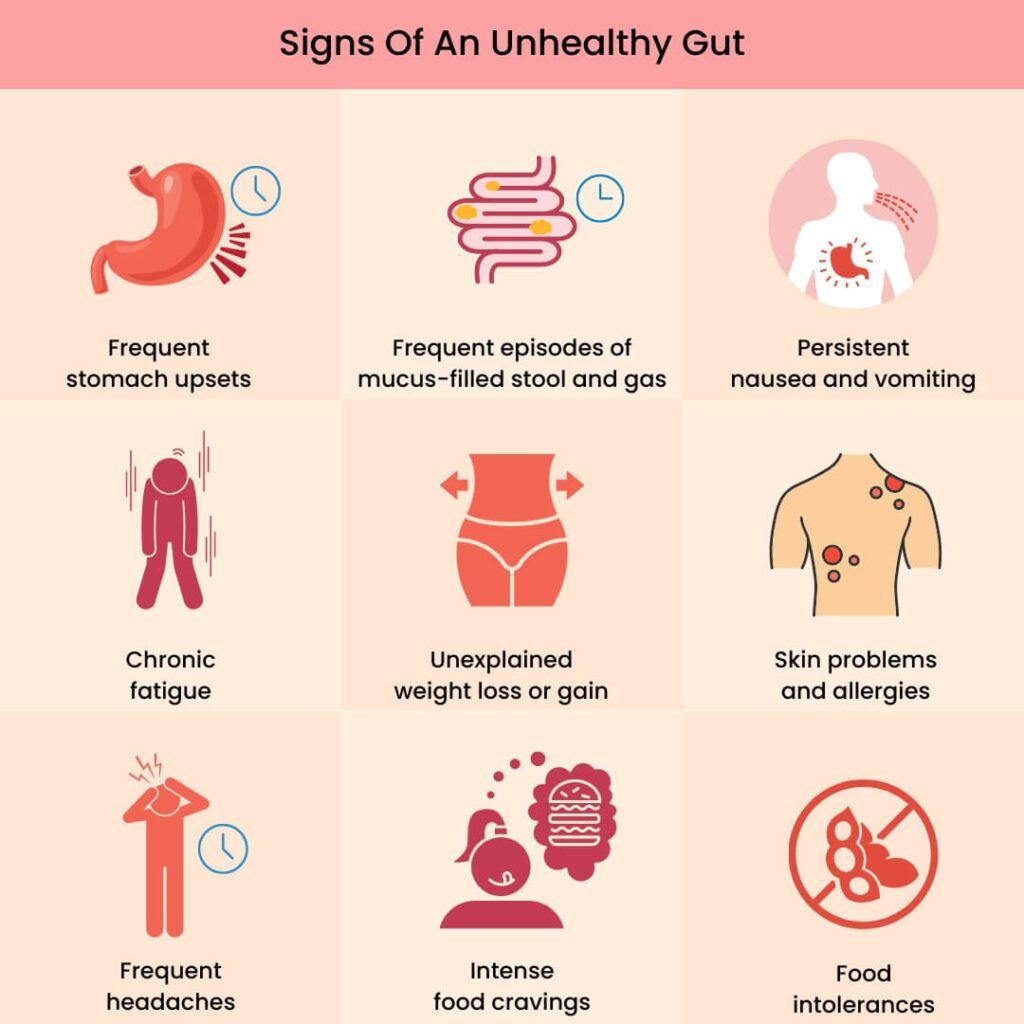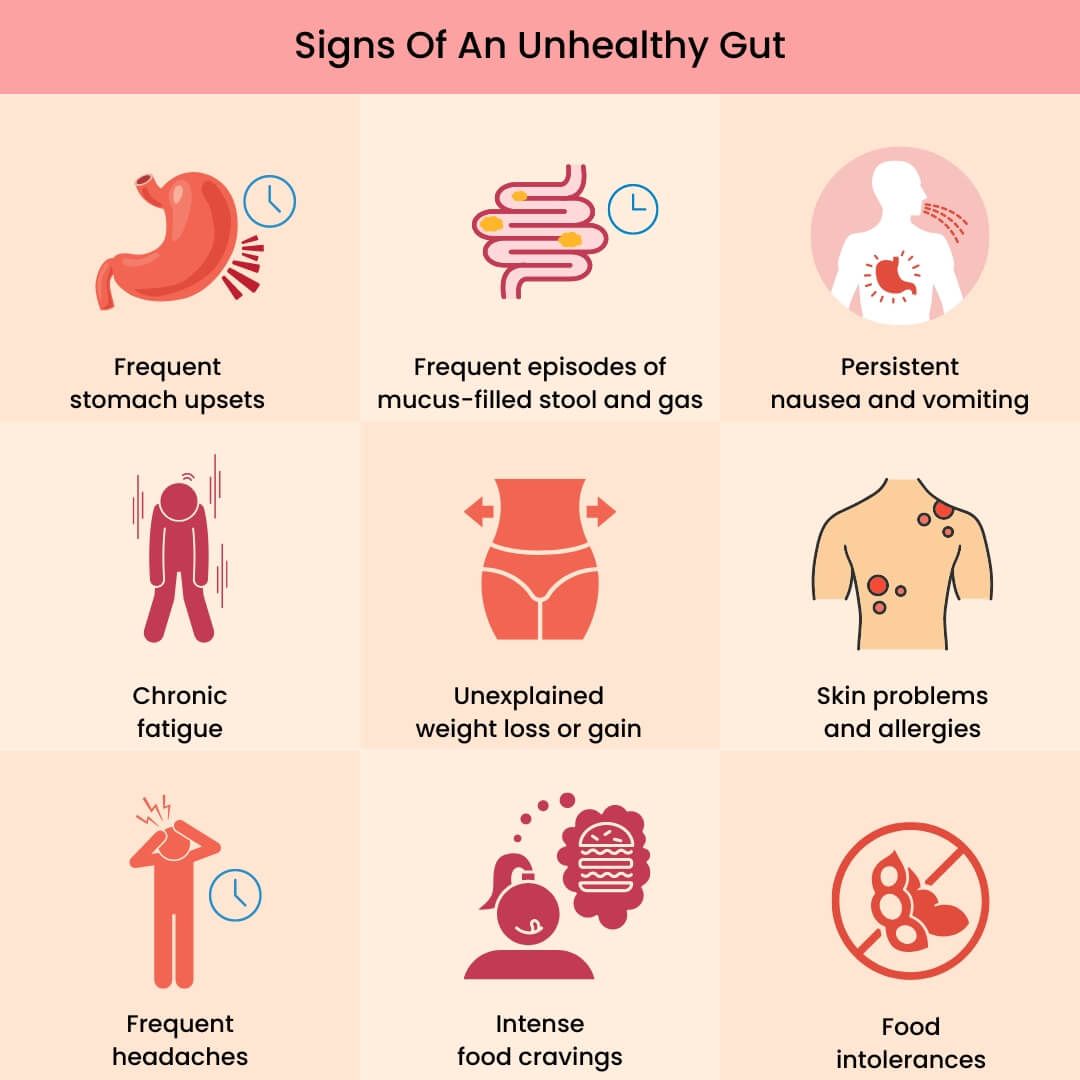 How Does An Unhealthy Gut Affect Your Health?
An unhealthy gut will affect your health and overall well-being.
When good bacteria reduce in your body, harmful bacteria usually kept in check by them get a chance to increase.
Some harmful bacteria like E. Coli are naturally present in your body.
But they cannot harm you because good bacteria keep their population under check.
But if there is an imbalance, you might suffer from an E. Coli infection.
A gut imbalance makes you susceptible to diseases like diabetes and ulcerative colitis.
How To Starve Bad Gut Bacteria?
If you have any of the above signs, chances are that your gut is out of balance.
To stop the bad bacteria from increasing, you have to starve them in your gut.
For that, you can take the following measures:
Anti-inflammatory Diet
Our diets are destroying our bodies and our guts.
Oily fried foods and sugary snacks are a bane to our good gut bacteria.
They tend to promote inflammation in the body.
The bad gut bacteria love diet deficiencies and promote diseases in the body.
Include fresh vegetables and whole foods in your diet to prevent inflammation.
Cut down on fast and processed food as much as possible.
Healthy Sleep Schedule
Having a healthy sleep schedule is very important to maintain our overall health.
Sleep helps your body heal.
But it is essential for our gut health.
Some studies show that our gut bacteria have their sleep schedule.
Another study shows that jet-lagged people have a higher density of harmful gut bacteria.
Alternately, a healthy gut promotes better sleep.
High Fiber Intake
The fiber in itself is not food for us.
Unlike cows, our stomach does not have the enzyme to digest fiber.
However, there are numerous studies to prove that a high-fiber diet is beneficial for our health.
A high-fiber diet keeps diabetes and obesity in check.
It prevents ulcerative colitis, Crohn's disease, and colorectal cancer.
It also promotes a healthy gut and good bacteria.
Regular Physical Activity
Do some exercise every day to keep your body; and your gut; healthy.
Movement directly affects our gut bacteria, which in turn helps improve our tissue metabolism and heart health.
However, do not over-exercise.
It might be perceived as stress, and your body might release stress hormones that harm your gut bacteria.
Bye To Added Sugar
Overeating sugar can increase the risk of inflammation in your body.
It hurts our gut health.
Sugar has also been shown to reduce gut microbiome diversity.
Sugar can increase one group of bacteria, which disturbs the gut balance.
Stress Management
Chronic stress can have serious adverse effects on your gut health.
Stress can cause frequent nausea and indigestion, disturbing your gut microbial balance.
Do stress-relieving activities such as meditation, or go for a walk to keep your stress levels in check.
Antibiotic Usage
Always consult your doctor before starting any antibiotic medications.
Antibiotic cannot recognize between good and bacteria and tends to destroy all kinds of bacteria.
Thus, frequent antibiotic usage can cause gut imbalance.
So it is essential to use antibiotic medication carefully.
Plenty Hydration
Hydrating yourself well is key to good gut health.
Drinking plenty of water prevents constipation and helps in bowel movements.
In addition, drinking plain water is the simplest way to promote a healthy gut.
Other Tips To Improve Gut Health
Here are some additional tips to improve your gut health:
Eat and drink fermented foods like tofu and kombucha. There is some research to show that they improve gut health. Some fermented foods activate short-chain amino acids and immunoglobulins, which benefit your gut.
Playing with your pet can improve your gut health. Studies show that sharing your pet's germs might improve your gut health. Because of the microbe-rich environment, children growing up on farms are less likely to suffer from chronic diseases as they age.
Summary: How To Starve Bad Gut Bacteria
Our gut is home to millions of species of good and bad bacteria.
These bacteria are essential for our bodies to function correctly.
Our modern lifestyles can disturb the balance between good and bad bacteria, making us prone to various diseases.
If you suspect a gut microbial imbalance, you can do certain things to starve the harmful bacteria.
It will restore your gut balance and improve your health.
References